All images courtesy of AKA Asia unless otherwise stated.
Samantha Chan is a Poolitzer Prize-winning PR event critic. Her reviews have appeared on LiveJournal, the drafts folder of her TikTok account, and WhatsApp statuses. She's a contributing critic at large on HardwareZone's illustrious Eat-Drink-Man-Woman.
---
A 7-Eleven chuhai awaits me at The Herencia building along Kim Yam Road. It's my first in-person event in a while. My editor-in-chief hands me the can, and I neck it within 20 paces towards Crane Living, where the Tinder: School of Swipe™ 'open house' started 15 minutes ago.
I love the juxtaposition of 'open house' (which historically means a place welcoming all visitors) with the actual nature of the event—an invite-only symposium of Singapore's online dating who's who: Tinder, an intimacy coach, a cyber safety professional, TikTok influencers in their early 20s, and SGAG employees.
And then there's me, RICE's supposed PR event critic-at-large.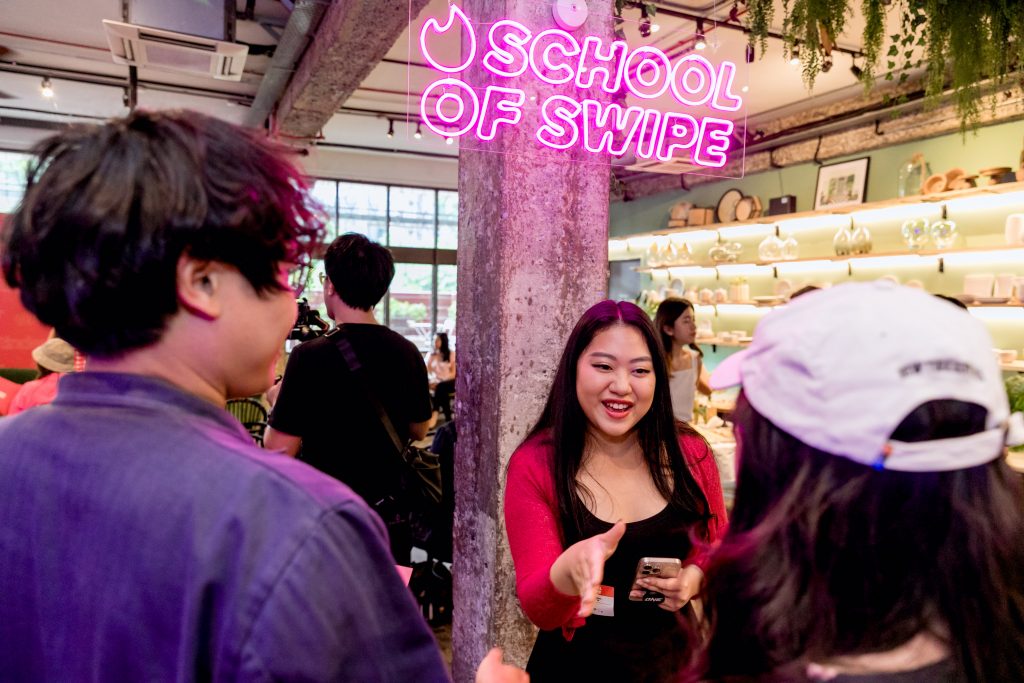 The invite advised an "all things varsity" dress code and promised a "back-to-school inspired cocktail and buffet". The event delivers on both fronts. No one was in varsity garb, bar one guest wearing a varsity jacket he apparently wore at another event five days ago. The cocktail was, indeed, singular.
We are knee-deep in an analogy. How online dating often leaves our unspoken expectations unmet; how it leads us to create soaring fantasies which are always rudely interrupted by reality… I was not expecting a simple 5PM Wednesday evening PR event to have such depth. Colour me impressed.
My underlying mission at every event I attend: Get as much free shit as possible. I take my single drink token straight to the bar for my aperitif. The bartender got-a-goin' on my cocktail. Around me, the room felt sparse. People who looked and felt like they were 'social media' and/or 'influencers' milled about, getting their photo taken on a couch against a neon Tinder sign.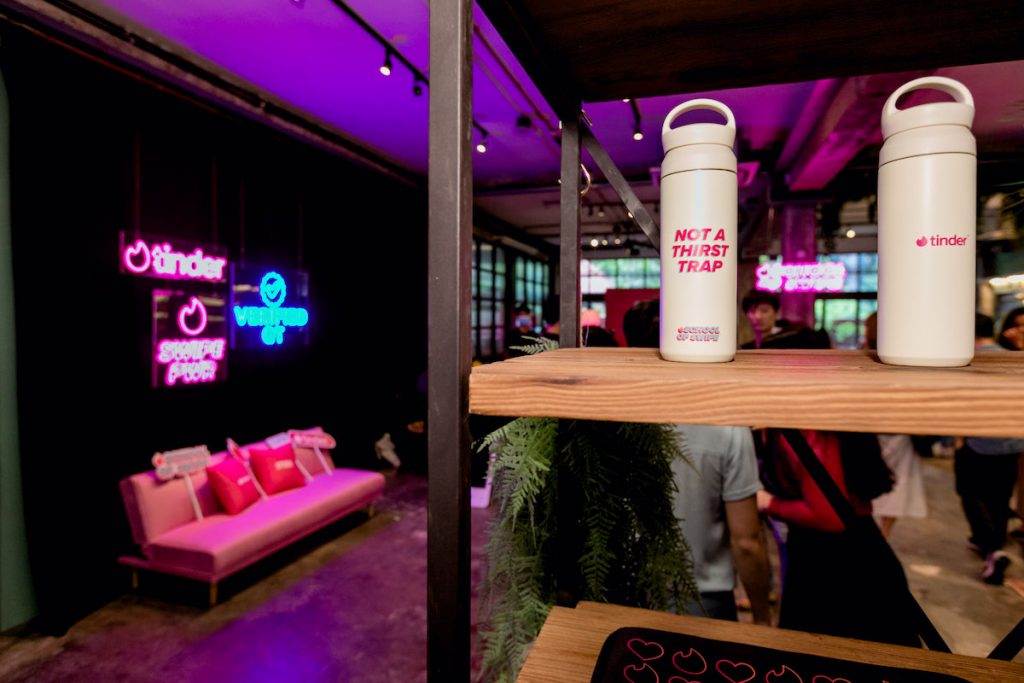 This was originally advertised as a service to "snap a winning profile pic" by a "pro photographer". Who would post a picture of themselves at a Tinder event on Tinder like some Tinder fanatic? Is it attractive to declare your love for Tinder while on Tinder like "Wow don't you love being on Tinder" rather than it being a means to an end? But at least there's a nice man with a DSLR taking photos and printing them out.
I was handed my lightly-alcoholic beverage of sweet swirls of Marigold juices with a wee herb sprig (7/10). Impressive.
The highlight of any event: Hors d'oeuvre (pronounced whores-dee-ors). Fellow attendees circle the spread pretending to be aloof – amateurs. Rule #1: Assault the Free Canapes like Moms at Ikea Restaurant on Saturday Night (AFCMIRSN).
My peripheral vision recognized another fellow visionary—Qilah, also known as the whoa-your-buttock-damn-big TikTok star. She seemed to be by herself. Slightly awkward, perhaps. Why is no one attending to this VIP? I approach her.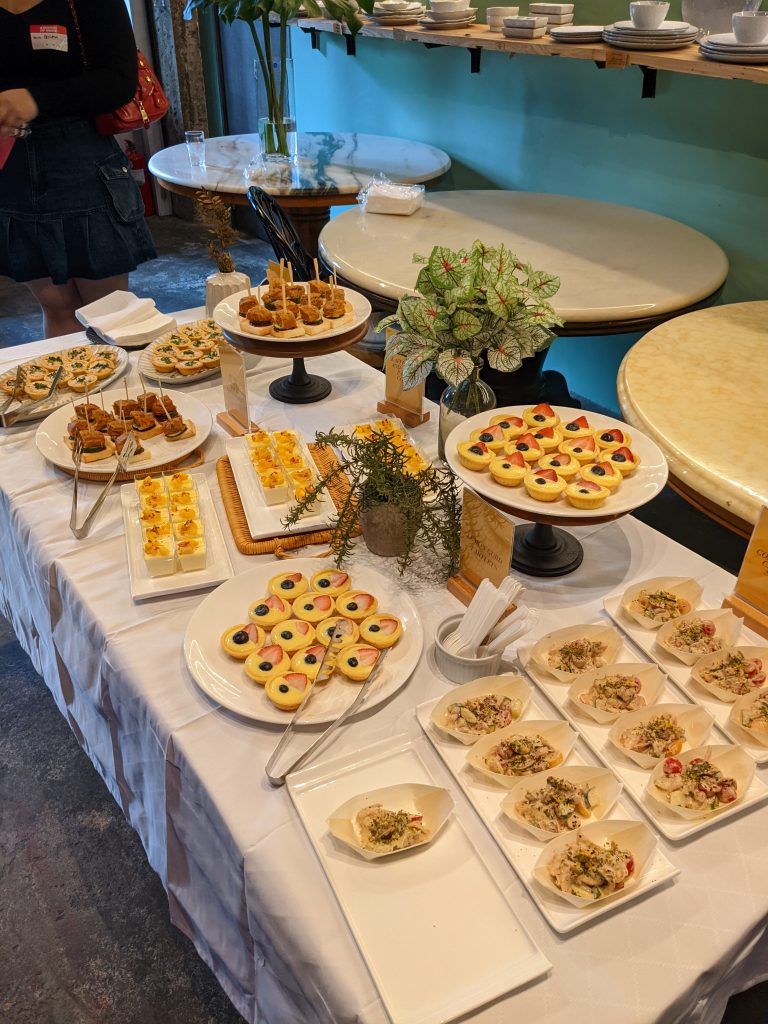 (In the back of my mind I tried to piece together the event organisers' PR strategy: Entice influencers with the prospect of free food and drink so that they will post that they are at the Tinder event—and consequently increase awareness of an app everyone already knows about—on their socials out of… goodwill? Because they want to get clout points for being invited to a cool exclusive event? Because the event is so aesthetic, they can't fight the urge to post a picture of themselves against the background of Scandi-inspired ceramics? I digress.)
Qilah smiles, joking that she's only here for the free food but feels apprehensive about heading to the hd'O (industry jargon) herself. I immediately see her for who she is—a young Event Aficionado bursting with raw potential.
I insist my new protege come to the spread at once (!!). For starters we had: Chicken coronation salad boats (6.5/10), mini otah toasts with pickled cucumbers (8/10), and salmon rillette tartlets (3/10). Nothing overtly inspired except the plating of the poultry. Chicken? On boats? The art direction was absolutely dripping in symbolism, I must say.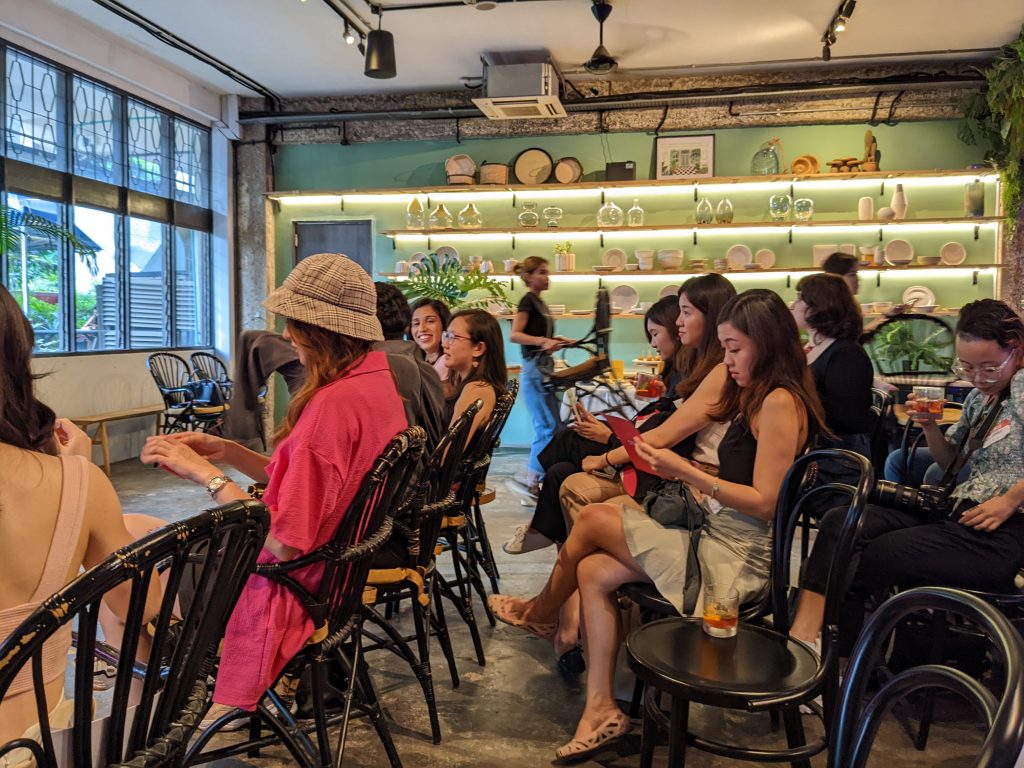 We sat in anticipation with our Marigold pomegranate (unconfirmed) juice cocktail and hor d'oeuvres in hand. We were introduced to Tinder's latest initiative (School of Swipe), which aims to help young adults in Singapore navigate online dating. The website is chock-a-block with helpful tips, including ice-breakers in your bio such as "Which ice cream flavour is a vibe? Chocolate, Matcha or Salted Caramel".
To be honest, I felt slightly out of my depth. In all my years in event critique, I've not encountered such cerebral performance art. The audience, raptured. A lady in the front row is texting on Facebook Messenger, probably texting all her other influencer friends about the event. Word-of-mouth is truly the pinnacle of organic marketing!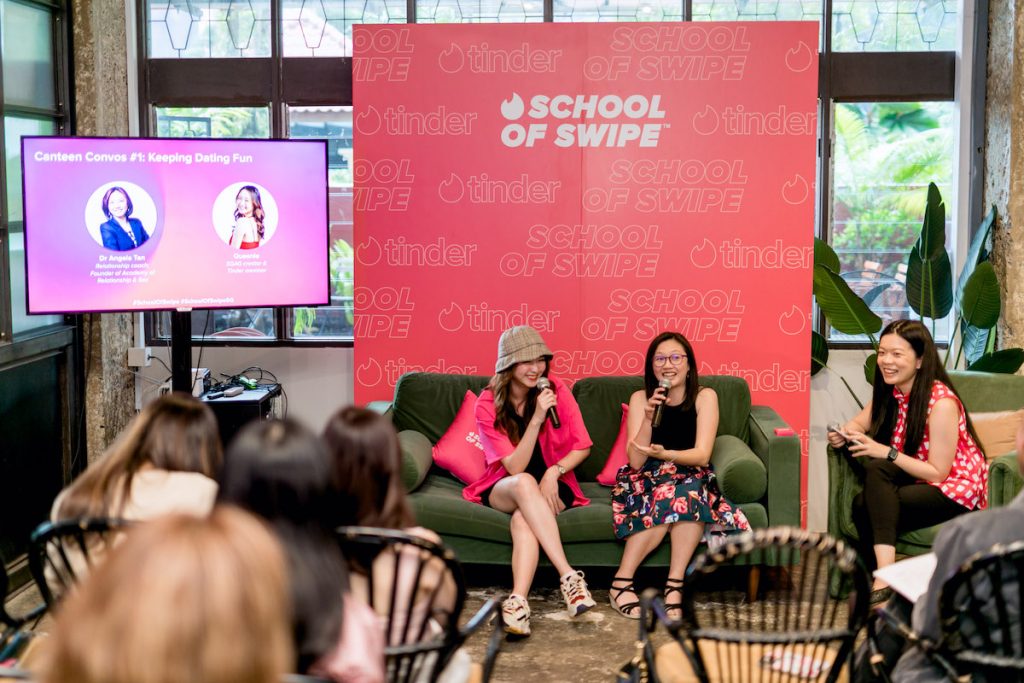 As for entertainment, we were shown two SGAG-produced skits about online dating parodying Netflix dating reality TV shows, Love is Blind and The Square. The satirical, low-hanging-fruit references to 'ACS boy' and 'NS boy' stereotypes are such a breath of fresh air.
I don't need to labour the point about how the pandemic has created a generation of young singles looking for more authentic, organic connections. We had a great primer on improving communication skills by intimacy coach Dr Angela Tan and a quick crash course on how to date safely online by Dr Anuradha Rao.
"Never take advice for matters of the heart," said no one. It's 2022. Online dating is tactical; it's about fine-tuning your picture selection, doing prior due diligence on LinkedIn for potential dates, and never being spontaneous. Always make sure to "take your time to get to know the other person" and to "snuff out the red flags" before meeting, they said.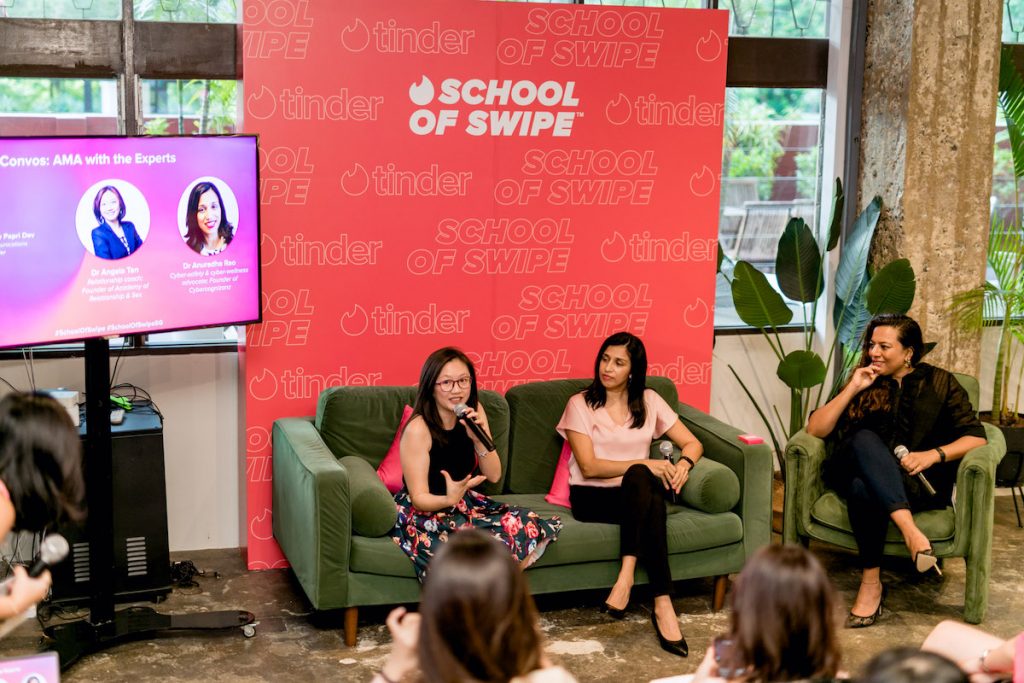 May I suggest a casual video call and go through some important questions such as: "Do you think the short tenure of all your previous relationships point to an inability to be truly vulnerable with someone else? Or perhaps more indicative of some childhood trauma which resulted in commitment issues?"
After the online-dating-think-tank session, I mingled with the guests. I spoke to some influencers (I think) who lamented the fact that we only had one free alcoholic drink and that they "thought this was going to be, like, a party".
We were perhaps overheard by a PR rep who told my new acquaintance that if he wanted more drink tickets, he could approach the front desk and just ask for more. I follow, uninvited. We get more drink tokens without question. She was holding onto a whole wad of them (meant for invitees who didn't bother showing up?). All-in-all, I had four (free) cocktails. Results!
Let's talk ancillary activities. The organisers, in my humble opinion, truly had a strong grasp of the Gen-Z psyche. They seemingly enticed influencers with a 'fab makeover'. In reality, sitting in a room off the main space is a person wielding a curling iron and another braiding Spotlight ribbons into people's hair.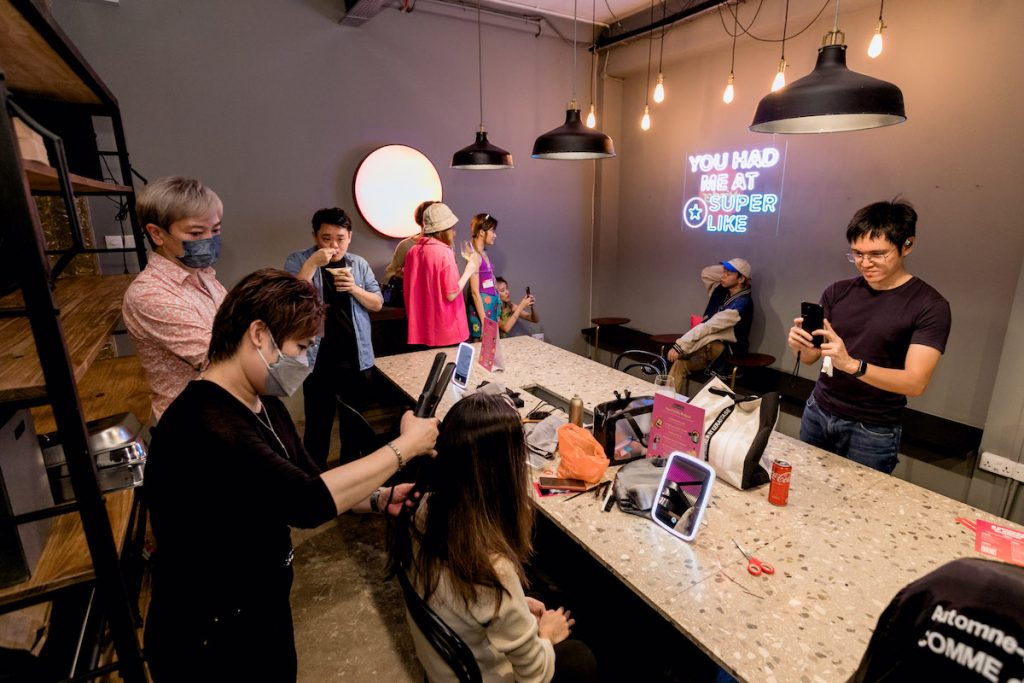 A piece of advice to PR professionals: Zoomers are all about Irony Irony Irony. A pretty curl ain't fooling no one. Nonetheless, attendees are lapping it up—a potent sign that all of us really miss experiential stuff IRL. The queue for a temporary jaguar tattoo station is by far the most popular; turning that little corner of the room into a vibrant co-working space where influencers could strategically take selfies, film TikToks, and generally multiply their clout while waiting in line.
Ultimately, these events are a cost-benefit analysis game, and brands and influencers are its witting players. In summary:


---
Ratings
Food: 7/10 (additional 5 basis points because it was free)
Drinks: 5/10 (points deduced because it was juice from concentrate)
Activities: 3/10 (my internal dialogue was the most entertaining part of the event)
People: 10/10 (absolutely divine anthropological specimens)
Free stuff I obtained or procured
Canapes
– Salmon tartlets (reminiscent of Polar egg tart)
– Chunky bigboi otahs
– Chicken salad (on boats)
'Tinder' 'Bespoke' Cocktail x 4
– With Marigold juice
Goody bag
– Tinder-branded laptop sleeve
– Selfie light clip
– Tinder-branded water bottle ('Not a thirst trap' text brandished across it)
– Stickers
– Ice-breaker prompt cards ("Are you an early bird or a night owl?"
– 1.5 7-Eleven brand 'Strong Zeros' (bought for me by RICE editor-in-chief)
Saw the 'Buttock Damn Big' TikTok star
Saw some other random TikTokers of lower prominence
Could have gotten free soft drinks
Tinder Platinum subscription
Cost
Grab: $24.80
MRT: $2?
Time: $31.26 (for 2h 14mins at $14/h)
– Subtotal: $58.06
---
If you haven't already, follow RICE on Instagram, TikTok, Facebook, and Telegram. If you have a lead for a story, feedback on our work, or just want to say hi, you can also email us at community@ricemedia.co.