Top image: Gautham Ramesh / Facebook
From his HDB maisonette in the East of Singapore, Gautham Ramesh tweaks maths and physics models for some of the fastest cars in the world.
Three monitors help him visualise the vast amounts of data, and a VPN plugs him into a large data centre that churns through about 60,000 cores of computing power on average.
Over in the English countryside—Oxfordshire, to be exact—his colleagues in the Williams Formula One (F1) team uses those very models to predict the aerodynamics of its cars, fine-tuning their design and performance for the motor racing competition.
Gautham, 36, is Singapore's first F1 engineer. And the only one in the industry working remotely from here.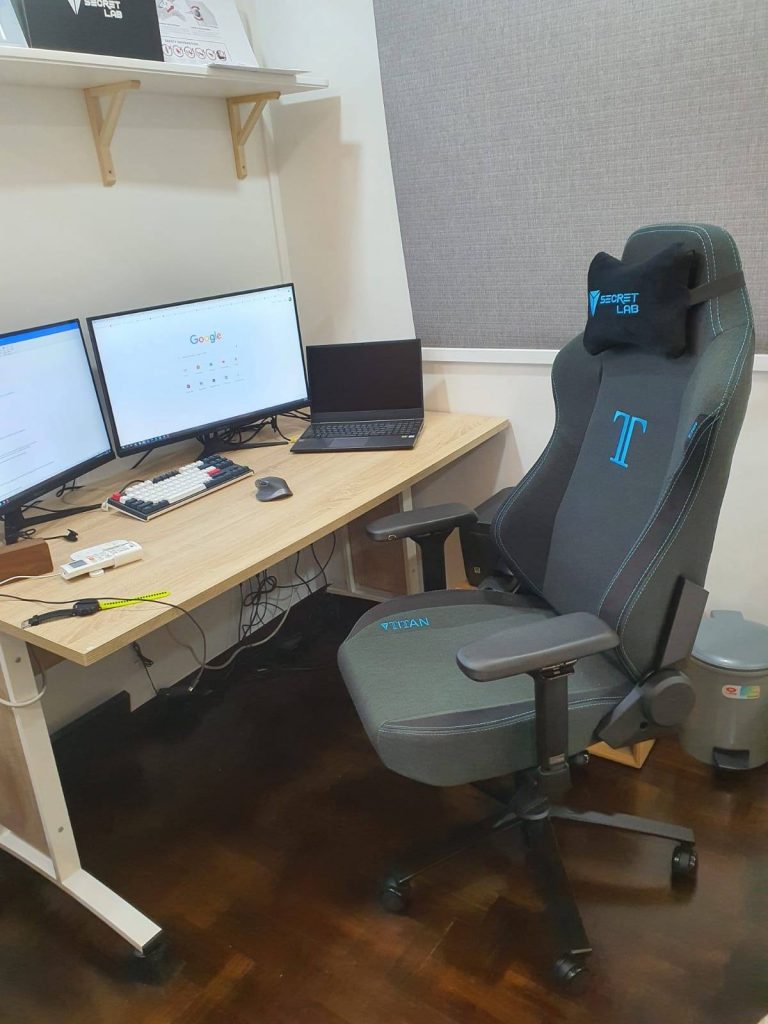 The Brains Behind F1's Speed Machines
To understand what Gautham does, the first thing you have to know is that aerodynamics is everything in F1. It's the reason racing cars sit so low that their drivers are practically lying down: The lower centre of gravity confers stability, better downforce, and lets drivers take those corners that much faster.
The second thing you have to know is that air is highly chaotic. Those pesky little molecules are turbulent. And how they fall over the body and tyres of the car can have massive effects on the vehicle's speed—a big reason why Gautham cringes internally when cars sustain dings on the track.
Dumbing things down for the layman, he explains that something as imperceptible to the naked eye as raising the floor of a car by a matter of 5mm can result in performance gains.
"A small bit that breaks off might be quite an important part that causes it to lose a lot of performance."
It's rigorous work, but this is where the math and physics nerd in him thrives. "It's very random sometimes. That's one of the more challenging and, I guess, favourite parts of the job."
Each F1 team gets only about eight hours to test its machinery on track before each season. But the bulk of adjustments to the car is actually made before that. This is where Gautham's models and simulations come in.
Long before tyres hit tarmac, aerodynamicists and designers design parts of the car. To get an idea of how these components will perform in the real world, they'll seek the expertise of people like Gautham, who works in computational fluid dynamics (CFD). Through careful calculations, Gautham predicts the impact design choices might have on the car's speed and stability.
In other words, the National University of Singapore mechanical engineering graduate is the brains to F1 drivers' brawn. While the Williams drivers Alexander Albon and Logan Sargeant put in the hours at the gym, perfect their reaction times, and build their neck strength with terrifying contraptions, Gautham and his colleagues crunch the numbers to build the crucibles that will carry them through each 305 KM race.
Every race is a team effort, but there's no denying that the drivers are the stars—they're the ones signing autographs and popping champagne when they secure a podium finish. But the engineers supporting them behind the scenes rarely enjoy the spotlight.
Gautham isn't too hung up on that. Seeing his work make an impact on the track is more than enough for him.
In 2022, Williams was the slowest F1 team, coming in dead last in the constructor standings, which sums up points accumulated by the team's drivers that season.
Two months into this year's season, which runs from March to November… they're still at the bottom of the table. But Gautham is optimistic.
"If you look at the deltas—the timing differences between the first and last car—this year, it's a lot closer than it was last year. What we've done over the last year and a half, in terms of developing our tools and methods, has helped us realise a big gain in performance."
The improvement is just two seconds on average, but it is an incredible accomplishment for the team, says Gautham.
"Those two seconds' improvement is immense in our sport where the difference between getting 5th place and getting 20th is sometimes only less than a second difference!"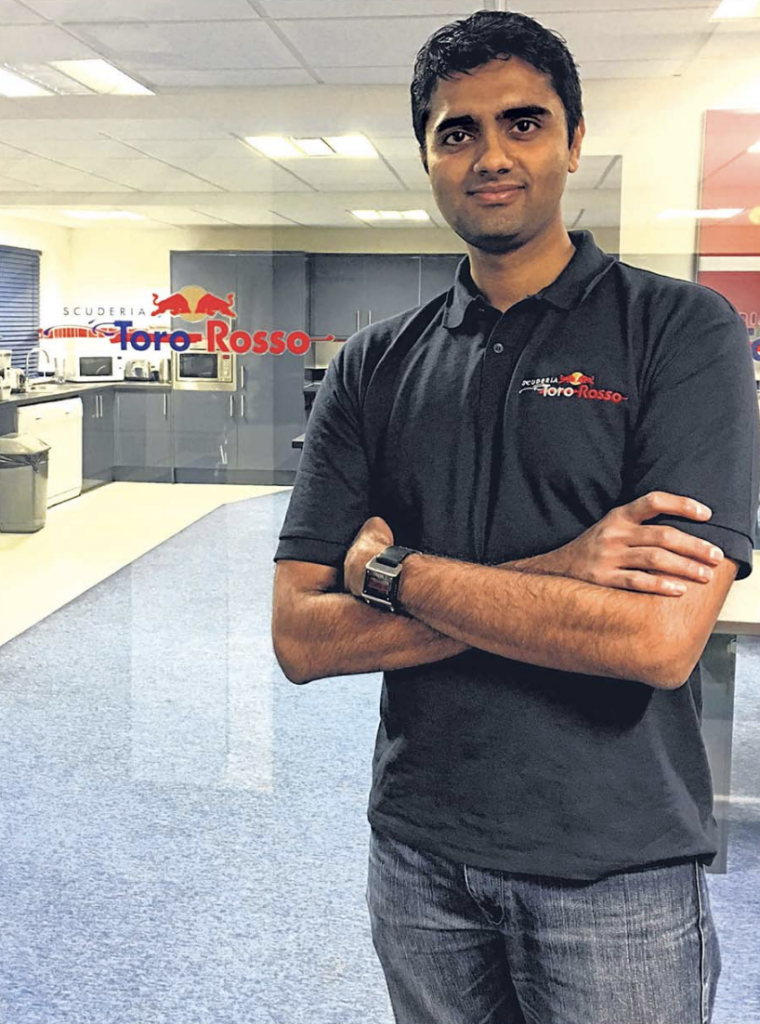 Doing It All From Singapore
The privilege of being part of an F1 team from the comfort of his HDB flat isn't lost on Gautham, who says he's "very happy" with the current arrangement.
The sport is predominantly based in the UK—six of the 10 teams have some sort of base there. Before the pandemic, F1 engineers were generally expected to work on-site, Gautham says.
From 2012 to 2017, his stints with Williams, Marussia, Lotus, and Scuderia Toro Rosso took him across the UK countryside. He's lived in various locales in Oxfordshire, from the waterside town of Banbury to Bicester, popular for its outlet malls.
Idyllic town life wasn't Gautham's cup of tea at all, he admits. Not only was Oxfordshire "disgustingly cold", he rarely saw the light of day. "You go into work; it's pitch dark. You leave work; it's pitch dark."
Unlike bustling Singapore, stores shutter early, and there was precious little to do. Nevertheless, he endured the small-town life for his F1 career.
Then Brexit happened.
After the June 2016 referendum, the UK fell into economic and political uncertainty.
Gautham's Singaporean wife works as a doctor, so returning home where training opportunities were aplenty began to seem like the logical choice. The couple also had their first child not long after the referendum, so it didn't hurt to have their families closer by.
His fluid dynamics expertise helped him land jobs at Dyson and, later, Technology Centre for Offshore and Marine Singapore (TCOMS). But Gautham still had his eye on F1.
In October 2021, the stars aligned and he landed a remote position in Williams. He'd kept in contact with his ex-colleagues and jumped at the chance to return to the team when he heard of an opening.
"COVID-19 helped a lot of people realise that you could do a lot of jobs remotely. I asked, and they said okay. So you won't know until you ask."
He does have to work from noon to midnight to allow for a fair bit of overlap with his colleagues in the UK, but now he enjoys the best of both worlds: Living back in Singapore, and being able to work in his dream job.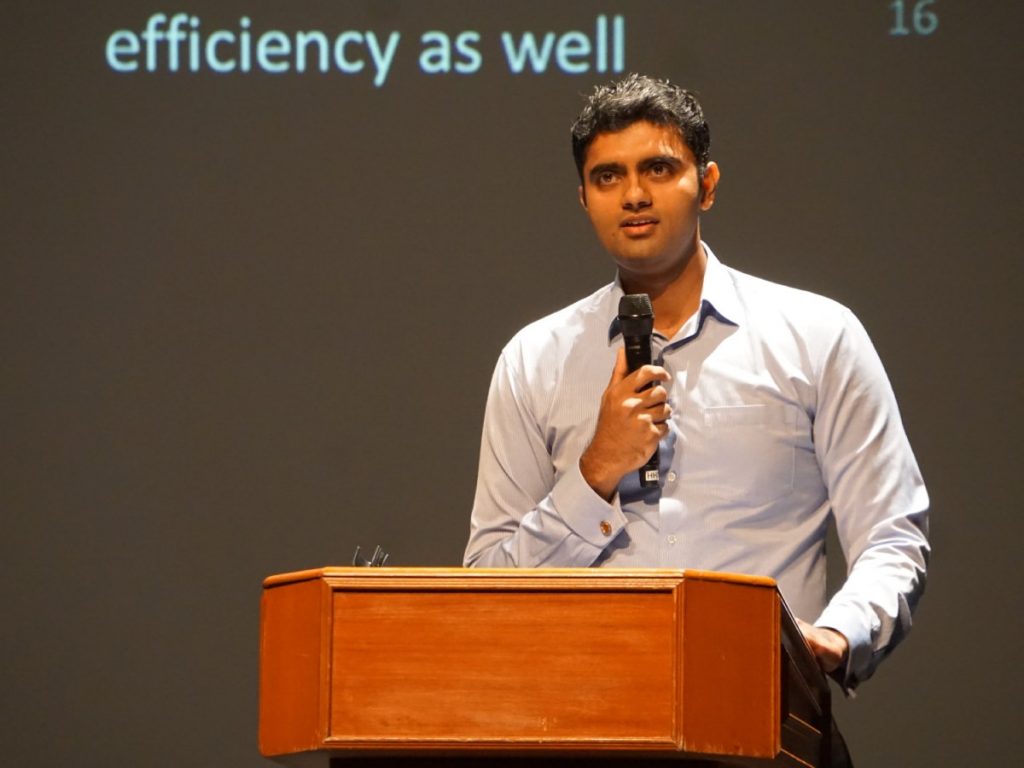 Drive To Succeed
Becoming the first Singaporean to do anything is a big achievement in itself. For Gautham, it was all a matter of being laser-focused on his goal since childhood.
Gautham was 11 when cable TV came into his life, and with it, his first brush with F1 and a life-long dream.
From the moment he watched his first F1 race on TV in 1997, Gautham says he was sucked in by the wonders of race car physics, from their breakneck speeds to their artful cornering on the track. But breaking into the industry as a Singaporean was nothing short of a pipe dream.
Back then, there wasn't any Singaporean representation—most of the industry comprised of European and British faces.
There was also little exposure to anything automotive-related in the Singaporean engineering industry, Gautham says.
Becoming an F1 driver wasn't in the cards for him, as he was far too short-sighted. He was also cognisant that most drivers start training through karting from a much younger age.
"There was no way (I could become a driver), so I started looking at what else I could do. And I was quite interested in math and physics and stuff like airflow aerodynamics."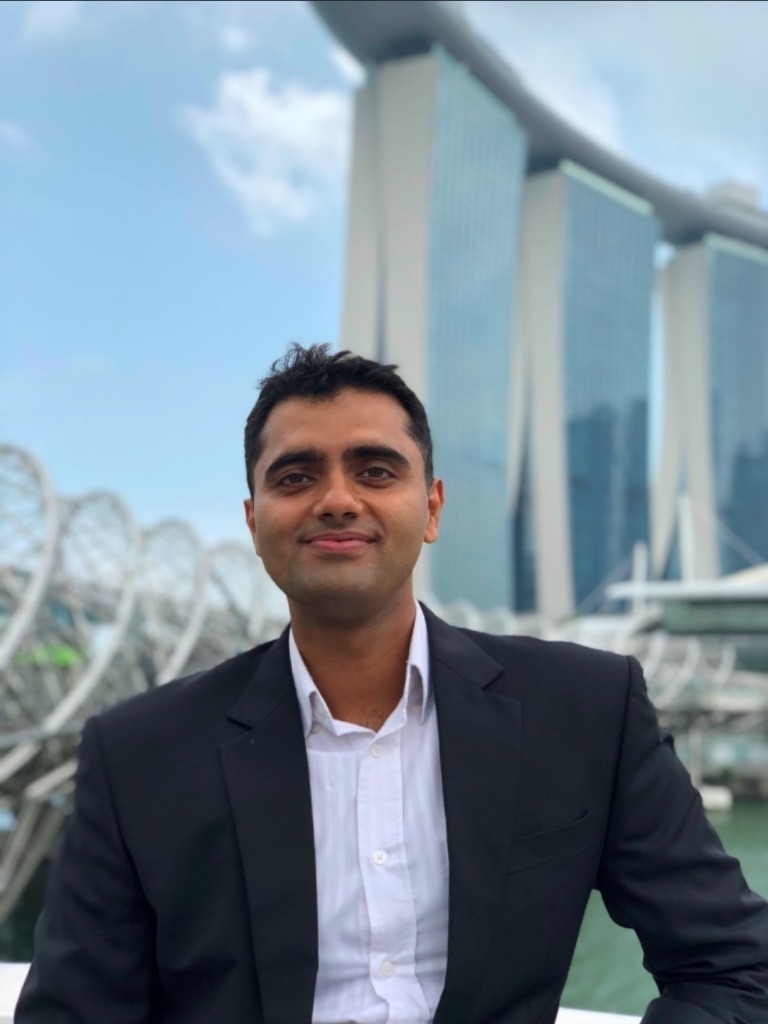 This was before the era of Netflix documentaries such as Drive to Survive and YouTube highlights of races. All he had were magazines like Racecar Engineering, he recalls.
"At that time, there was very little information on F1. You don't have the internet; you don't have Instagram. So it was a lot harder."
Schoolmates would also make light of his F1 ambitions, Gautham says, and people would question if it was even possible for him to make it.
"They'd go, 'Are you sure not?' You know, that kind of thing. It creates some doubt, but you just have to stick to your guns and give yourself a shot."
He knew he'd have to pave his own way in the industry, so he enacted an action plan—studying mechanical engineering locally before heading to the UK, where all the F1 action was, to further his studies.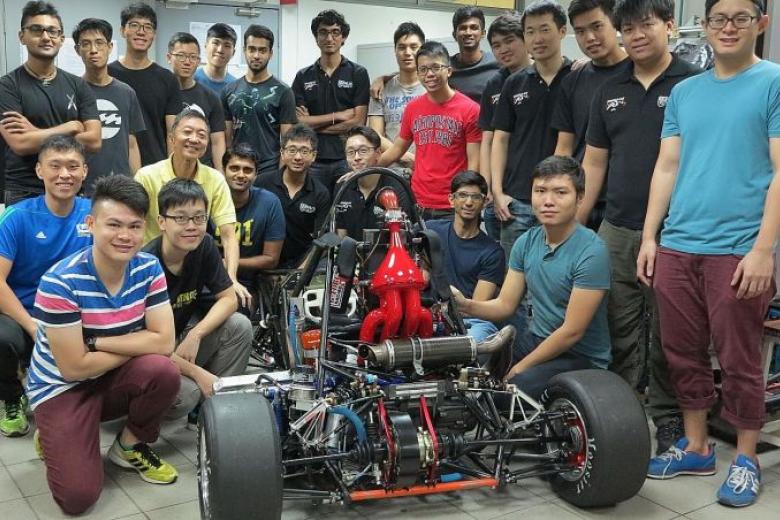 Gautham did, however, have to beat down some figurative doors. As part of his Masters of Science programme at Imperial College, he had to do a three- to four-month-long thesis project. With his heart set on collaborating with an F1 company, yet having zero connections in the industry, he sent out cold emails to the HR departments of every F1 team. He even tried his luck at guessing the email addresses of the teams' aerodynamics or CFD heads (think initial.LastName@teamname.com).
For all his efforts, he eventually received a reply from the Williams F1 team and was able to do his thesis project with them in 2012. Shortly after this project, he landed a job with the now-defunct Marussia F1—his official entrance into the industry.
Behind the Podium Finishes and Champagne Sprays
There's something undeniably badass about being part of the highest class of international racing.
Even for a plebian like me, the hype whenever F1 comes to town for the Singapore Grand Prix is real. Everything from what the drivers eat to where they go (and their thoughts on local cabbies) makes headlines. We Singaporeans eat it all up.
Gautham is predictably a lot more casual—even blasé—about being adjacent to all the glitz and glam.
He shares that he's met drivers before when they visit the engineering facilities for meetings and occasionally on the paddocks. Over the years, he's encountered stars like Charles Pic, Timo Glock, Nico Rosberg and Mark Webber.
As an F1 engineer, however, he has a front seat to the harsh realities that fans and audiences remain blissfully ignorant of.
One particularly memorable experience was being harassed by repossession men while he was working for the now-defunct Lotus F1 Team around 2015, he says.
The company was going through a tough time financially, he explains. There was little to no money and "zero upgrades" on their car that season. Lotus also hadn't paid their suppliers, hence the constant presence of debt collectors.
"They will be sitting outside the factory, outside the races, trying to just like, give a warning shot. It was really difficult."
Amid the company's financial troubles, however, it was one of Gautham's most memorable races. He lists former Lotus F1 driver Romain Grosjean's surprise podium finish in the 2015 Belgian Grand Prix as one of his career highlights.
Despite starting in ninth position, Grosjean overtook Ferrari's Sebastian Vettel to finish third.
Gautham reminisces. "I think that was one of the most memorable ones. We didn't expect it."
"It was a welcome relief and a motivation for the team members to keep pushing."
Singapore Represent
Since 2012, there have been a handful more Singaporeans working in F1 engineering, says Gautham, who's all for more local representation in the industry.
As something of a pioneer, Gautham is surprisingly matter-of-fact about being the first Singaporean to make it to an F1 team. Perhaps it's the logical science geek in him, but he tells me that it's all about making an action plan and taking tangible steps toward your goal, no matter how out of reach it seems:
"If you know what you want to do, find the best way to get to it, and do whatever you have to whatever you can to achieve it."
He's cognisant, nonetheless, that not everything always goes according to plan—that luck plays a sizeable role in things working out. But he points to himself as an example of what can go right if you simply give yourself—and your dream—a chance.
"Not everything will always fall in place, but at least you should give it your best shot."
---
If you haven't already, follow RICE on Instagram, TikTok, Facebook, and Telegram. If you have a lead for a story, feedback on our work, or just want to say hi, you can also email the writer at kim@ricemedia.co or at community@ricemedia.co.