The presidency is serious business. The upcoming presidential race, however, has already precipitated several jocular moments: Businessman George Goh getting roasted about how "people want chain (change)" and former GIC CIO Ng Kok Song touting meditation as the cure for youths' mental health issues.
Frontrunner Tharman Shanmugaratman, however, hasn't said anything quite as peculiar yet.
With former NTUC Income CEO Tan Kin Lian, 75, announcing his intention to run—the man says he's already applied for a certificate of eligibility—it's only a matter of time before we get more prime meme material. Just look at his Facebook posts.
If you're not familiar with his social media presence, I can only describe it as an unfiltered stream of consciousness.
Of course, Tan's impressive resume should not be overlooked. With three decades of service at NTUC Income under his belt, he'll likely qualify to run for the presidency under the private sector service route. Again.
Back in 2011, he'd made a bid for the presidency and stood against Dr Tony Tan, Dr Tan Cheng Bock, and Tan Jee Say. It did not end well for him, to say the least. He walked away with just 4.9 percent of the vote and lost his $48,000 deposit.
More than a decade later (and thousands of bizarre Facebook posts in between), he's back for a second try, so more power to him. If anything, at least the people of Singapore are more likely to get to head to the polls this presidential election, and we'll get a public holiday out of it.
After all, it remains to be seen if Goh and Ng will qualify to stand for election. In a timeline where everything is topsy-turvy in parliament right now, there is a chance we'll have to choose between voting for either Tan Kin Lian or Tharman as president.
As for the former NTUC Income CEO's current selling point, he's refreshingly realistic. He claims he's not perfect but "probably better than the other candidates".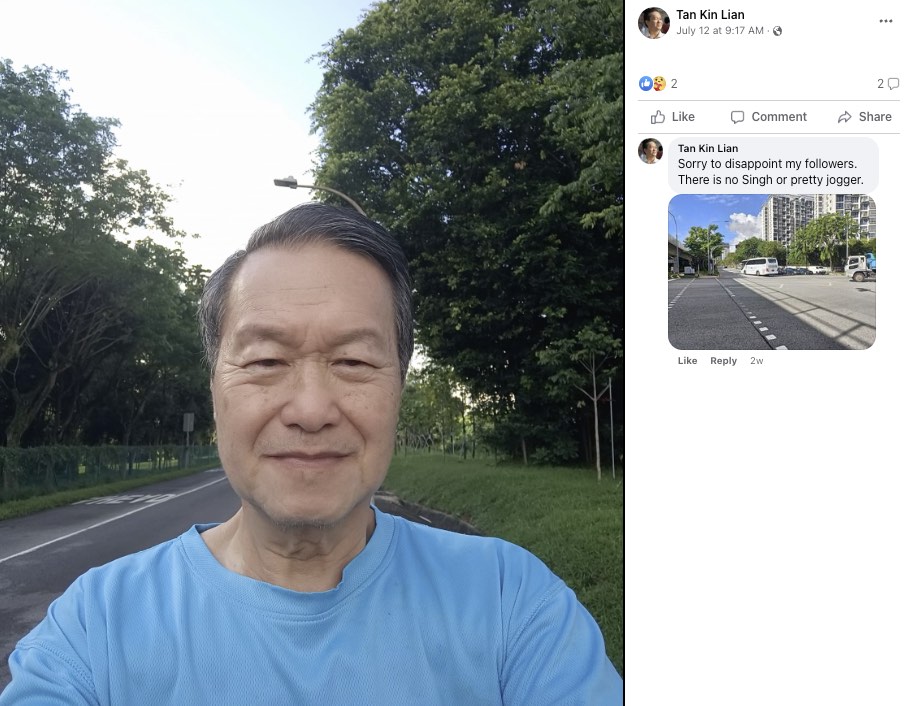 Since he hasn't gone on the typical media tour just yet, all we really know about him stems from his infamous Facebook posts.
To be fair, he's already been teasing a run at the presidency with some help from his crystal ball called CB.
We're all familiar with how politicians typically post on social media: Polished personal essays on their lives, clean-cut content, and a gratuitous number of photos of them interacting with the community.
Tan Kin Lian's Facebook is the antithesis of that. It is candid. It is unmanicured. We get everything from his hot takes on worldly issues to his minor weight fluctuations. He has 63,000 followers but writes with the candour of a grandfather using Facebook as a personal blog. You almost—just almost—feel like you actually know the man. 
From his ramblings, one thing is clear. He's the most relatable out of all the candidates.
He's Money-Minded
'Money no enough' is a common grouse here in Singapore. We're always looking to scrimp and save, and rush to buy 4D whenever anything notable—even political scandals—happens.
Tan embodies this. Just look at his recent reflections on purchasing an apartment in Johor Bahru. His unit number is 27-19, for all the punters out there. He also posts daily updates on his stock portfolio, whether it's doing well or not.
It's apt, considering that bringing down the cost of living is his prime focus if voted as president.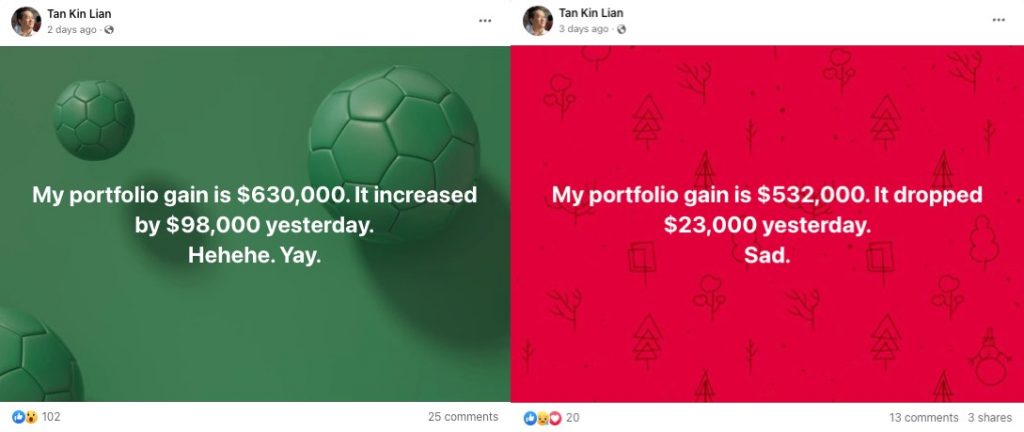 He Really Likes Food (But Not the Price)
He's clearly not poor. Nevertheless, like the rest of us plebians, he still counts pennies when he eats out.
Thanks to his Facebook account, we know what he thinks of his $7 duck porridge (It's good because it's "warm, not hot") and his $9 mee goreng and drink combo ("Soon, everything will be $10"). He's also not a fan of shrinkflation.
Tan also has humble tastes. No thank you, Killiney Kopitiam; his typical breakfast seems to be plain toast and black coffee. Cheese and milk are special treats when his stocks do well.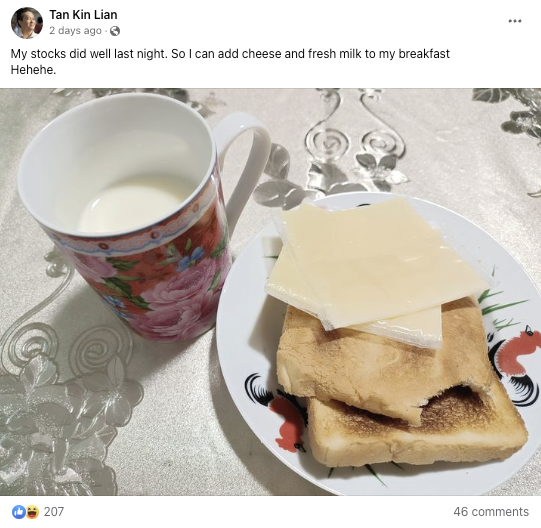 He Likes Cycling
Depending on how you feel about cyclists, this might either cost Tan your vote or earn him some brownie points.
The avid cyclist has declared himself Singapore's "first cycling president-to-be" and has said that he will open the Istana grounds for cycling on Saturday mornings. No sitting president has tried to do that, so who knows if he actually has the power to make that happen? We'll see.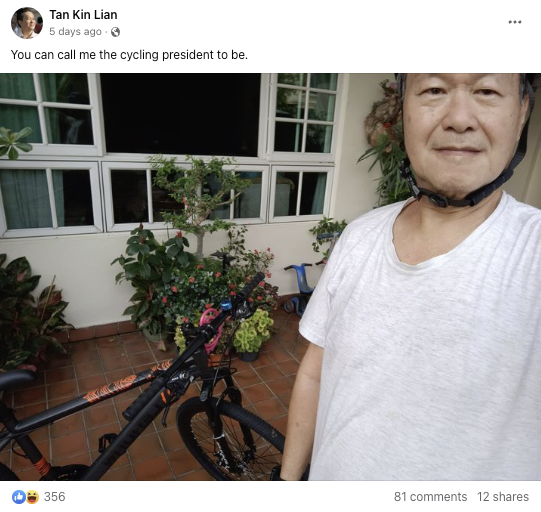 He's Not Into Technology
Should someone who exposed his own NRIC and address online be safeguarding the country's reserves? In any case, his scepticism—maybe even carelessness—when it comes to cybersecurity threats mirrors many elderly Singaporeans.
Read about his difficulties with locking his YouTrip card (all thanks to him sharing his personal details online in the first place), and tell me he doesn't sound like your ah gong at home.
Like many of us, he also hates the new display screens in the MRT. That's a grouse I can get behind.
He Knows How To Handle Haters
Stepping up to run for president—or any other high-profile role, really—means you'll be under public scrutiny. It also means you'll have to fend off keyboard warriors.
A far cry from the usual dignified PR responses you get from politicians, expect Tan to pull no punches.
When he was mocked for liking his own posts, he was unabashed, responding: "If I like the post, it may remind other people that they should like it also."
The man also isn't above trolling haters and even designed a 'certificate of idiocy' for all those banned from his page.
More Questionable Moments
Wisecracks aside, let's not forget that he's also posted some seriously un-presidential things.
Take the time when he posted (and quickly deleted) a photo of Indians on a bus and captioned: "I boarded SMRT 857 and found that I was in Mumbai".
He's also made multiple references to seeing "pretty girls" out in public, with one post including a photo of a woman's ass hanging out of her shorts.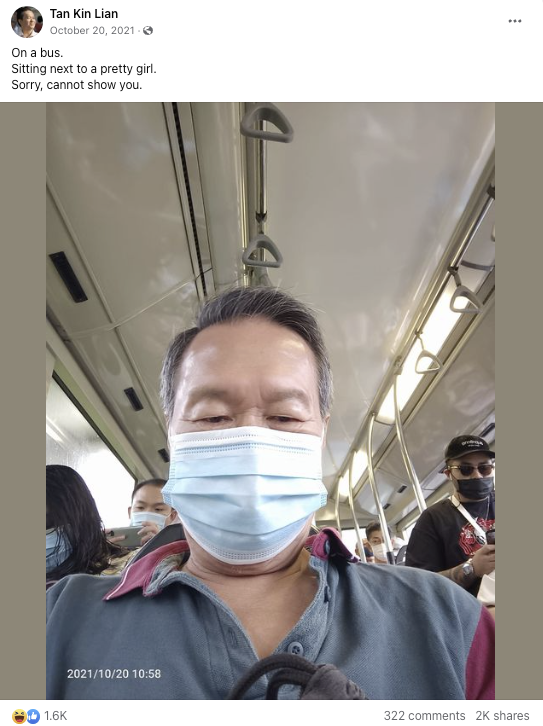 It's clear he's far from the perfect presidential candidate. Some might even call him problematic. But at least what you see is what you get.
---
If you haven't already, follow RICE on Instagram, TikTok, Facebook, and Telegram. If you have a lead for a story, feedback on our work, or just want to say hi, you can also email the writer at kim@ricemedia.co or at community@ricemedia.co.