All illustrations by Sharon Yang. The article has been edited for clarity. 
In Singapore, having a physical space to feel safe in is an often overlooked aspect of looking after one's mental health. Without this space, Singapore's homeless citizens lack an intrinsic sense of self-worth and value to their community, resulting in a deep-seated shame that's tied to their socio-economic standing. 
This is the underlying insight present in the results of the first-ever academic study measuring the scale of homelessness in Singapore. The results of the study, which were released on 8 November, uncovered about 1,000 homeless people in Singapore who were "sleeping rough"—a term used to describe the act of sleeping in the open. 
Among the more notable findings, most of these homeless people observed were older Chinese men.
In a separate study released earlier this year about the higher likelihood of men committing suicide, it was found that older men tend to internalise their struggles, making it harder for them to be forthcoming with their feelings and difficulties. This could be the result of an unspoken rule to live up to dated stereotypes of masculinity, including providing for one's family. 
As a result, one can conclude that the internalised shame of not meeting society's standards of being 'man' enough prevents them from seeking help. 
While shame is a silent epidemic, according to American researcher Brene Brown, it's rarely mentioned as one of the strongest drivers of most behaviours on both individual and collective levels when it comes to social issues. Likewise in the study's results, there was little mention of the state of mental health among the homeless people observed, especially the older men. Understandably, it's near impossible to assess mental health through observation and short interviews. 
This pervasive shame, unfortunately, can be seen as the core reason behind several of the study's other findings.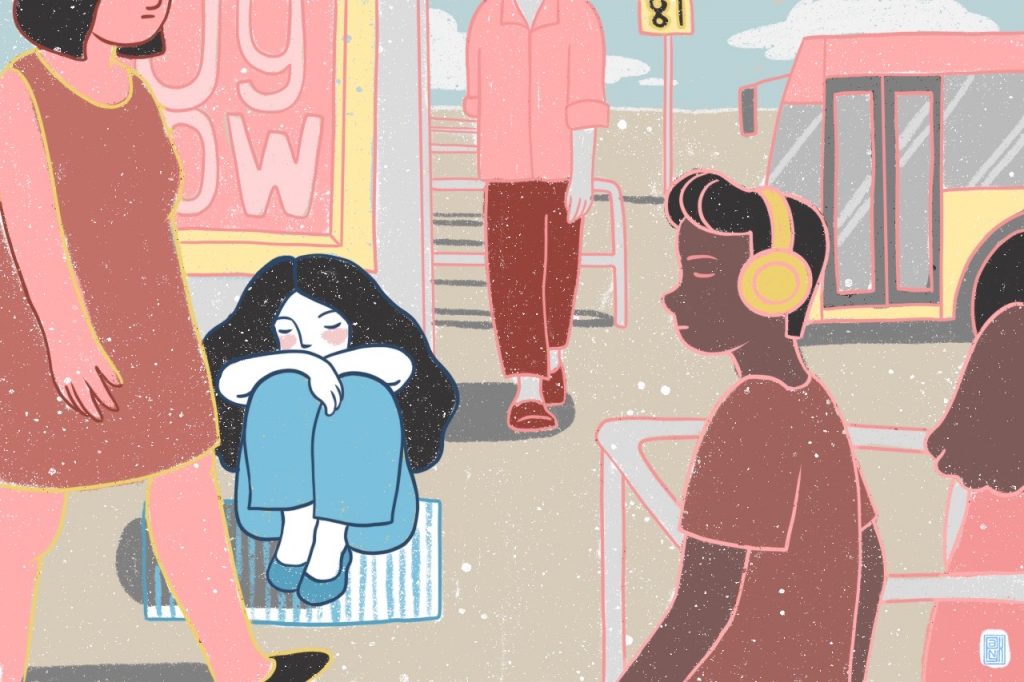 The study also noted that more than half the homeless people observed had frequent encounters with public law enforcement agencies, such as police officers who were responding to public complaints about them sleeping in public areas. In such scenarios, the police would then ask them to move to another location, effectively not solving anything. 
Occasionally, these homeless people would also be approached by workers from the Ministry of Social and Family Development (MSF). 
This led the team involved in the study to question how society decides who has rights to public spaces. For instance, should the anxieties of a homeowner take priority over the need for a homeless person to have shelter for the night? Should a sense of belonging to the community be defined by property ownership? 
By treating the homeless as 'less than' human, and by denying their basic needs for shelter or a safe place to sleep every night, we tie their self-worth to owning a house or having a house to return to—a privilege that only certain socio-economic sectors enjoy. 
But this privilege is enforced and deepened by existing policies and social and cultural narratives, all of which only serve to justify our decisions about who has rights to public spaces in Singapore.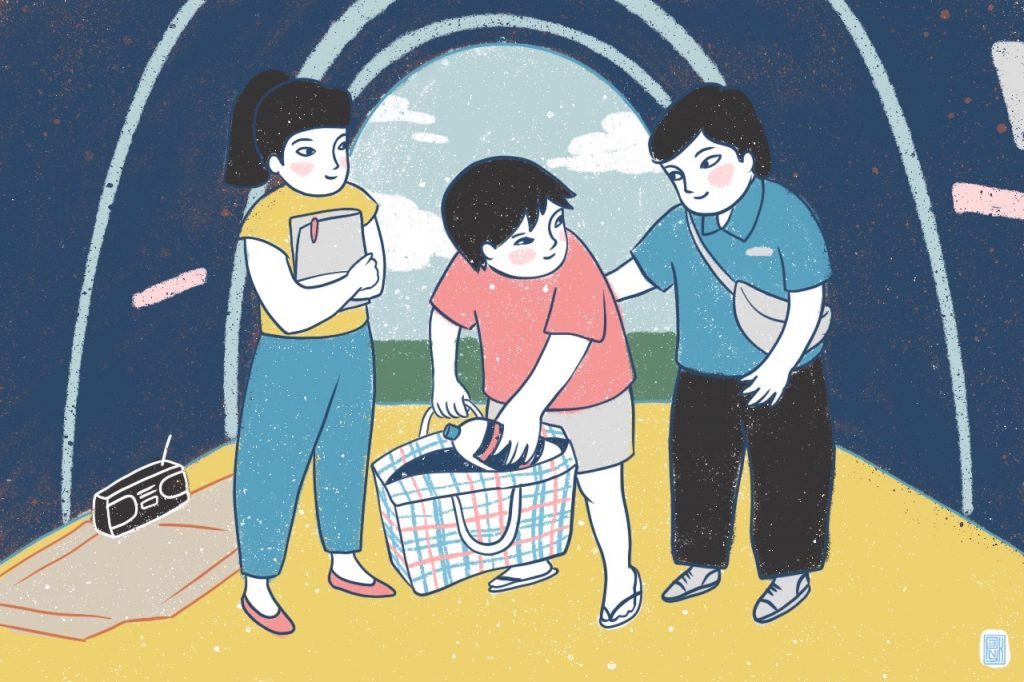 For one, the middle, upper-middle, and upper classes have access to more opportunities to progress economically, whether these are related to education, social help, or health. Their basic needs are relatively easily met, and often surpassed. Similarly, lower-income groups tend to remain stuck in
poverty cycles
, where they are repeatedly systematically disadvantaged because they can't
afford
to escape. 
In this case, social workers must continue to reach out to those who have tried seeking help and failed, such as by not having the necessary documents for the social service offices to give them the help they need. At the same time, we must refrain from passing judgement on a homeless person's need and desire for another type of help, nor ostracise them by assuming that they aren't grateful. 
Mere bureaucracy might reinforce the shame that is inherently attached to the stigma of being homeless. Being asked for documentation that they don't have might emphasise the feeling that they aren't 'legitimate' citizens deserving of basic care. 
Yet this red tape is often invisible to those who are already privileged, and who, in turn, place an inordinate amount of blame on the homeless for not wanting to help themselves.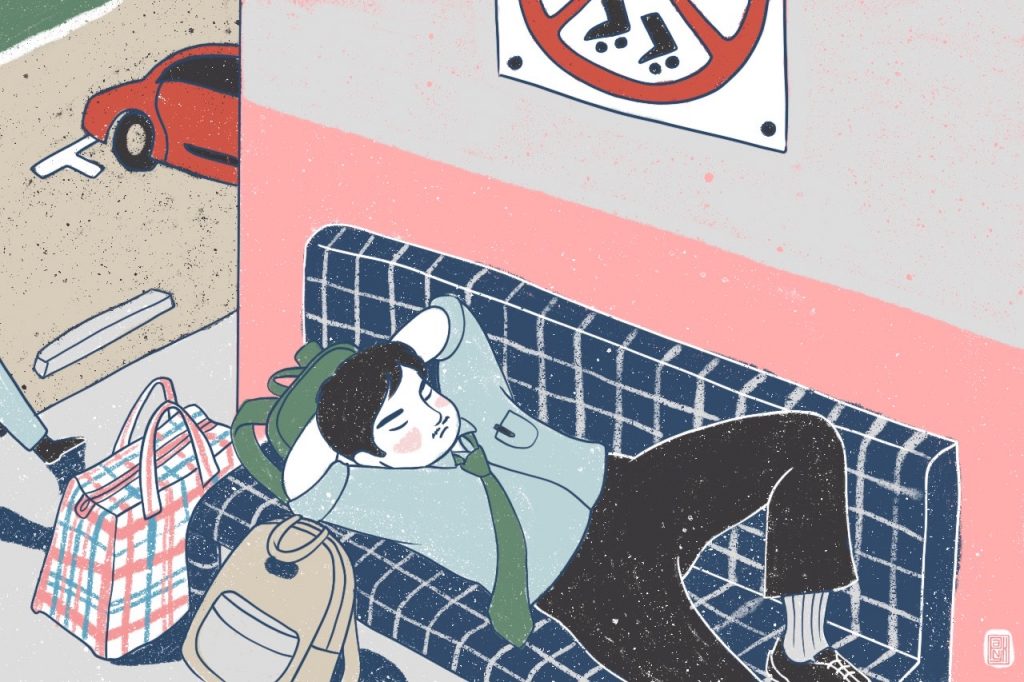 As a result of the persistent inability of public agencies to give these homeless people the help that they truly need, coupled with the mountain of disadvantages that they already face from the get-go, the study revealed the prevalent
chronic
homelessness among the homeless population in Singapore. 
More than 50% had experienced one to five years of homelessness, while more than 30% had gone through over six years of being homeless. The study reports that "persistent street homelessness combined with constant instability characterises their housing insecurity and indicates the considerable challenges of exiting homelessness". 
Interestingly, the homeless people observed maintained "some connections to their communities and social networks despite housing dislocation".
In fact, about two-thirds had spoken with their family in the past month. Even though several of them mentioned having a safer place to sleep, they couldn't go to this place due to relational conflicts with other people living there.
In this sense, losing one's close relationships might further deepen their shame. They might think they're useless if they can't even do something as basic as stay in touch with their families. 
Essentially, homelessness is a systemic problem, whose symptoms range from the lack of knowledge about homeless shelters to the social stigma attached to sleeping rough, and even the unspoken cost of mental health when one is entrenched in chronic homelessness. Addressing the issue cannot—and should not—depend on a single, all-encompassing solution or preventive measure. 
Moreover, while systemic challenges may be the main factor hindering a solution to homelessness, we must relook and overhaul our broader narrative about our idea of home ownership and what it says about our self-worth. 
The solution to homelessness is more than just about building more homeless shelters with a lower bar to entry, revising the destitute persons act, or creating more avenues and services for these homeless people to seek help—all of which were feasible suggestions presented in the study's findings. But perhaps it is fundamentally about making sure the psychological needs of the homeless are met, such as loneliness and a lack of sense of self-worth, since being mentally healthy is crucial to being a contributing member of society. 
After all, the absence of economic, social, and cultural privilege creates a fertile breeding ground for shame. Our conversation around homelessness cannot neglect its impact on mental health, the mental and emotional benefits of having a physical safe space, and the resulting shame of being constantly disadvantaged by various policies.  
Otherwise, even a roof and four walls might never feel like home.
In conjunction with the International Day for the Eradication of Poverty on 17th October, we have teamed up with local NGOs to raise awareness of poverty and inequality in Singapore. Check out the Stand Together Festival for more information.
Have something to say about this story? Write in: community@ricemedia.co.