All Images by Zachary Tang for RICE Media unless otherwise stated.
From a quaint green box in his four-room flat in Hougang, CSJ takes out the CB6000 chastity cage.
It's the first penis cage the 37-year-old retail professional tried on when his chastity journey started in 2008.
The cage's rings, which form the base of the contraption, have smooth straight edges. The smoothness is supposedly a well-designed feature that prevents abrasions around the genital area, CSJ tells me.
Wearers carefully place their penis and testicles through the rings before snapping on the rest of the contraption.
For lack of a better comparison, the clear plastic feels like a toy—weightless in the palm of my hands. CSJ assures me that the material is of much higher quality. Medical-grade; perfect for sensitive skin.
Yet, the CB6000 never fit quite right for him. It's bulky, it's conspicuous, and it's uncomfortable despite the medical-grade certification.
The box, from which the CB6000 materialised, contains an assortment of chastity cages—wrapped for hygiene purposes and squeezed against each other in neat rows. This guy means business.
I'm speaking to CSJ to learn more about the chastity kink, which is not often discussed or even known unless you're a practitioner.
His dry-fit singlet and running shorts reveal a toned physique. I look around the room—a solitary weight bench, a set of weights, and a sleek black road bicycle leaning against the wall furthest from us.
Aside from his inclination to fasten his genitalia under lock and key, he's an avid triathlete. In fact, he claims that pent-up sexual frustrations from chastity are redirected towards his triathlon training.
A Treasure Trove of Chastity
Chastity play, through the lens of CSJ, is just a part of his broader interest in his bondage, domination, submission, and masochism (BDSM) lifestyle.
He wears a chastity cage for several days under his ordinary day-to-day wear.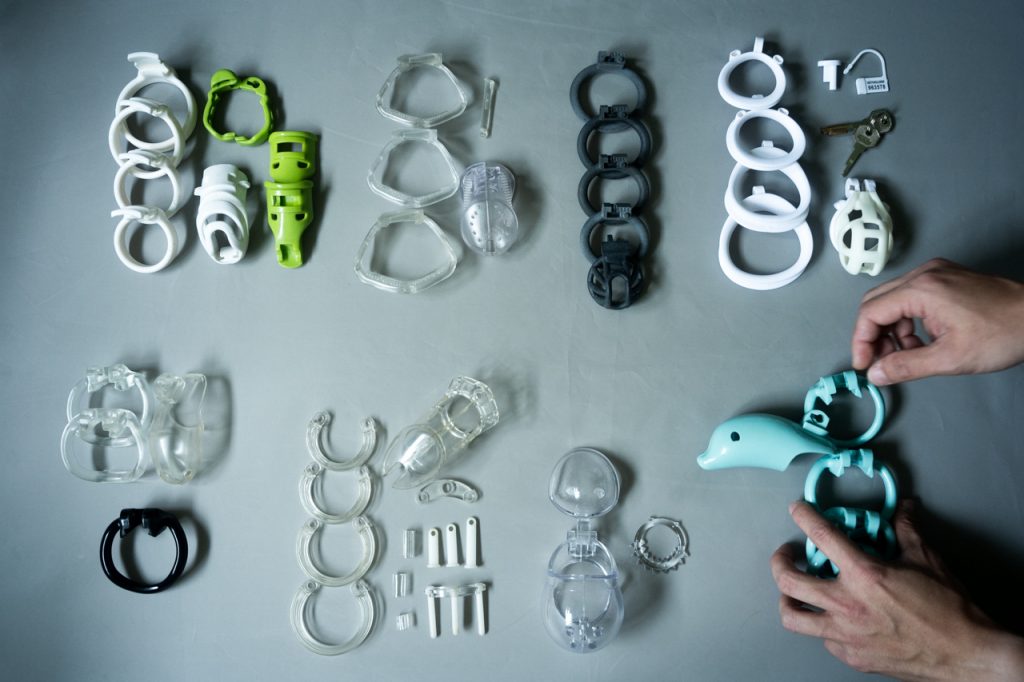 Under lock and key, the cage prevents him from masturbating or sustaining a full erection. All part of the masochistic thrill, he tells me.
"It's a feedback mechanism. When I am turned on and held back by the chastity cage, I am turned on even more," CSJ reports matter-of-factly. "You feel the full extent of your arousal in your mind but you cannot see it. It's quite an experience."
Before I can ask a follow-up question, CSJ immediately declares, "I'm wearing one now, if you want to know." He senses the follow-up question correctly, as if rehearsed before. Mayhaps a sign that he's had this conversation before?
CSJ places his treasure trove of dick cages closer to me. With the trinkets amassed, he quips that he's only a few steps away from opening a museum.
My gaze is immediately drawn to a sturdy padlock and two metal rings hanging from his necklace. "It represents ownership to my dominant," he says, thumbing the padlock.
There are precise roles in a dominant-submissive relationship that individuals consent to. A dominant is empowered by the submissive to control the scene and the play. On the other hand, submissives aim to please and serve the dominant in a relationship.
How dominants and submissives play their respective roles in the bedroom depends on what both consenting partners engage in.
I initially thought that chastity cages were merely a kink. And, for most of us, kinks are kept private and hidden in the obscure margins of our self-identities.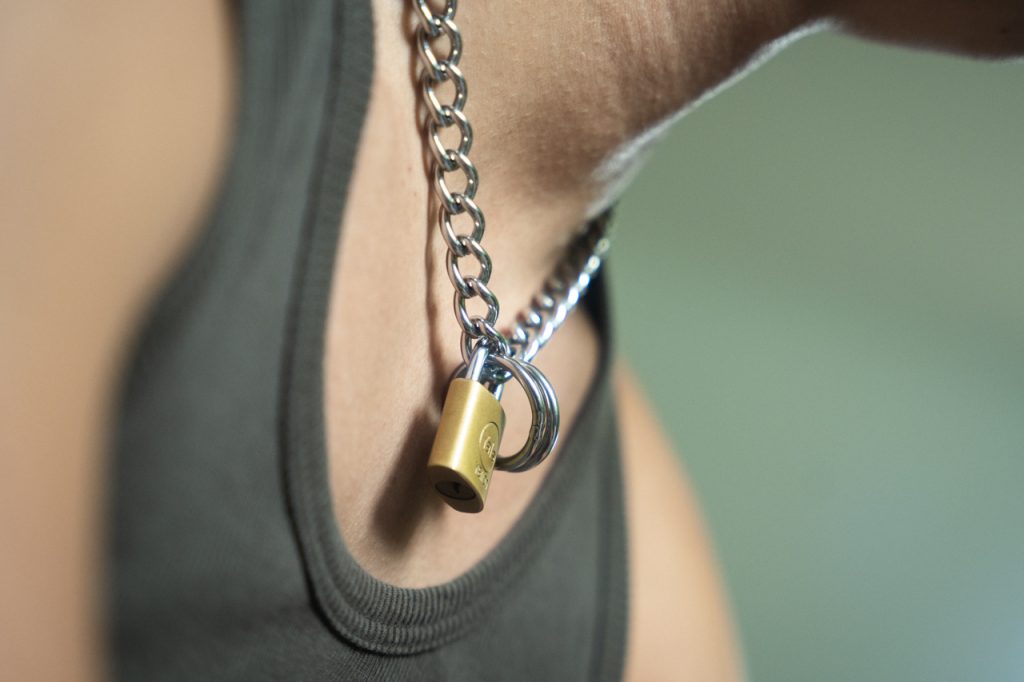 CSJ's necklace, as a symbol of pride, begs to differ. Literally and metaphorically, his kinks are close to his heart.
The upbeat cadence of his answers is a far cry from the awkward conversation I envisioned for the interview.
It's precisely why he was willing to speak to me in the first place—to shine a light on a lesser-known kink, and to show that honest conversations about sex are possible.
A Cagey Start
CSJ's fascination with BDSM fuelled his visits to online forums to find like-minded people centred around the lifestyle.
"As a gay man, I went through a process of self-discovery. And, at that point in my life, I wanted to get to know more people like me with the same interest in BDSM," CSJ recalls.
He met his first dominant on a dinner date, someone who would eventually introduce him to his first chastity cage.
That's how he acquired the CB6000 I now hold in my hands. It's clean and sterilised, if you must know.
"Imagine wearing compressions or tights but the pressure is more focused around the penis area. That's how it feels like," CSJ describes. "When you take it off, you feel a sense of freedom because the pressure against the shaft is gone."
When he speaks of the cages, he is unabashed. Though the self-consciousness was real on CSJ's first test run of a chastity cage—a test run that lasted four days.
The CB6000 is locked with a padlock just above the shaft holder. Even over a loose-fitting pair of jeans, it bulges out at the crotch. And, there's nothing CSJ can do to remedy that situation.
Through work, commute, and social activities, he fights back intrusive paranoid thoughts of his bulge catching the curious gaze of passers-by. I think it's likely people have noticed.
He remains reticent when asked where his fascination began with chastity cages and, to a more significant extent, BDSM.
I sought broader answers from Dr Martha Tara Lee, a relationship counsellor and clinical sexologist with thirteen years of experience. She theorises that his interest in BDSM could have started with something surprisingly innocuous—his childhood experiences.
"We usually stumble upon our sexuality by accident. Through our interactions, we wire our body to associate certain things with positive experiences," she explains.
"It starts as something innocent. For instance, we might get an erection when playing with shoes when we are younger. Then, we might expand our sexuality by experimenting with other shoes."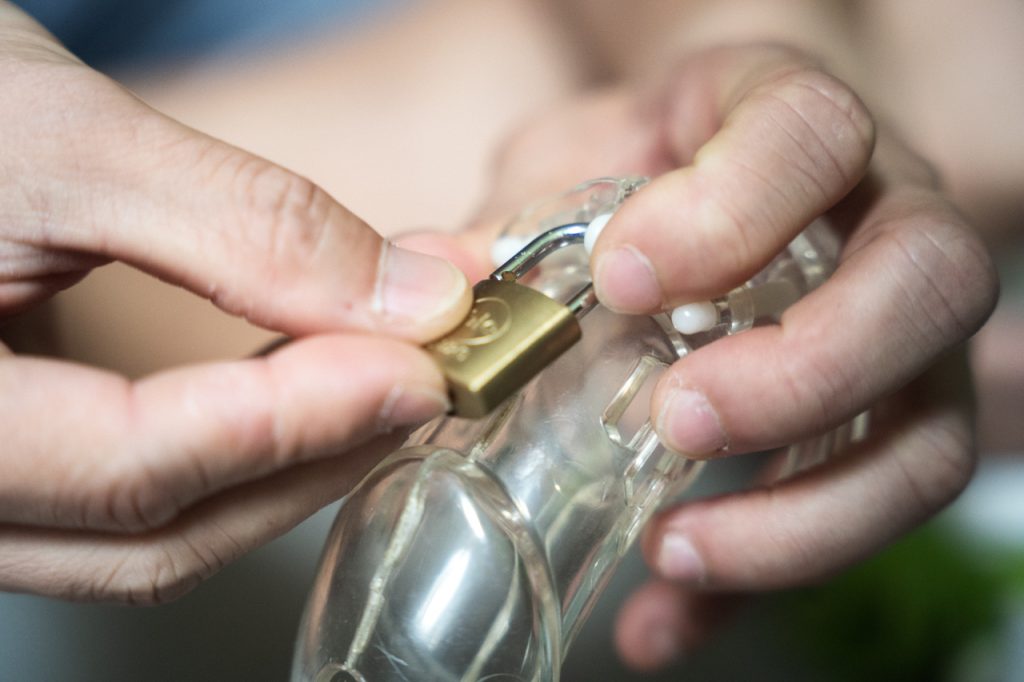 A Kink Uncaged
CSJ sits on a grey exercise mat sprawled across his living room floor. He unveils the cages one by one, slowly and intentionally, hands caressing the glossy plastic.
Like a trained magician, his audience of two (me and my colleague) remains transfixed at the performance as he lays each cage down slowly and carefully.
He has 15 chastity cages of different materials, sizes, and fits. Some are clear and transparent. Others have much more intriguing designs—one cage is made with ocean blue plastic and resembles a dolphin. Cute.
CSJ then picks up an assortment of plastic parts, all in white and green, and gathers them in a pile.
A single-minded urgency consumes him as he hunches himself over the pile of parts. He assembles the cage, hands seemingly hurried by our watchful gaze.
In a few short clicks, the cage is fully assembled and ready for use. His intense focus a reminder of the routine rifle assembly process during National Service.
"A high-quality chastity cage with shipping and handling costs can set someone back by about $200 to $500," CSJ explains as he deftly clicks the last ring of the cage into place.
Despite the hefty sum, they are worth every penny, CSJ says. It gives him peace of mind—a lesson CSJ learnt the hard way.
"I once bought a knockoff cage just to try the design on for size," CSJ confesses. "A few days later, I had abrasions at the base of my scrotum. There was swelling around the area. I took off the cage, rested, and tried applying antiseptic cream. But the abrasions came back when I put the cage back on again."
I wonder why he returned to the same abrasion-inducing chastity cage the second time. Suffice to say, the injuries put CSJ off knockoff cages for a while. For now at least.
His Favourite Cage
CSJ's first ever chastity cage—the Holy Trainer—was purchased four years after he was introduced to the kink. It marked the start of many chastity cages to come.
His eyes light up, and the steadfast rhythm of his answers quickens when he brings the Holy Trainer out of the box.
"The Holy Trainer revolutionised the whole cage scene," CSJ recalls, speaking of the Holy Trainer with unbridled reverence—as if they were the Air Jordans of the chastity cage industry.
"Previously, chastity cages were locked with a bulky padlock and key. But, the Holy Trainer came with a different type of lock. A smaller, hidden lock is not so obvious in terms of the bulging. It kick-started the design aesthetic of using smaller locks for chastity cages."
Putting the Holy Trainer away, CSJ reaches for a Ziploc bag tucked away in the corner of the box. Within it is another cage he uses on rotation with the Holy Trainer.
The cage is made of black lightweight plastic with a matte finish. The part of the chastity cage which holds the shaft in place is made up of an interlocked structure and a discrete slit at the end for peeing.
Unlike the single fold of resin seen in previous cages, the cage has more holes for breathability.
It's the Cobra Cage, a 3D-printed cage—oh, the wonders of modern technology—which costs about $250. CSJ estimates that shipping charges swell the price to about $350.
Cages sold here are relatively cheaper but still pricey enough. I would've bought and worn one myself to deliver a truly immersive article. But to justify that one-off expense to HR would have been an awkward nightmare.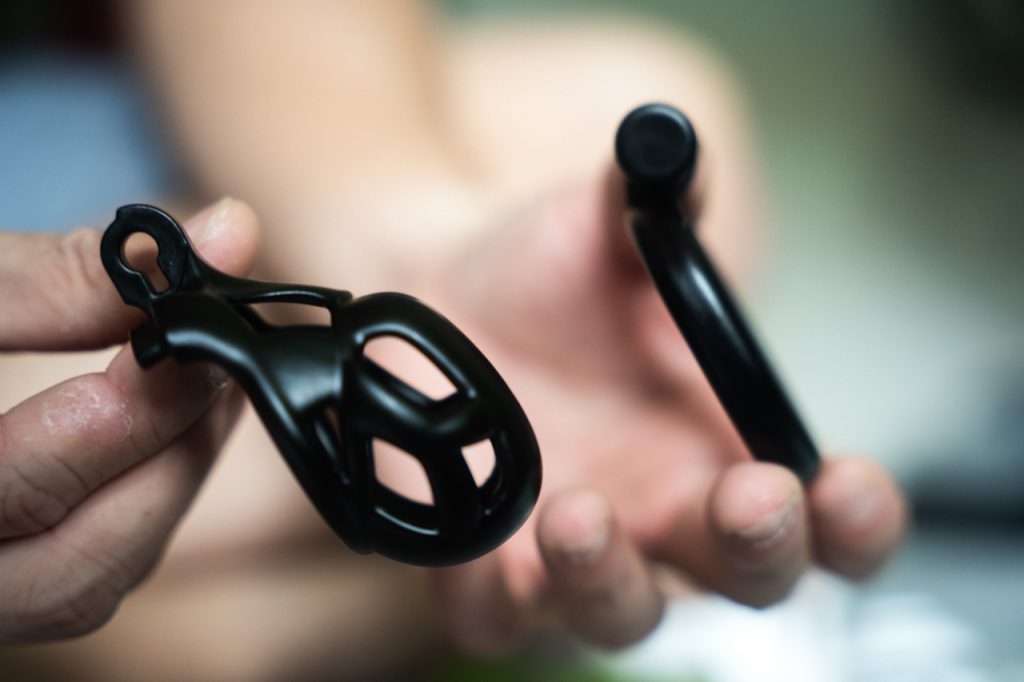 A Cinderella Story
Despite the immense collection, CSJ quickly points to the Holy Trainer and the Cobra Cage when asked which ones were his favourite.
"They fit me relatively better, for now. I am still looking for a cage with the exact fit," he clarifies.
His forever cage, if you will, is the cage he will keep close to his heart (and crotch) for the rest of his chastity journey. No more rotating between the Holy Trainer and the Cobra Cage.
About four years and $3,000 in, he is still on the hunt for the perfect cage to fit his private parts.
"To me, the rings of a chastity cage are most important because it comes into contact with the genitalia," CSJ explains once again—the importance of a snug chastity cage cannot be understated.
"The cage slips off if too large. Especially when it's cold and the genitals shrink. Then it defeats the purpose of a chastity cage. If it's too narrow, it can cut off blood flow."
"I prefer to wear mine for the long term, so I need one that is just right for me." The longest he has ever worn a cage without taking it off? One week.
But when he eventually finds that forever cage, he hopes to wear the cage for at least a month each time.
Finding the perfect chastity cage is not an easy process. Clearly, it's more complicated than shopping for clothes. Even with his extensive research, the only way to know whether a cage feels right is to literally try it on for size.
And when the chastity cage is an ill fit, wearers face a dilemma—they cannot return a chastity cage that has already been used. For obvious reasons.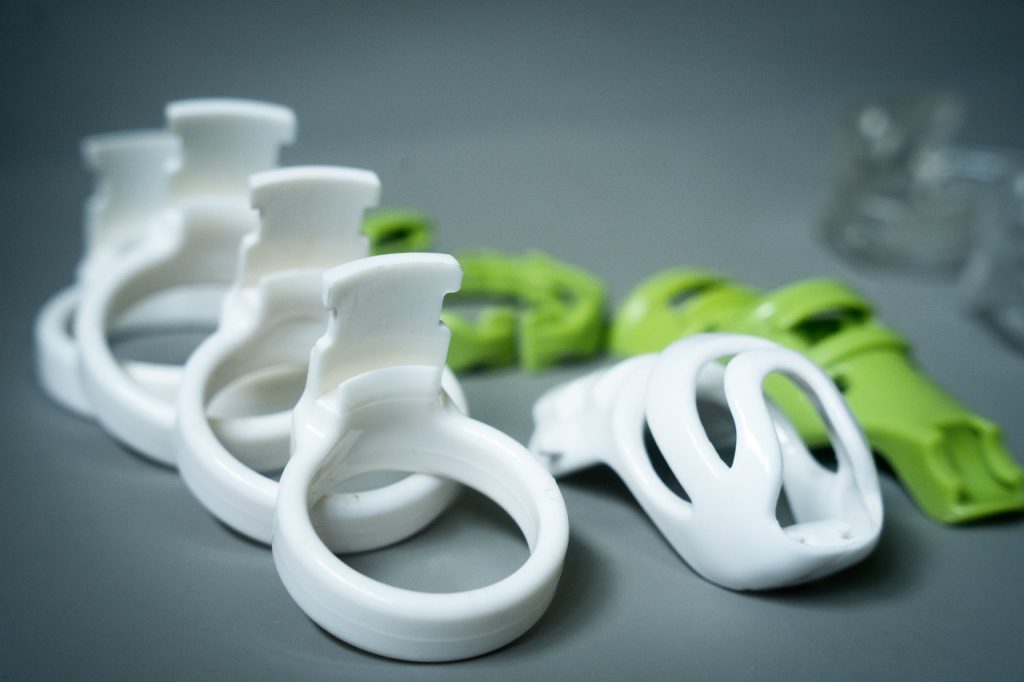 He confesses that it's why he has fifteen chastity cages in his collection, even though he only relies on two. It takes years of trial and error to find well-fitting cages.
He takes a slight pause when asked whether he is any closer to finding his forever cage.
"I'm still searching. But when I find the right one, I'll wear it for life," CSJ finally answers, a tinge of optimism in his voice.
One can keep searching for a chastity cage. But it's the chastity cage that finds you.
To My Dominant, With Love
Obtaining the perfect cage is only half the battle. The other half is the relationship between the dominant and submissive.
CSJ prefers chastity play for the long term. He keeps his penis caged for weeks, only accessible by his dominant who holds the key to its lock.
The high-flying thrills of the experience do not equate to total abstinence, at least for CSJ. He admits that he has multiple sexual partners besides his dominant when he has the cage on.
But only his dominant can get access to his uncaged penis.
In relinquishing control of his penis to his dominant, CSJ inadvertently holds up his dominant over all other partners—an act of ultimate surrender.
Still, he can only muster an awkward smile when asked to reveal more about the other end of this relationship. Although his dominant knows and approves of this interview, he feels that some things are better left unsaid.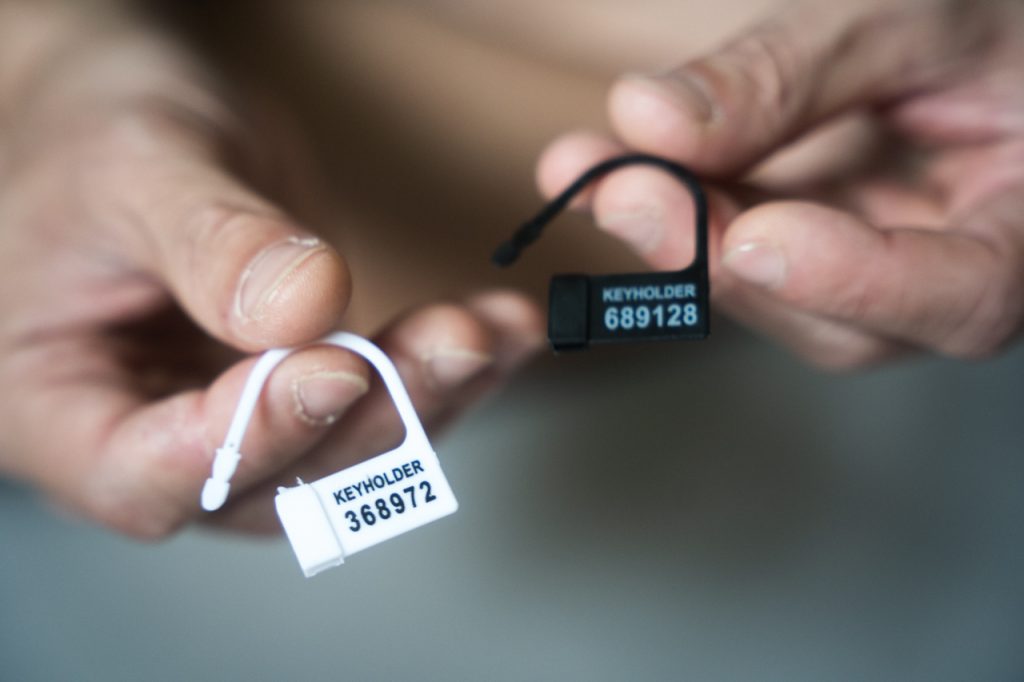 Despite this power imbalance, both partners are equals outside of play when deciding the boundaries of their relationship.
Dr Lee explains. "A healthy dominant and submissive relationship is very much about mutuality. For the relationship to be healthy, there is always an element of respect and consent. It is not one of abuse."
This element of respect is evident when CSJ was in the thick of triathlon preparations. His dominant acceded to his request to remove the chastity cage during the competition—an indicator of a healthy, consensual sexual relationship.
"A good dominant understands the headspace that I am in. He understands my frustrations. More importantly, he understands that being a submissive is just one of the things I do. I am still a human being with many roles."
The Metaphorical Cage
Exploring our kinks requires much more unseen work—painfully honest conversations with our partners, a better understanding of ourselves, and tools to communicate our boundaries.
A kink is not just about engaging in different sexual play. Far from it. To express ourselves clearly starts with a foundational understanding of ourselves.
Open conversations about anything sex-related remain on the edges of the Singaporean mainstream, let alone discussions about kinks.
It's discomfort that arises whenever the topic is raised. I won't be surprised if I read comments on social media lamenting the loss of journalism in Singapore in response to this story.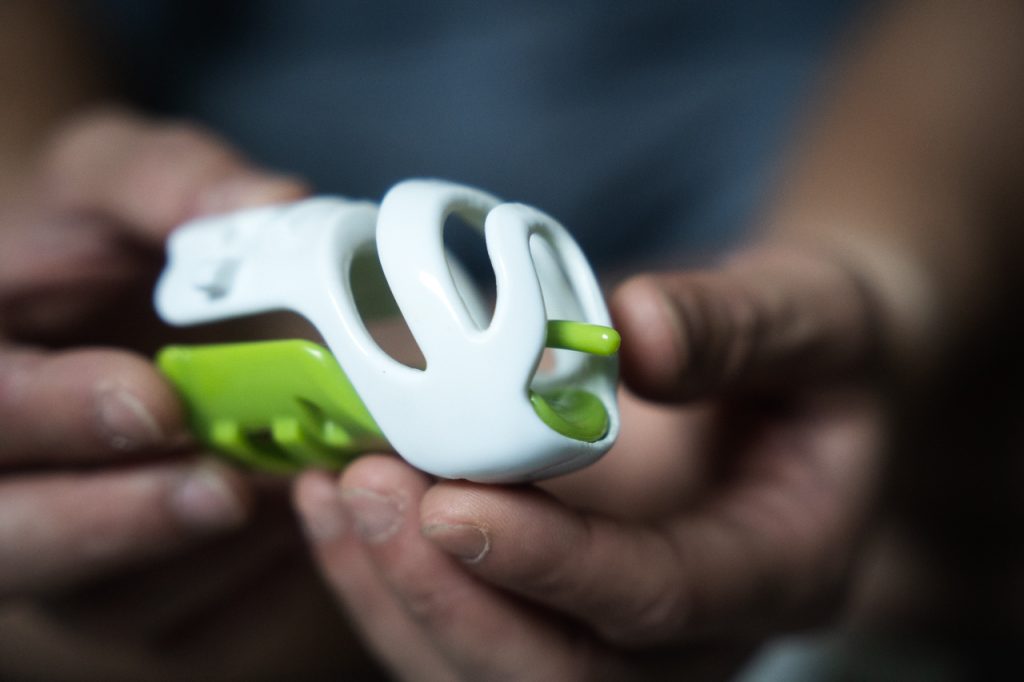 "A kink is an umbrella term for anything other than vanilla. When you want to explore your sexuality, you first have to ask yourself some real questions. Who am I? What do I like? How will this impact the other relationships in my life?" Dr Lee explains.
Perhaps, CSJ's intimate self-awareness informs the same self-assuredness in his answers. Notwithstanding the physical restraints on his penis, CSJ could possibly be, in a strange irony, the most liberated of us all.
Maybe the rest of us are trapped in metaphorical chastity cages of our own when it comes to talking about sex. The parallels are almost uncanny—restrained, uncomfortable, and awkward.
CSJ remains steadfast and optimistic in his search despite the journey's ups and down. Much like the locks on his cage, he remains iron-willed as he faces the possibility that he might never get his Cinderella moment—when the cage fits just right.
His next step in his chastity journey? The new version of the Holy Trainer, now with a button lock system.
I leave his flat with well-wishes for his chastity journey. That elusive Cinderella moment might just be around the corner in full, unrestrained joy.
---
If you want to share your story with us or have feedback on our work, email us at community@ricemedia.co. If you haven't already, follow RICE on Instagram, TikTok, Facebook, and Telegram.