Photography by Zachary Tang unless otherwise stated.
Outdoor Dining, But Where?
With the introduction of measures in this heightened version of Phase 2, diners all across Singapore have found themselves stranded and uncertain on where to head for their weekly date fix, be it with a friend or special other. In light of this, public spaces such as park benches, steps, playgrounds and even backdoor alleys are now playing host to diners who wish to have their take-away meals outside the confines of their home. Couples armed with cooler bags and take-away boxes seem to flock to these places in recent times in hopes for a short getaway from their back-to-back Zoom meetings during the day.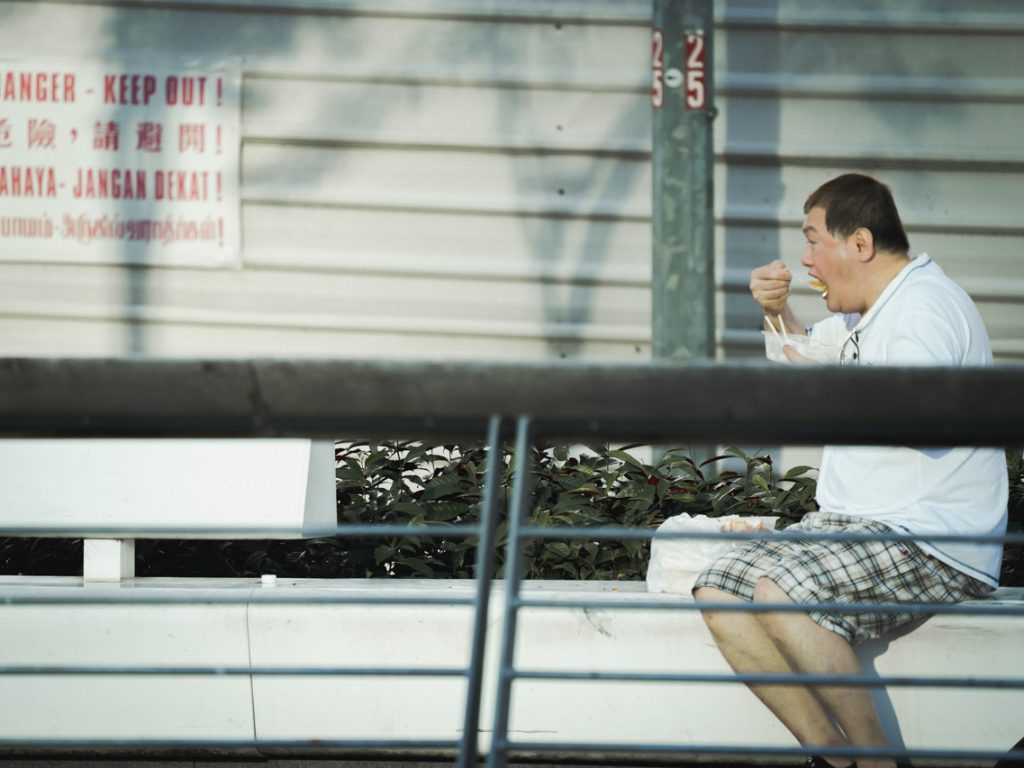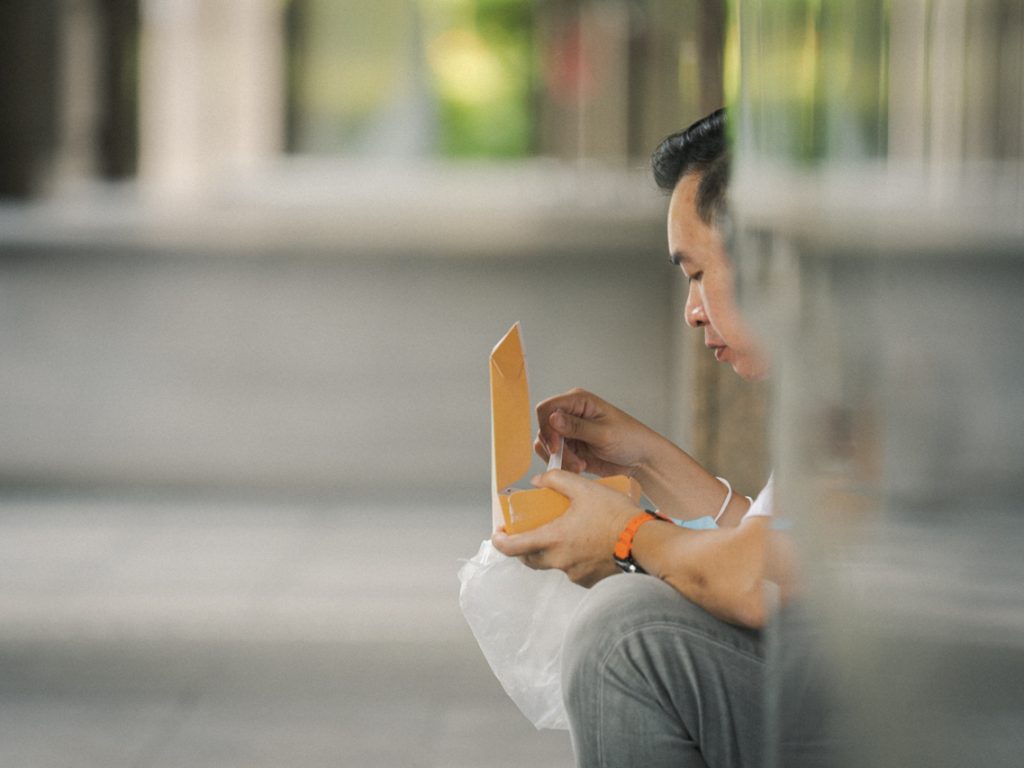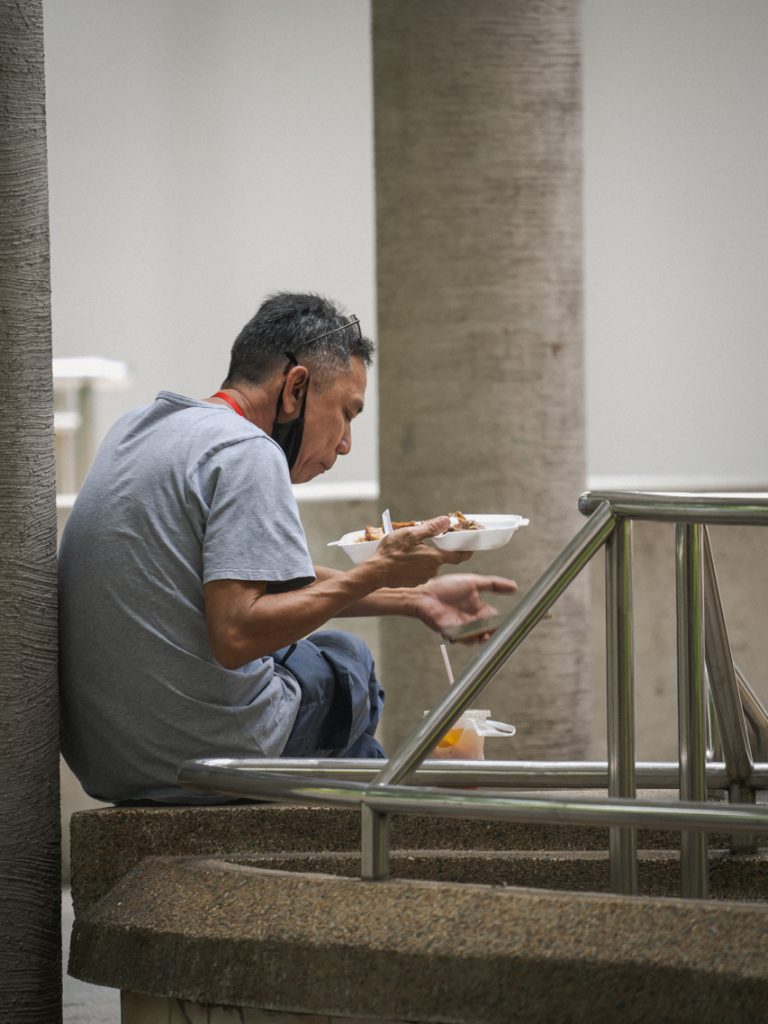 Fascinated by this rising trend, I decided to scout out other notable spots where diners have opted to have their meal outdoors in the city, in hopes of capturing similar vignettes of how Singaporeans have found ways in coping with these heightened safety regulations.
The First: A Drive-Thru Escapade
The first locale of note I visited was tucked away in an open-air car park in Kallang, conveniently located near a McDonald's drive-thru and a KFC outlet.
The wide expanse offered by the parking lot in the area ensures that visitors who patronise either the neighbouring fast food outlets are guaranteed to be able to find a cosy spot to enjoy their meal in the comfort of their vehicle. Be it with the windows down, sunroof open, or air-conditioning on full blast, dining in one's vehicle is indubitably becoming a popular option for those looking for an "outdoor" dining occasion for two. Just be mindful of spillage and crumbs in the car.
For those wanting to replicate the ambience of al fresco dining, I was slightly bemused to observe couples bringing foldable chairs and a makeshift table to the car park with them. It was not a rare sight to witness visitors reclining in their chairs under trees in the car park, cups and snack boxes in hand.
The Decathlon store nearby provides the opportunity for pairs to walk off the grease from their fast-food meal and seek some air-conditioned respite from the heat outside. Just a cautionary note, however: be prepared to expect decently strong sentiments of post-indulgence guilt in the face of ab-rollers and yoga mats.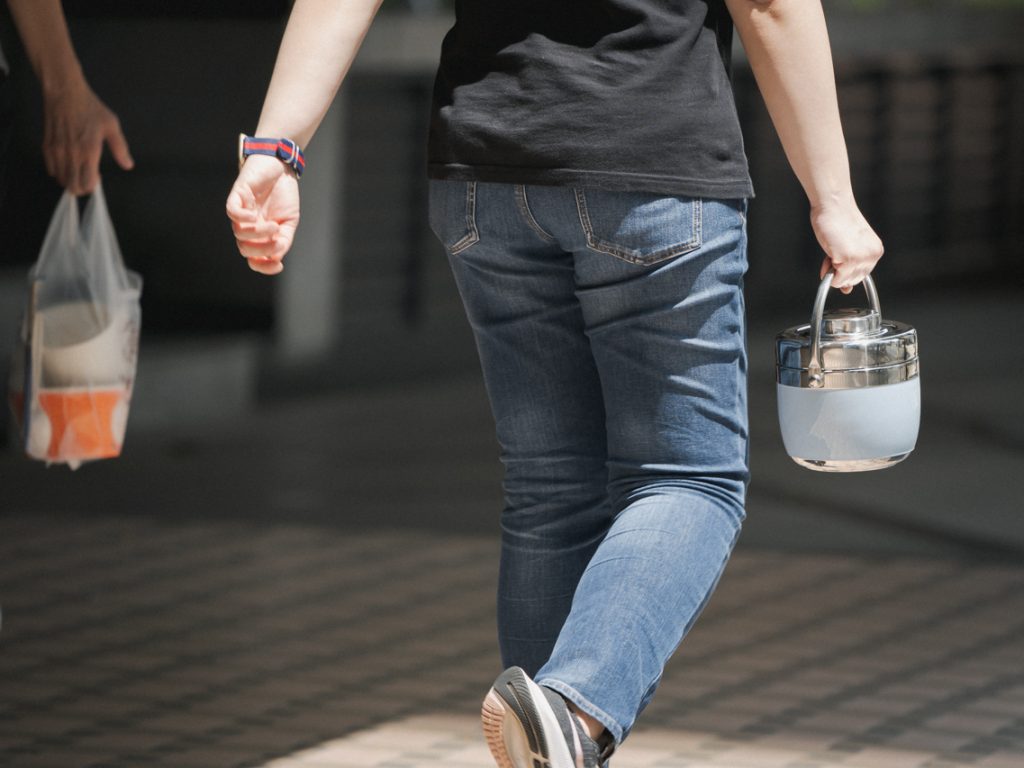 The Second: RoofTop+
One of the more popular options for outdoor dining finds itself situated cozily above the mall of Bugis+. Accompanied with the fairly calming ambience of carpeted grass and trees, the wooden floorboards that cover the rooftop veranda provides an almost oasis-like atmosphere for diners in search of a quick respite from the air-conditioned retail shops that lie below.
After a quick menu deliberation with my dining companion, we eventually decided on having our dinner at this very location.
Awkwardly struggling with our purchases of tako-yaki and a selection of finger food, we made our way to the mall's rooftop veranda to host our meal. Pairs of diners were sparsely strewn across the entire area, paper bags with snacks just like ours. Others cradled precious lunch boxes and tiffin cans drawn from cooler bags, complete with metal utensils and personal hand sanitisers. One couple at the far end of the patio even basked in the tiny flickering glow of an electronic candle as they chatted over their supermarket haul.
Comfortably nestled on the rooftop of the mall, this locale boasts relatively scenic views of the surrounding areas. The synthetic foliage that surrounds the veranda also provides some shade from the elements as well, offering sporadic shade to diners who opt to lounge on the synthetic grass.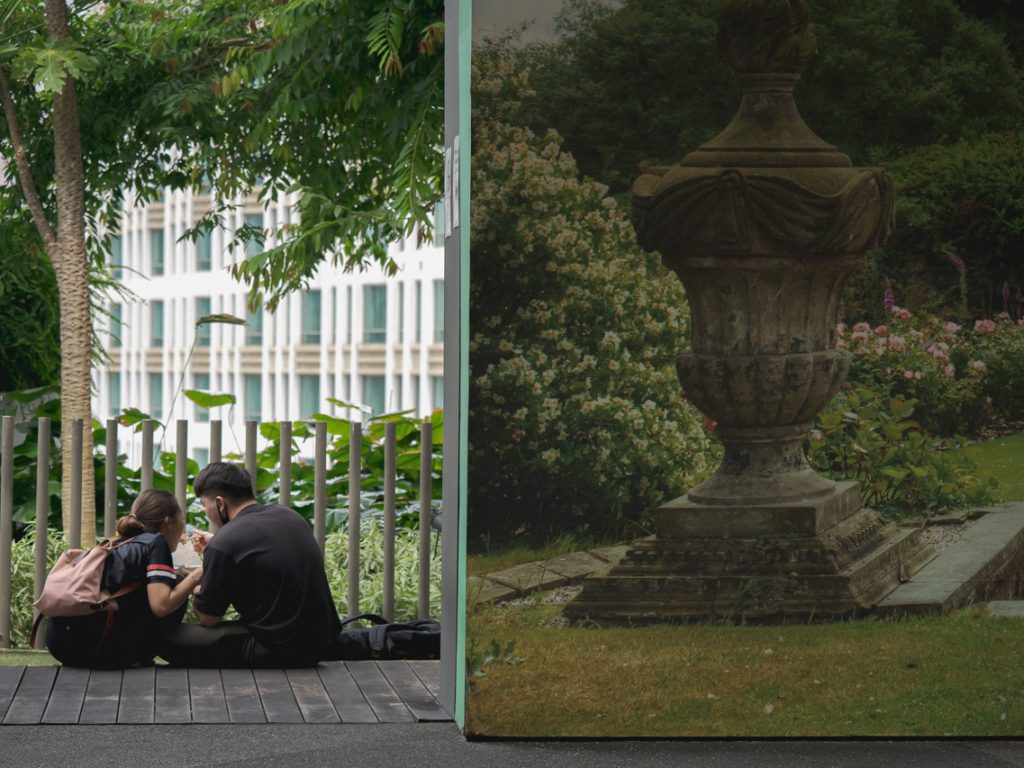 Of note however, would be the exhaust pipes and vents that line the walls of the shopping mall – this may not be the ideal location for the picky or those with sensitive noses. Nevertheless, the unique ambience and wide expanse still makes this a note-worthy dining spot, with adequate space for couples to maintain social-distancing with each other and other diners without having to jostle for spots.
The Third: Diner's Bridge
The CBD itself plays host to unique ad-hoc outdoor dining spots while boasting mesmerising panoramic views of the bustling city. If the grounded feel of Kallang's open-air carpark doesn't cut it, the bridge across Raffles Boulevard offers a more scenic alternative.
Embarking on the short stroll down from Millenia Walk and onto the white-tiled bridge, it would be difficult for one to avoid the unique and rounded seating areas that pepper the vicinity. The circular formation offers evening diners privacy from other bridge-goers, while at the same time guaranteeing an almost unobstructed view of the city. Food options in the area, however, appear to be far pricier than in other places. An inevitable cost of getting a bite within the CBD area.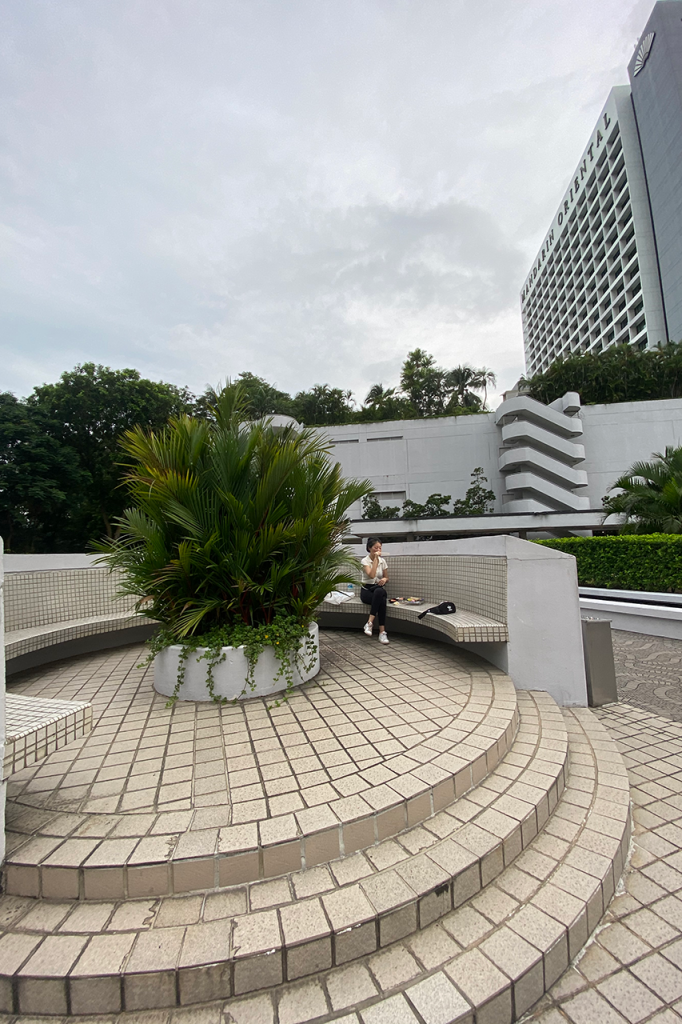 While still relatively picturesque and scenic during the day, its lack of shelter and covered areas left visitors like me absolutely scorched in the afternoon sun and scampering back into the air-conditioned comfort of Millenia Walk. For thrill-seekers and the dauntless who are willing to brave the afternoon heat however, the brilliant lighting in the afternoon makes for excellent keepsake photographs that accommodate shots of the Singapore Flyer.
Alternatively, the cool evening winds and stunning nighttime views of the city that this spot offers makes it a brilliant locale for an impromptu al fresco dinner to recuperate from the ubiquitous zoom meetings that occupy the most of our days.
A Better Tomorrow?
Be it dining on mall rooftops, upon bridges or even in car parks, outdoor dining has undeniably taken on a new meaning and perspective in recent weeks. The truth of the matter is, this phenomenon paints a particular picture – one that details our perseverance in sticking close to our love for food and communal interaction. It is also perhaps within these short glimpses of normalcy as we dine outdoors with our companion, that we seek some brief respite from the perilous reality we know as normalcy today.
That aside, safe distancing still takes priority. Even in the absence of the watchful sentinels that were the ubiquitous safe distancing ambassadors in red, I found that these outdoor diners were often responsible and space themselves (and their vehicles) far apart from each other. What the world had once brushed off as a temporary ailment has now evolved into a lived reality for all. It is indeed fortunate then, that the vast majority of us have come to accept and internalise this new iteration of normalcy, and this is perhaps the first crucial step towards a better tomorrow.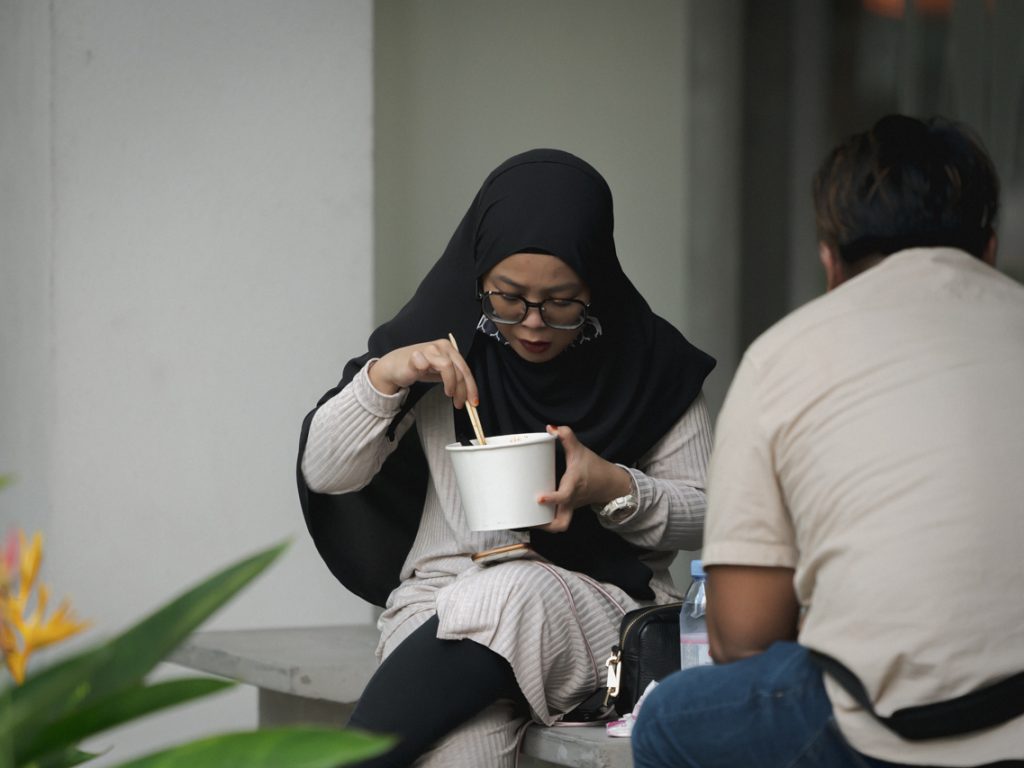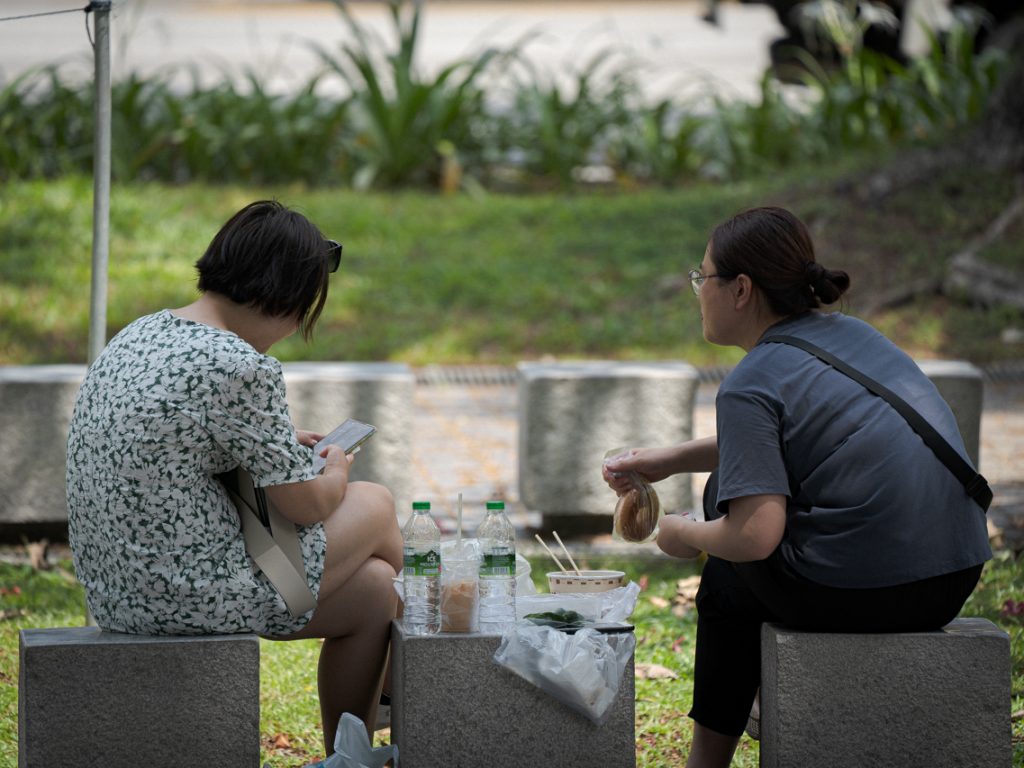 Perhaps it is not so much the environment per se that is important, as much as it is the company that we share with our dining companions and friends. Regardless of whether you opt to indulge your outdoor meal on a cush rooftop, fancy bridge, or even an open-air carpark, it is arguably these precious moments that are shared over food and drink that truly make for the most indelible memories, especially during this trying period. While you do so however, do be mindful that we are still a ways to go before we can fully enjoy this same experience in the future, but with more company then. We are not out of the woods just yet and there still remains work to be done. Until then, here's to safety a la al fresco.
Do you think outdoor dining will be here to stay for the long term? Tell us what you think at community@ricemedia.co.