All names have been altered out of respect for the privacy of the men and their families.
I don't know what I expect to discover when I sign up for an account on Seeking Arrangement (SA), the largest online dating portal for sugar babies and daddies to meet each other. I only know my assumptions: that all sugar daddies are rich, sleazy old men who want nothing more than sex from young girls.
The explicitly transactional nature of a sugar arrangement (i.e., money in exchange for company and physical intimacy) is precisely its appeal.
And yet, I'm told over and over again that chemistry is a must when I find myself in conversations with men who truly believe they can buy physical intimacy and meaningful connections. If there are enough sparks, then money is no object.
That's the kind of absurd optimism I find in the opening message of niceguysg100: "I'm hoping to find a gd fren/companion to pamper, enjoy outings, share knowledge/experience, travel n enjoy intimately also. Can also be a guide n mentor n quench ur thirst for knowledge too."
He also tells me that he has lost $6,000 on the site.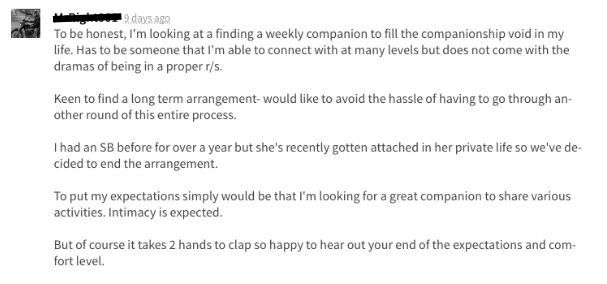 The first person I meet is Darren, a 34-year old consultant who's a little younger than the typical sugar daddy. In his opinion, age shouldn't matter and "financial standings and capabilities are fairly relative" when calling oneself a sugar daddy.
He is exceedingly verbose online, which makes me wonder if he's overcompensating for something.
When asked why he's on SA, his long-winded reply can be summarised in a single sentence: I have the money to buy myself a chance at love, so why not?
He could have just as easily spoken for most sugar daddies.
When we meet for dinner, Darren orders a salad and beer, and the combination catches me off guard. I had already pegged him as someone predictable, based on his requirements for a sugar arrangement.
Companionship without the commitment and drama of a relationship. Someone who is "not bimbotic" like his previous sugar baby (an arrangement that ended two months ago). Ideally, he would like to see her once a week, but they would not need to speak during the week.
Like most other sugar daddies, having good chemistry with his sugar baby is key before agreeing to an arrangement.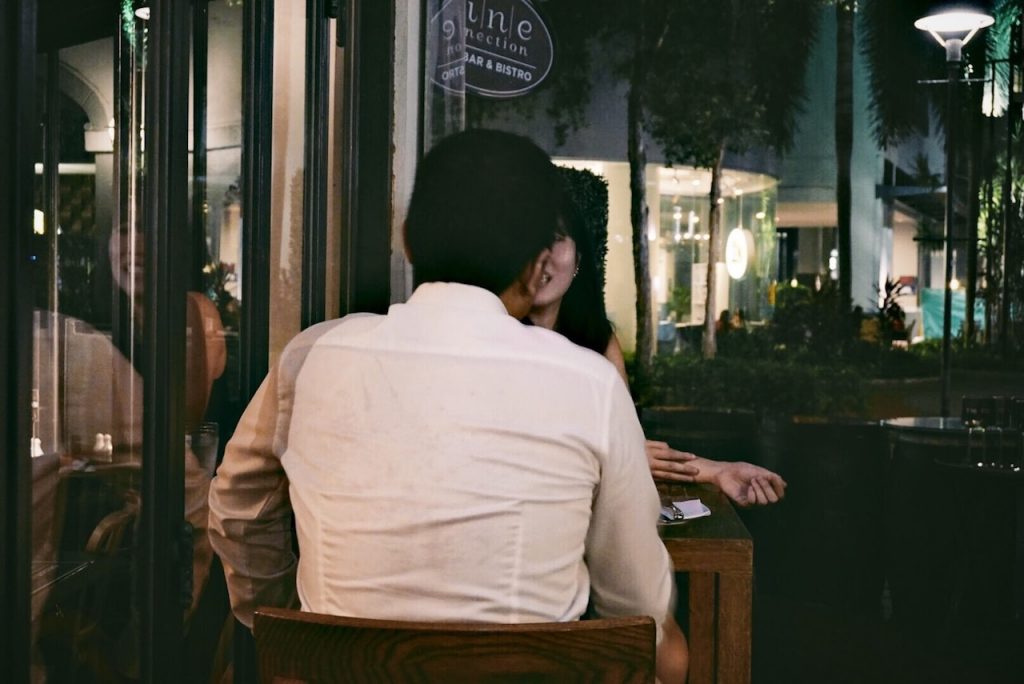 These are straightforward requirements, but he takes the entire night to lay them out. More importantly, his laughter doesn't reach his eyes. He's chatty, yet guarded. Instead of giving one-word replies like most men on SA do when I broach anything too personal, he talks a lot without really saying anything.
Halfway through our conversation, I wonder if I too would find it hard to trust people if I knew it was my money that made them feign interest in me.
"Having similar interests is important. Otherwise you'll just have one-way conversations. If I just want sex or company, I'll get a social escort. At least this feels real and like I'm invested in this girl's life."
This is Marcus, who has been a sugar daddy for six years, and currently has two sugar babies. At his request for total anonymity, I speak to him through a friend who was once employed by him. I'm told he's well-maintained for a 49-year old, and is also married with children.
After dating his wife for 10 years, Marcus married at 26 and now feels like he missed out on the prime of his youth. Through sugar arrangements, he seeks the kind of deeper companionship that will also bring with it the excitement of feeling young again.
"Marriage felt like the right thing at the time. Not that I didn't love her, but back then, it was more about stability and convenience than love. We lead connected yet separate lives currently. She has her duties, I have mine, and my kids are taken care of. Everything else is my business."
For him, the money is a cheat code. It gives him a chance with these sugar babies in the first place. I guess it's true: if you have enough money, you can buy anything, including your own love story.
"I don't mind that they want money, but I also want to feel like they are genuinely interested in me. I like when people can talk or, you know, argue a bit. No point if she just absorbs and absorbs and sits there … just looking nice."
Somehow, Marcus still believes in romance.
"Ultimately I always tell them to be genuine with their emotions if they can. Most of the time, I get the feeling that they are really enjoying themselves, so that feels romantic to me. As a sugar daddy, it can be transactional if that's what you want. But if you're like me, you must set the rules so you get some emotional reward out of it."
Marcus's desire for a real connection in exchange for money is somewhat laughable. Yet his stubborn refusal to accept that you only get one shot at life is also painfully relatable.
Hearing his answers, I get the sense that while it's important for him to like the sugar babies themselves, it's also absolutely crucial that he likes who he is when he's with them. Whether you agree with his actions, haven't we all chased the ghosts of who we could have been, in some bid to redo our past?
I've been on dating apps for two years and seen my fair share of characters, so nothing surprises me anymore.
That is, until I meet Jacob, a 50-something lawyer.
Well-known in the legal world, I piece together his identity with the clues he gives me about himself even before we meet at Starbucks.
When I spot him from afar, his outfit is unassuming: a blue long-sleeved shirt and black pants. He has no distinctive physical features, and moves through the crowd like a man who has learnt to blend in.
We chat for an hour about everything, from the books we read to our views on love. I am mildly amused at the fact that this hour would have cost his clients a good fraction of my salary, and how, under other circumstances, I would have needed to surmount an impossible amount of red tape to get his time.
I am also impressed that someone of his stature has no qualms about being vulnerable on SA, though he hasn't yet found a sugar baby. He clarifies that his curiosity in online dating was piqued by a column that he loves. 
"I meet lots of people, but SA broadens the circle of people I might meet. In a funny sort of way, the anonymity lessens the risk. I can't exactly be chatting up too many people I meet offline – they might think 'ooh, old man on the prowl'."
Then he adds: "This is also an experiment. It is helpful and interesting for me to know what's going on in the world."

I get the sense he is genuine about meeting new people via the site, although he admits he has only been on it for a month and is planning to deactivate his account soon. But he isn't closed off to finding a romantic connection.
"The thing is, if conversation always remains at a general business level, it doesn't become meaningful. Even if one talks about books or films, it could be academic and abstract, in which case there's nothing really flickering between the two people. When it becomes more personal, that's more real."
It must be lonely at the top, I posit, and he admits that his high profile doesn't do him any favours when it comes to developing personal relationships outside work.
"Yes, I suppose because of my role and status, I can therefore come across as a little aloof."

Jacob is currently divorced with children. Like Marcus, he willingly admits he got married too young. He also shares that he used to lack personal boundaries in relationships.
"I think there should be an erasure of boundaries in love. But if there is no reciprocity, you end up playing yourself out."
He has since reorganised his way of looking at the world, claiming he has always been a positive person: "Despite everything, I'm not cynical about love."
So it doesn't matter how much his net worth is. Love and loneliness are the great equalisers.
Before we part ways, he tells me that during the weekends, he takes the MRT into work even as he laments the hot weather. Then realising the age and income gap with the person he's speaking to, he laughs.
"I suppose you take the MRT all the time, and must be wondering what this old man is going on about."
When I eventually tell niceguysg100 that I'm on SA for research, he decides to open up. What bothers him most are young girls on SA getting used by men purely for sex.
I apologise for misjudging him. Who knew he'd live up to his username?
A line from Peaky Blinders comes to mind: "Everyone's a whore. We just sell different parts of ourselves." Sugar babies sell attention and affection, sugar daddies buy in.
But after getting to know these men, I've learnt that the complex world of sugar arrangements is decidedly grey. Despite the stereotypes, these men want something real. Because of who they are, they just feel the need to pay for it.
It may make them slaves to their vices, but it also makes them human.