"As my father opened our doors in 2002, we were hit by the SARS outbreak," Aizan Sum tells me, the owner of Cuscaden Patio Cafe And Pub, and Chips, two popular establishments located in Ming Arcade.
Fast forward 18 years, and another pandemic by the name of Covid-19 is threatening the survival of pubs across the globe. To date, the Coronavirus outbreak has already led to the closure of countless bars locally and internationally, and more are expected to shut as lockdown continues.
"But we will not close," Aizan said confidently. While he admitted that the year couldn't have started off worse, with the low foot traffic around Chinese New Year segueing straight into a national lockdown, he is one of the few who thinks the virus will help them through—like it did in 2002.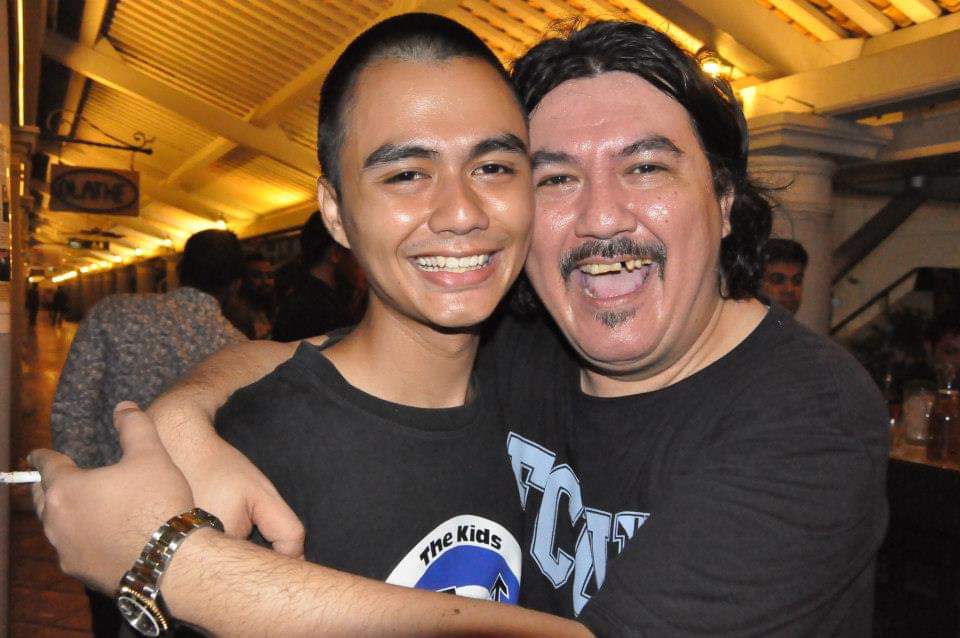 "The economy had suffered such a fall after SARS, and thousands of people had lost their jobs. So party-goers wanted somewhere cheap and relaxed to get their fix, which was us," Aizan explained.
In 2020, the situation is no different. With the economic hardships we are facing, spending more than $10 on a beer after the circuit breaker would be deplorable. After months apart, people will be looking to reconnect on a budget, and in a relaxed manner. That is exactly what dive bars, like Cuscaden Patio, and Chips, provide.
In the past decades, Cuscaden has become a favourite spot for locals seeking to unwind after a day at work, and for tourists hungry to see the real Singapore.
Online, multiple forum threads debate what constitutes a true dive bar in Singapore, and more often than not it is tourists wanting to know. "I've only been to Singapore twice, but all the bars I've been to seem to cater to the young, 'trendy' professional crowd," one Reddit user said. "Is there any more down-to-earth, local/grassroots kind of drinking culture around too?"
Users were quick to recommend Cuscaden: it "is an actual Singaporean dive bar because it isn't trying to be one." Others said it was a place to socialise with "Singaporeans who have been going there since we were 16, plus old Singaporean rocker dudes who have been jamming since the 1970s."
The comments also suggested that the true-blue Singaporean answer to a dive bar is the KTV, or Thai Disco. But these places miss one thing: a relaxed atmosphere and inclusiveness. KTVs, Thai Discos, or even Boat Quay's Indian nightclubs all cater to specific communities and demographics. Not only that, most of them are centred around an activity as the main attraction. At KTVs it is singing, while at Thai Discos it's the 'performances.'
"Those establishments have an entertainment factor people go for," Aizan said. "The entertainment factor for dive bars like ours is the possibility to enjoy a good drink at a reasonable price with friends, in a relaxed manner."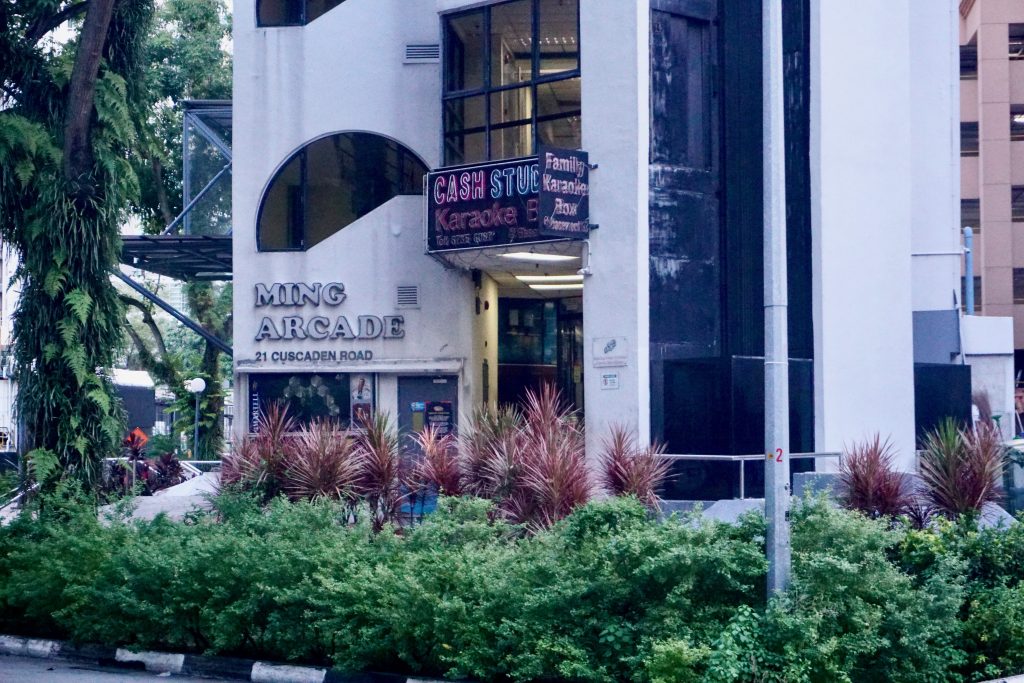 The no-frills dive bar, as Aizan describes, has been around in Singapore long before Cuscaden, KTVs or Thai Discos. The first few started popping up around Orchard Road as early as in the 60s, but the boom really happened in the 80s and 90s. Ming Arcade, where both Cuscaden Patio and Chips are located, was a
bubbling hotspot for rock and blues bars in the 60s
.
Their identities were built around rock music and that meant they were inclusive and safe spaces. Teens could dance and let loose, while men with long hair were allowed to enter when that was unheard of. People from all walks of lives—whether local or migrant—would go for the pure pleasure of unwinding to music they enjoyed. With these venues, dive bar culture was born in Singapore.
But as the 2000s rolled in, their lure lost momentum. New age modern bars topped Singapore's skyline, and crowds started frequenting glitzier venues. Most of the remaining rock bars were gentrified, or 'hipsterized.'
Around the same time, Aizan's father, Sam Nor, was looking to open something of his own after hustling in the nightlife industry for close to 20 years.
"He was one of the first few bartenders at Zouk, then he was part of the opening team of T.G.I.Fridays," Aizan said. "When he met a man called Jeffrey, the then manager of this huge establishment 'Europa,' they decided to build something of their own."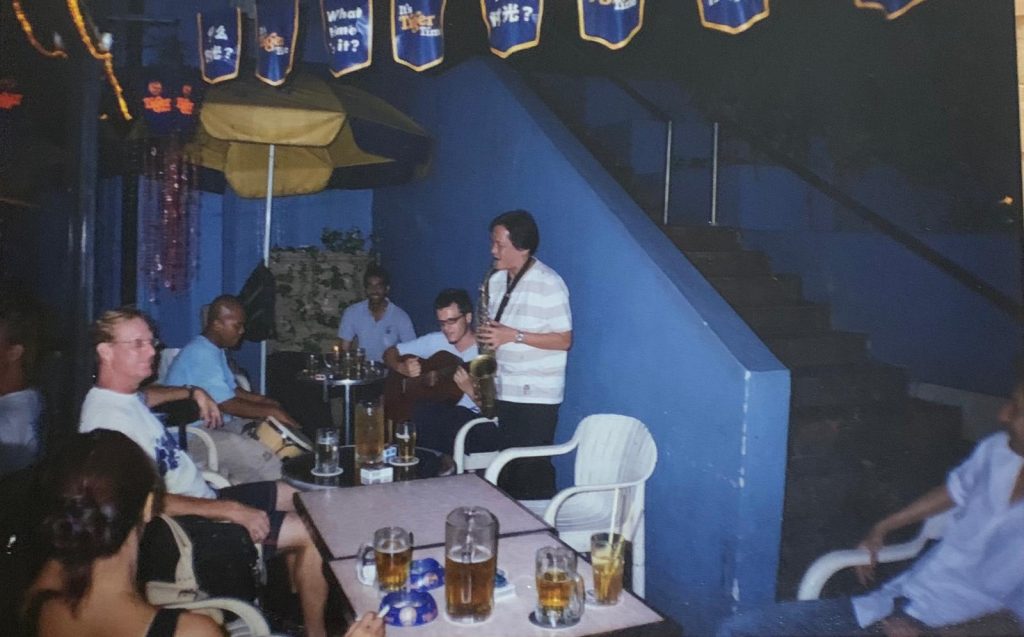 With Cuscaden Patio Cafe And Bar, Sam and Jeff revived Ming Arcade, which had been taken over by generic bars. "My father loved rock music," Aizan said. "At that point, the few rock bars left wouldn't stray too far from pop. But we played deep cuts, b-sides, and rock music from all over the world."
Sam and Jeff built their venue with passion, and rock music lovers rejoiced. This laid the foundation for Cuscaden to take off in the 2000s, but it's the community that keeps it floating today. "We're for people who want to be themselves and be comfortable," Aizan said.
That is what a dive bar is meant to be: hassle-free. You sit down, you know not to expect the best service, but it's a trade-off for a place where you are at ease. "You chill with a beer and some chicken wings, and most importantly, you know everyone at the bar," Aizan said. "A lot of my customers come alone, and end up in little groups with others."
He tells me about his different regulars, from local celebrities and their friends, bikers in leather jackets, to One FC fighters who "look scary but are the nicest people". And what connects them all is that they come because "it's a place where not to be seen," Aizan said.
"One of my regulars has dwarfism," he continued. "I asked her why she comes to Chips, and she said: 'I get looks and am patronised wherever I go. I come here because I like the music, but more importantly because it's a judgment-free place.'"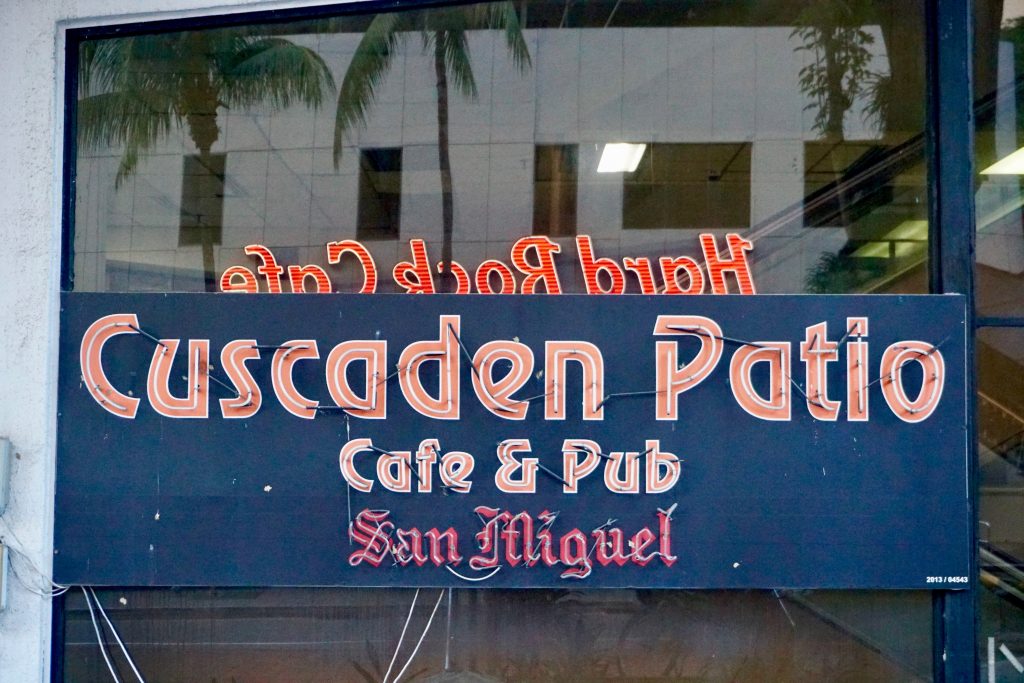 A loyal following is what every bar or pub strives to achieve, but it's not easy to maintain. Since Aizan took over Patio and Chips just under 3 years ago, keeping the community engaged has been challenging. "It was difficult at first because for eighteen years, everyone knew Sam and Jeff. Then suddenly this kid was there," he said.
Was he going to reinvent the wheel? Throw furniture out and make it fancy like other bars on Orchard Road? Would he change the music to EDM or hip-hop? No—Aizan wasn't going to do any of that. But he was still met with skepticism from regulars who feared their go-to spot would be turned into something generic.
"My road to this position was O-levels, diploma, degree, then this bar. For my dad, it was O- levels, then straight to working in nightlife for 20 years," Aizan said. "Sometimes older clients don't understand me. I go up to them and talk about memes, and they don't get it. I'm still trying to bridge that gap."
Slowly, the community is coming around, but Aizan faces another challenge: the fierce competition technology has created. Anyone with the right Spotify playlist can play 'dive bar' rock music, and anyone with money to invest can replicate 'dive bar' interiors.
We have seen that happen over the years, with bars like Stickies and Skinnies, among others, gaining traction. The 'rundown hole in the wall' pub is no longer a venue that has been part of the underground for years, but a branding element that can be applied to any establishment.
"There's a new wave of bars. They are doing very well for themselves," Aizan said, expressing nothing but support for competitors. But as we discussed the tropes of a dive bar, he said that "it's more the people than the structure or decor. You can be in what looks like a dive bar, but doesn't feel like one."
His usuals are attuned to the difference, but "It's always harder to get the young demographic to come." While his older clientele has a strong bond to the place, younger generations hop among bars following trends before they become regulars in any.
It's unlikely that Cuscaden will become the next it-place anytime soon, but Aizan doesn't mind—they have always found their following in the fringes. He tells me about the two lives Cuscaden had when it first opened. By day, it was a favourite for underaged kids. The beer was within their budget—their $10 Thirsty Tuesday promotion is unheard of for Orchard Road—and there were loose restrictions around checking IDs at the time. As evening came, Cuscaden became the place for older rock music lovers.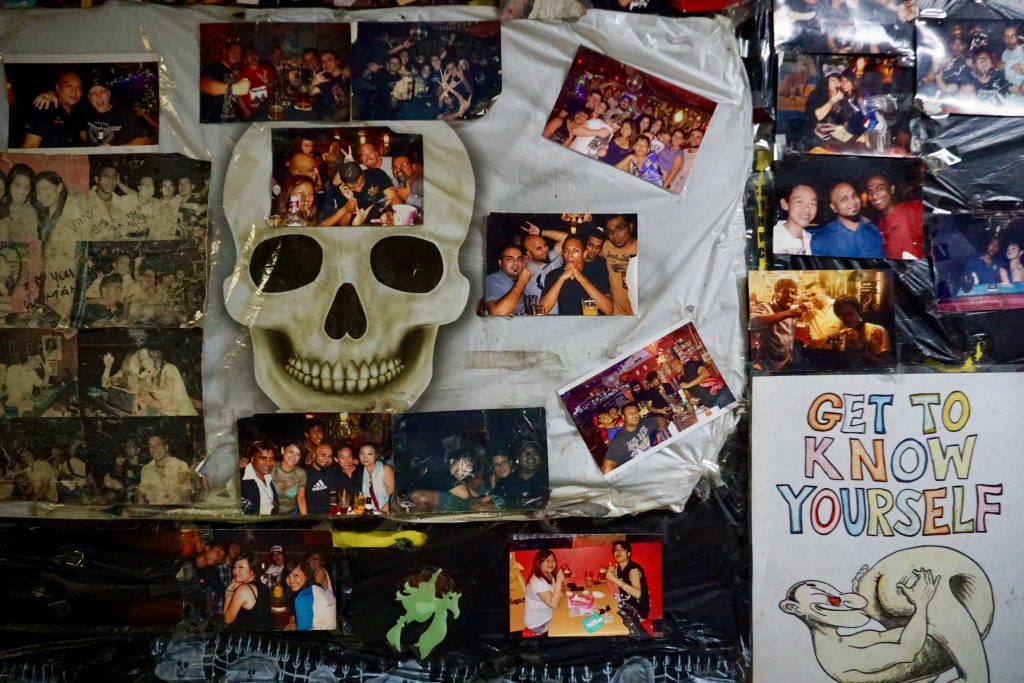 Today, there is less of a divide, and the community has solidified. That is exactly what gives Aizan the confidence that they will make it through after the circuit breaker ends. It does help that their
tenant is not asking them for rent,
but their customer base will ensure they make it beyond the first few months after lockdown.
Online, Aizan has seen his community engage with each other on Cuscaden's social media pages, helping them stay close during this time apart. Aizan contributes by finding different ways to keep the memories alive.
"We have been taking down a huge amount of photos taken throughout the years that were plastered on our walls. We are scanning them so we can upload them online, and we want to see if we can get as many people that frequent Cuscaden, or used to, to tag themselves."

But I don't know if I'm more happy or scared for those photos to come out—Cuscaden was one of the first pubs I went to around the age of 16.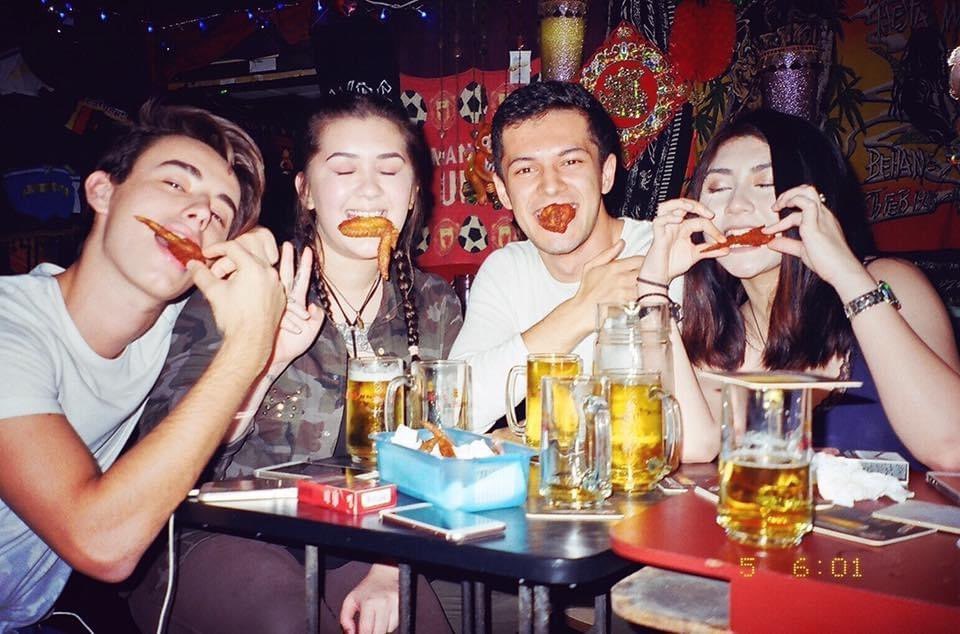 I asked Aizan if he had any business strategies in place for the day Cuscaden opens again.
"No," he said. "The people that have been coming here are enough for us to survive. I don't want to go about chasing all Singaporeans to come by or doing any promotional campaigns. I just can't wait to text my regulars and tell them we can have them again."
"Students love to come down for cheap drinks, and most importantly, we service the hotel staff in the area. It's their favourite place to chill at after a long day at work, and we want to make sure we can continue giving them that place when things pick up again."
In the next few months, we will inevitably see more F&B businesses close down, but Cuscaden's survival is proof that showing love for our favourite establishments is the best we can do to set them up for hard times. No amount of advertising or social media promotions can generate the loyalty that Cuscaden has built from the ground-up. That will pull it through any pandemic to come in the near future. They never compromised their identity, and now, that might be their ticket out of this mess.
Cuscaden Cafe Patio & Pub is currently doing takeaway deliveries. The menu is on their Facebook page and orders can be made through WhatsApp at +65 8933 3466.
What are your favourite dive bars in Singapore? Tell us at community@ricemedia.co.