Photography by Ilyas Sholihyn and Eve Lock.
Industrial parks are commonly misunderstood for being utilitarian urban jungles, a stark contrast to the glamorous glass towers and accompanying nightlife of downtown Singapore.
Word on the street is that things have changed—quaint cafes and hip stores have popped up in every corner. Business owners and real estate companies operating in these zones are excited about this trajectory, and are bracing themselves for an influx of sightseers and daytrippers.
Unconvinced, we found ourselves in the industrial quarter of Ubi and its vicinity at 8 A.M. on a weekday morning. The assignment? Spend 24 full hours in the vicinity to find out if things are really all that they're hyped up to be, and on a motorbike no less.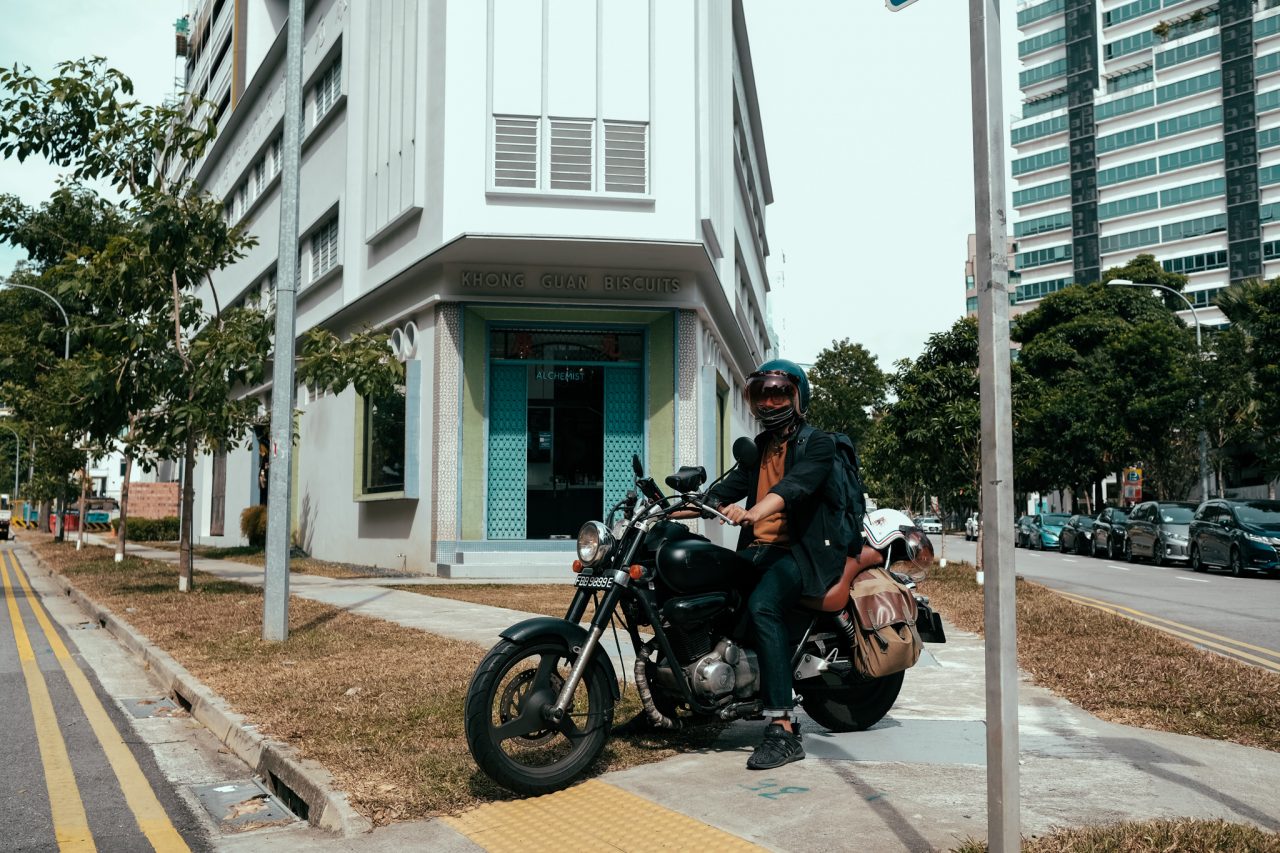 DAWN
Written from the perspective of Eve, a night owl attempting to be a morning person.
9AM: Hock Siong & Co
Pre-loved furniture and goods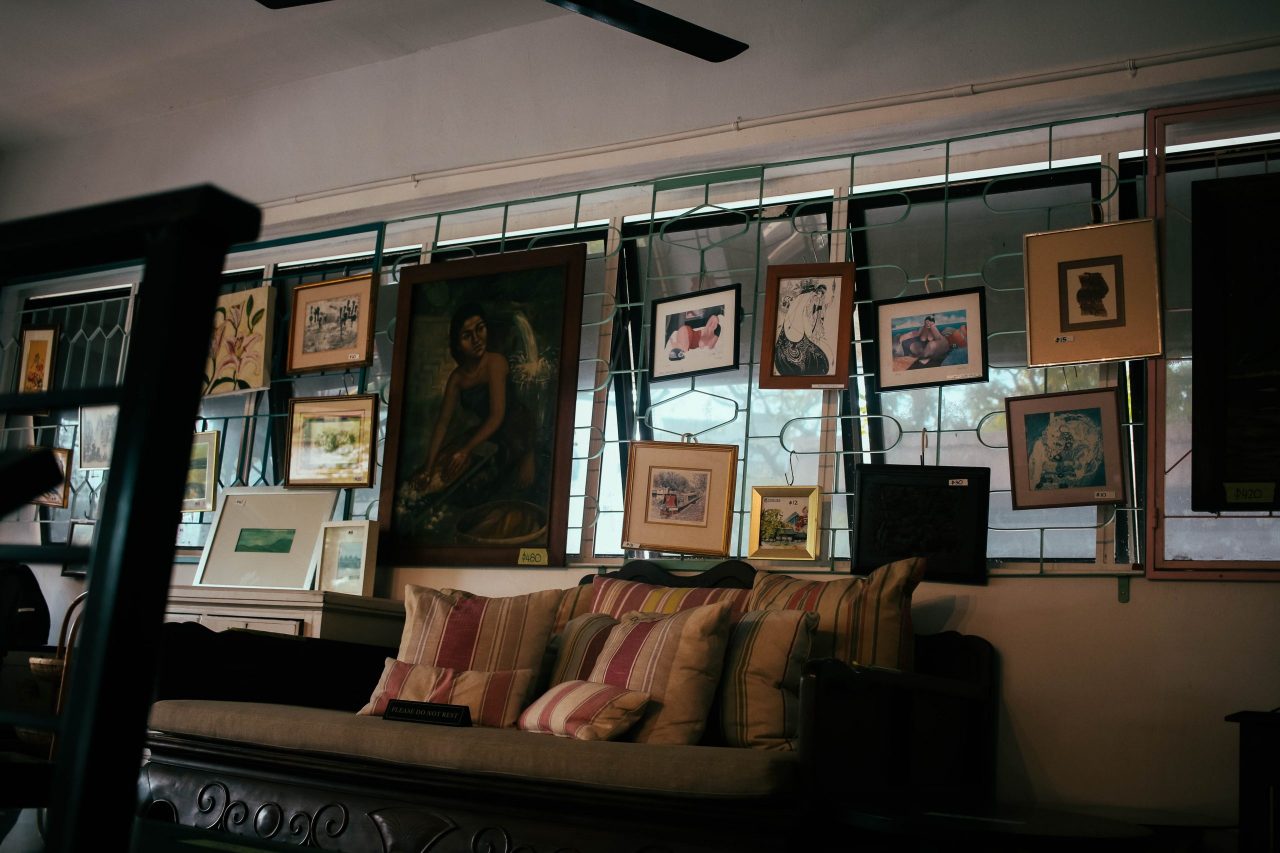 From the moment we stepped into the dusky depot, antique furniture and ornaments greeted us at every turn. Aisles were packed with second-hand goods, from oriental shelves to used typewriters, heavy wooden tables and framed artwork.
Lurking in the corner was a massive Sir Stamford Raffles statue, which we learned later was collected from a now-shuttered hotel in Ann Siang.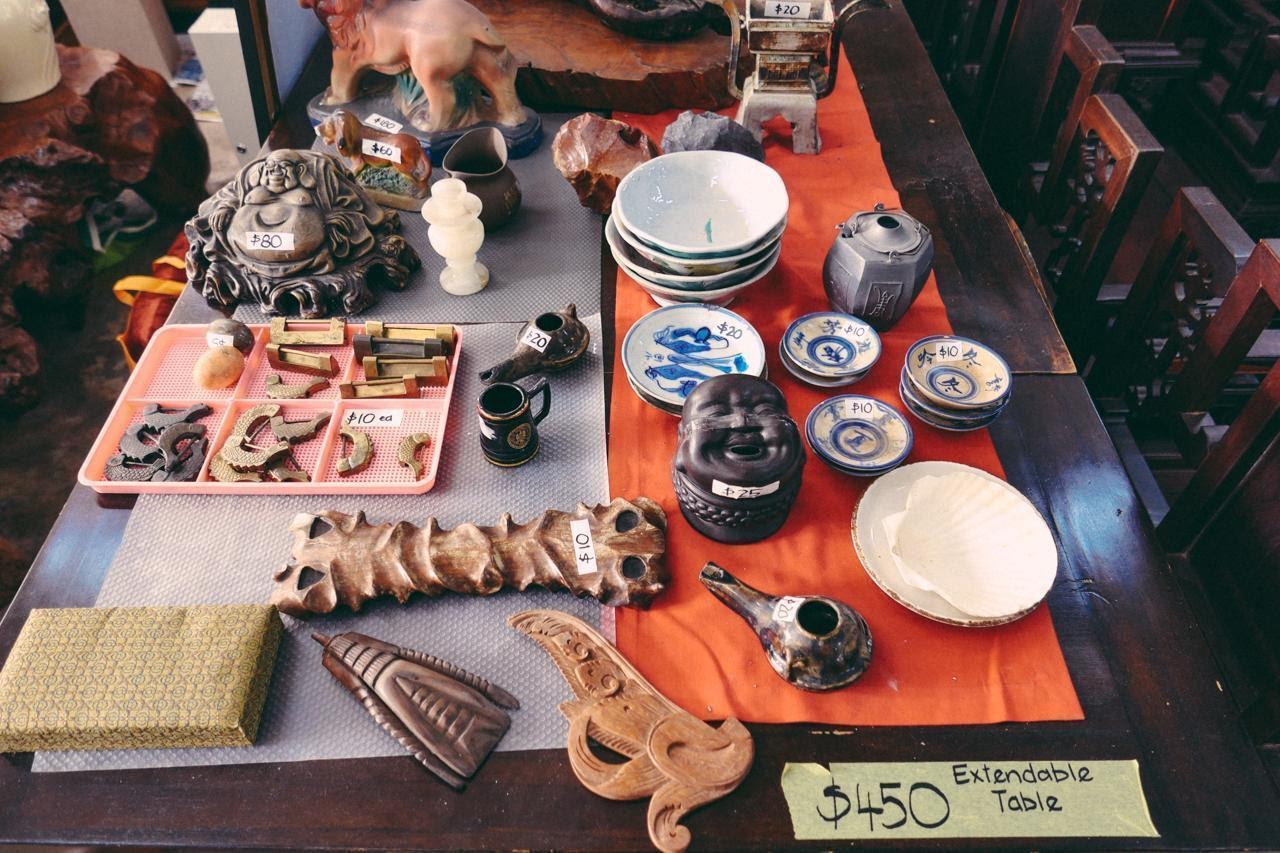 Like a tour of Charlie and the Chocolate Factory, each nook and cranny offered unexpected yet fascinating finds. One man's trash is another man's treasure indeed.
Brillyn Toh, Managing Partner of Hock Siong & Co, tells us that the store pulls in a myriad of people from all walks of life — fashion bloggers, young homeowners, vintage enthusiasts, antique collectors and more. Considering the range of items found here, it shouldn't be surprising. She adds, passionately: "I've worked here for 11 years. There's so much to see and do around this area now!"
10AM: Tamiya
Miniature model hobby store to relive your childhood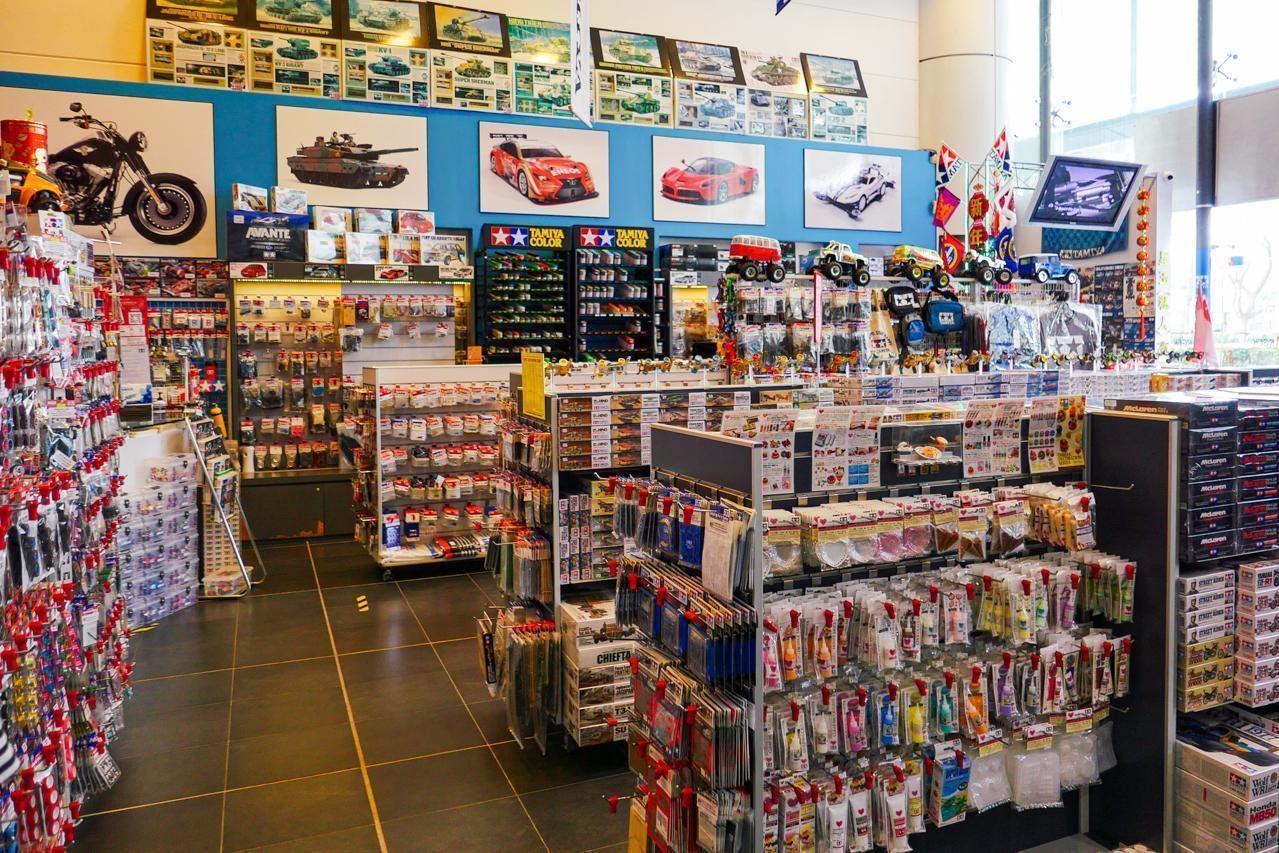 After making our way out of Kampong Ampat, we rediscovered childhood just a short ride away.

Admittedly, my knowledge of Tamiya cars is limited to casual races against my older brother and other scrappy kids in the neighbourhood. Still, it felt surreal to walk into a shop filled with a multitude of Tamiya models. The place is a colourful playground that's both sentimental and nostalgic; a throwback to the early 2000s.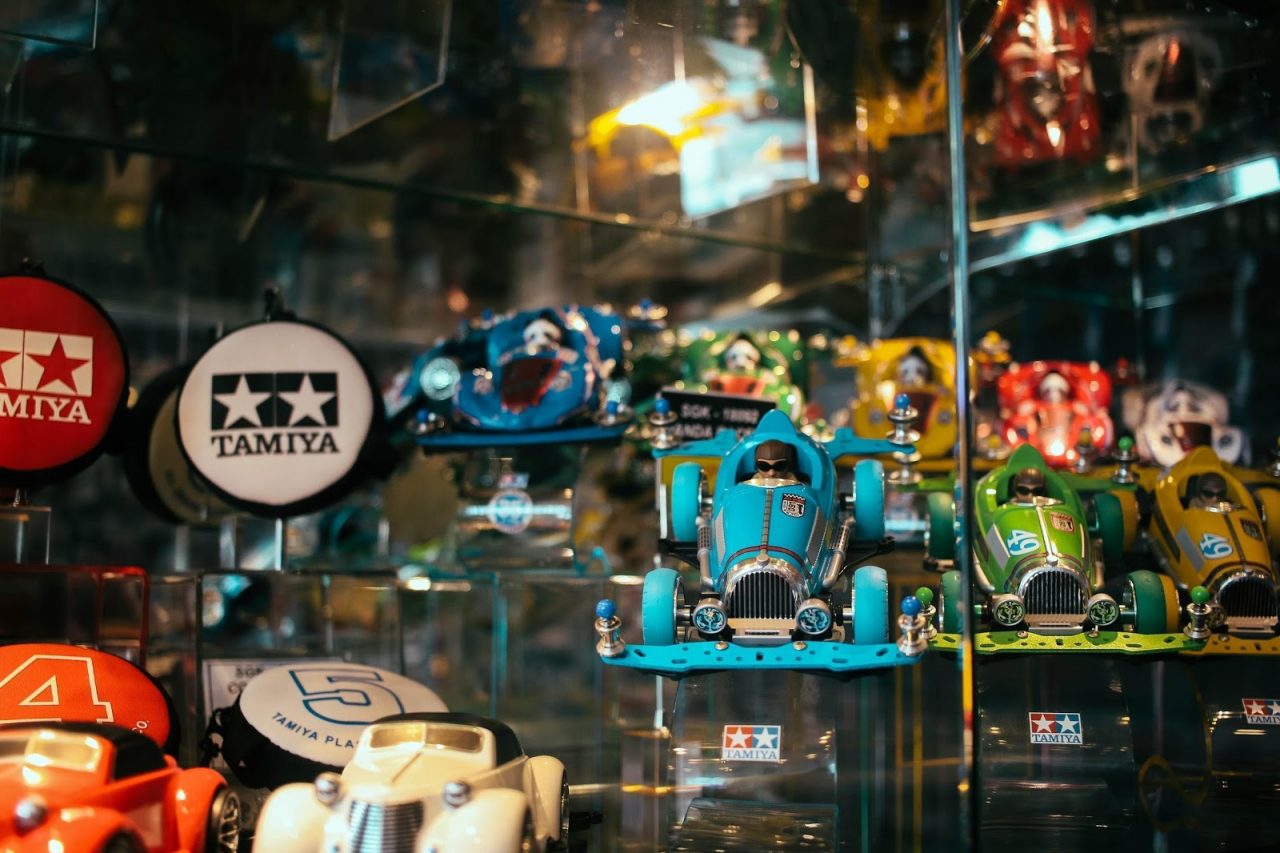 The result: a shiny Manta Ray model now sits in our office. We learned from the cashier that they used to have Tamiya racing tracks out for customers to play with, but that's not feasible now due to Covid-19. Still, it's a self-contained world that brought back years of precious memories.
11AM: Red Point Record Warehouse
A towering collection of vinyl records
For longtime Ubi occupant Ong Chai Koon, the industrial digs of the district provide a secluded haven for the over 70,000 vinyl records in his collection—all housed in towering fashion in a massive space on the sixth floor of Kapo Factory.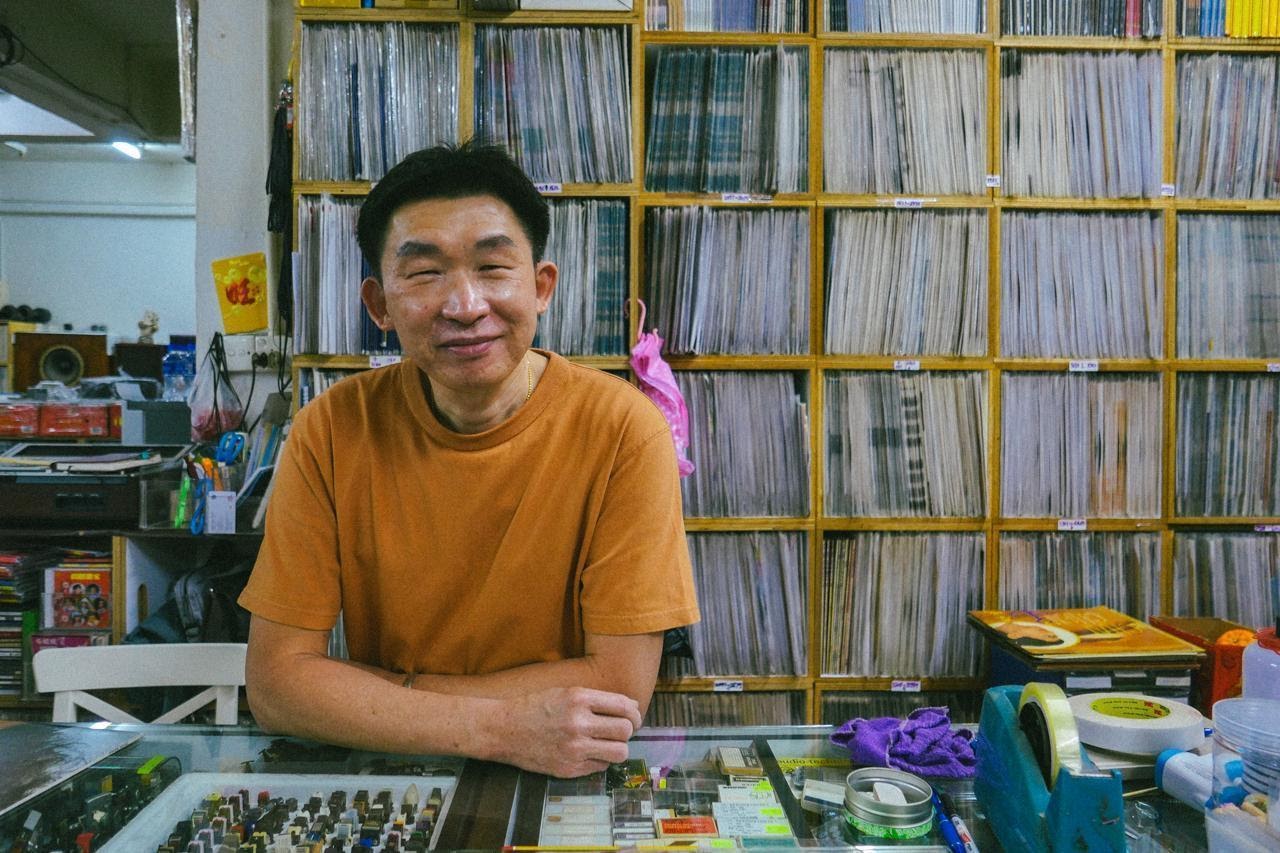 The proprietor of Red Point Record Warehouse was more than happy to open his doors to the first customers (us).
"I play you something Hokkien!" he cheerily offered, vanishing into his labyrinthe—rows upon rows of his diverse stock of records, from Japanese city-pop to Malay funk; from Cantonese oldies to Swedish death metal.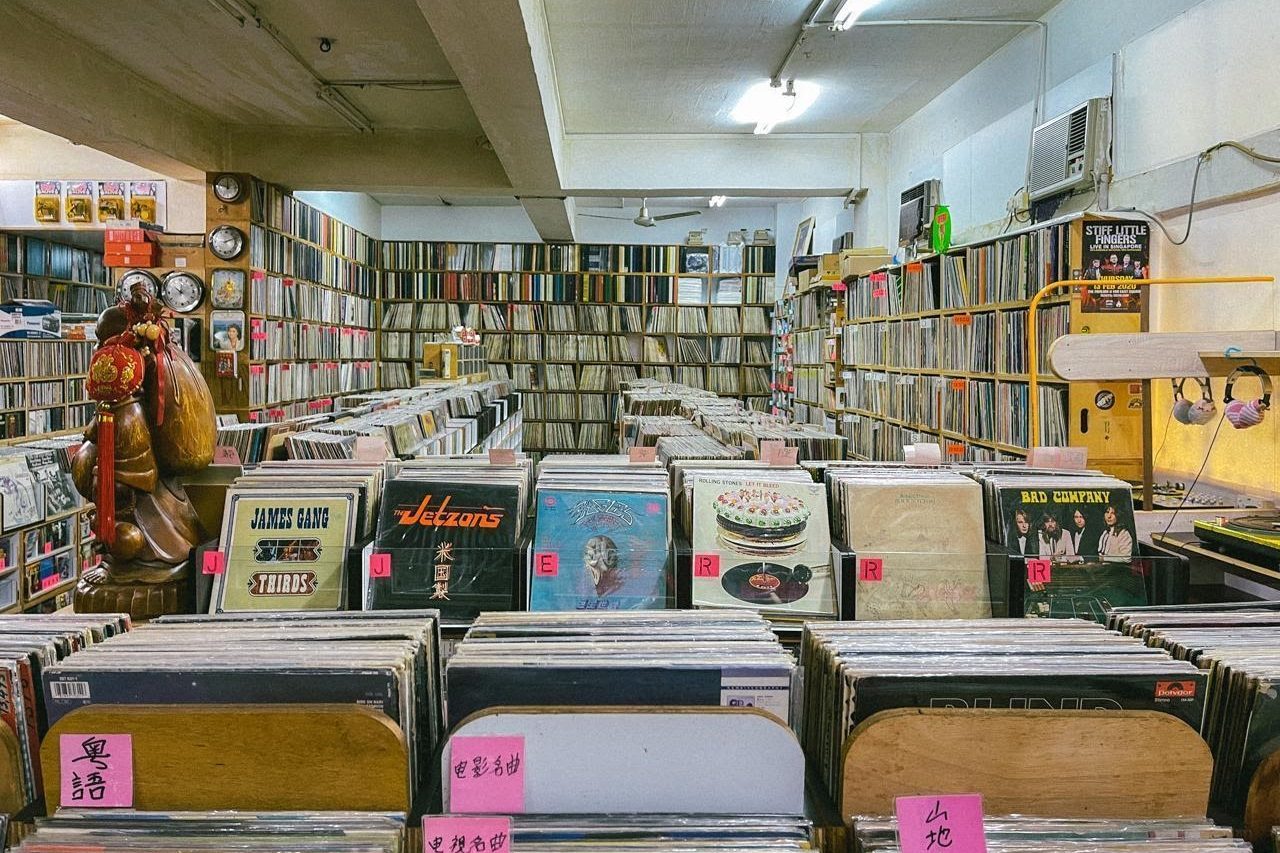 Soon enough, the hiss and crackle of a turntable needle dropping on a record filled the air before giving way to some groovy guitar laced with boisterous Hokkien chants. For a moment, I seriously considered purchasing the record.
12PM: Musa Muslim Food (Formerly known as Niu Zhou La Mian)
Halal handmade beef noodles
The afternoon sun was relentless at this point, prompting us to hit the road again and grab lunch. Being a first-time passenger on the backseat of a motorcycle, it was the perfect chance for me to take in the unobstructed sights of the surrounding area.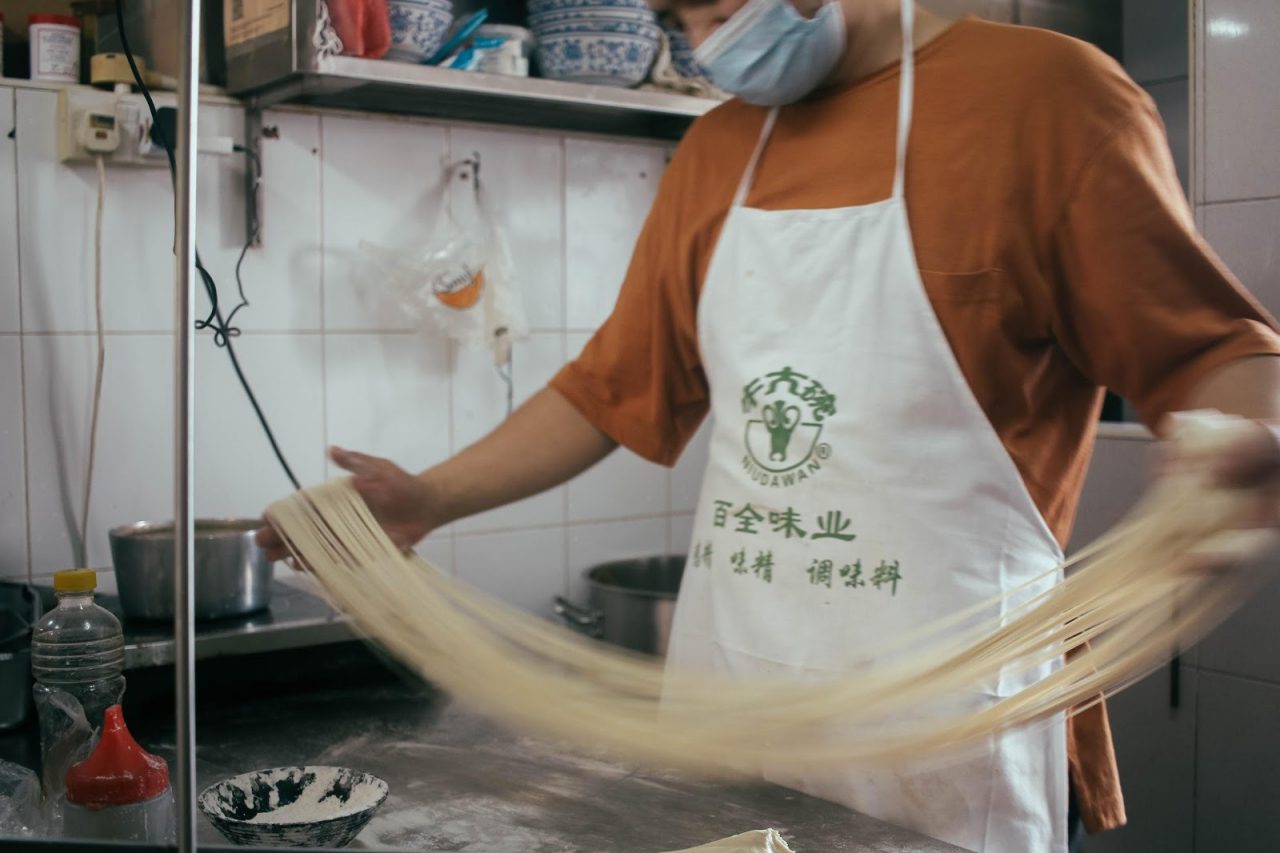 We parked near a hawker centre in Ubi, where we discovered a modest beef noodle stall tucked away in a corner. A man was tugging tirelessly on dough. We watched, intrigued, as he kneaded and hand-pulled the noodles with skill and vigour. Just what we needed.

The giant bowl came with generous spoonfuls of spring onions along with slices of marbled beef. I'm still reminiscing about the rich beefy flavour of the broth while writing this. It took us work to discover places like these. How many others are we still clueless about?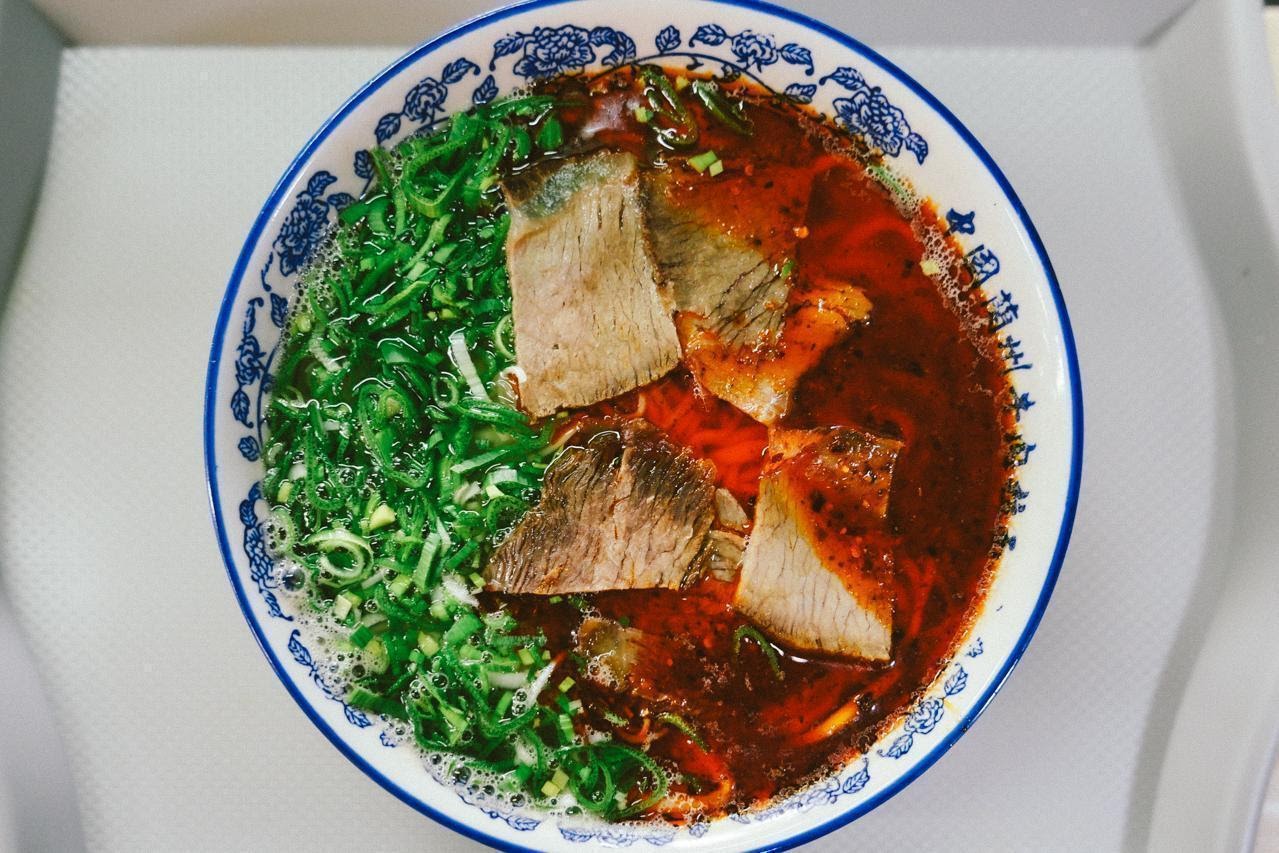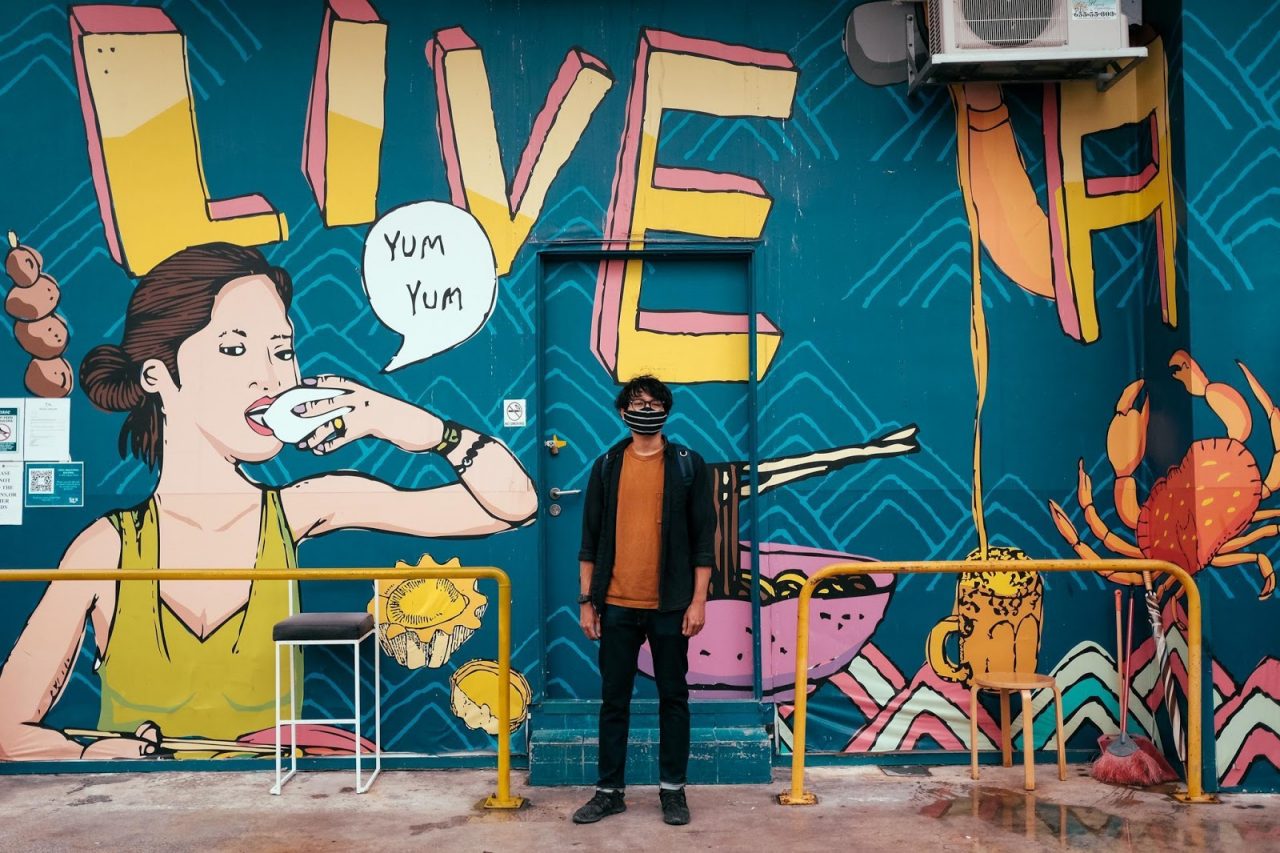 Bellies filled with spicy soup, meat and noodles, we agreed on the need to burn the calories with a brisk walk. A quick ride to the Kampong Ampat area and we found ourselves coming across a few perfect spots to furnish our personal Instagram feeds.
As it turned out, industrial-chic environments make for great photo opportunities. Ilyas was more than happy to pose for pictures, suggesting where I should position myself to capture his best angles. I was more than happy to comply, as long as I didn't need to appear on camera.
2PM: Nasty Cookie Factory
Thicc and deliciously gooey cookies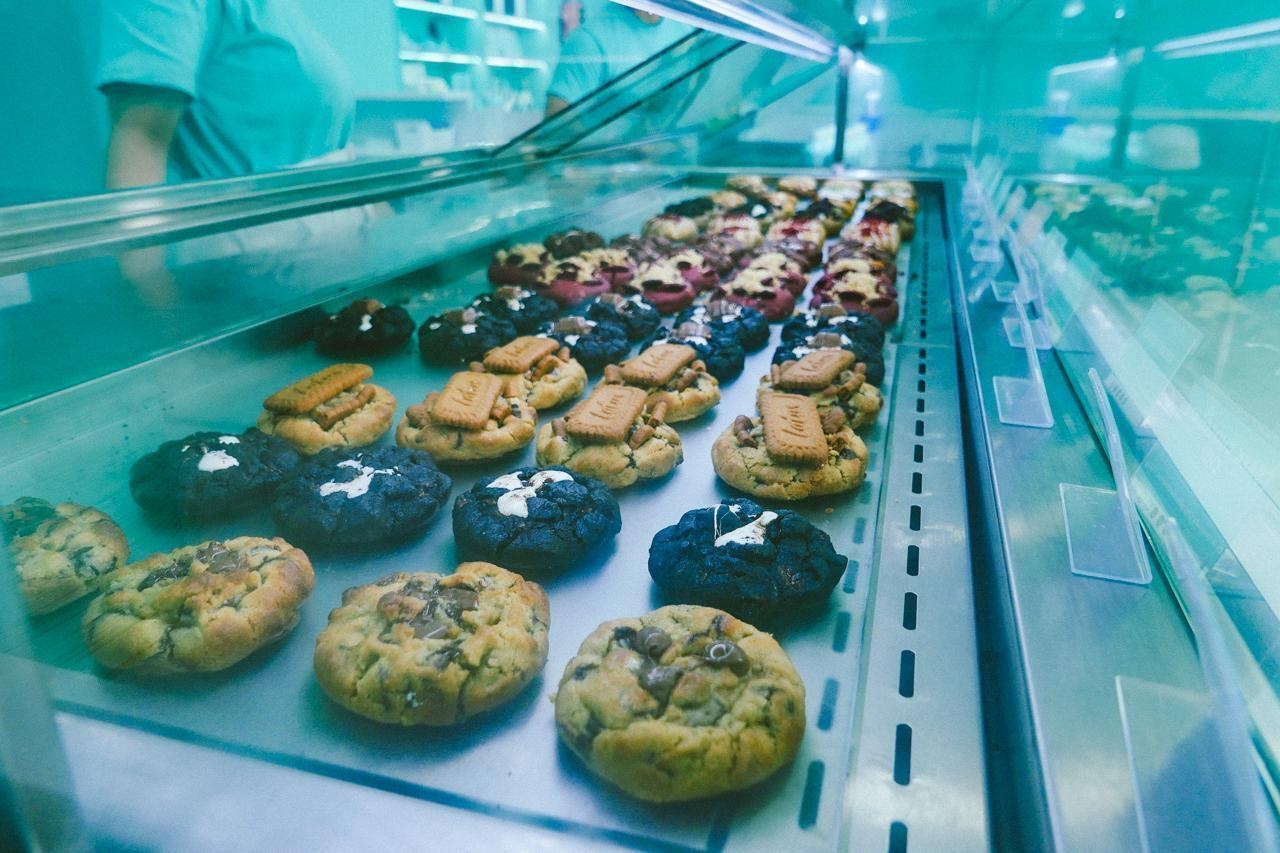 It was midday. Our eyes were growing weary and food coma was sinking in. But there's always room for dessert, which was why we landed at Techview's Nasty Cookie Factory. Unlike their other outlets, this is a flagship concept store that houses their central kitchen, office, and retail cafe space.

It was a really quiet afternoon at the batter-scented dessert cafe. A few patrons on laptops minded their own business. Outside, people ambled in and out of the Kaki Bukit MRT station exit.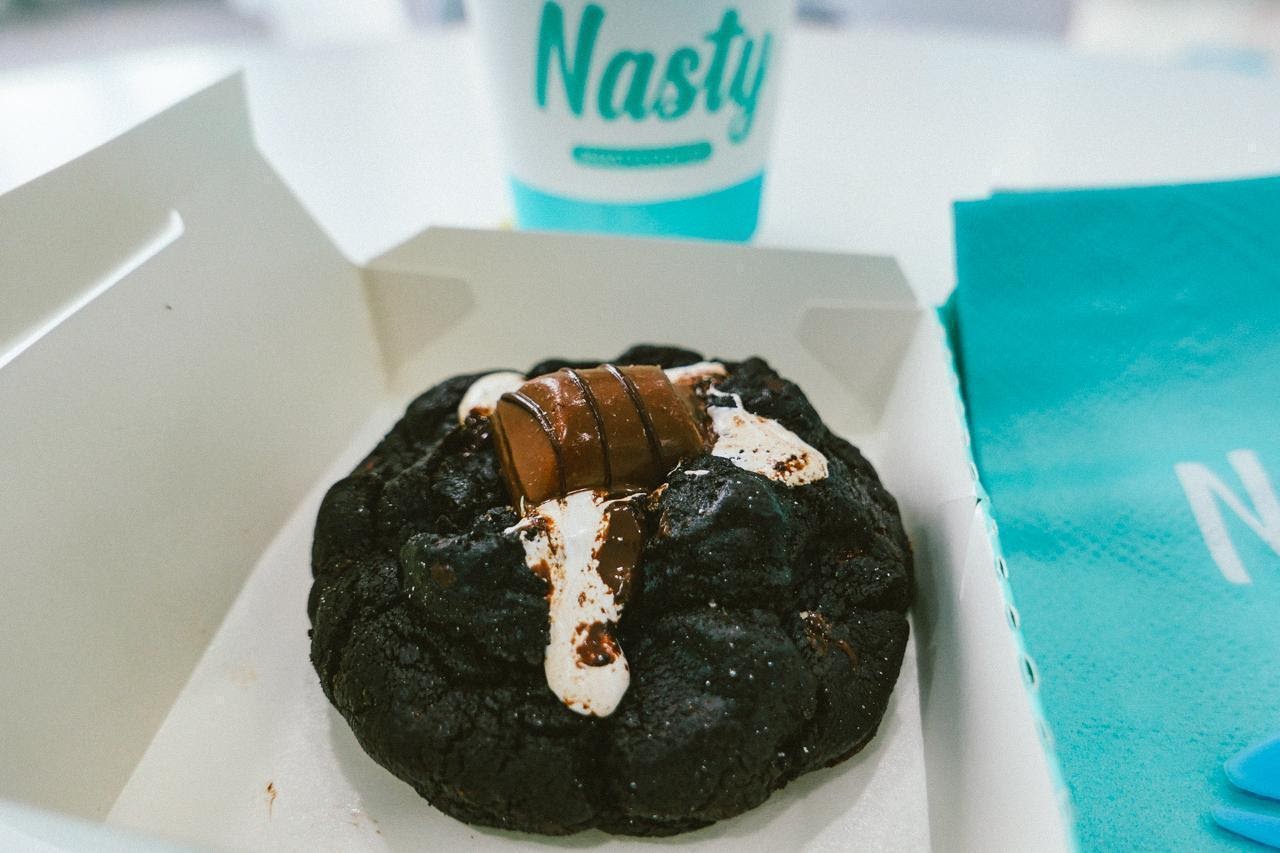 We ordered a Choco Bueno and Lychee Rose Cookie along with Earl Grey Tea to cleanse our palate. The cookies were huge, chunky and chewy all together. Looks sweet enough "to kill a small child," commented our editor when we sent over pictures on Slack.
3PM: Compound Coffee and Co
Singapore's first and only co-roasting space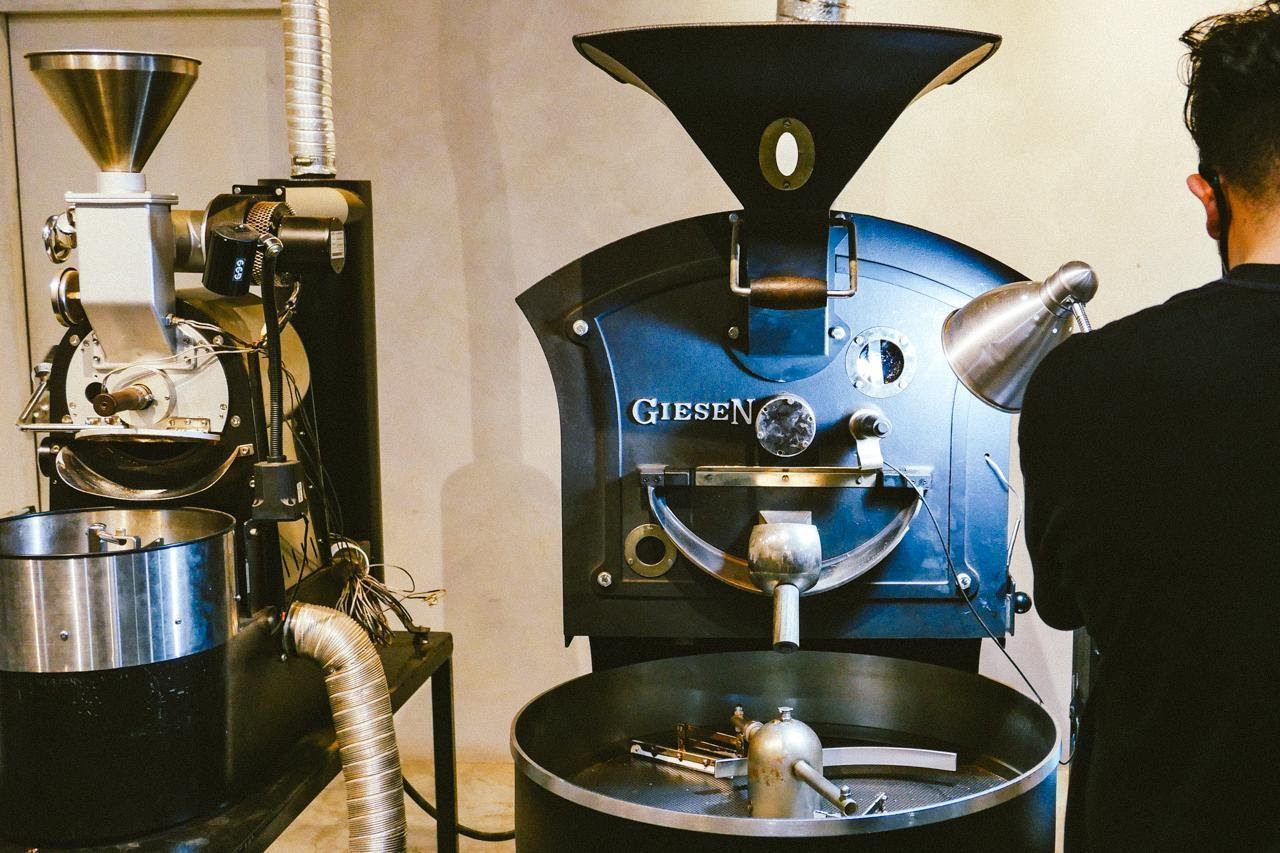 Techlink's indoor parking lot held the unmistakable whiff of freshly-roasted coffee—and we weren't even close to the CapitaLand building's front lobby. By the time we entered Compound Coffee and Co, the aroma had already engulfed us: all parts floral, smokey and nutty.
To trace its source, we looked to a fearsome black contraption in the corner. As the man behind the counter revealed, it's an industrial-sized Giesen coffee roaster that Compound rents out to anyone with sacks of raw beans to roast.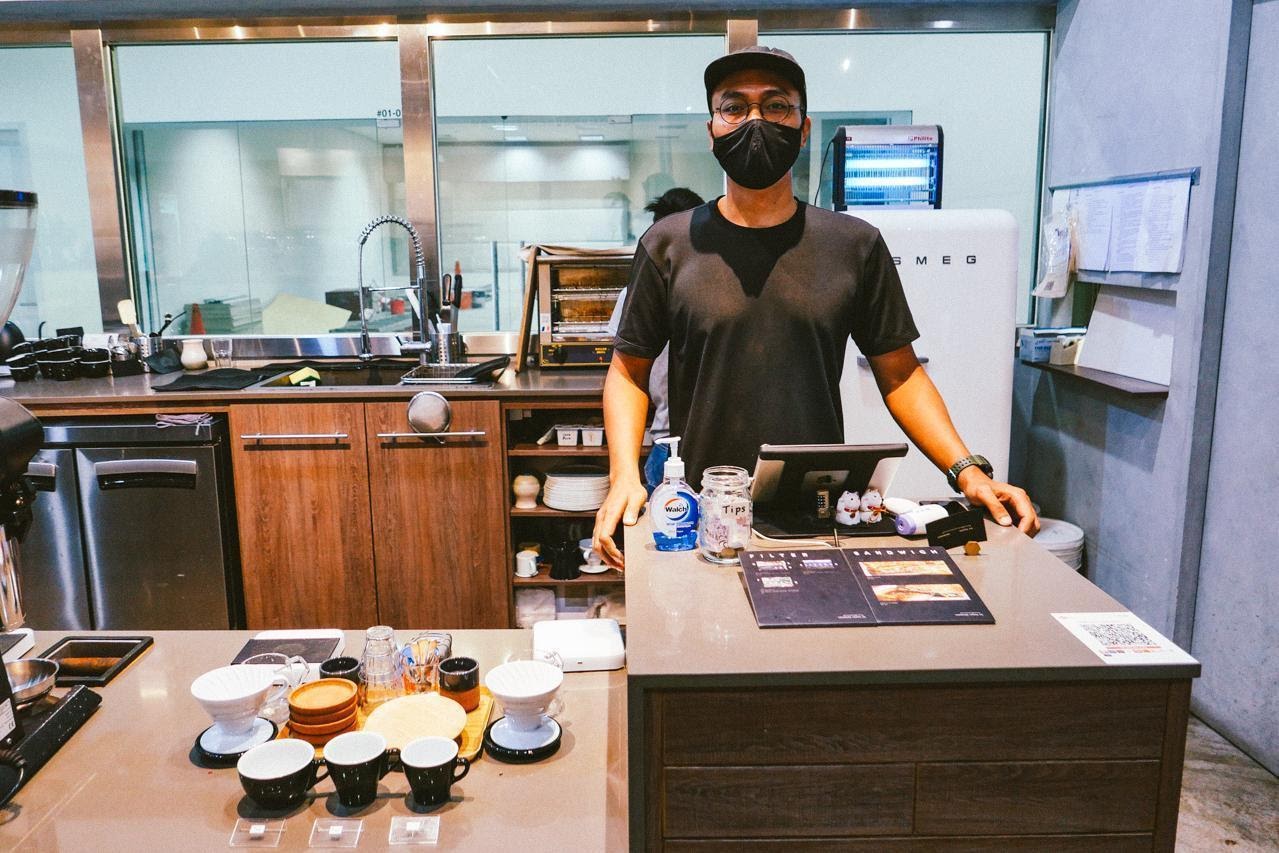 Dozens of local cafe proprietors come by to process their coffee beans, mentioned Wan, the professional roaster on duty. The 10-year industry veteran explained that the idea is to build a community of coffee roasters in Singapore, thus the co-roasting space in Kaki Bukit for learning, research and experimenting. Otherwise, it's a snazzy spot to get some real fresh coffee brews if you don't mind the mechanical whirring and clanking.
4PM: Green Chapter
Stunning Plant and Aqua Biodiversity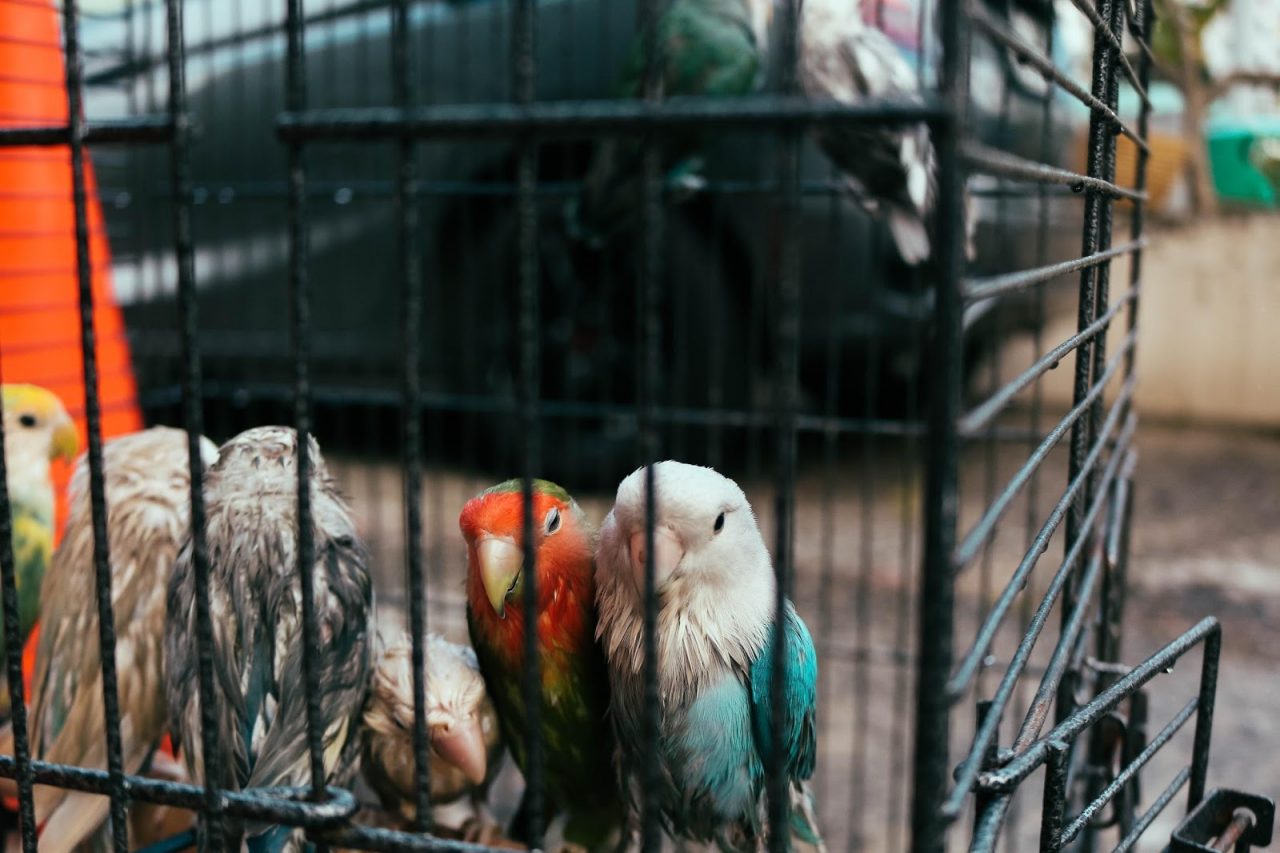 Sounds of chirping birds soon took over as we neared this charming aquarium. These little creatures aren't up for sale, but they certainly add to the allure of the place. Inside Green Chapter, the cool temperature contrasted sharply against the sweltering heat outdoors.
Patrons drifted in and out, most looking like regulars with the way they confidently navigated the space. We wandered by ourselves too, peering through eye-catching plants and aquascapes.
"Look! It's Totoro, so cute," I recall saying at one point. Ghibli fans, rejoice.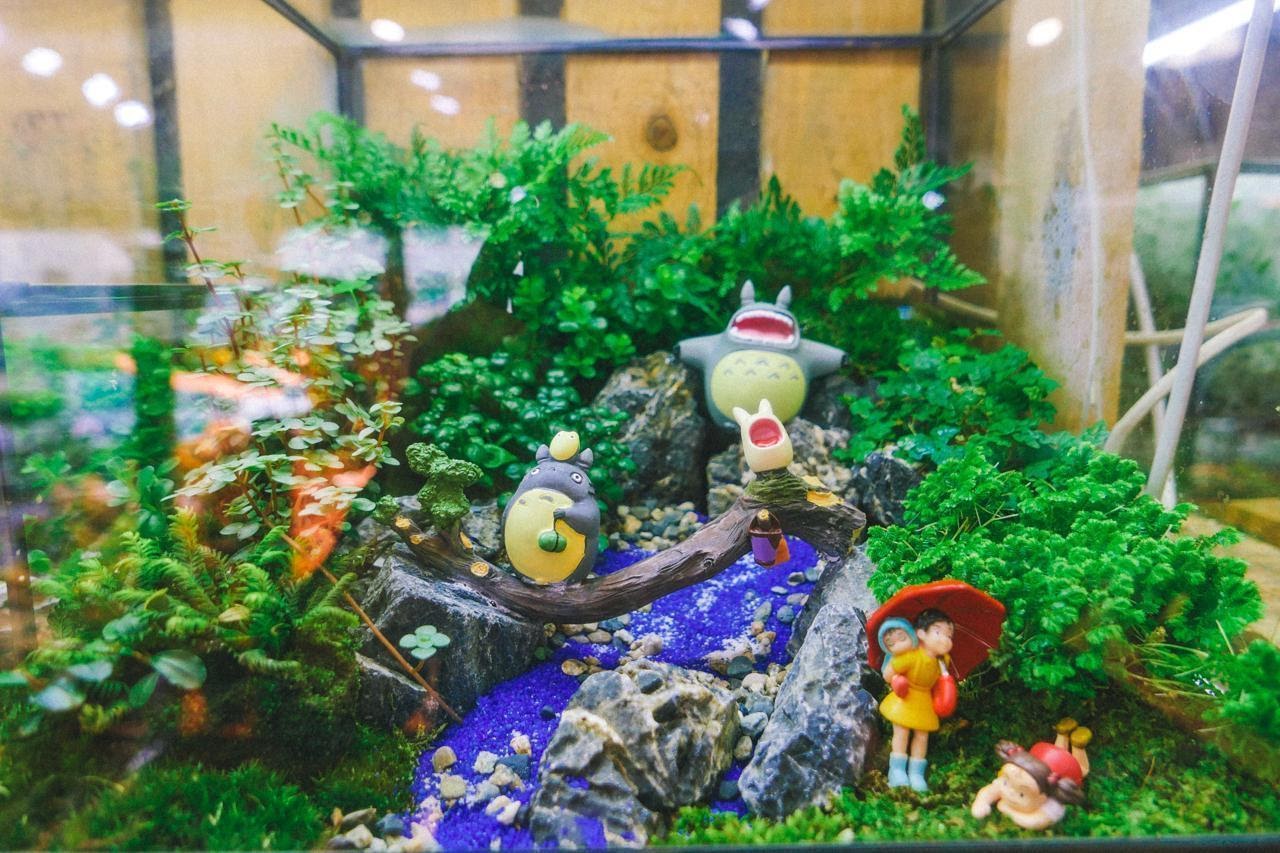 The plant biodiversity was extensive, with each arranged neatly in sections. A wide range of species were observed: Cacti, succulents, ferns, jungle and aquatic plants, just to name a few. We gave in to our impulses; little figurines purchased as decorations for our plants back home. We left in a haste, fearful of damaging our wallets further.
5PM: Jie Traditional Bread
Old-school bakery, old-school spirit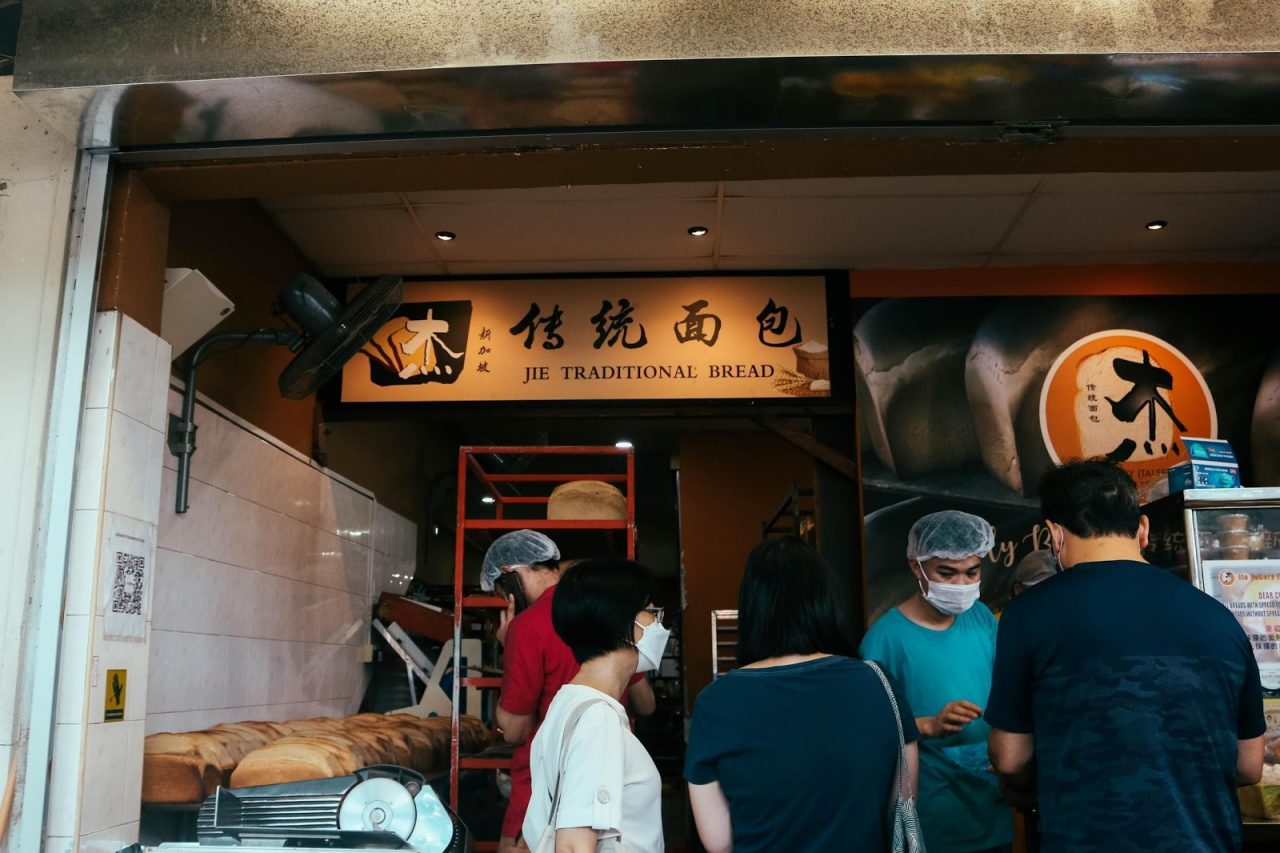 We hopped back on the bike and soon arrived at a bakery 10 minutes away. Even under the waning 5 PM sun, a long line had already formed: a sign that it would be well worth the wait.
Here, loaves of bread are baked the old-fashioned way. Traditional baked goods were laid out at the storefront—from golden brown, pandan, rainbow-swirl loaves to red bean and hot dog buns. Yums.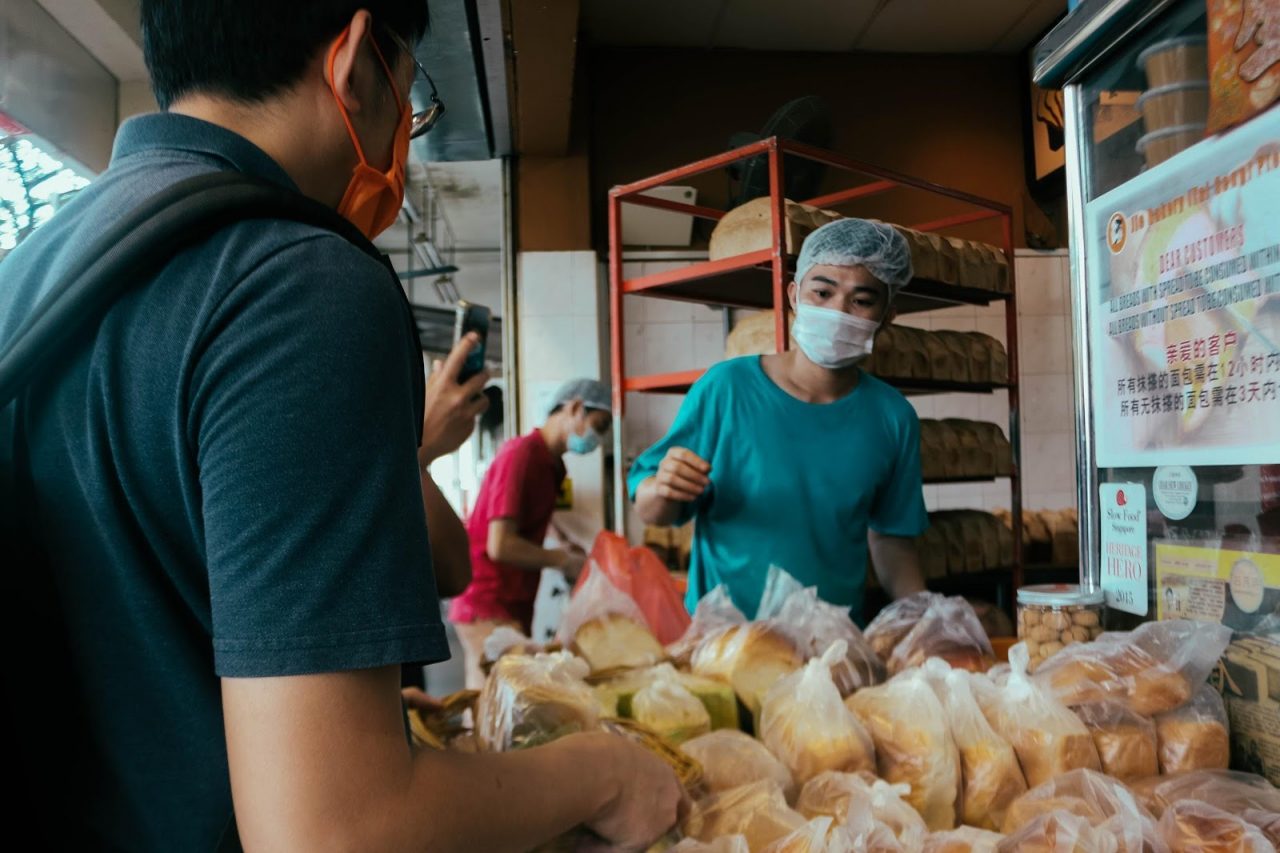 In an orderly fashion, one man trims and slices bread crusts while another takes in orders from customers. Feeling peckish, we ordered some to go. The man tells me that these loaves are best enjoyed with kaya or butter. More yums.
DUSK
Written from the perspective of Ilyas, who wrongly believed that this would be something like The Motorcycle Diaries.
6PM: Kravist Singapore
Self-defense à la Israeli combat skills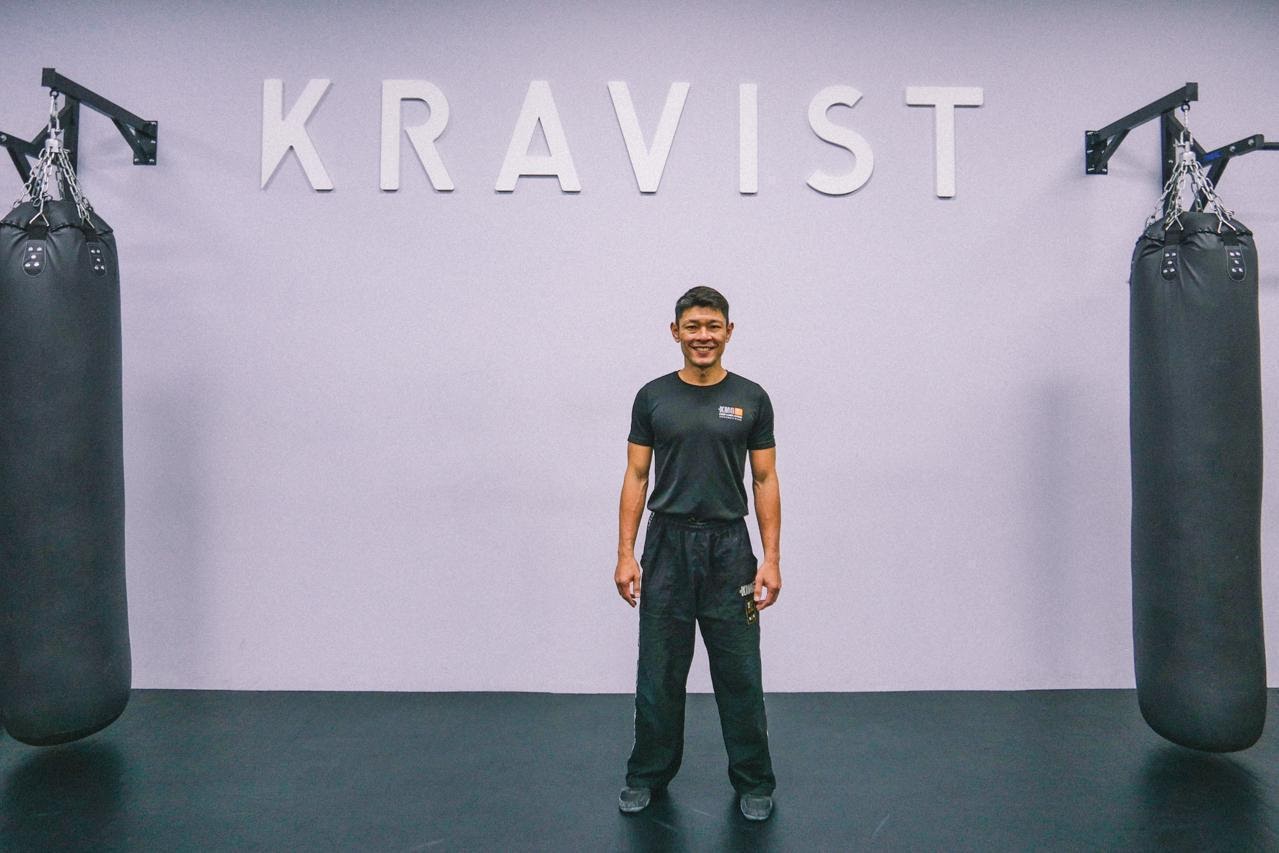 The sun set on Ubi at 7:20 PM that day, but I wouldn't have known—I was busy trying to fend off a man from wrestling me to the ground. The best way to do so, according to Krav Maga Global Singapore director Edwin Peng, is to harden your forearm against the attacker's collarbone to create distance and kick them away before delivering a cross-hook combo.
Kravist is where the man—the highest ranked Krav Maga Global practitioner in Southeast Asia—teaches the deadly Israeli martial art, an aggressive fighting system grounded in realistic scenarios. What I underwent (Eve was supposed to as well but backed out last minute "to take photos") that evening was learning how to defend against grabs like headlocks and tackles.
Which made it a bit awkward when class started: I was the only dude in the entire session. Still, pretty heartening to know that the place draws steely women looking to come out on top when forced into street brawls.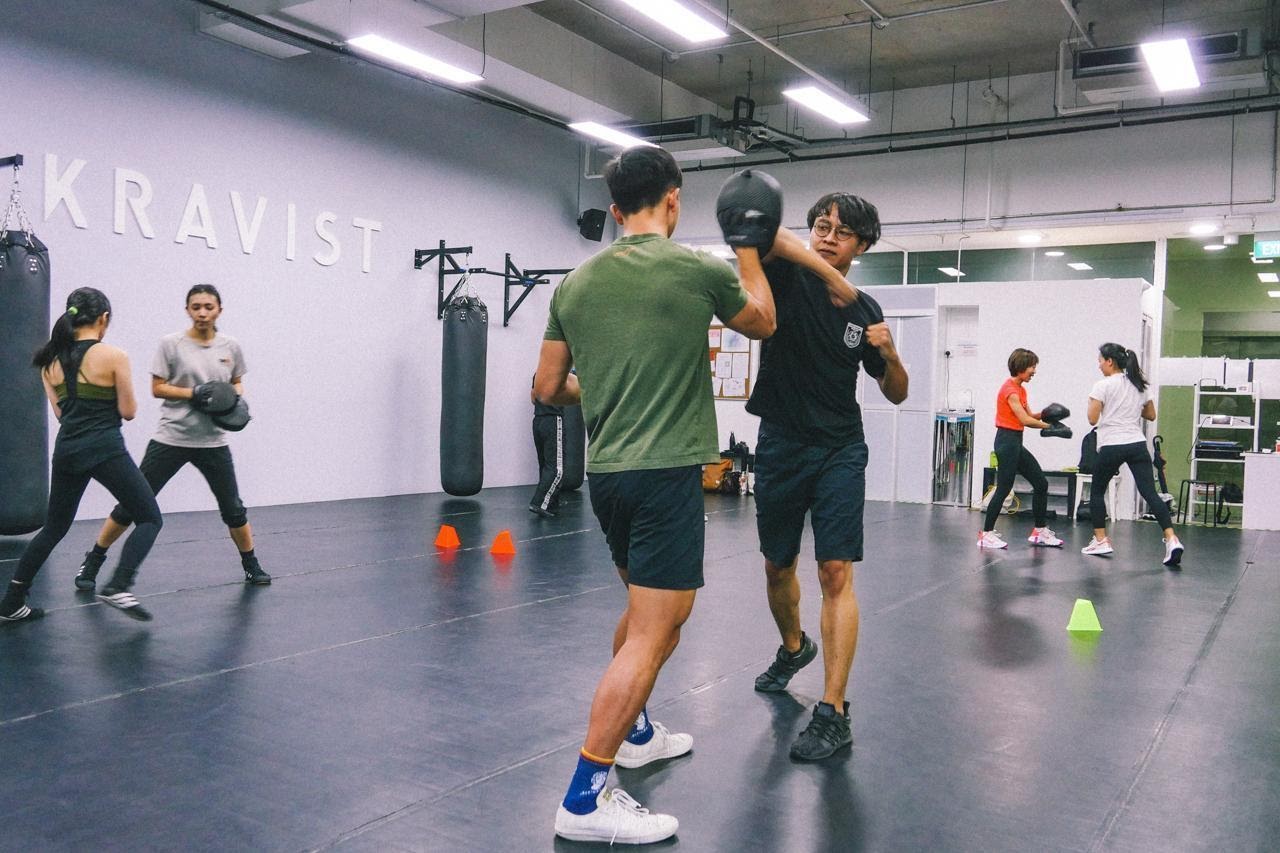 The good news was that another male student dropped in late after the initial warm-up sesh. The bad news was that the student, Albert, had thighs and arms as thick as pythons. But bless his heart, he took it easy on me as I fumbled my way through knee strikes and hammer fists while Edwin barked helpful corrections by the side. My shoes and spectacles slipped off while pushing back against Albert's thunderous tackles, so I was really glad that groin guards were a strict requirement.
"Hope you'll come by again!" he cheerily offered as I spritzed some antibacterial Febreze on my sweaty communal jockstrap at the end of class.
8PM: Knots Cafe & Living
A harmony of furniture, greenery and cafe fare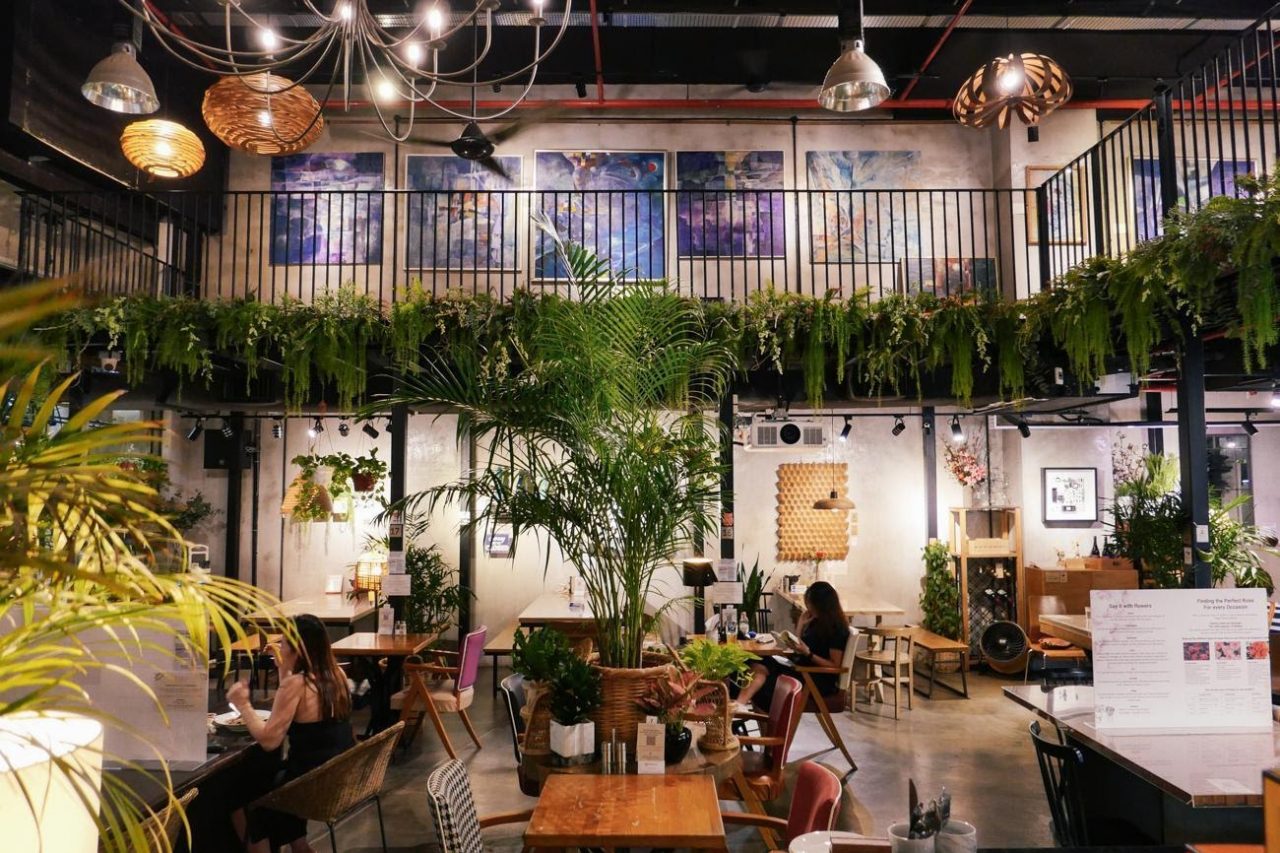 We rode to our next destination, stopping briefly along the way to note down several boutique artisan shops and local cafes for future visits.

A particular cafe stood bright against the darkened skies. Murmurs of diners and sounds of clinking silverware filled the air as we entered Knots Cafe & Living, a bistro that's also a furniture store. The interior boasts lush greenery, furniture, and trinkets; all of which are up for grabs.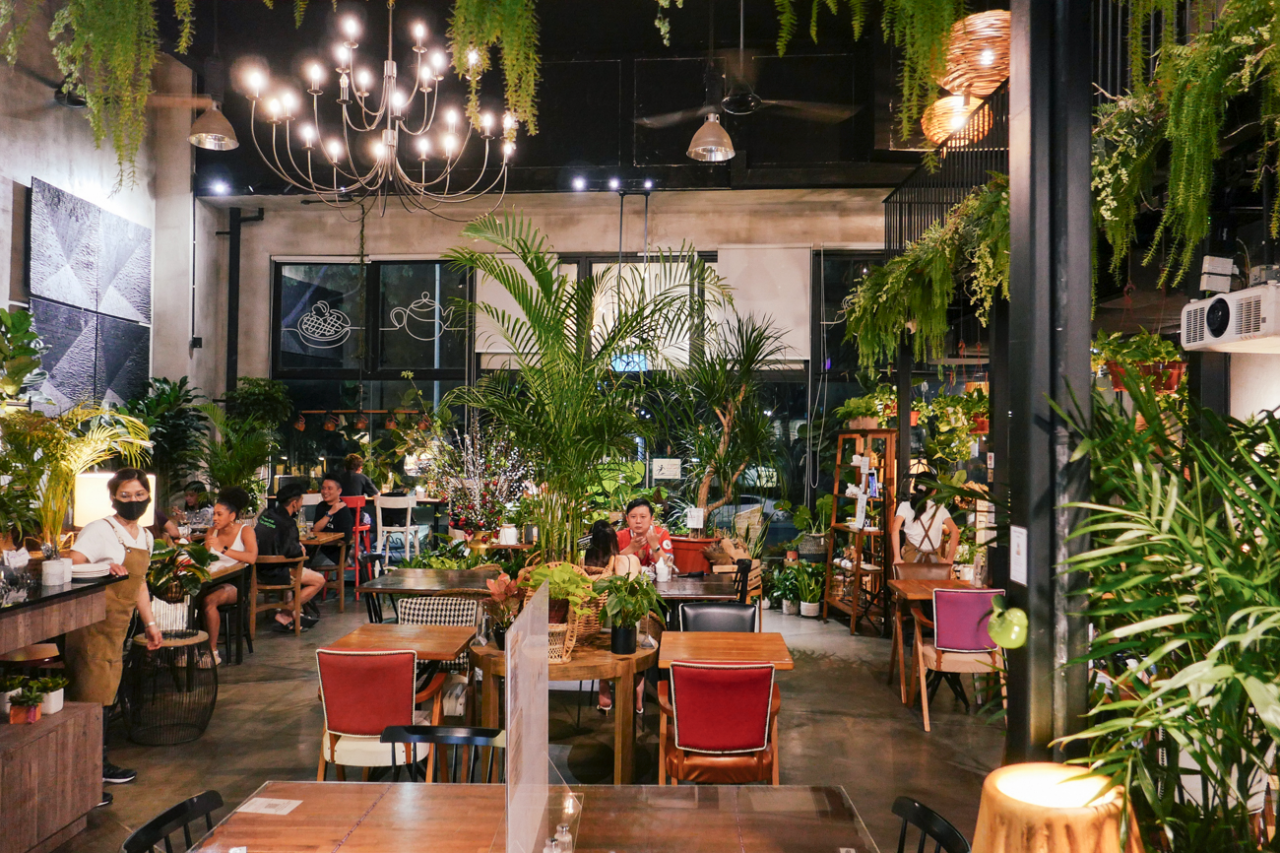 Parched from Krav Maga, I inhaled a bottled beverage; a fancy flowery drink tagged at $7. A little pricey, but the ambiance of the place more than made up for it.
9PM: Kushi Japanese Dining
Premium Japanese Ala Carte Buffet Under $50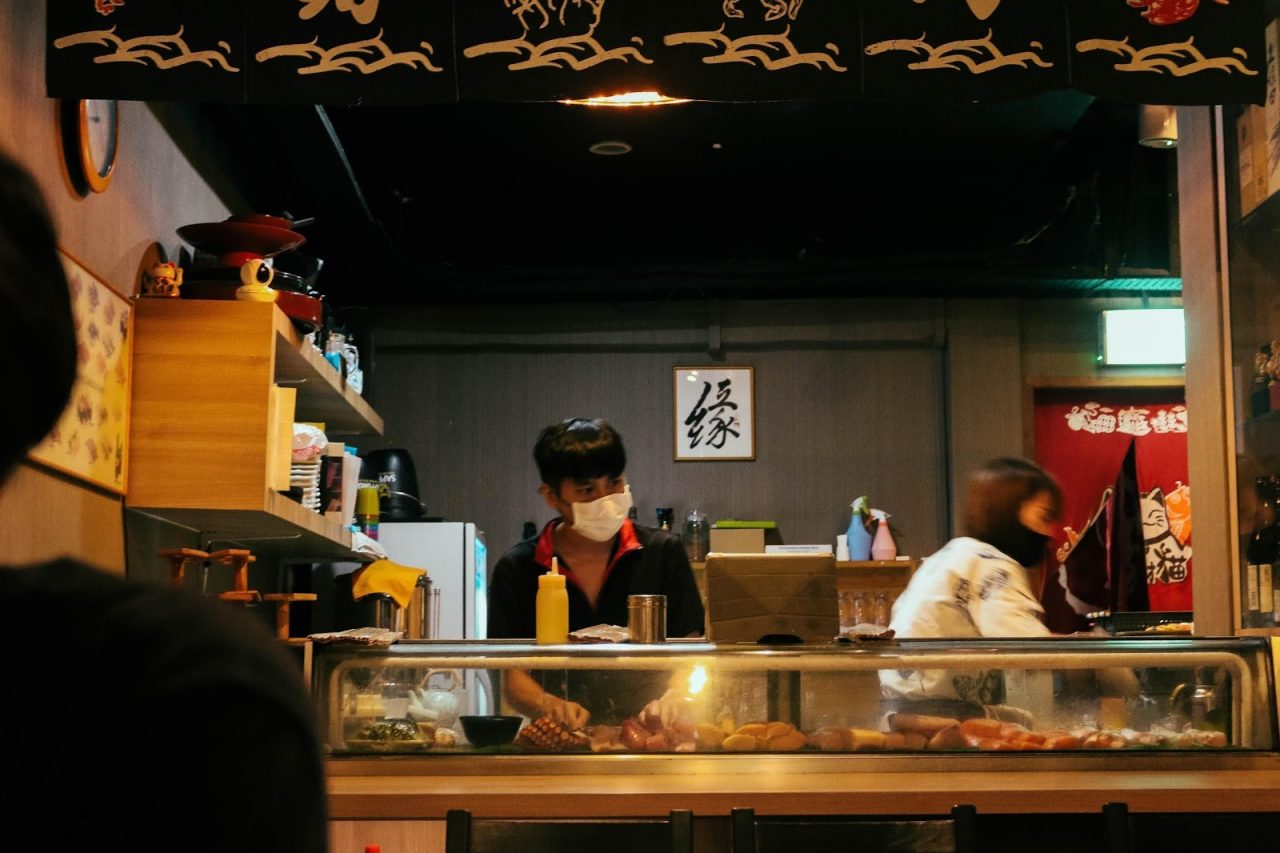 The buffet veterans among us know the one cardinal rule: don't go for carbs because they fill you up too quickly.
Eve brought that same energy to the table at Kushi Japanese Dining, an all-you-can-eat ala carte Japanese experience. "Let's just get all sashimi," she joked. With more than a glimmer of serious intent.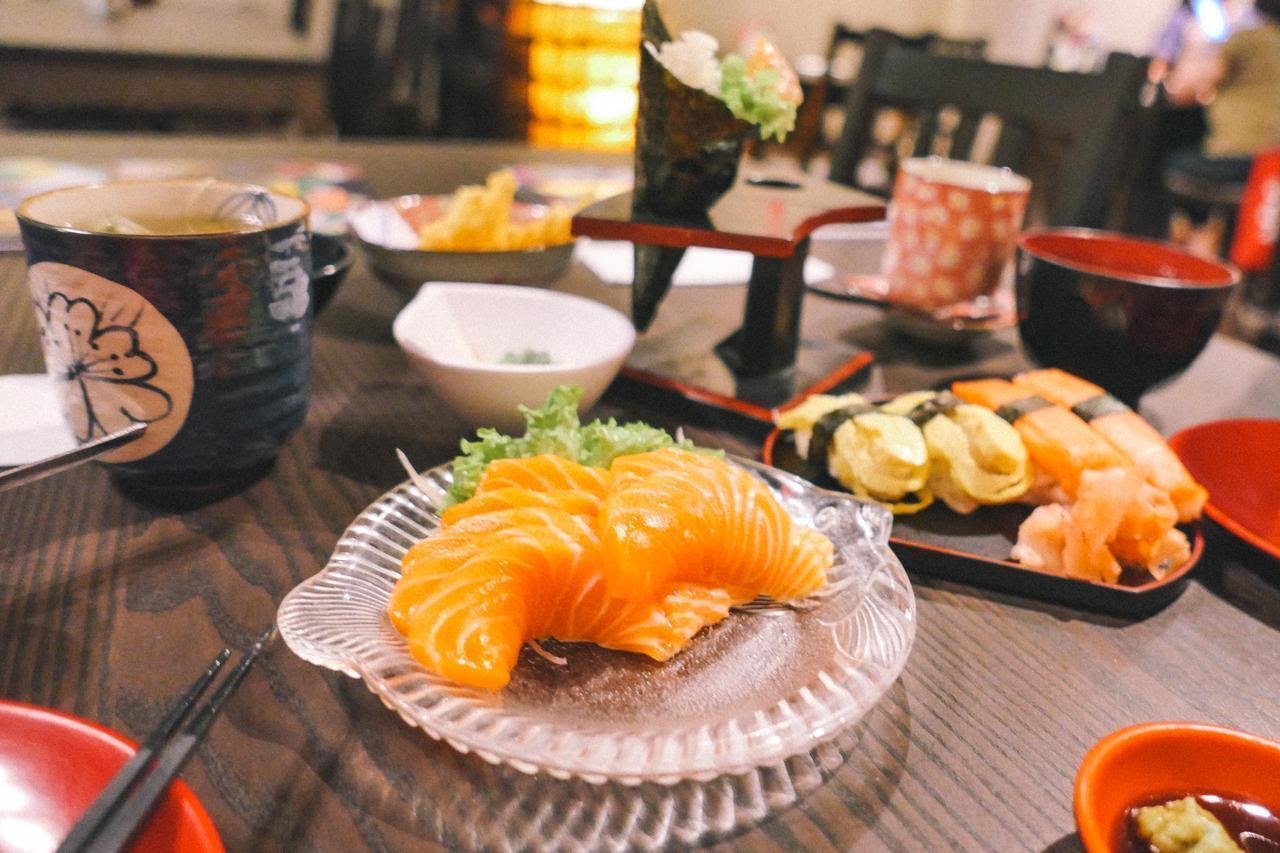 Considering that this was an all-you-can-eat buffet with an endless flow of sashimi, $45.80 per head was a pretty good deal. Within the span of an hour, we ordered enough entrees to surpass that amount in any other restaurant. We're talking about various sushi rolls, temaki, tempura vegetables, chawanmushi, deep-fried seafood, and more than a few hot-off-the-grill meats.
Turns out, it's completely possible to indulge in fancy places within industrial districts too.
12AM: Julaiha Muslim Restaurant
Popular supper spot for night owls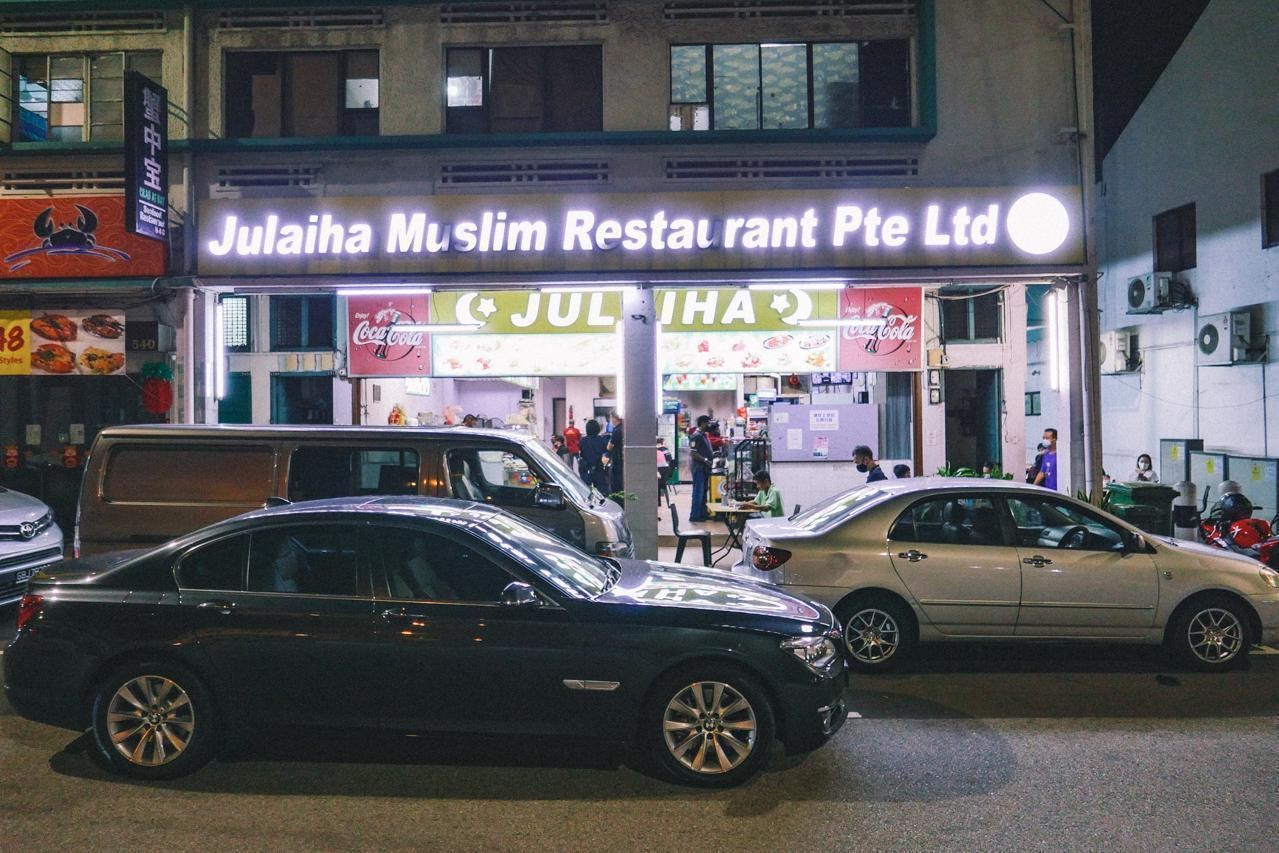 "Go to Julaiha for prata next," DMed a musician friend of mine after seeing my hourly updates on Instagram. It's where his band usually goes after jamming sessions, he said, and it's where a man they dubbed "Professor Prata" works.
In search of supper by this learned flatbread academic, we rode to Julaiha Muslim Restaurant, a 24-hour joint along Macpherson Road. Brightly lit and teeming with people even past midnight, we approached the lectern of ghee, dough and eggs, where the supposed professor was giving a wordless masterclass in flipping pratas.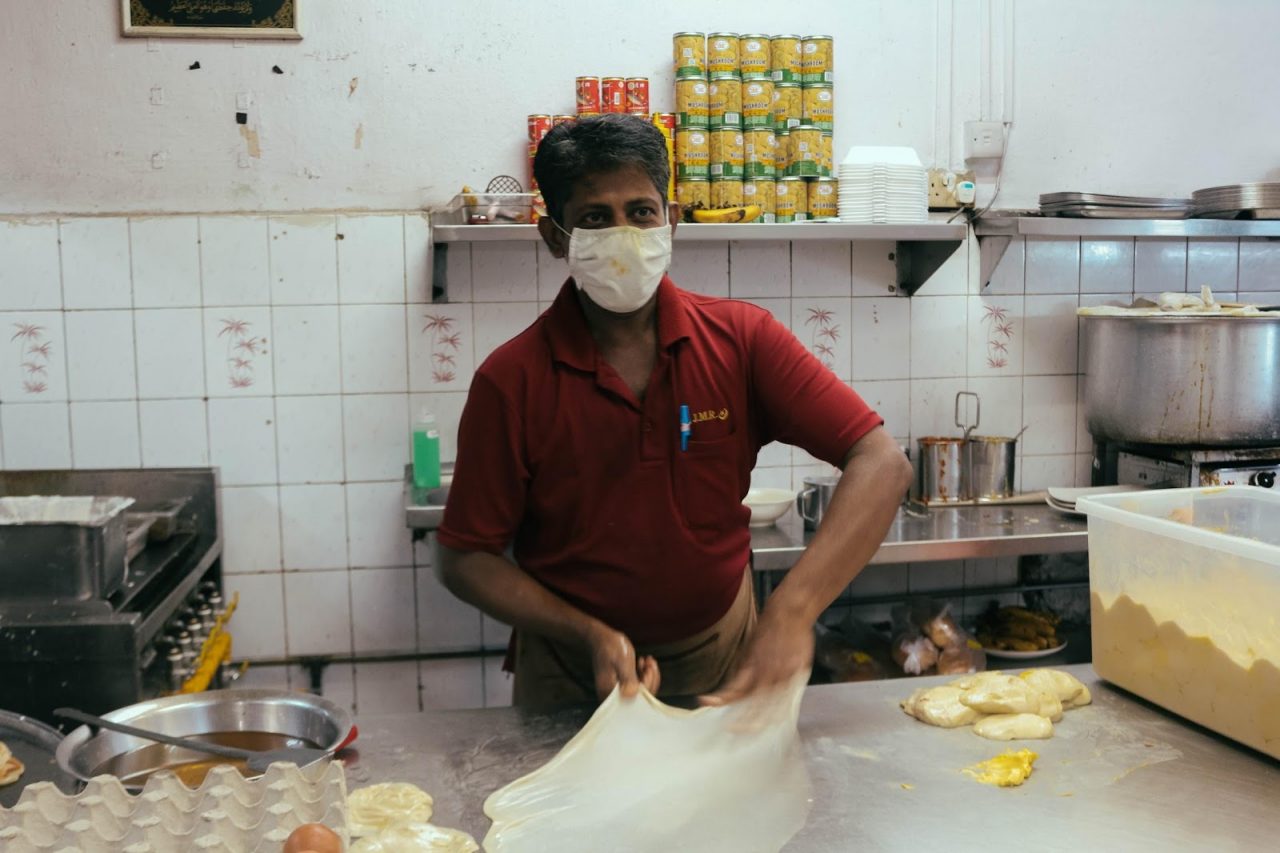 Attentive staff walked past carting plates of mutton biryani and other Indian-Muslim fares to patrons, which could be described as 'vaguely international', judging from the surprising number of Caucasians and foreign accents.
I sent a picture of the prata maker to my musician friend. "Alamak that's not the professor hahaha," he replied.
2AM: Night Ride
Cruising for poetic photos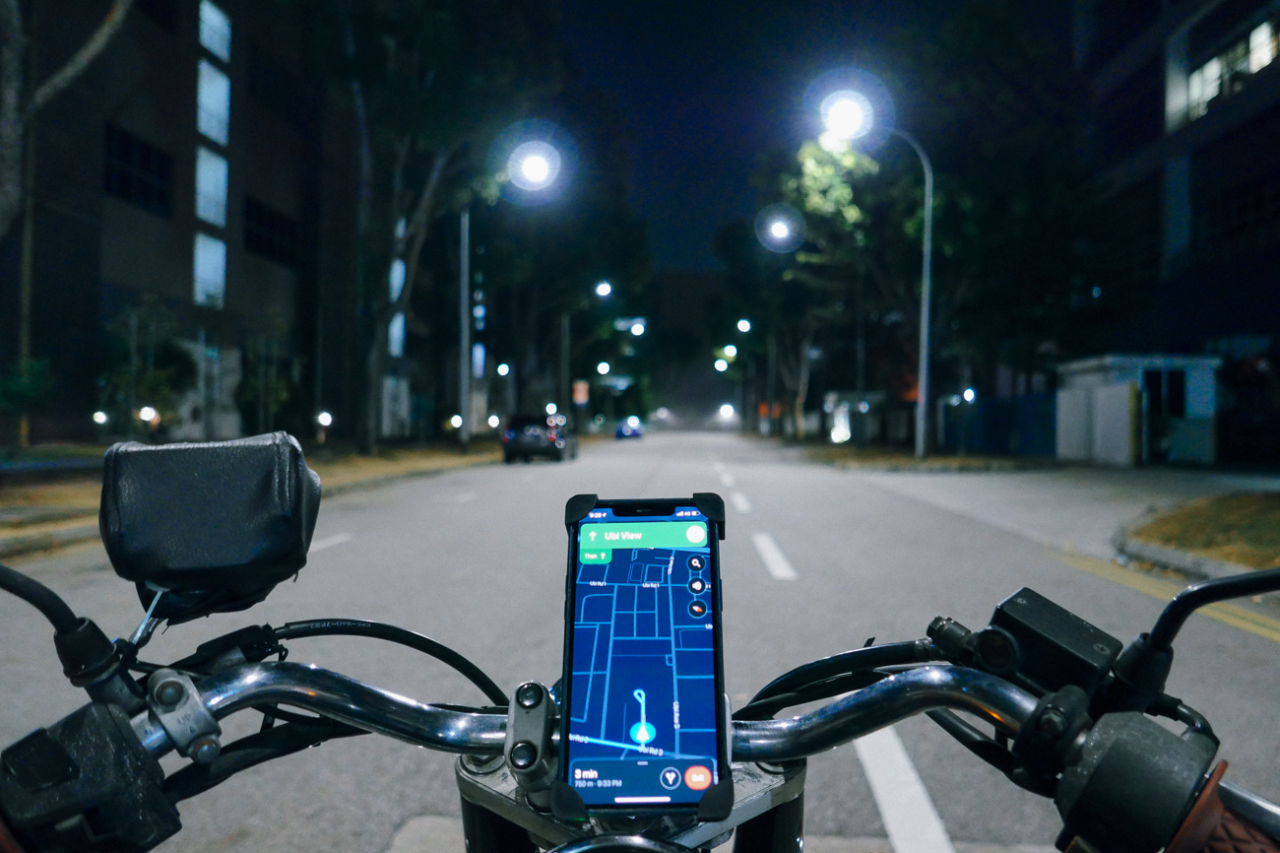 Fresh air was a much-needed respite after all that food and thus began our night cruising.
We rode around aimlessly, taking in the night scenes and relishing the cool night breeze. Rows upon rows of trees and buildings remained luminescent in the streetlights. Occasionally, we passed by several groups of people stepping out of eateries—co-workers perhaps? They're all smiles and deep in conversation.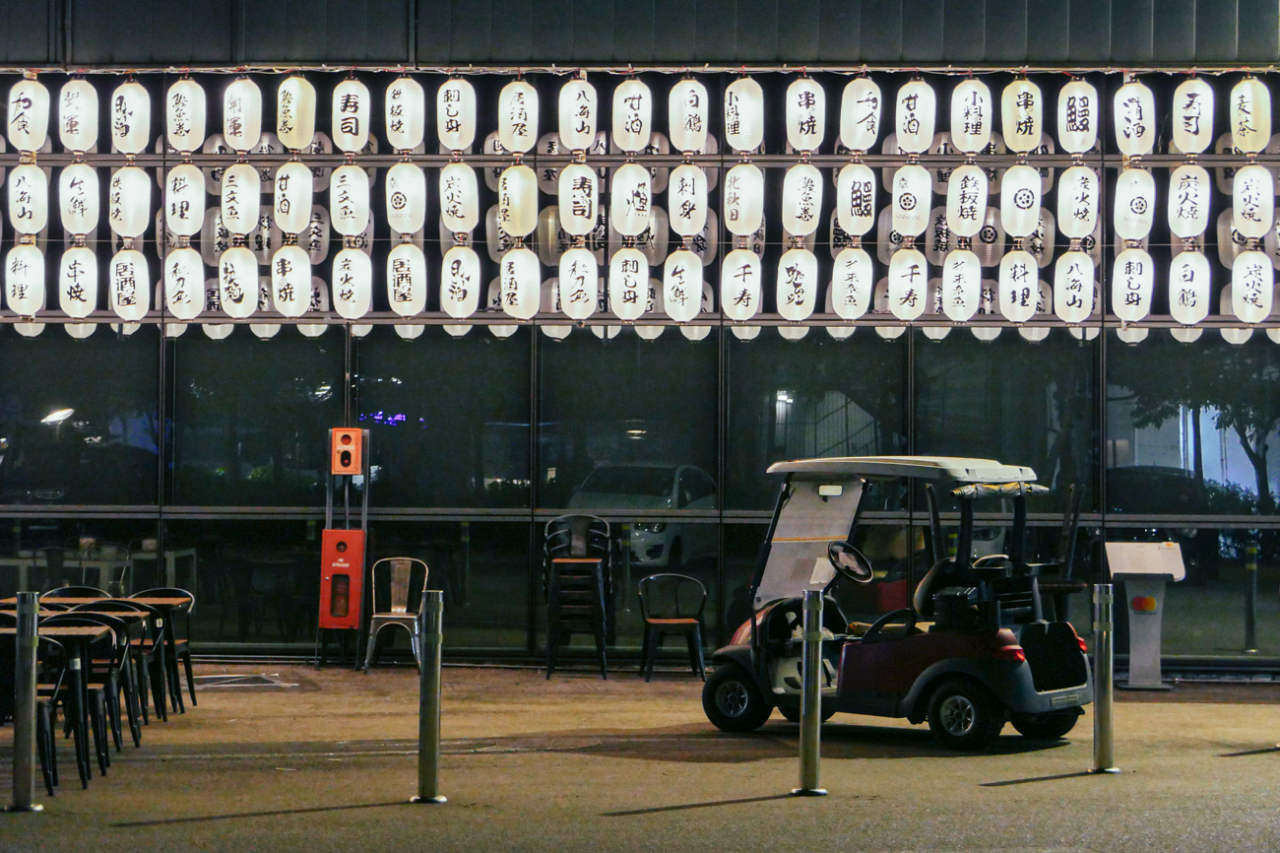 Further down the stretch, we came across the construction site of UBIX, an upcoming business space by CapitaLand primed for companies in fintech, gaming, biopharma, and other fashionable industries.
Set to launch sometime later this year, the space is slated to be the next big thing in Ubi, a modern workspace of sorts for people to network, collaborate, and do other things high-flying professionals do when they get together. A CapitaLand spokesperson explained that UBIX is being envisioned as a one-stop-shop for both business and leisure, which is good to know for anyone looking to establish their offices there.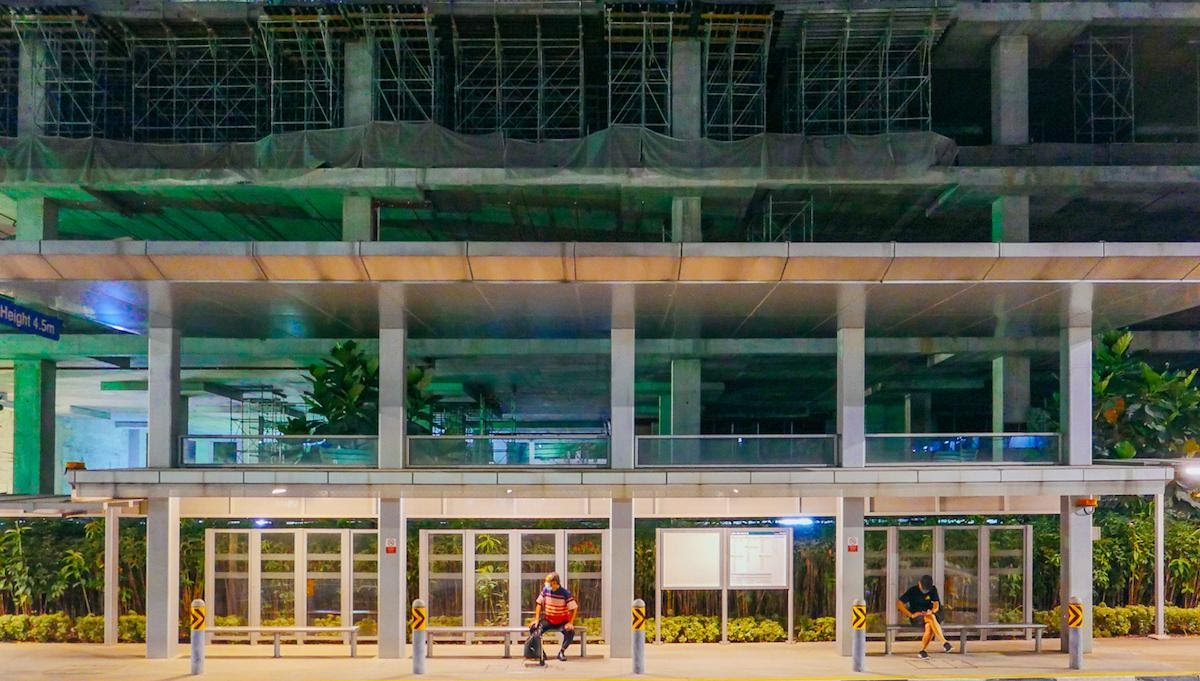 While UBIX is still very much in the akan datang stage, we caught ourselves imagining how everything will look upon completion: A full glass facade, a stylish lobby, spiffy offices fit for any burgeoning enterprise, and buzz worthy F&B joints for gatherings. Not to mention that commuting to and fro work would be a cinch with Ubi MRT Station located at its doorstep.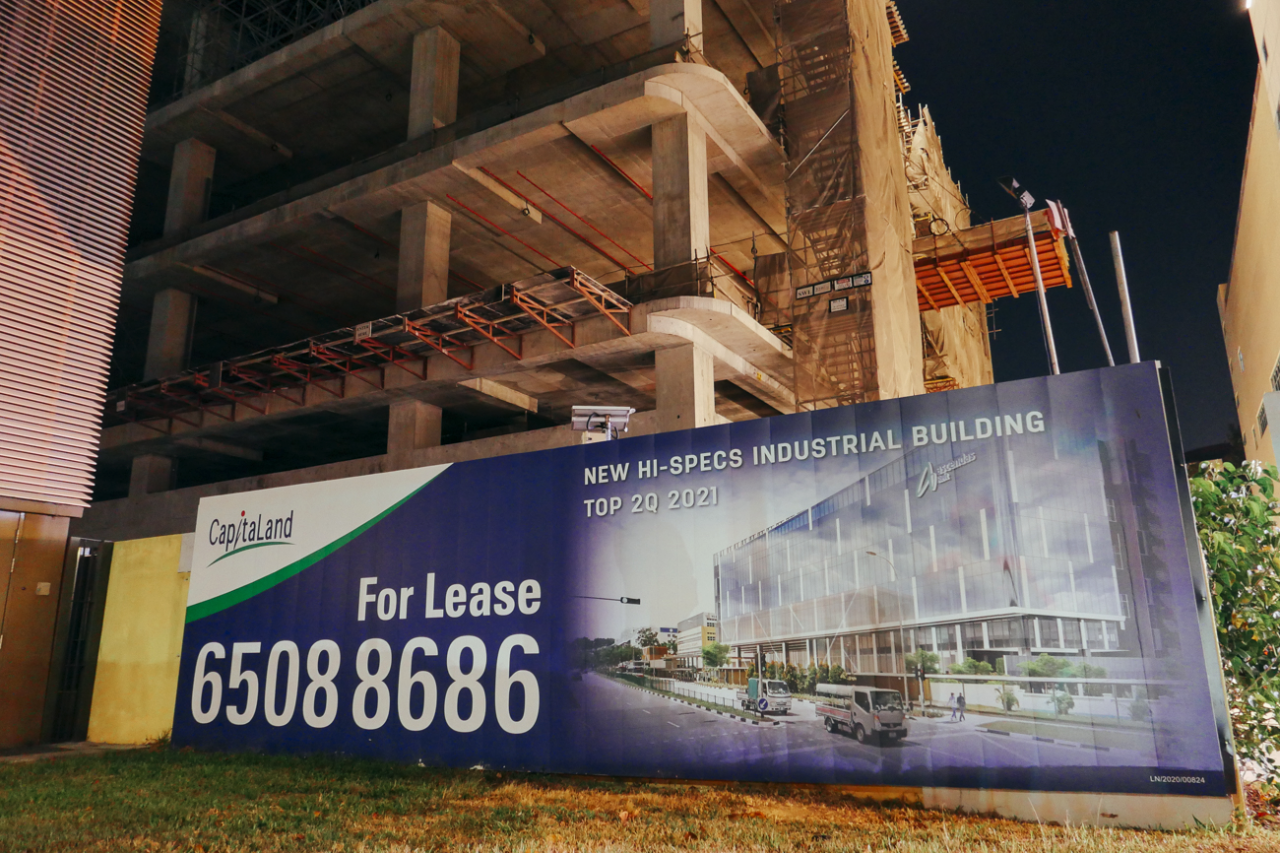 7AM: Circuit Road Market & Food Centre
The unmistakable kampung spirit
In our sleep-deprived daze, we somehow made our way deeper into Macpherson, arriving at Circuit Road Market & Food Centre.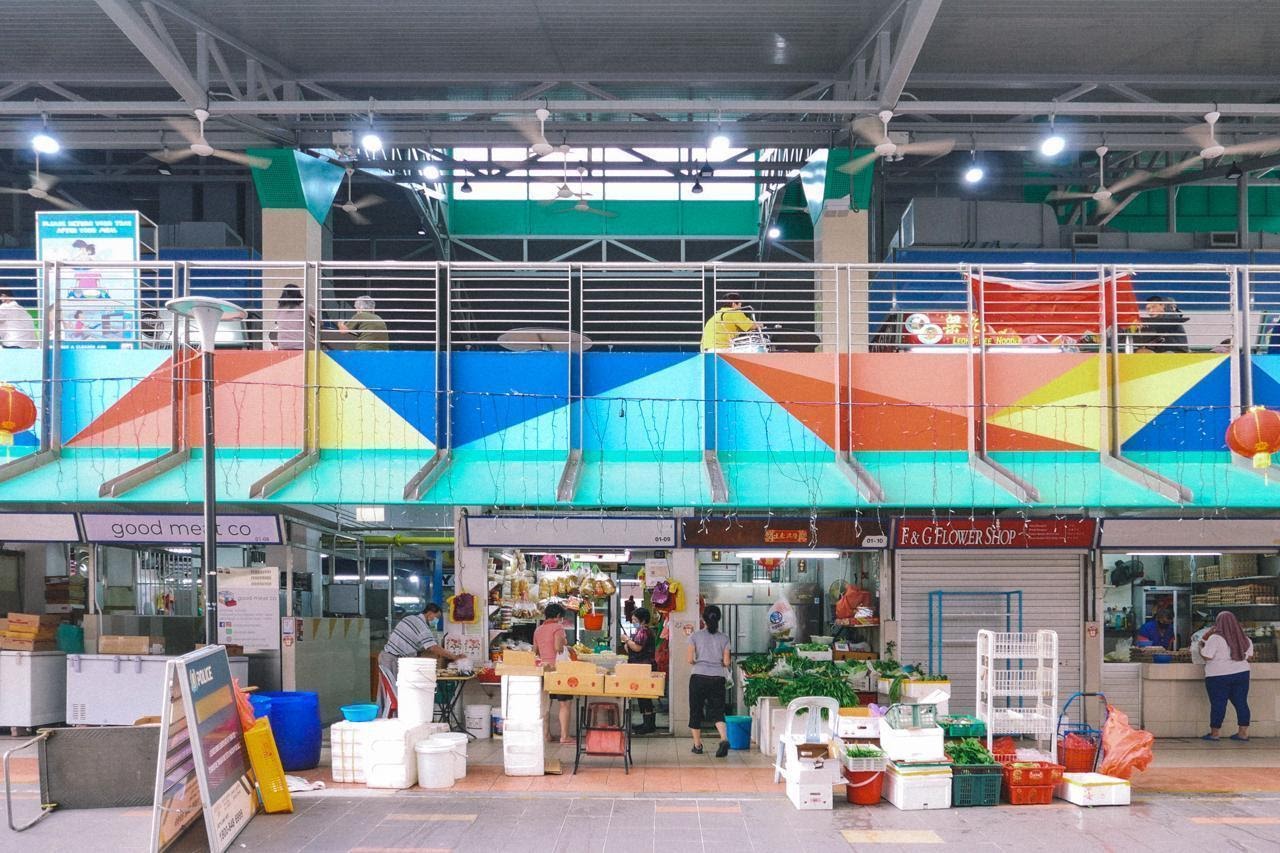 The place exudes a unique character, and immediately we noticed the lively atmosphere. On the ground level, elderly folks haggled good-naturedly with hawkers as they purchased their groceries. A friendly lady selling dried goods was surprised to know that it was our first time there. "We love it here. Everyone knows one another. You should join us too!" she exclaims.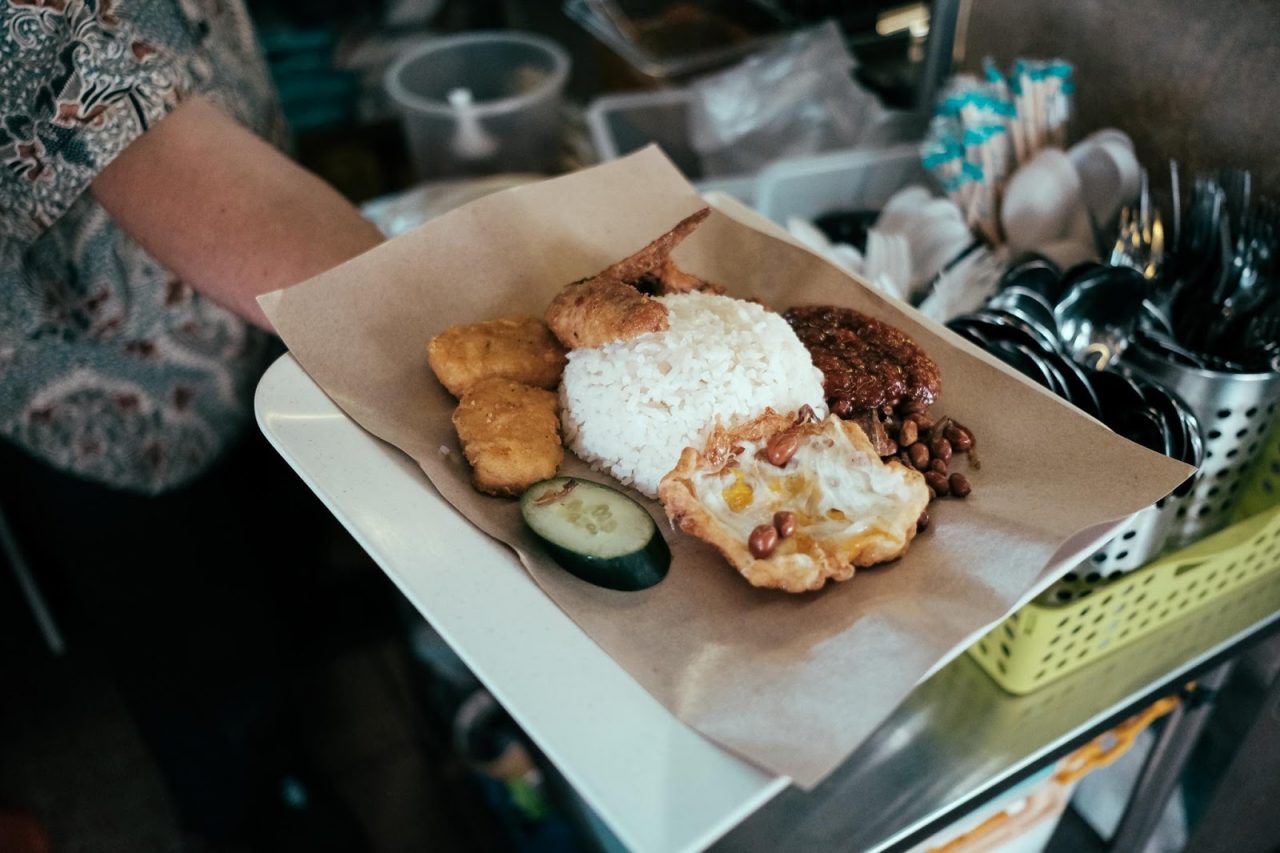 Above, others were engaged in vibrant banter while consuming breakfast. Me, I couldn't resist ordering a plate of Nasi Lemak, having forgotten that it tastes best at the crack of dawn, while still piping hot. The charming elderly couple running the stall were so happy to see young folks like us among their first customers that they tossed in two chicken nuggets. Nice.
8AM: Riding Back To The Office
A realisation on the roads
Being situated so close to a major junction meant that the vicinity was a much-loved stop for workers in the area ready to start their day, while ours was coming to a much-needed end.
We went for one last ride—this time to the central business district, back to our Ann Siang office. But while riding on the flyover with the towering cityscape in sight, I couldn't help myself from thinking that Ubi—a sequestered district we found plenty to do within 24 hours—is just as compelling a place to work and play in.