Immigration has become a hot topic in recent months. But thus far, the discussion has largely centered around foreigners that choose to come to Singapore. But what about the other side of the picture? In this 'Singaporeans Abroad' series, we share with you the stories of locals who—thanks to living in a globalised world—have found success in different corners of the globe, whether financially, romantically, or for the pure joy of adventure. 
Recently, we met Jane, the insurance agent who gave up her career, marriage, and condo to be a digital nomad and Weihui, the Singaporean working with refugees in Syria. 
Now, we bring you Beckie, the NUS communications & new media graduate who created a sustainable swimwear brand and surfs for Team SG in Bali. This is how she fell in love with the sand, the slow life, and created the sea-sterhood. 
Some part of me always knew that the traditional expectation of a 'good life' in Singapore wouldn't fulfil me. I studied communications and new media in NUS, and for a while, I followed what everyone else was doing: I did some internships and tried out the office lifestyle. My parents didn't place a lot of pressure on me, but I was very influenced by my peers and their choices. I got caught up in the stress of securing the next best opportunity. 
When I was younger, I watched a lot of Lilo and Stitch. I was drawn to the slow pace of island life, so I spent some time in Bali when I finished my O Levels to experience that peacefulness. There, I discovered surfing and it clicked. On the water, I just felt free. It's meditative to be away from your screen for two hours, studying the waves and tuning your body to the rhythm of the ocean. It's an experience that you literally can't find in Singapore because there are no waves.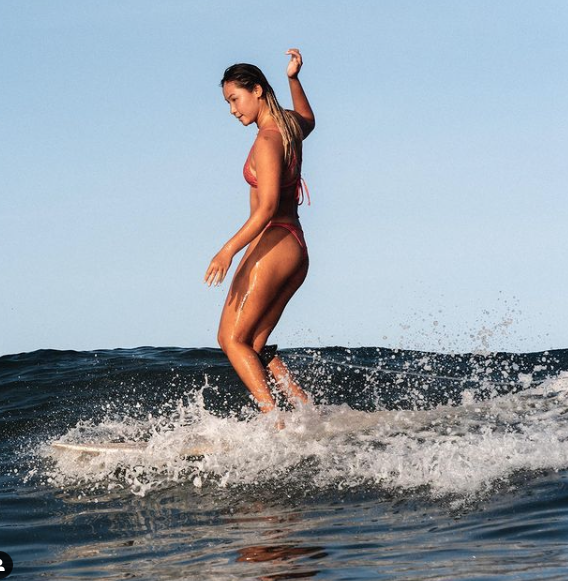 In my second year of university, I knew that a 9-5 wouldn't give me the purpose I felt while I surfed. So, I started to make a plan for what my life in Bali could look like. Obviously, an office job wouldn't facilitate the freeness I desired, so I started designing swimwear for surfers. I stayed up until 2 or 3 AM working on new styles and figuring out what patterns and materials would look good, but also stayed put while catching a wave. I never felt tired or burnt out, because I was deeply passionate about this venture. I felt hopeful, actually. 
In Bali, I found a production company which shared my vision of sustainability and lean business practices.  This was a difficult process, because I wanted to make sure we could produce quality products in small quantities. Finally, I found the right person who took a chance on my vision for Haikini. We're a fully e-commerce company, and the pouches which hold our products are made from repurposed dead-stock fabrics. We don't use any plastic in our packaging. To reduce our waste, we take pre-orders and custom orders, then produce according to the demand.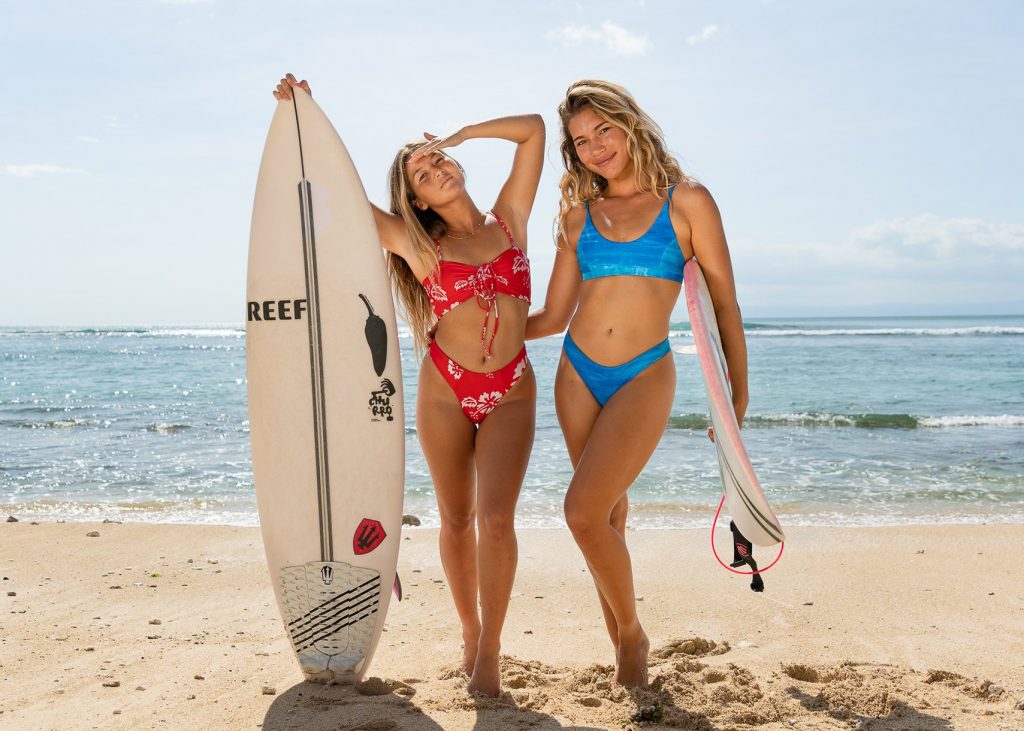 I think my love for surfing and swimwear helped Haikini to take off, because I wanted to foster a sense of community in tandem with the business. I'm in touch with my customers, and we call each other seasters, aka sea-sisters. In 2019, I hosted a surf camp, where I taught some girls from Singapore how to surf and showed them the spoils of island life. It was an amazing experience. I got to know their aspirations and dreams. Many of them started side projects after this experience, and I'm happy that I helped facilitate that by showing them the surfing culture in Bali.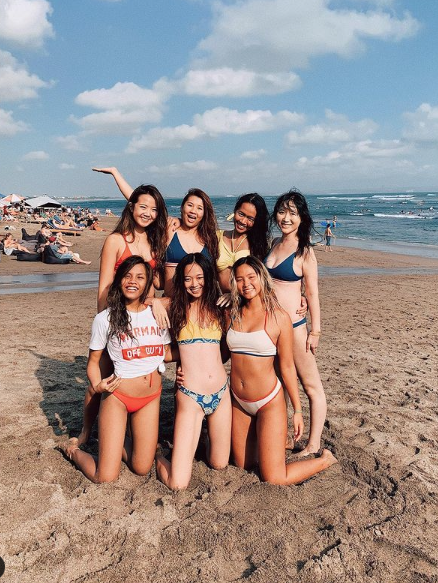 I felt lonely at the start of my surf journey. In those days, it was pretty rare to see a girl on the water. It's definitely a male-dominated sport. Part of my mission with sharing my life in Bali and creating Haikini is to encourage more women to join the sport. It's empowering to stand up on a wave, and it helped me feel more confident in my body. However, I've noticed that men can be aggressive on the water. There's surf-etiquette, and I always joke with my girlfriends that this etiquette is better performed when girls are in the line-up.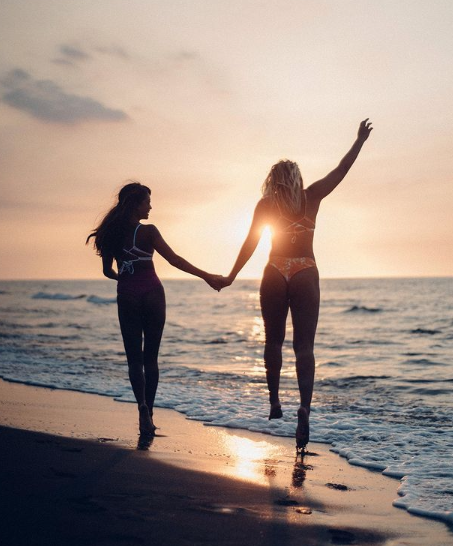 Just last week I was surfing with some girls on an island off Bali, and there were two guys who kept cutting in front of us to catch the waves. There were only five of us there in total, and they refused to practice the surf-etiquette, which is quite rude. I've learned to be more assertive when I'm in the line-up and waiting to catch a wave. I feel nervous, almost like I have to prove that girls can surf too. This feeling propelled me to compete in the SEA games and represent Singapore in 2019. 
That experience was exhilarating, but incredibly stressful. Which is kind of ironic, right? Surfing is supposed to be peaceful. But it's still a sport which requires a high level of skill. It's difficult to get funding for a new sport, and to be honest, I didn't receive any when I was representing Singapore. I chose to invest in a coach, so that I could be prepared for the competition. I even went to the competition site a month early to learn the waves. I had a lot of breakdowns at that time, because Haikini was still growing, and I was having to spend so much on training. I remember telling my friends: "I don't know how this is going to turn out."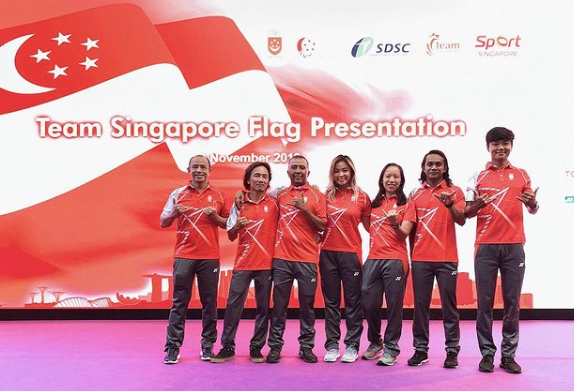 Ultimately, I'm proud of my performance. I was so close to winning the bronze in the Philippines, but unfortunately, I didn't make it. Next time I'll train harder. It also meant a lot to compete as the first female longboard surfer. Since this sport is an integral part of my life, it doesn't feel daunting to put in the work to improve. Unfortunately, there were no games in 2020. But I can't wait for the next opportunity to represent Team SG. I felt so proud holding the flag, because we were the only competitors who came from a country with no surf. 
I've learned some life lessons through surfing. A few weeks ago I was trying to master this trick. The thing about surfing is that every wave is different, so you have to be patient and find the right moment to do a trick like a nose ride or a hang five. Throughout this session, I tried so hard to force the trick and it didn't work. During a break, I realized: Why am I trying to force this? I can't control how the waves break. If there's no opportunity to do a trick, I can't do anything about that. When I got back on the water, I stopped trying to force it. Finally, I managed to do it. There's a lot of things in life that you can't force. It's not always about going with the flow, but working with what you have the best that you can. This relates to COVID as well. What can I do about COVID? I can't change the external factors. But within myself, I can try my best to work with what I've got.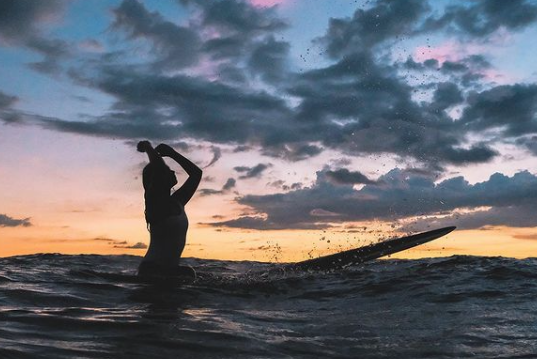 In Bali, I try to embody this lesson. It would be hard to maintain this attitude in Singapore. When I come back, I remember why I left, although I do love visiting my family and friends. It's so fast paced, I feel that I'm never doing enough. I have friends who thrive in this environment but it doesn't work for me. There's a comparison mindset, where we're encouraged to replicate the success of others. I think often you'll see someone else's triumph and think: I want exactly what they have. But in that thought process, there's not much room to dream. 
What do you actually want to achieve, what hobby or practice fills you up? 
I've modeled my business and my life in Bali around this question. Even when I was pressured to do an internship and follow the corporate path, I kept my true passion at the front of my mind. Then, I made an action plan. A lot of people message and ask me how to replicate my life. But what I really want to advise them to do, is to take stock of what gives them a sense of purpose. I think people are drawn to the freeness I've found, not the exact circumstances I have. Unfortunately, I can't tell anyone how to do exactly what I did. When it comes down to it, you've got to put yourself in a position where you have no option but to follow your own path.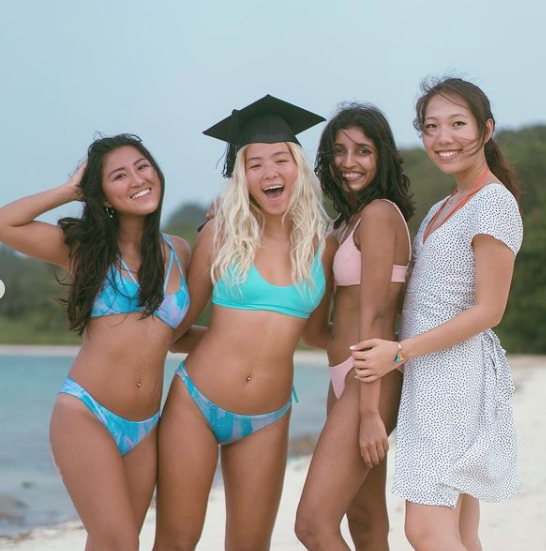 If you're not happy in your job or your relationship, you can change that. Of course, it doesn't happen immediately. For some people with a lot of resources, it might be easier to accomplish. I was forced to make this work because I left myself with no other option: I had to build a company to support myself and pursue island life. Before I moved to Bali, I spent a few years shoring up my ability to do this. I don't think that uprooting your life will solve any problems. Think deeply about what makes you happy, and work around that. A change in circumstance is not a magic wand. 
With that being said, there's power in taking a leap of faith. In general, I think Singaporeans are overly focused on having a 'safety net'. We're taught to think of the worst case scenario and be very risk averse. I struggle with being risk averse myself. Sometimes, I get scared of investing a certain amount of money for Haikini's marketing or logistics. This thought echoes in my mind: What if I lose it all? Everything I have right now could go away. But, I've found that the greatest things happen when you surrender to the process. Serendipity can only be found in the unexpected.
For example, when I first came to Bali I went through a breakup. I was a bit bruised, but still, I was open to finding a connection with someone. Randomly, I started searching through mutual friends on Facebook and found this surfer who I thought was really attractive. I added him and forgot all about it. A few weeks later, I ventured to this beach where the competition is really tough and the surfers can be hostile. I was in the line-up for a wave and I noticed this guy in front of me: I saw his back and his hair and thought he was good looking. Then, he turned around and said "Are you Beckie?" It was the same guy I added on Facebook.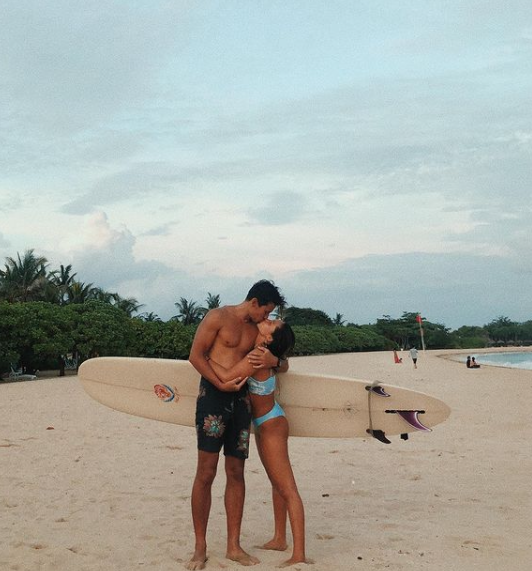 We met in February 2020, and we've been together ever since. He's half American and half Indonesian, and he came to Bali to enjoy the surf and the slow life. We spend three days a week apart to maintain our independence, which I think is important, so that we still cultivate our separate identities. It's been so easy and natural with him, and we're very well suited to each other. None of this would've happened if I hadn't surrendered to the process and made room for serendipity in my life.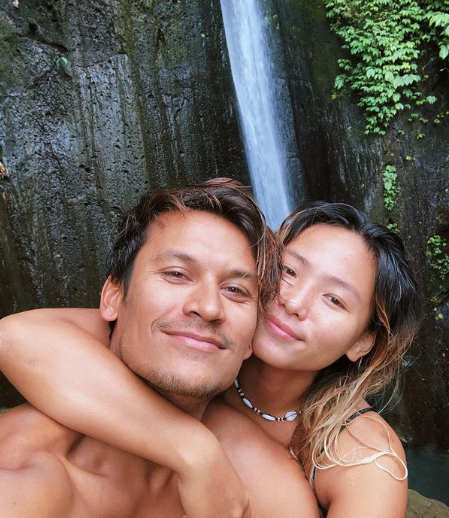 My grandmother still asks me when I'm going to come home and get an office job. But I'd rather see where the slow life takes me. My day-to-day life is fulfilling. Depending on the tides, I catch a surf in the morning for a few hours, then go for lunch, visit my production house and work on a new bikini design in the afternoon, then I end the day walking my dog on the beach at sunset. It's a low maintenance lifestyle, and it's fairly easy to live comfortably in Bali for a fraction of the cost-of-living in Singapore.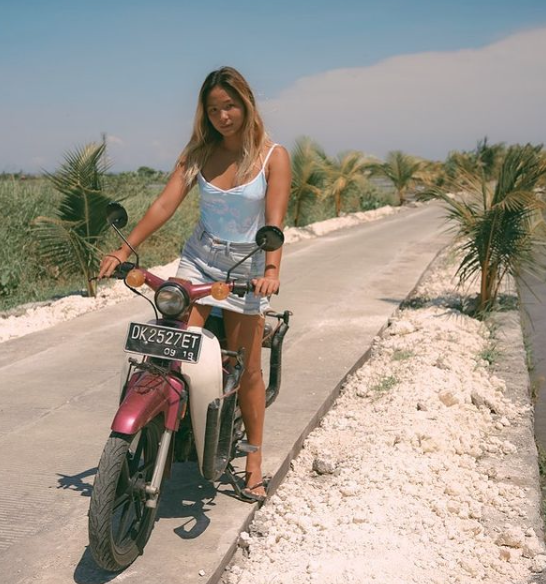 Though I don't feel called to go home, I've found a community of Singaporeans in Bali. Most of them are not surfers: some own restaurants, do personal training, or build villas. I have to do a lot of code-switching, because Singlish can be hard to understand, so it's nice to have people to lah and lor with. This connection to home while I'm away is valuable. At the end of the day, we're all following the path of experiencing something different and searching for a purpose. That's what binds us.