All images by Thaddeus Loh for RICE Media.
"When I interned at Bosch during poly, I felt so lost in the hundreds and thousands of people, and I just did the same thing every day," Gayle laments, "Being my own boss … I don't feel like a slave to anyone."
She's 21 years old this year and co-owns Jiggythings, a vintage clothing store that has been around since April 2018. 
Andy*, who's also 21, chimes in, "I definitely don't want to work an office job. I want to be on the field. My intern (sic) during poly was at Audi. I did SAP and ERP system, it was damn boring, I couldn't take it."
"I guess having a 9 to 5 job is practical since you will have a stable income. But I don't want to be there just for the pay … then everyday go home feel so dried out. And by the time you realise you're already in your 40s," Gayle adds.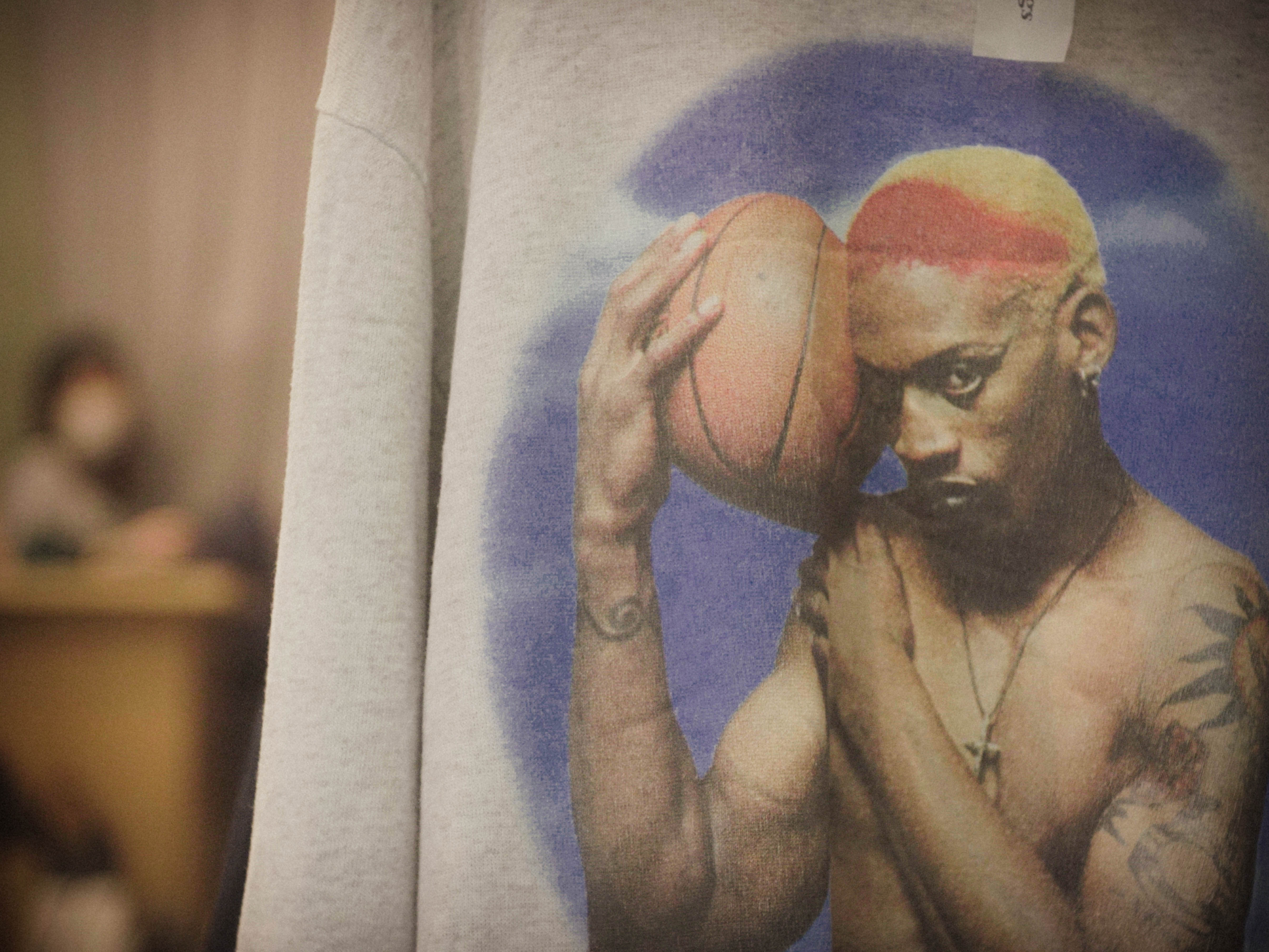 This mentality is characteristic of Gen Zs. A Universum Global
study
found that 36% of the (50,000) Gen Z respondents fear being stuck in careers that limit their opportunities for development. In other words, they don't want to be restricted or defined by their jobs. 
"We didn't start Jiggythings for the money. We started out by sharing our personal favourite vintage collections on Carousell, so that we could clear our closet as well." From there, they realised there was a market for selling what they love. 
They also didn't have any financial support to start Jiggythings. Instead they relied on their own savings.
Andy used to re-sell Supreme during poly: "I saved up on that money and used it to do this. All the money I earned was pumped back into this, I didn't keep it for myself."
As a brand that prides itself on providing relatively affordable vintage clothing, I wondered how the business managed to stay afloat as well.
"I don't think we saw green for the first five to six months," Andy says.
"We make minimal profit from our items … and focus on quantity. Just like a supermarket, you know? That's how I'd like to think of the business. Lower the price a bit but the turnover is faster, so more items can come in," he explains. 
He goes on to elaborate on their strategy by comparing their prices to H&M or Cotton On, since they're all reasonably priced. While browsing through the clothes in their store, I'm surprised to see most shirts priced within the 20 to 30-dollar range. The same shirt would've easily cost around $50 in other vintage stores. 
Gayle clarifies, "It's not that we don't care about money, but we don't want to be entirely profit-driven. Profit isn't our main goal. We just want to have something we enjoy as our job."
To her, building relationships and interacting with their customers are the best parts of the job: "It's like we've built a community."
For Andy, it's the satisfaction of serving their customers, especially after they send out a package each time.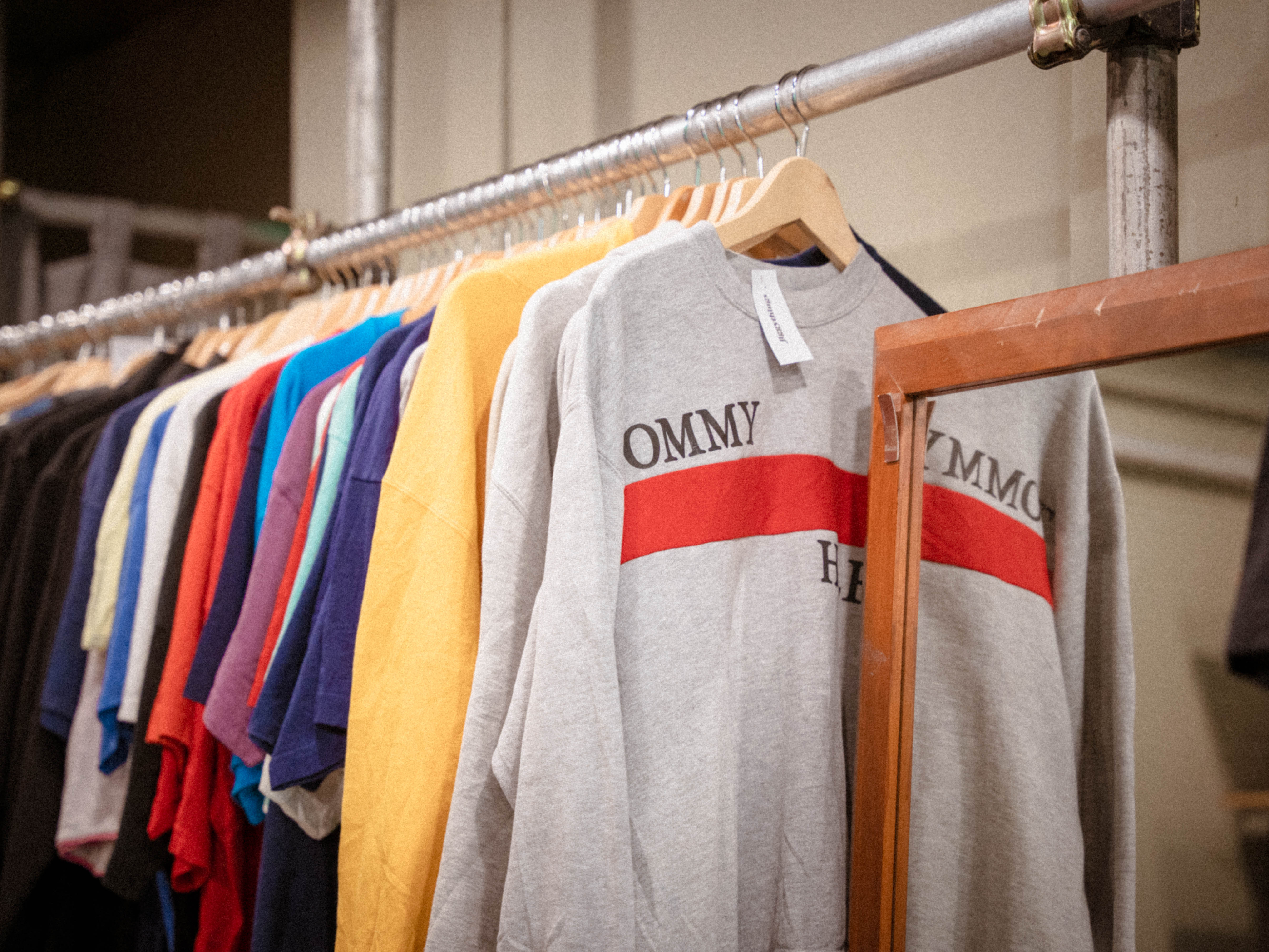 As idealistic as Gayle and Andy's "do what you love" attitude may seem, they've managed to open their own physical store earlier this year in March, after two years in the vintage scene. 
Unfortunately, they had to close the store three weeks after opening due to Covid-19. But they believe Jiggythings continued doing well because of their strong online presence.
"It's hard to come across someone our age without Instagram nowadays," Andy says. And those who use Instagram are usually within their target audience, around 15 to 25 years old.
But even with social media at their disposal, it took a process of trial and error to figure out what worked for their business. They started out with Telegram and Carousell, but found using too many platforms a hassle. 
"Especially with Carousell now, you need to key in more details about the product. It used to be faster last time, where you could upload the product in 30 seconds," Gayle explains. 
They used to have a website as well but realised most of their customers still prefer Instagram.
The rise of these platforms has allowed setting up and running the business to be a lot more smooth-sailing. As of January 2020, 140 million businesses use Facebook and its related apps, such as Instagram, to connect with clients and market themselves.
"Honestly, if you want to do it [start a business], you can just use Google or YouTube to learn," Andy says.
They both studied Business IT in Ngee Ann Polytechnic, but claimed that what they learned wasn't "all that practical". 
Andy laughs, "You don't need to go to school for this kind of thing, or at least that was the case for our store."
But surely, setting up Jiggythings wasn't as easy as they make it out to be right?
"Maybe in the initial part, we faced some stigma, like vintage is very 'dirty'. My grandma always says, 'This might be a dead person's clothing,'" Gayle sighs, "Older gens won't understand."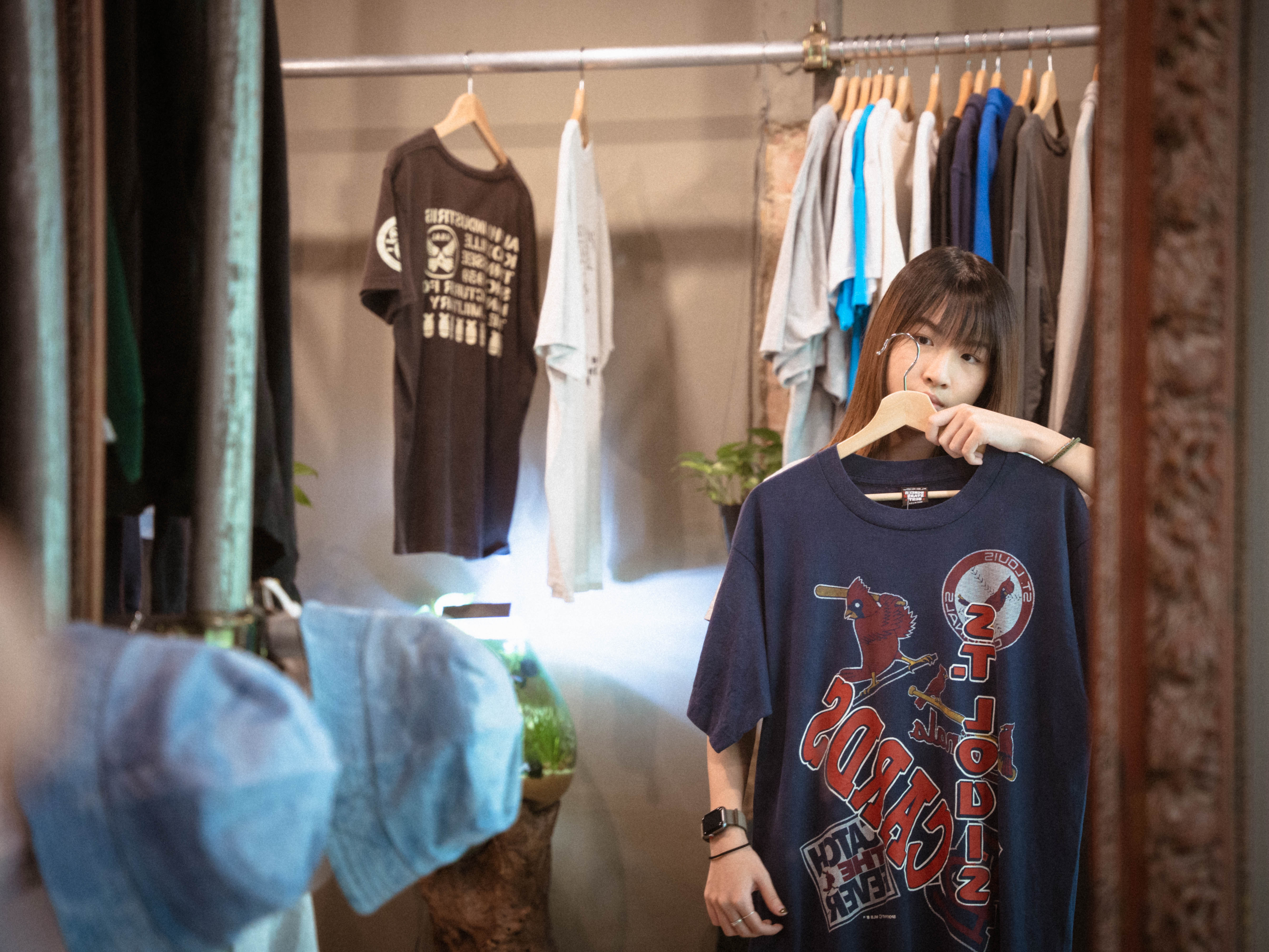 Andy's parents were nonchalant about his passion: "Asian parents don't really show how proud they are, especially for such an unconventional business. I think they thought it wasn't a big thing, probably just some side hobby. But now it's my income."
The business began when both Andy and Gayle were still in polytechnic. They'd have activities going on in the daytime, and come back at night to post and pack items, only sleeping at 2 or 3 am before going to school the next day. 
Andy pauses, realising—on hindsight—that there hasn't been a day he did nothing. 
"It wasn't that I was sacrificing my studies, it's just that I was spending my free time doing this. I didn't really study a lot anyway."
What about the challenges they face now?
"Once in a while, we get problematic customers." Gayle mused about the time one customer tried to scam them. He photoshopped the Paynow receipt to try to avoid payment.
"Or if the customer is dissatisfied with the item's condition or if the mail gets lost," Gayle adds, "Then we'll have to compensate them by giving them another item or store credits."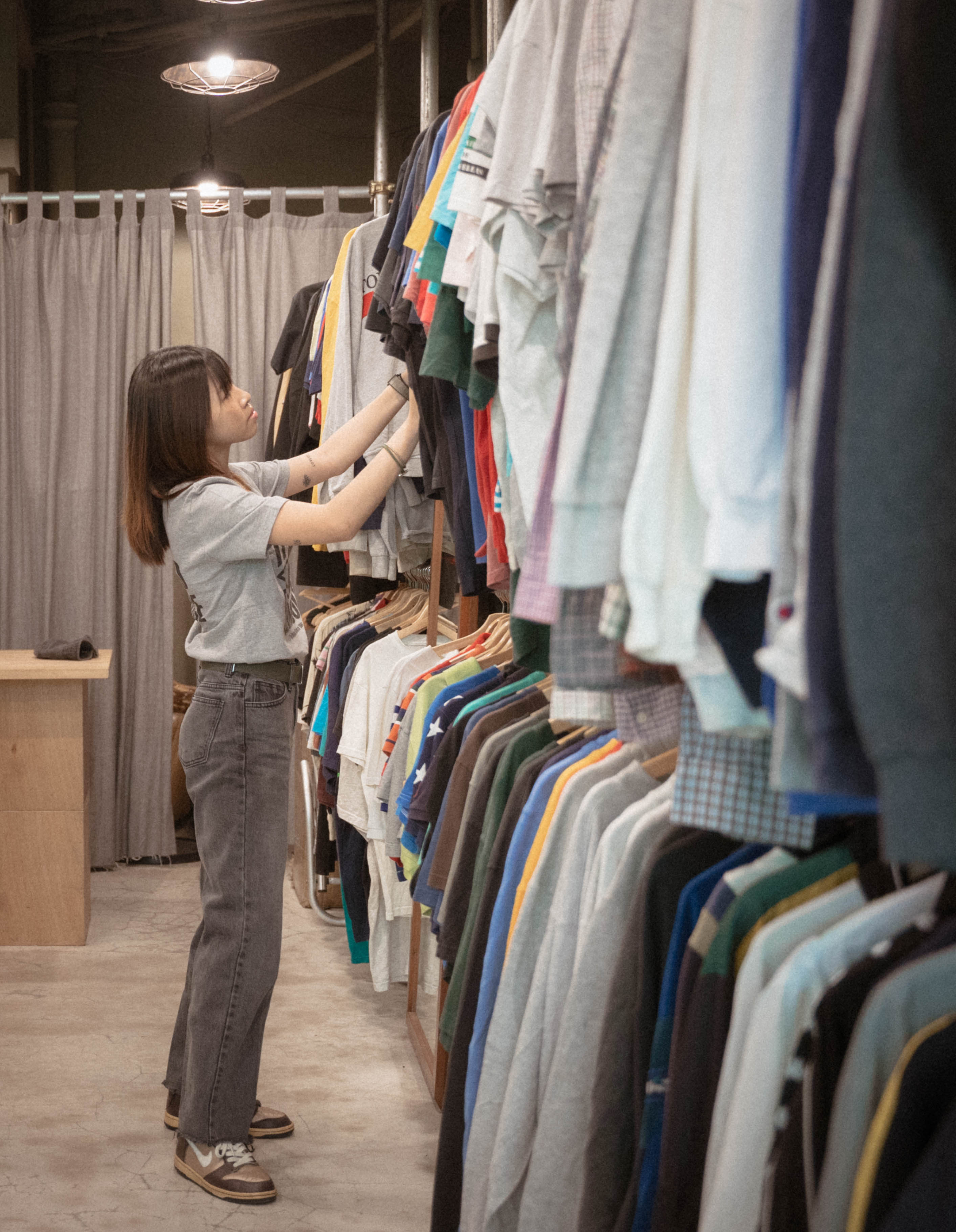 And that's why they insist on thoroughly checking every purchased order, making sure it's sent out on time, and that the customer receives them. To them, the biggest takeaways from doing business are responsibility and accountability to customers. 
There are also stocks and sales-related issues, such as when the current stocks aren't moving which results in them having to sell them at a lower price. Or when they only sell 10 (out of the 30) clothes they post on Instagram that day.
Besides that, they're also competing with many more vintage stores in the scene now. A quick Google search gives me around 24 other shops in Singapore, such as The Fashion Pulpit and Loop Garms, and this excludes those who don't have a physical store for themselves.
This increasingly saturated market is likely due to vintage wear's comeback in recent years, and Gen Zs are most commonly the ones buying into it. I remember a sudden surge in interest in old Western shows four years ago, like Friends or That 70s Show. 
"Highly influential celebrities, like Travis Scott and Kanye West, also popularised vintage. Plus they're affordable," Andy surmised.
Suddenly, everyone around me was into everything old; from oversized graphic tees, to pleated skirts, to denim on denim. 
They believe they grabbed the opportunity at the right time when there were only five or six other shops then. Now, their turnouts when they hold events have lowered. And these events are usually when they (used to) earn the most profit.
Andy adds that they're looking for more owners (of other vintage shops) to hold events in their shop. He cites this as a win-win situation since both businesses will be able to gain exposure to more customers. But Covid-19 has made this difficult. 
The pandemic has also affected their stock supplies. In the first few weeks of the virus, their suppliers experienced a shortage of stock.
There has also been a significant increase in shipping timings, and some couriers have implemented an additional surcharge for shipping items. As a business that relies on online sales, they always need to have stock on hand. And the surcharge has resulted in a three to five percent increase in their costs. 
Fortunately, businesses for their suppliers have resumed ever since their countries' cases lowered, and Jiggythings remains in touch with them.
"Paying a three percent premium is still reasonable to me … It could've been a lot worse if everything stopped," Andy said.
Moreover, their sales have surprisingly increased during the pandemic and, in fact, dipped a little ever since the Circuit Breaker ended: "Maybe because there are lesser people on their phones now."
It goes without saying how important their online presence continues to be even after all these years.
Business aside, they both tell me that their personal lives have taken a backseat since they opened the store. 
They work on weekends now, and Gayle is going on to her second year of university. "Sometimes I think: 'I could be getting wasted or going cafe-hopping if I wasn't doing this.'" 
Luckily, she's not one to party much, and she enjoys running her business.
Andy agrees, "I don't regret this being part of my youth."
They're also grateful for the friends who come to visit them at the store, especially after opening hours. 
"I feel like this shop has actually brought our friends together," Gayle says.
Andy smiles as he speaks of their friends who are mostly in the vintage scene as well, and how they understand what it's like to do this business.
I reached out to one of them, Greg, a 21-year-old who owns Retrovage, another vintage clothing store. He was able to pay for his own expenses and be more self-reliant. Meeting new friends and building customer relations have also been the most rewarding aspects of the business. 
For those who wish to pursue a career that is unappreciated or undervalued in Singapore, he suggests thinking international: "Find ways to reach an international audience via online means."
Andy and Gayle agree, "You're still in your youth, you don't have many responsibilities. Even if you were to lose you won't lose much."
They reflect on how they learned most of the ropes along the way, without anyone to teach them. Now, even with Covid-19, they have suppliers from all over the world: Thailand, US, UK, Malaysia.
Before Covid-19 hit, they'd fly to countries in the region to visit them and show their gratitude. "'We like doing business with you' kind of thing, you know?" Andy says. 
As for the future of Jiggythings, they hope to keep it a side job: "Even if we make it full-time, there's not much else we can do."
But vintage, to Gayle, will never die out, and there will always be a market for it. She mentions the number of customers who like to collect vintage clothing, including 50-year-olds. They also wish to continue catering to their existing loyal customers. 
"We don't want to have multiple stores with many employees, if not it'll lose its touch," Andy affirms, "When people buy from us, we want to be the one serving them."
As for their future plans, they admit that they haven't thought that far ahead.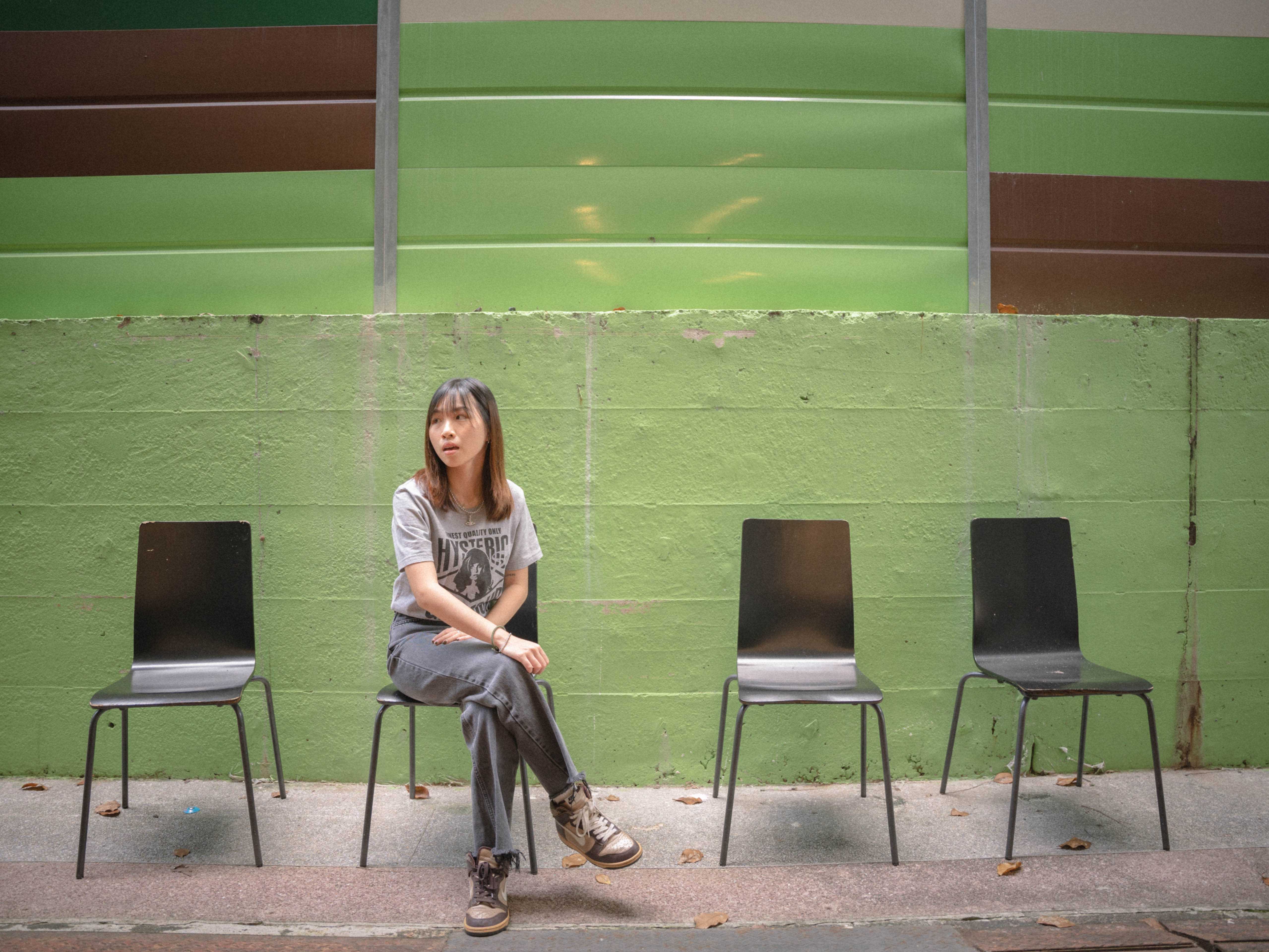 For Generation Zs like Andy, Gayle, and Greg, they're happy with where they're at now: they're not stuck in the drudgery of a nine-to-five desk job; they're enjoying the hustle while finding meaning in what they do. 
Like it or not, this generation of Singaporeans will play a key role in the country's future. Not all of them will fit the 'risk-averse' and 'strawberry' prototype commonly associated with Zoomers. 
Andy*'s name has been changed to protect the interviewee's privacy.
What do you think of Gen Zs and entrepreneurship? Are 9 to 5 jobs preferable? Tell us at community@ricemedia.co.