Illustration by Lam Yik Chun.
In May 2017, I left the public service after two years of being a public servant.
It may have been a brief stint, but it was long enough for me to get comfortably acquainted with both the copious amount of red tape and the consequences of fighting it.
Besides mere inconvenience, this bureaucratic nightmare often hindered creativity and innovation. It also enabled those of higher status to wield their authority by turning down ideas from 'lower-ranking' staff.
This, in turn, exposed me to the pervasive fear of speaking up that exists within the public service.
Till this year, I'd thought perhaps I was overthinking the situation and that the fear I witnessed was inconsequential or perhaps even misunderstood.
Then in February this year, as part of his Budget speech, MP Louis Ng shared that he'd spoken to fellow public servants and learnt that they were generally afraid to speak up for fear of getting into trouble, thus essentially turning themselves into 'Yes' men. He then urged Parliament and senior management in the public service to ensure public servants do not fear speaking up against status quo.
In response, Minister Ong Ye Kung, who leads the public service innovation efforts, said that these generalisations tar the entire service with the same brush.
Despite Minister Ong reiterating that public servants can speak up without fear of getting into trouble, many netizens saw the irony in him 'calling out' and 'chiding' Mr Ng for his feedback.
Over email, I express my gratitude for Mr Ng's courage to speak up for public servants, even if it may affect his political career.
Mr Ng shares, "My father always taught me to speak up, to question, and to always focus on solutions. When I entered politics, I said that I'm here to listen with my heart and ears and to speak up from my heart."
He also believes the fear of speaking up is "mythical".
"As a civil society activist for the past 17 years, I have actively spoken up and have never gotten into trouble. I became an MP! Some activists have, however, gotten into trouble, and I think this has created a culture of fear of speaking up."
Nonetheless, he is adamant that constructive criticism is the way forward, and that speaking up should be encouraged and supported.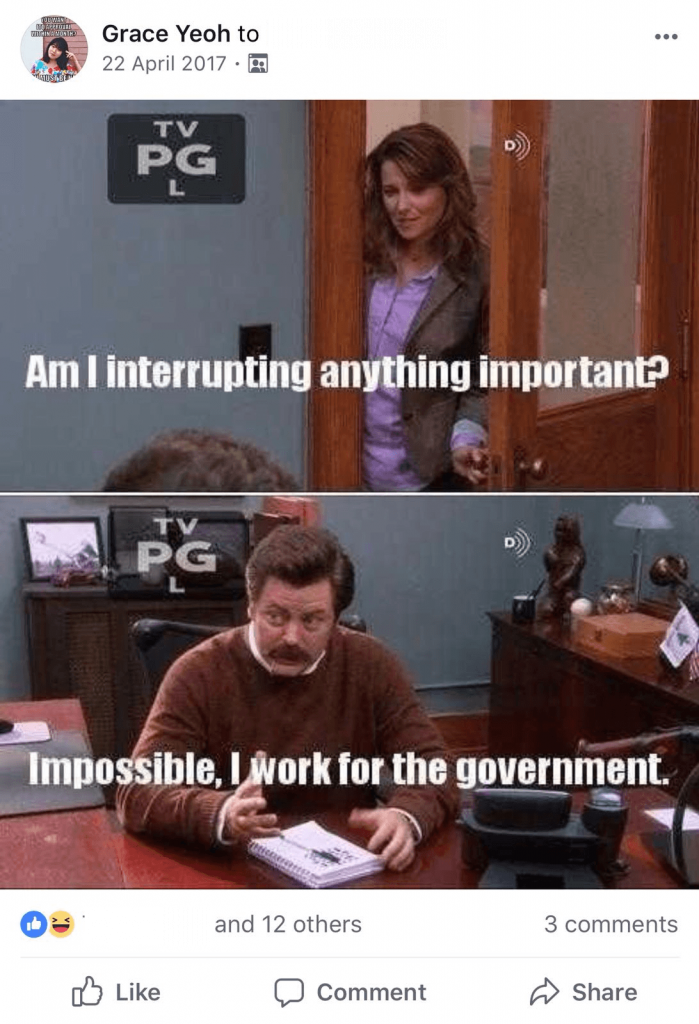 While Mr Ng and Minister Ong's views are well-intentioned, not everyone is able tap on their courage so easily, especially when they already internalise the exact opposite behaviour and convince themselves to 'go with the flow' for everyone's sake.
To empathise with the public servants Mr Ng spoke with, we must first realise that humans generally experience two main types of fear.
First, there is the overt fear of specific consequences. This fear doesn't bother disguising itself. It exists to keep one in check, because crossing the line will likely manifest in dire, tangible repercussions such as a reprimand, being passed over for a promotion, or getting into someone's bad books.
Then there's the constant, albeit unwitting, fear that we learn to keep at the back of our minds. In our heads, we grossly exaggerate the perceived consequences should we 'cause trouble', even though nothing imagined has remotely happened. Possibly the most obvious (if not the only) outcome of this strand of fear is excessive self-censorship.
But fear in itself is neither the be-all and end-all, nor does it exist in silos.
As a result of both the aforementioned variations of fear, learned helplessness starts to breed. We get used to being treated a certain way, even if we don't like it.
Learned helplessness also stems from selfishness. We don't want to bring unnecessary trouble to ourselves, so we resign ourselves to an unhappy situation, unaware that this selfishness also harms us in the long run.
In any case, public servants are already accustomed to taking top-down directives from senior management. Using this existing culture to enforce positive change would be making the best of a worrying situation.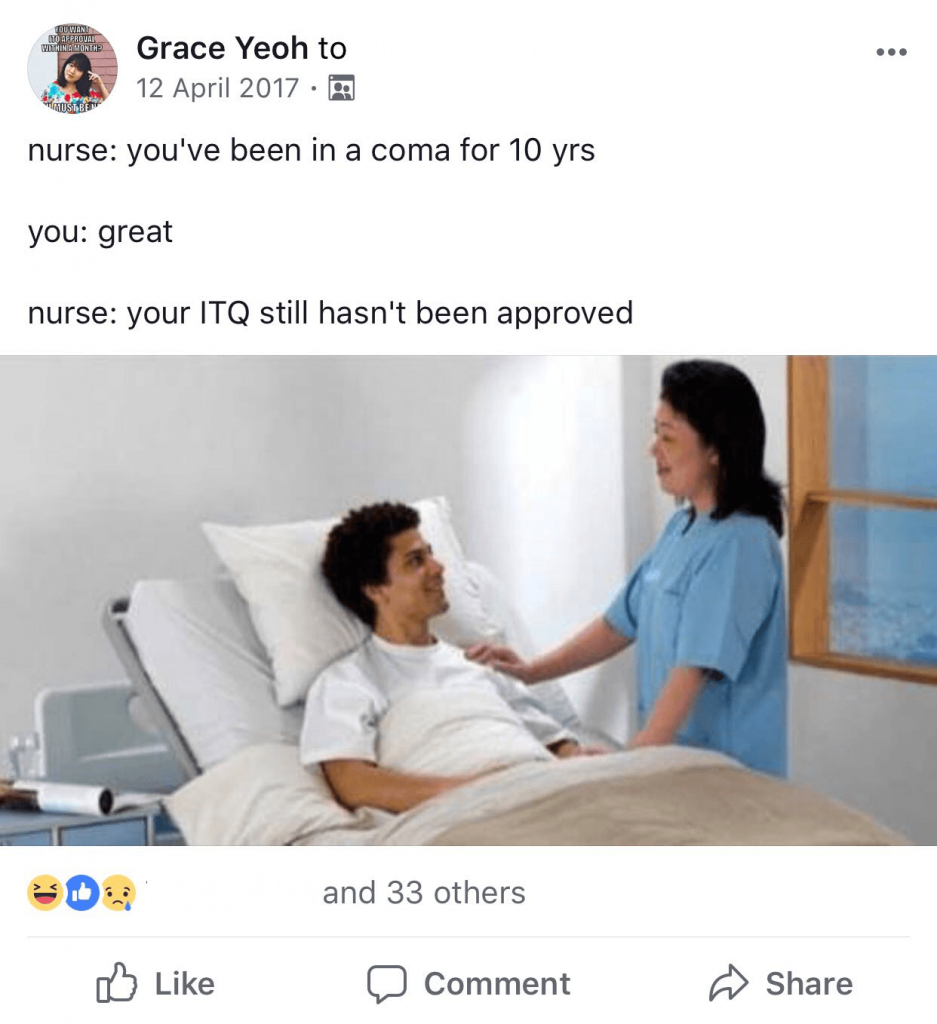 Because of the hierarchical structure that learned helplessness needs to thrive, I get the sense that nowhere is this behaviour more prevalent in Singapore than within the public sector, an industry that ironically requires one to be selfless.
This deep-seated learned helplessness becomes clearer when I speak with several public servants. All of them request to remain anonymous, a fact that they all also coincidentally point out supports the fear of speaking up and its perceived consequences.
For a start, pulling rank seems to be a common occurrence in the public sector.
The first public servant I speak to, who only wants to be known as HC, manages her organisation's website and content updates. She once raised her concerns with the way a project was handled by a senior staff.
She says, "Even though I had experience in the subject, he insisted he knew what he was doing. He raised his voice at me in front of everyone, and cornered me into answering whether I was going to do the work. I merely disagreed with the direction and tried to explain my reasons for disagreeing. Almost immediately, he shot back rudely and said they would get someone else to do the work instead."
From HC's perspective, many of her colleagues would rather "leave the decision making to those [of a higher] pay grade", since dissent would "hamper their own plans to move up the chain".
Similarly, Melvin, who is currently serving his scholarship bond, has experienced instances where both him and his colleagues don't dare to oppose bad ideas raised by someone senior.
For the most part, he is satisfied with his job. Nonetheless, his contentment doesn't blind him to the flaws of his organisation.
"There were numerous times when working-level staff, like me, thought an idea wouldn't take off, because there was potential for bad PR, it was ambitiously out of touch with 21st century sensibilities, or it was simply obsolete. Often the ideas are raised by someone senior, such as the Executive Director or his equivalent, so no one dares to refute them at meetings. These bad ideas are minuted and taken as confirmed," he says.
Even though this doesn't happen all the time, when terrible ideas are executed, the departments play 'hot-potato' to get rid of the project later on.
The convenience of pulling rank also creates other equally harmful workplace behaviours, such as the paranoid need to cover one's ass.
"A colleague I know would save screenshots of informal Whatsapp chats to prove that a certain idea was suggested by someone else in the organisation, so that he could dissociate himself with it in the event that it wasn't successful. Fortunately, he never needed to use the screenshots," says Melvin.
While this particular anecdote might be extreme, it reveals a fundamental distrust of one's colleagues, which can be ultimately unproductive.
Unfortunately, this distrust is not unique to Melvin's organisation.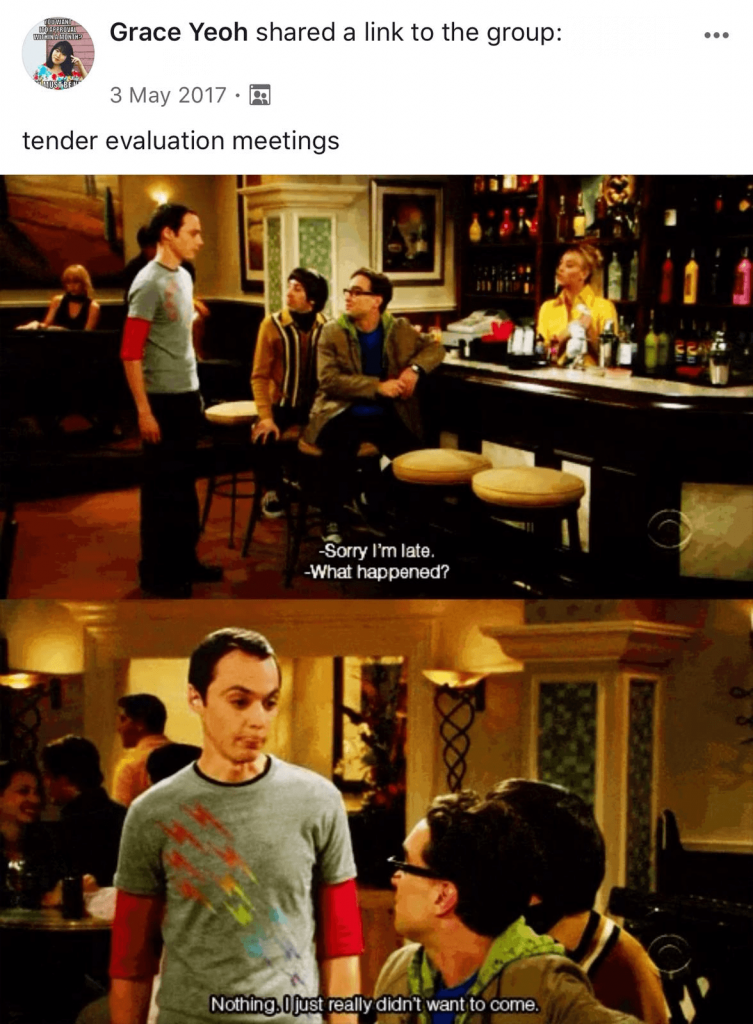 One public servant, Kevin, who is from the education industry, tells me that at a recent meeting, one of his colleagues explicitly admitted she never dares to speak up, for fear of offending senior management by saying something wrong.
This fear runs so deep that this particular colleague doesn't trust their boss's word, even if the boss specifically asks for honest and candid feedback in order to "co-create solutions".
"Our boss said it was sad if our small team wasn't able to be honest with each other. In the end, she spoke up first about her shortcomings. I could tell she was gratified when more people started speaking up after that," he says.
Two of his other colleagues, Frank and Rachel, brought up the issue of workload, despite being afraid their thoughts would be misconstrued as "complaining" or "attacking other teams".
On one hand, Frank could tell that voicing his opinions created a sense of openness within the room, and helped him see that he was able to trust his colleagues and boss with his feedback.
However, Rachel realised there are greater issues that her boss might not even be able to help with. For example, she laments the lack of resources and manpower as the root of the frustration with her workload, which isn't something she knows will be solved anytime soon.
She adds, "We also fear speaking up because we know our bosses fear criticism."
Rachel also readily admits to her own "learned helplessness", even before I suggest the concept.
In a state of learned helplessness, many of us adopt a defeatist mentality. We don't just convince ourselves that the 'every man for himself' mentality inherent in most Singaporeans is what it is; we also convince ourselves that we should embrace it. Eventually, we stop pushing back altogether.
At the same time, amending internal policies can go a long way to facilitating broader and deeper change, no matter how tiny the initial start. When public servants witness their feedback being taken seriously, there can only be less uncertainty about speaking up in the future.
Outdated HR policies may just enable the current culture, especially in comparison to more enlightened practices in the private sector. At present, because obedience is rewarded, people move up by not rocking the boat.
33-year-old Daniel says, "Sometimes, in fact, it's counter-intuitive to work very hard. The annual opportunity for promotion means that you have to wait another year if you miss it. Hence, many opt for a slow and steady approach, instead of a revolutionary one. The latter approach in the private sector, however, can get you promoted twice a year or two years in a row."
Daniel adds that certain HR practices, which "aren't very transparent in the first place", result in ambiguity about how individual performance is assessed, as well as how one's potential is derived and evaluated. This contributes to a culture of uncertainty and fear.
Granted, it's necessary to implore individual bosses to embrace and implement change within their own teams. Yet, to address overarching policy that affects an entire organisation would truly be living up to the effectiveness and efficiency that our public sector is recognised for.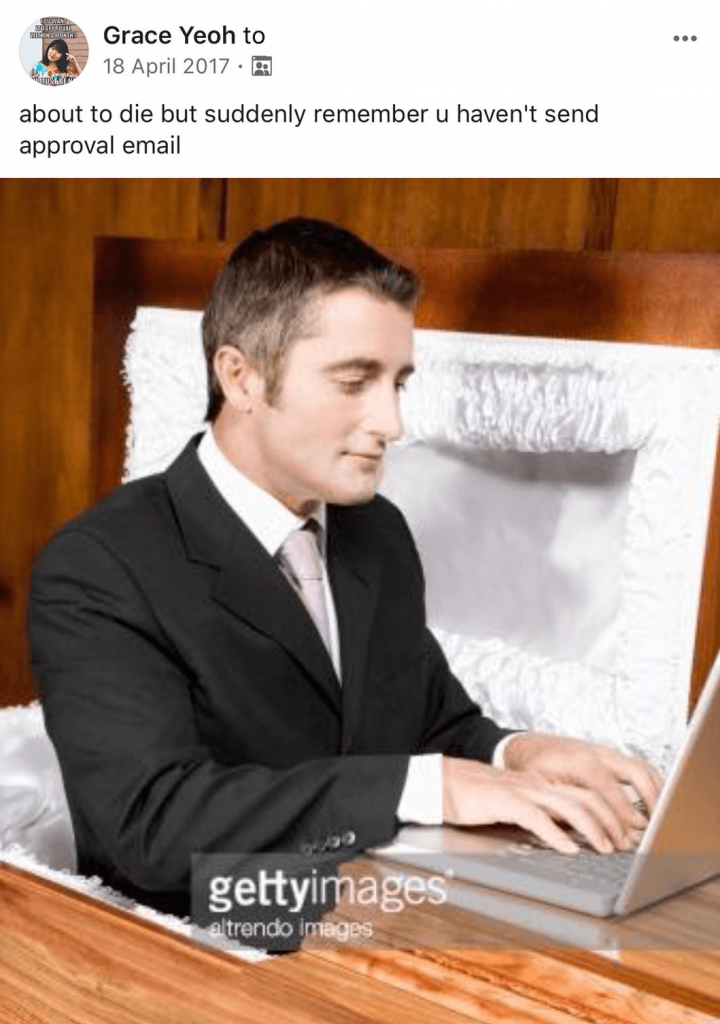 That said, if the public sector doesn't want to risk losing some of its more bold and capable employees, then
radical
change needs to happen soon.
At this point, I recall how Melvin, the aforementioned scholar, recounts his frustration (with the system and with himself) whenever he fails to speak up.
"It usually feels like a mixture of losing my individuality combined with a hopeless resignation to the incurable malady of a conservative bureaucracy. Due to the herd mentality of not confronting anyone or going against a boss's opinion, doing what is most effective or most conducive for growth will almost certainly offend others."
According to Melvin, after he was vocal against a particular policy in manpower planning, "they bore a grudge and would bring it up to senior management as a black mark against me".
The only silver lining is that his candid opinion may have helped future colleagues, since the implemented changes had positive outcomes.
Unlike Melvin, however, former teacher Laura's insistence on speaking up hasn't been as successful. The 28-year-old used to work for the Ministry of Education.
"My colleagues and I were victims of two upskirt incidents, where students took videos and photos of us, Back then, my principal discouraged us from reporting it to the police and told us to give the students a chance. I don't know whether it was shame on our part or reluctance to 'disobey' the principal, but the students got away with light punishment," she says.
Laura was also bothered by the seemingly better performance bonuses and promotion for her male colleagues, as well as the injustice of covering for colleagues whenever they took MC during crunch periods or to travel overseas.  
Even though she regularly brought up these issues, she was told that they would be dealt with "during appraisal" and that she should be "more understanding". In the end, nothing got done.
Then Laura adds something that I believe most of us wish we had the guts to say: "I think the only time I felt like I was appreciated was when I threatened to leave [after my bond]."
I know Laura doesn't say this lightly. For one, the public sector is an incredible paymaster. After living with an iron rice bowl and being able to afford certain luxuries in life, almost anything else feels like a step down.
In addition, no matter her struggles with her school's management, she remained passionate about teaching and loved her students.
While the option to extricate herself from the situation may seem like the easy or 'cowardly' choice, Laura realises she did what she could, but that the public service is far too entrenched in its own culture of fear and learned helplessness. It isn't an issue that will be solved overnight, let alone within a few years.
Like me, despite her stubbornness to enact swift and bold change, she also didn't hold enough authority to make it happen.
And so, she did what I did when I realised my love for public service was quickly being eclipsed by a growing fear of speaking up, and an inevitable, creeping sense of learned helplessness in the face of unyielding rigidity.
She quit.
Are you a former or current public servant who can empathise? Or do you strongly disagree with what's written? (Lucky you.) Drop our writer a note at grace@ricemedia.co.