CapitaLand's Singapore Science Park is where science happens, but that's pretty much the extent of what we know about the place. This is the first piece of our two-part inquiry into the bright minds who work there and what they actually do.
---
All images by Liang Jin Tey for RICE Media.
I was seven, maybe eight years old when they told me I was myopic — which was a delight. I could wear glasses! Just like those clever science people!
You see, I wanted to be a scientist, even though I had no idea what actual scientists do. As a kid, I just wanted the lab coat, the Bunsen burner, the fancy beakers full of neon liquids and white lab mice running around in cages.
Later on, I found out that you needed to be really good at math to get a job as a scientist. So I settled with arranging words and sentences together for a living.
The interest in scientific endeavours never waned, however. Sure, the actual work of empirical methods, recording hard data and remembering formulas is boring. But how can you not geek out artificial intelligence, spaceflight and dog-shaped robots that can open doors?
I say all this to come to the point that even with all that background, I don't know what people actually do at Singapore Science Park. Is it this country's take on Silicon Valley? Is it a version of Shenzhen's tech hub? Do the lab mice run free among the buildings?
The answer, as it turns out, is a lot simpler. Driven by the pursuit of knowledge, this technology and development centre in Southwestern Singapore hosts a thriving ecosystem of leading food tech, biotech, IT, life sciences and specialty chemicals.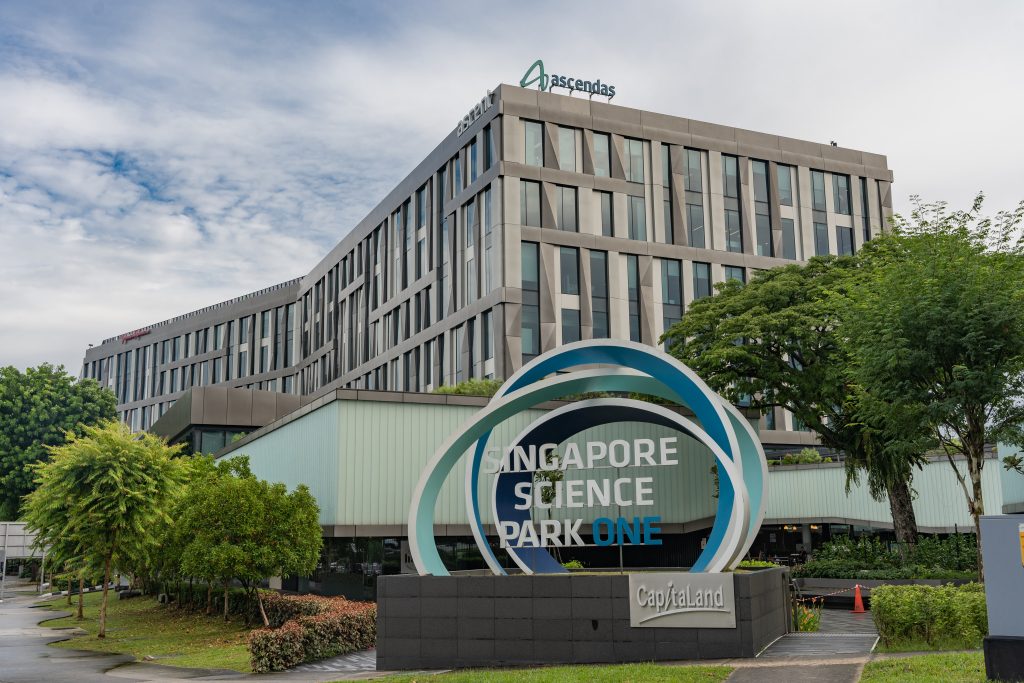 As I found out from speaking to tenants of Singapore Science Park, they like it there for the proximity to other deep-science companies, facilities and like-minded professionals. Companies are plugged into an ecosystem of Singapore's tech start-ups and research community.
Big brain energy overfloweth. Some of the over 350 multinationals, leading companies, and laboratories found there include Dyson, Johnson & Johnson and Shopee, with the likes of the Agency for Science, Technology and Research (A*STAR), National University of Singapore, and National University Hospital situated close by.
The 'science' in Science Park would be lost without a focus on bleeding edge operational tech. A full-coverage 5G network has been set up across the park, making it Southeast Asia's first 5G smart estate use-case. To support the Smart Nation transformation, tenants in the park have the opportunity to co-create and test solutions for smart cities at the Smart Urban Co-Innovation Lab (SMARTLab).
The potential: Singapore Science Park companies coming together to pave the way for innovations like autonomous vehicles, urban agriculture, digital wellness and other innovative ways for sustainability.
The Science of Bespoke Medicine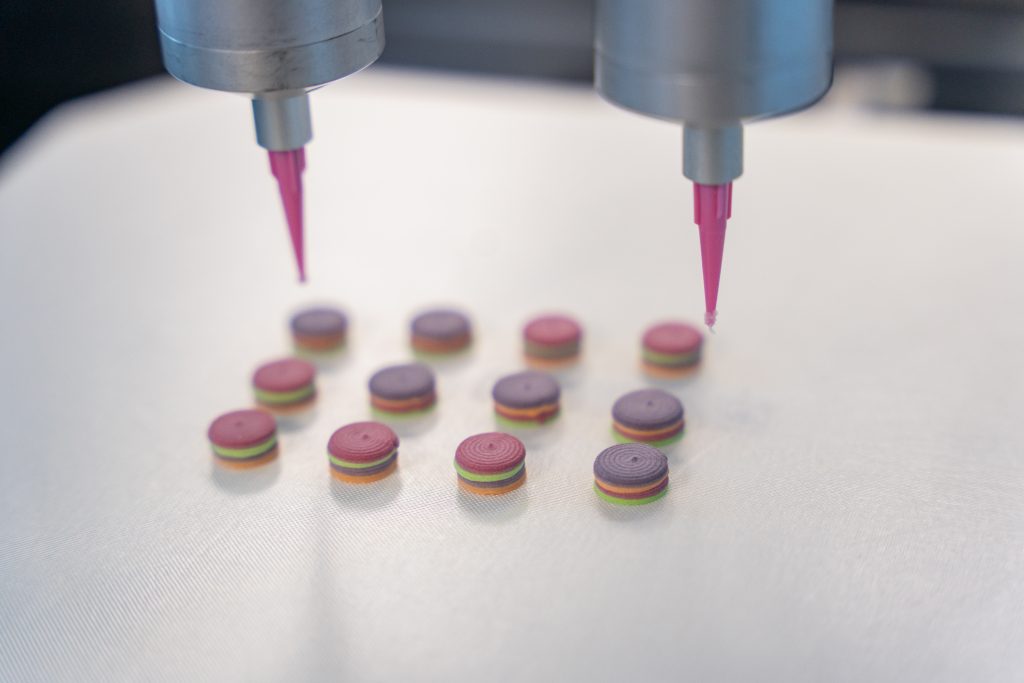 That's all fine and dandy, but what are the actual sciences involved if you're parked at the Science Park? I asked Dr Wei Jiang Goh, the co-founder and CEO of Craft Health, a company that could revolutionise how we consume medicine through 3D printing.
It's all very scientific — unsurprising for a company that envisions something that sounds like a Replicator machine from Star Trek, but for medicine. Craft Health came up with patented 3D printers, software, and formulations that enable them to combine different active ingredients together to create singular customised pills that could treat all the ailments you need treatment for.
What if you could just eat an all-in-one pill that combines doses of paracetamol, chlorpheniramine and pravachol to treat headaches, flu and high cholesterol at the same time? Think personalised tablets with customised shapes, colour, and formulation that eliminate the stress of taking multiple pills daily.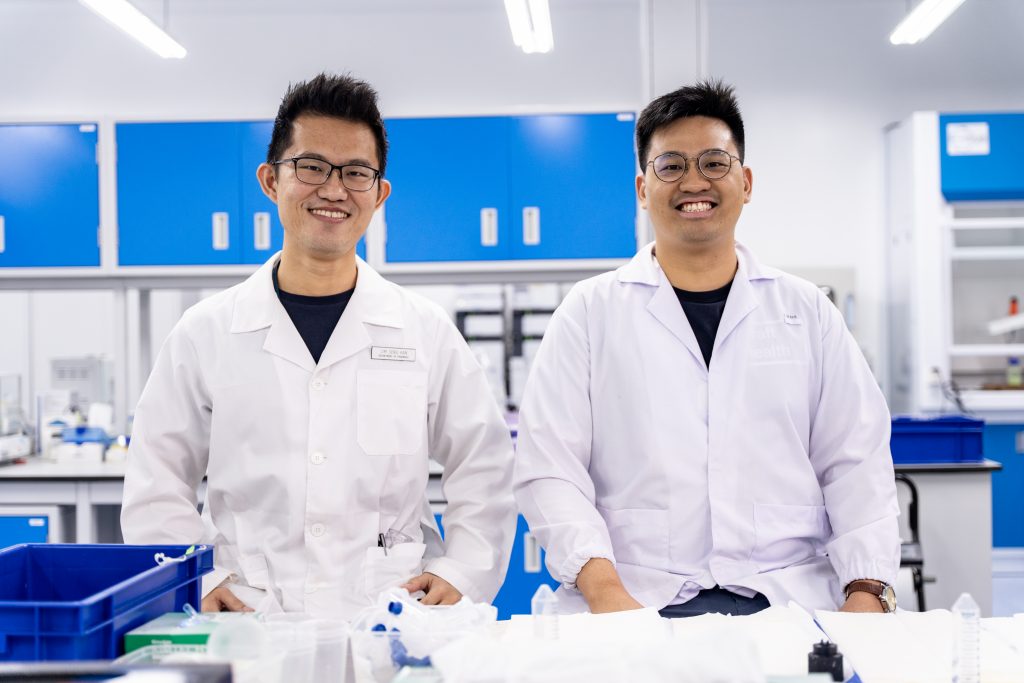 "I'm sure you have seen patients go to a hospital or polyclinic and go home with bags of medicine," Dr Goh says. Being pharmacists by training, he and his co-founder, Dr Seng Han Lim, are more than familiar with the scenario.
After practising for a few years at a local hospital, they went back to school to get their PhDs and decided to tackle the need to simplify pill-taking — especially for the elderly or special needs community, who might have to go through multitudes of tablets per day.
One answer, as it turns out, lies in the modern advances in 3D printing. They received a small grant, tested out their hypothesis, and it worked. Craft Health was founded after they graduated in 2018, and already they've seen demand — the company is currently working together with another startup, Drinkaid, to solve a plague since the dawn of alcohol: hangovers.
"We will probably be producing one of the world's first 3D-printed supplements for hangover effects," Dr Goh enthuses, explaining how they'll be customising the taste profile and colour of the tablet according to DrinkAid's needs.
But before they could start manufacturing en masse this year, they'd first need a more suitable space to conduct intensive research and production. Which is why Craft Health moved its operations to Singapore Science Park — a far more conducive area than their previous digs at a Bukit Batok industrial park, where their neighbours consisted of automobile and logistics companies.
Now located at The Curie, Dr Goh and his team have a bigger lab to craft and refine formulas, mix active ingredients into powder form, render them into paste, and use their 3D printers to print out custom tablets. Of course, testing has to be carried out as well against certain benchmarks—like hardness, moisture, weight—and see if the pill actually works.
The conduciveness of the facility is crucial. He mentions that they're currently in talks with a local public hospital for a medicinal partnership — but that will take further research and development to satisfy the strict requirements set by authorities before it can be approved and sold to the public.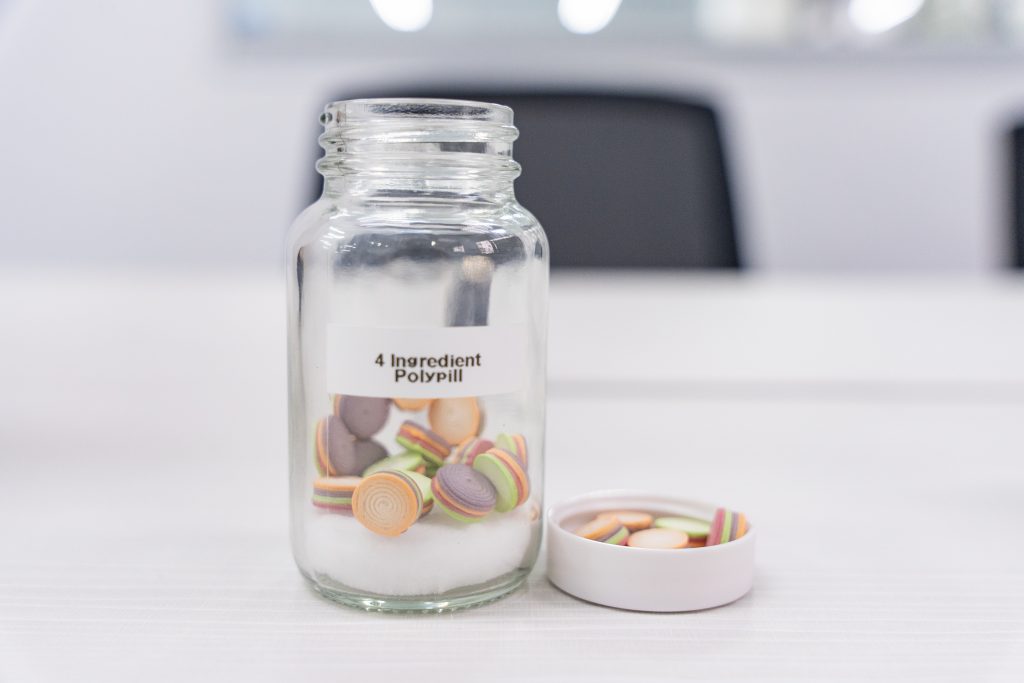 "Perhaps it'll take one or two years for trials to start. Rightfully so since medicines need more scrutiny into the processes, to see whether it's done correctly," he says. His team is glad that their aspirations were easily facilitated at the Singapore Science Park, a place where they managed to set up a sanitised cleanroom quickly without fuss.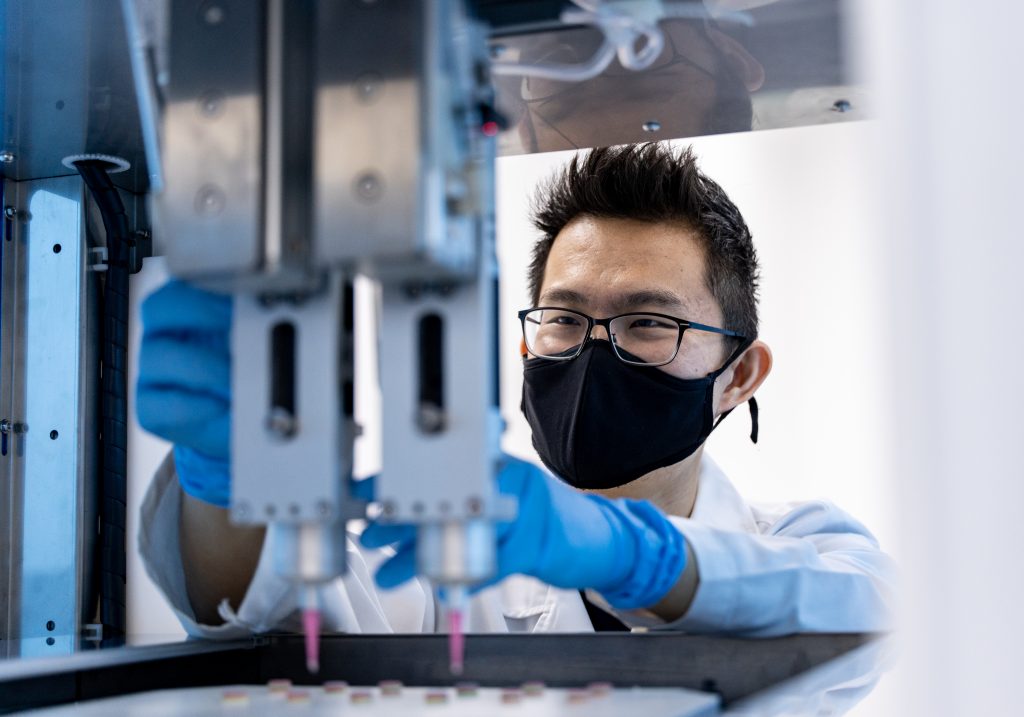 This, on top of the fact that the Craft Health founders are National University of Singapore alumni, and the park gives them easier access to the NUS Enterprise network as well as the National University Hospital resources.
"Plus, we're doing science—so it's ideal to park ourselves at Science Park. The optics are right," Dr Goh beams.
The Science of Good Food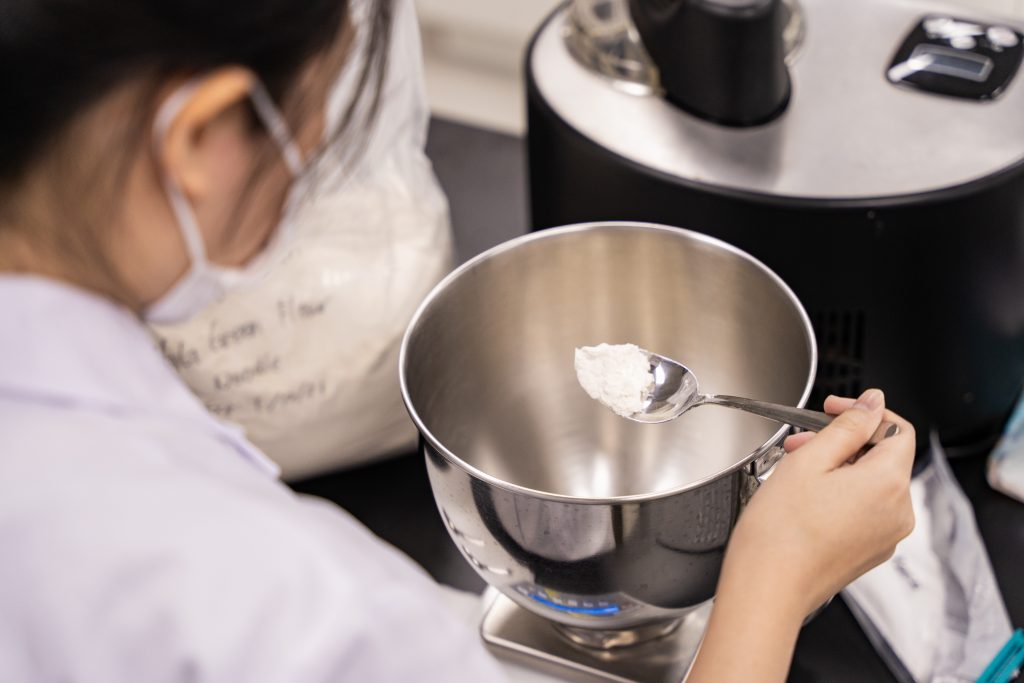 Food technology company Alchemy Foodtech agrees. As a portfolio company of NUS Enterprise since 2018, the startup appreciates the close proximity to other science labs as well as NUS and A*STAR.
As much as the company's co-founder, Verleen Goh, loves the easy accessibility to transport (Singapore Science Park is right next to Kent Ridge MRT), the serenity (lush greenery found everywhere), and, of course, the food options.
Verleen is, after all, a food scientist by training. Food science for the betterment of one's health forms the core of Alchemy Foodtech's work — a desire driven by the personal experience of her co-founder, Alan Phua, whose grandparents passed away due to complications from diabetes. His mother's siblings suffer from type 2 diabetes, and they're tired of having to give up all the Singaporean staples they love.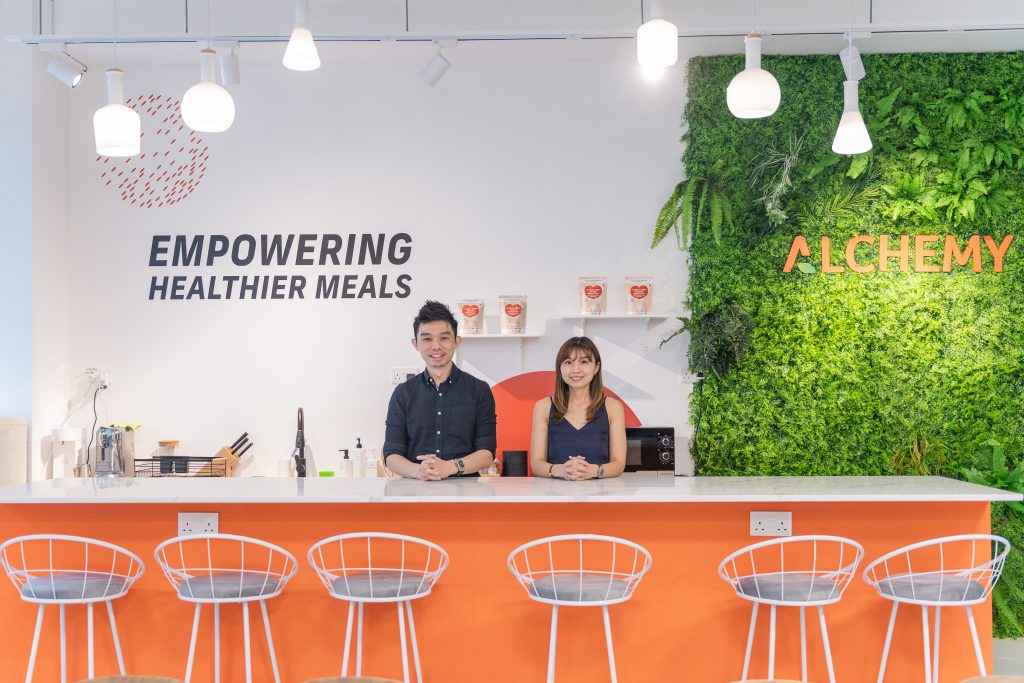 There's only so many times you can eat brown rice before you grow tired of the utter blandness, I bring up. The key ingredient to Alchemy Foodtech's work? A way to eat all the carb staples people want without compromising on taste and health.
The result after years of research: Alchemy FibreTM, a patented plant-based fibre blend that makes carbs healthier. One simply has to add the fibre powder to carbs like rice, bread, noodles or even cookies to cook or bake with.
It's a fix for simple carbs like rice, bread, pastries and pasta, which get digested quickly and cause spikes in blood sugar. Eating way too much of 'em leads to conditions like obesity, diabetes and high blood pressure.
"So we came up with an ingredient technology which we call Alchemy FibreTM to help to slow down the digestion rates of these foods. But at the same time, still maintaining the taste, texture and colour of the food so that people can still love to eat what they want while getting health benefits through our technology," Verleen explains.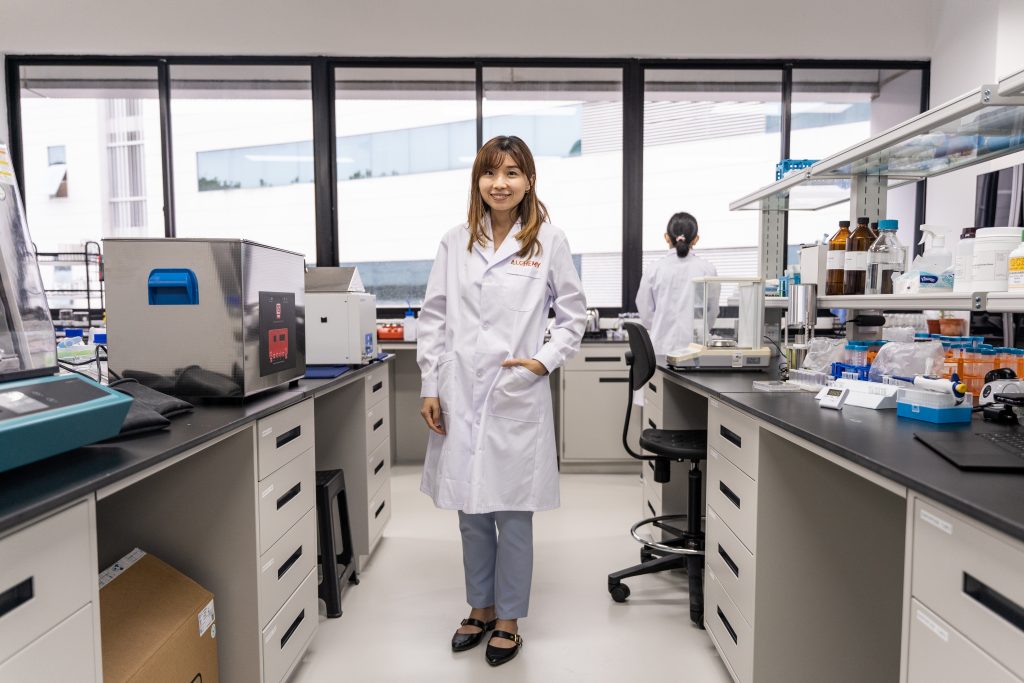 Fibre intake is especially important in the context of the everyday food we buy and eat from hawker centres. She brings up how in dishes like chicken rice, laksa and briyani, we only get slivers of vegetables, if any.
But once cooked with Alchemy FibreTM, the dietary fibre content of regular white rice gets pumped up to ten times more than usual. It can help sustain energy levels while reducing blood sugar spikes, which is particularly important for people with diabetes or prediabetes.
With Covid progressively turning everyone into health nuts — or at least making us reflect more on the things we put in our body — the launch of Alchemy FibreTM in supermarkets and online marts last year was kismet.
Pandemic aside, Verleen points out that diabetes is a global epidemic by itself with more than 450 million people in the world afflicted with the chronic disease, a bigger number than the volume of active Amazon users today. Singaporeans either have direct or indirect familiarity with diabetes, which is why Alchemy Foodtech continues to conduct deeper research daily in their lab at Singapore Science Park's The Chadwick building.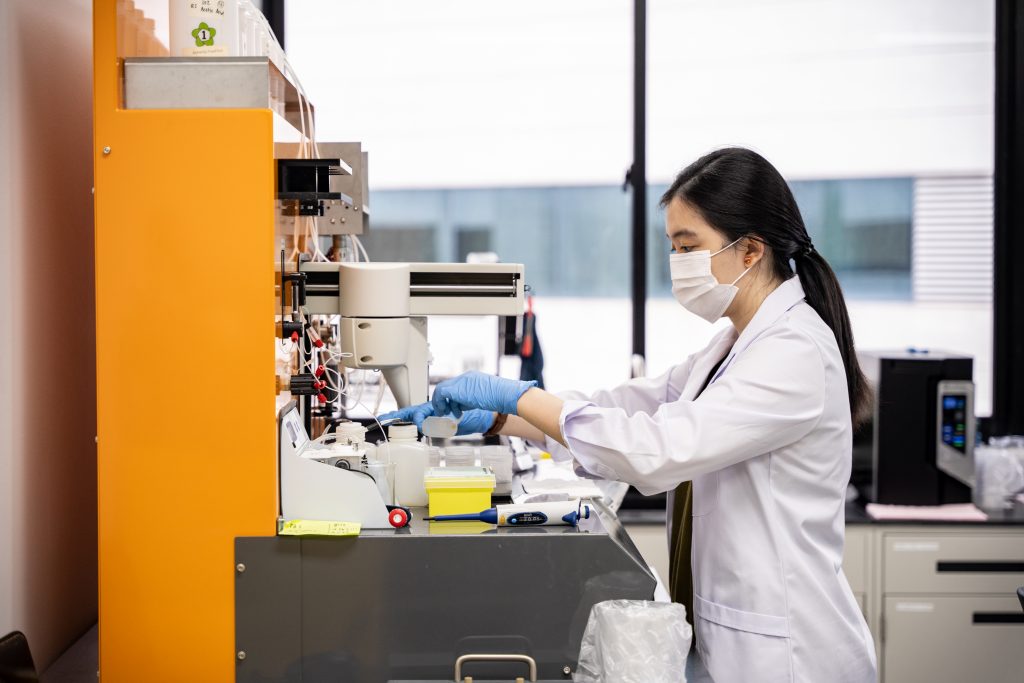 With major clients like Swee Heng Bakery, Alchemy Foodtech needs an expanding space to house the growing team and their food and biochemistry equipment needed to run tests and do their best work.
The purpose-built infrastructure at the Singapore Science Park and ease of communications with landlords CapitaLand allowed the team to quickly design an area that supports a full-fledged lab and test kitchen, where researchers often cook and bake. In the name of science.
"Being a food science company, the most fun part is 'sensory evaluation' you know!" she laughs. "Everyone has to contribute their taste buds to evaluate and rank how food tastes when combined with our product."
Some recipes they've developed in the lab have been so good that corporate clients have made offers to purchase or commercialise them. Which speaks to the effectiveness of their science — guilt-free guilty pleasures galore.
The Science of Singapore Science Park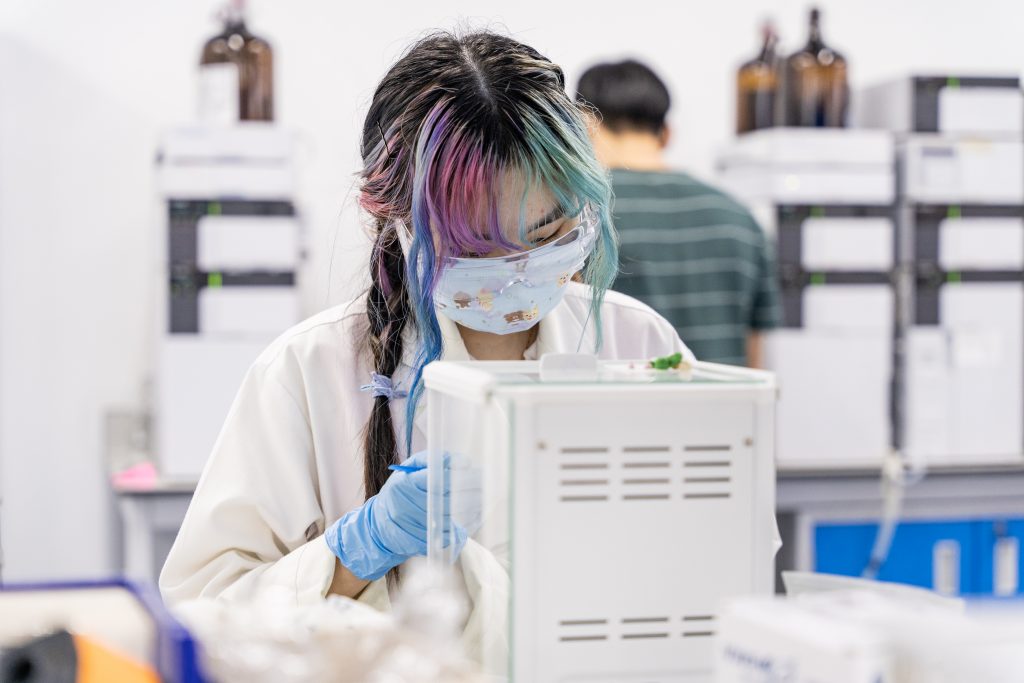 Here's what the two companies I spoke to aligned on: as entities dedicated to scientific breakthroughs, it was only natural that they would want to land themselves in the Singapore Science Park.
Classically, science's main goal has always been about the art of explaining; learning how nature works by observing the natural and physical world, and understanding this world through research and experimentation. When asked just how scientific the Singapore Science Park is, both scientists laughed and said "very much so". I didn't have to prod further — I'm surrounded by whirring machines, test tubes, petri dishes and people way smarter than I.
But it's more than just doing research, quantifying data and pushing forth the boundaries of innovation. It's about bringing together a community of people in the pursuit of greater knowledge. And if there's any takeaway about genius loci and the spirit of the place, it's the sense of intellectual camaraderie that the park has boiled down to a science.
---
As the largest private commercial, retail and industrial asset owner, CapitaLand offers top space solutions that meet the diverse needs of business professionals, including a wide selection of properties at Singapore Science Park.
To learn more, contact the CapitaLand team at 6508 8686 or sg.marketing@capitaland.com