CapitaLand's Singapore Science Park is where science happens, but that's pretty much the extent of what we know about the place. This is the second piece of our two-part inquiry into the bright minds who work there and what they actually do.
---
All images by Liang Jin Tey for RICE Media.
My earliest memory of science can be traced back to the early 2000s, back when I was only 9 years old. It involved a junior magnet set, which I bought from the school's bookshop.

Unlike my editor, whose interest in the subject never waned, I did start to fear science (and math). Especially when complex formulas and excruciating ten-year series came into the picture.

Fast forward in time and the world's faced with a pandemic. These two years have also been a time when we've been shoved with scientific terms on the daily — "asymptomatic," "epidemiology," and "immunosuppressed," just to name a few.

As much as these sound like brainy concepts, it only goes to show how people naturally look for reliable information in times of uncertainty.

If all non-sciencey people have gone on to pursue a life free from numbers, where does this leave inquisitive talents who are actually good with big brain information? Answer: The Singapore Science Park (SSP) — a Research & Development (R&D) hub known to be one of the most prestigious in Southeast Asia.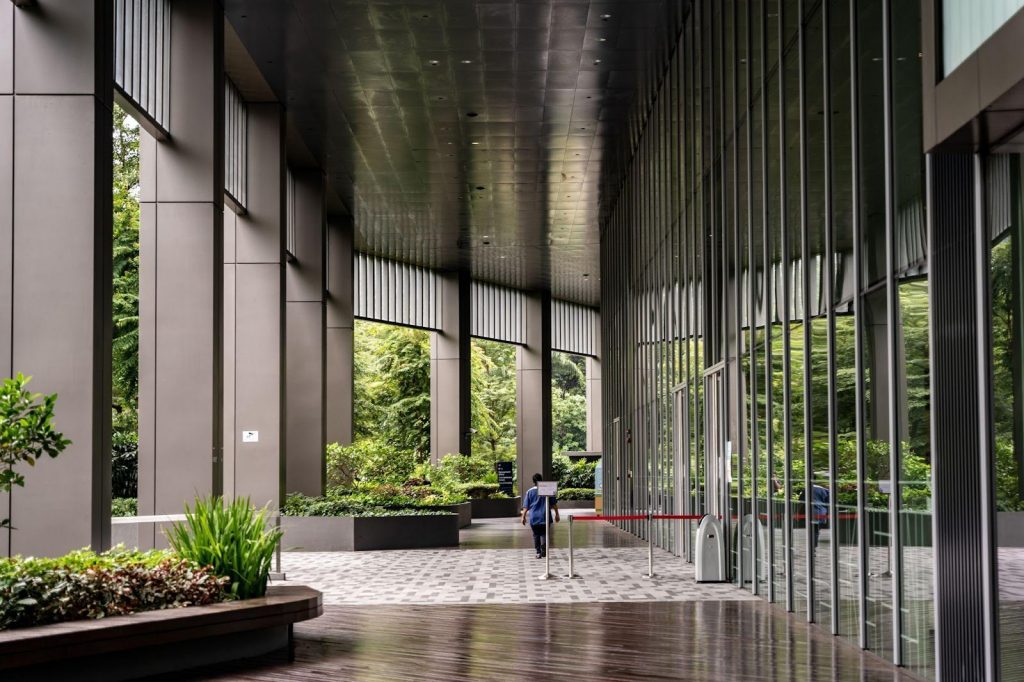 Little is known about this enigmatic park. But think of it as our country's version of Silicon Valley. It's home to over 350 multinationals, leading companies and laboratories with notable tenants like Dyson, Acumen and Shopee.

The hub's features — purpose-built R&D spaces, 5G environment and easy connectivity, attracts giants from multiple industries, spanning from IT & Comms to Engineering & Electronics, Biomed & Chemical Sciences to Agri-food & Food Tech.
It's also where you can find robot dogs twerking to Ariana Grande tunes.
Are Robot Dogs Man's Best Friend Too?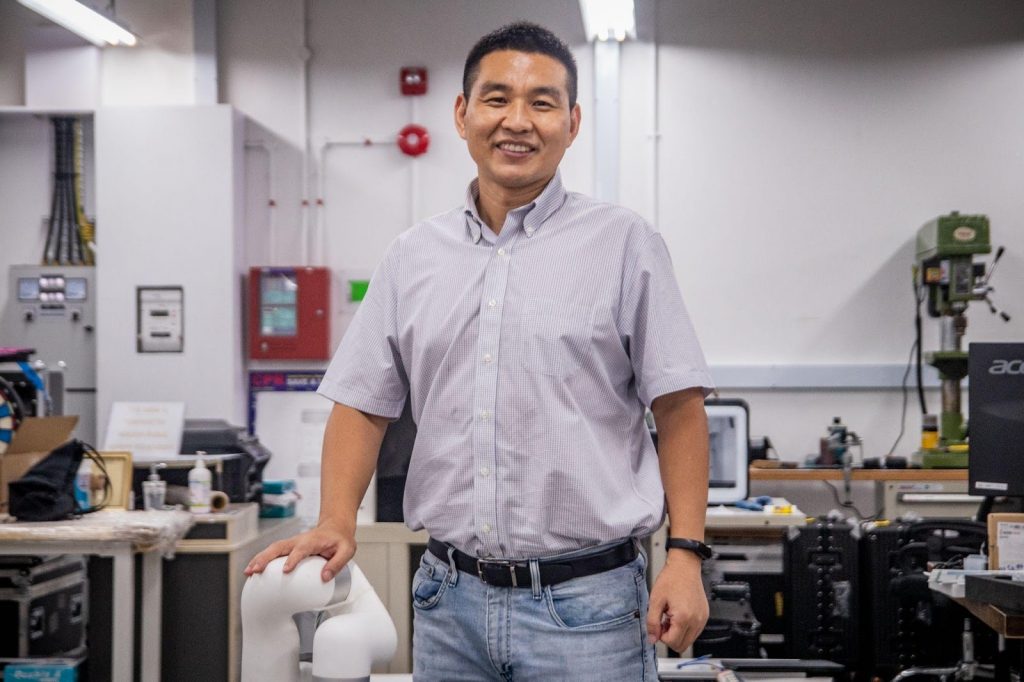 It's easy for laymen to think of quadruped robots as these scary machines that overthrow humanity, Black Mirror style. But that's only the far exaggerated version of reality, according to Weston Robot's Chief Executive, Dr Zhang Yanliang.

Weston Robot is a homegrown company that develops robots for a changing world that practically demands it. While advances have been made, there's still a long way to go for these robots to truly take over the world, he explains.
Using automated vacuums as an example, Dr Zhang points out that these robots are still largely dependent on human intervention to get their duties done.

"Manpower is labour intensive. Robots are not there to replace but to help mitigate fatigue or injuries. Increasingly, no one wants to do the job in certain industries like garbage cleaning either," he elaborates.
"Manpower issues helped give rise to robot adoption."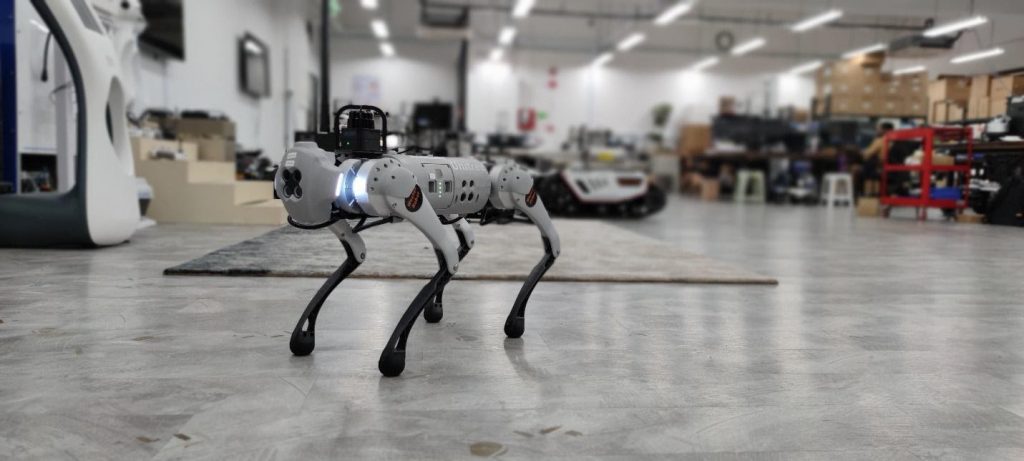 While on a tour around their spacious workplace, Dr Zhang's co-workers brought the Quadruped Robot to life. It's a sleek creation that pretty much resembles a dog in the way it walks, stomps, and shakes its mechanical butt.

This robot dog, Dr Zhang says, can be used for site inspections and patrols and is especially useful when navigating tough terrains, whether it's staircases or uneven hills and grounds.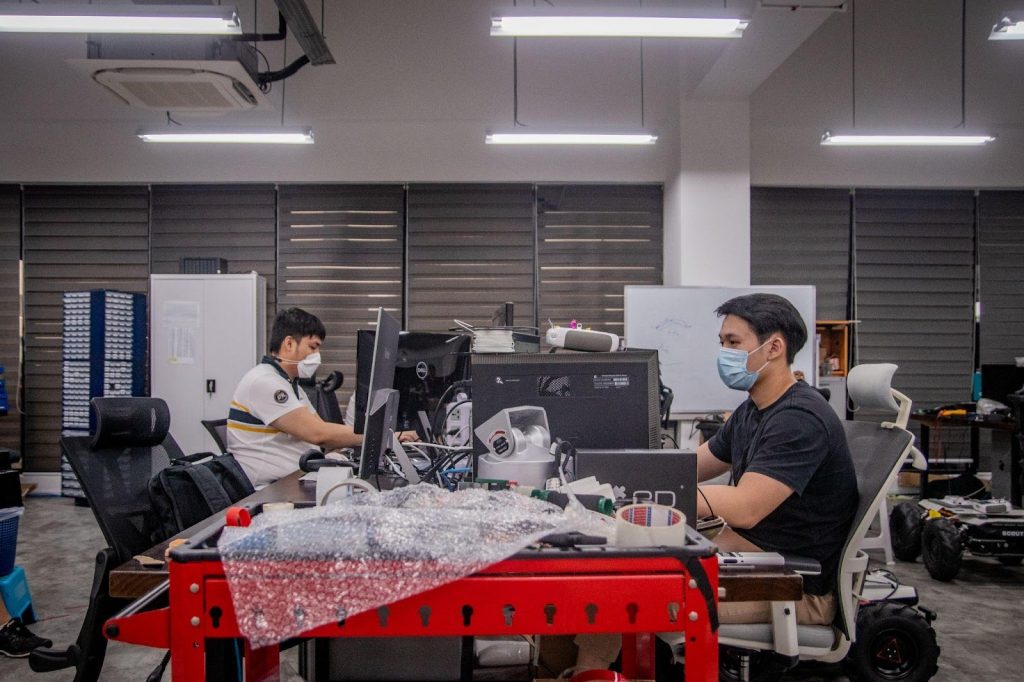 It was in a sudden spur of inspiration back in January 2020 when Dr Zhang and his team hypothesised that disinfection would be a key thing that people need in time to come. Their guess was right, of course.

Within 10 days, they'd searched high and low for a spray gun, quickly examined and assembled parts and shared their design report to the world. It was an answer to our nation's shortage of medical and service workers.

Today, many of these robots can already be seen deployed in various buildings; they've helped to automate painstaking manual processes such as mask detection, safe distancing and disinfection. To seek creative solutions in an uncertain time is often easier said than done. Naturally, they've been awarded the Most Innovative Startup in 2020.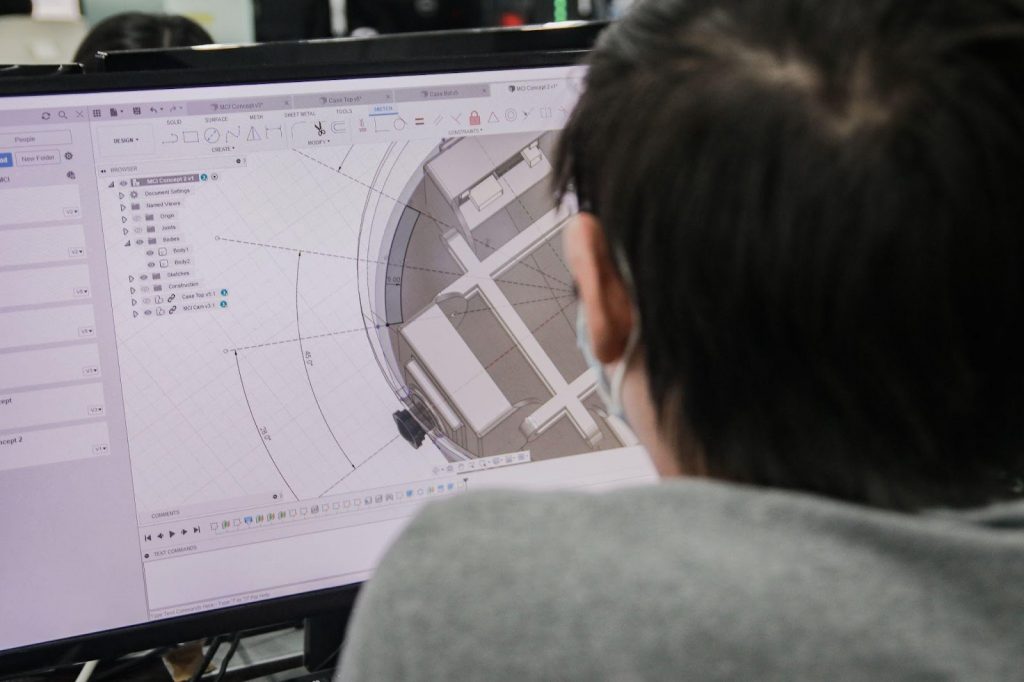 Talent aside, workspace matters too. Dr Zhang recalls surveying many places across the island before deciding on SSP.

It easily checked the list of criteria that he had in mind. Heart of deep tech? Check. Competitive pricing? Check. Great accessibility to MRTs? Check. An open floor plan for easy testing? Check.

It wouldn't be a functioning science park too if there wasn't full coverage of the 5G-enabled network across the entire hub. This has greatly helped to optimise their smooth operations, as many of their robots require 5G to operate in the first place.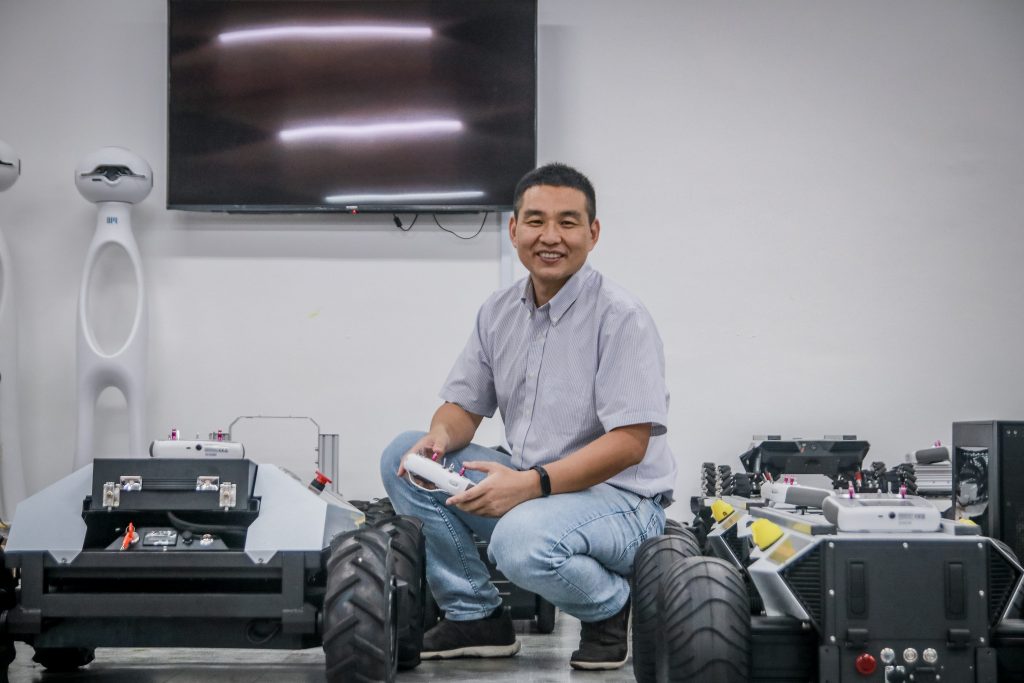 Technology has come a long way, I thought, as Dr Zhang enthusiastically introduced me to several Unmanned Surface Vessels (USV) — one holds up to 50KG payload (great for heavy logistical work), and another that performs auto garbage collection and water surveillance.

The latter's loaded with sensors that help monitor water quality. It even holds up to 20KG worth of garbage, while being environmentally friendly with no need for gasoline at all.

The team is also in the midst of working on a mysterious product designed for cleaning in hawker centres. Like the other robots, this was driven by demand due to the shortage of manpower. It's still very much in progress — all I know is that it involves a mechanical hand and some disinfection soaps.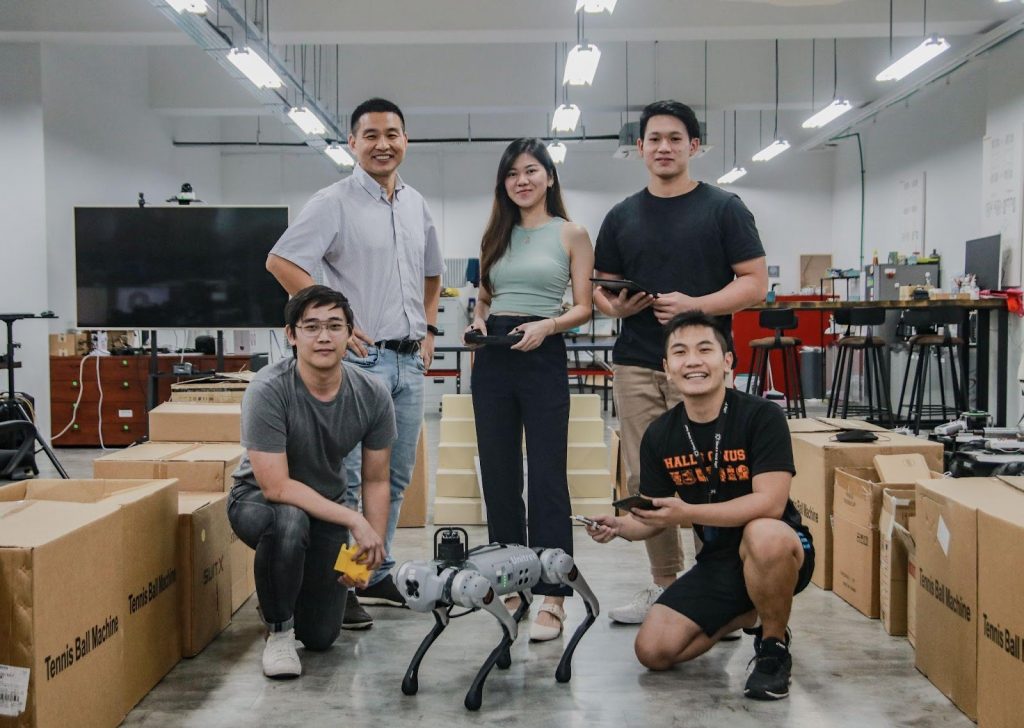 Above everything, it is the community that Dr Zhang appreciates the most at SSP. That's largely due to the proximity to brainy neighbours like the Agency for Science, Technology and Research (A*STAR) as well as the National University of Singapore (NUS). This has helped to create a buzzing network where companies are plugged into a vibrant, innovation-driven ecosystem.

One thing's for sure: he is more than thrilled to have worked with many bright minds over the years.

"At our company, we have very good interns from nearby universities like NUS. Teamwork makes the dream work, right? They all perform well, and we get to form a strong working relationship over time. I'd love to give them the spotlight for their efforts."
Take a gander through the company's website and you'll see a strong, consistent vision: "Robot as a Service." What I saw that day were tiny snippets of how robots and humans coexist in everyday life. Who knows what other novel services can we expect from future creations?
The Science of Positive Perfumery
Firmenich isn't exactly a household name, but it should be — it's the largest privately-owned perfume and taste company that's been around for over a century, responsible for synthesising many of the familiar scents behind popular detergents, soaps, shampoos, air fresheners and Other Things That Smell Nice.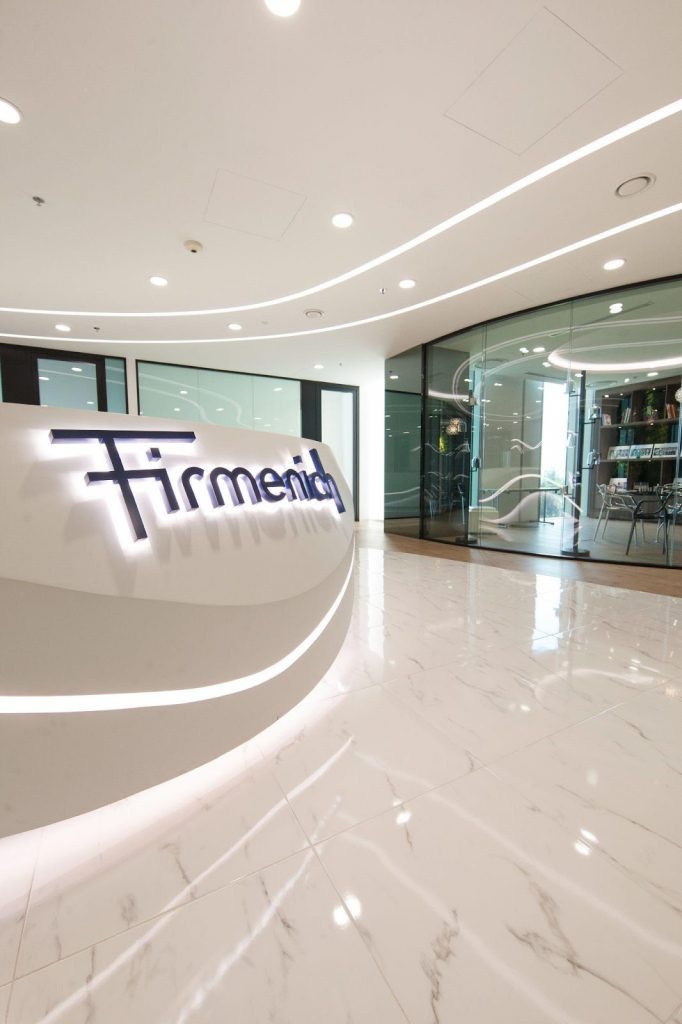 That fresh lavender smell lulling you to sleep after a warm shower? It could have very well been fabricated in the Firmenich Global Perfumery Creative Centre at The Ascent along Science Park Drive.
Joel Annen, the Vice President of Firmenich's Creative Development Centre in Southeast Asia shares: "We have what we call perfumers — and the perfumers are in a way the chefs in the kitchen — they put together the raw materials to come up with something nice, pleasant, and something that works in the client's product."

Clearly, these perfumers need a metaphoric and literal nose for the job. Due to the rigours of the training, the experience and the raw olfactory skills they require, the total number of living perfumers around the world now is fewer than the total number of astronauts.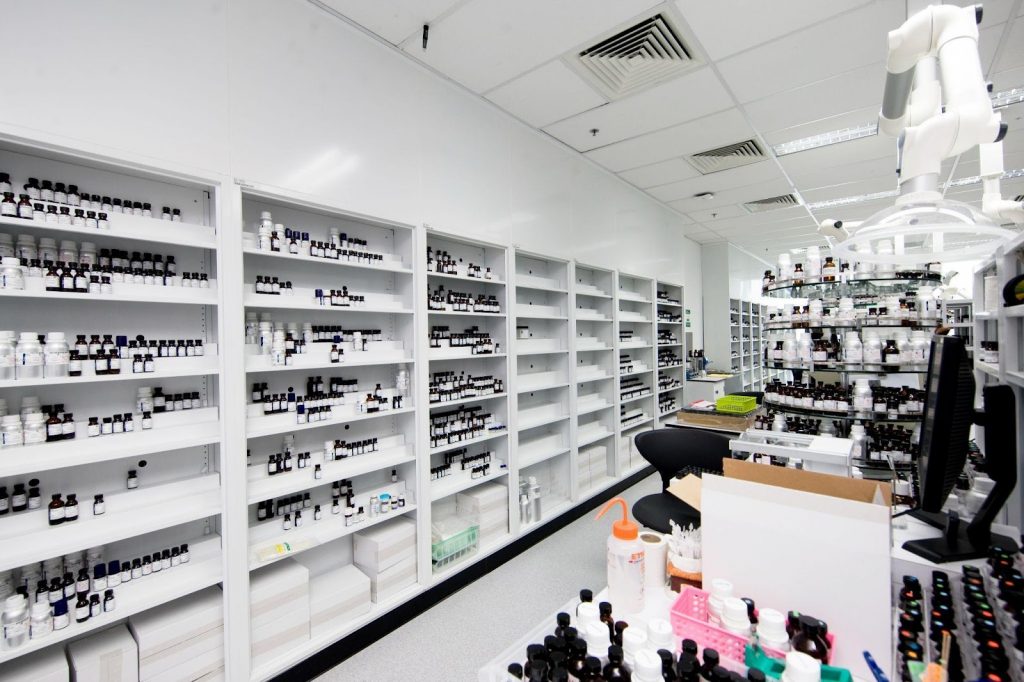 "Often, we take existing scents that we know work well in a given market in a given product and then modify them. That's what they do day in, day out — they're always working on their formulations, creating new ones, modifying existing ones."

The same product by a brand — let's say a hand wash — may not actually smell the same in different countries even if they're of the same fragrance variation. Something floral or fruity that works in Thailand wouldn't vibe in Norway due to the differences in climate, cultural preferences and raw ingredients available.
That's where the Fragrance Development Managers come into play, Joel says. They're the ones guiding the perfumer in the development process, evaluating smells and making sure it fits the client's brief.

The marketing team chips in by researching consumer trends that vary among regions. The technical team comes up with technologies to further enhance the fragrance experience, like helping to extend the endurance of a perfume's scent on skin.
Firmenich's belief in hard science and data has led them to clinch the Nobel Prize in Chemistry back in 1939. Needless to say, their facility in SSP needs to be conducive for such award-winning work.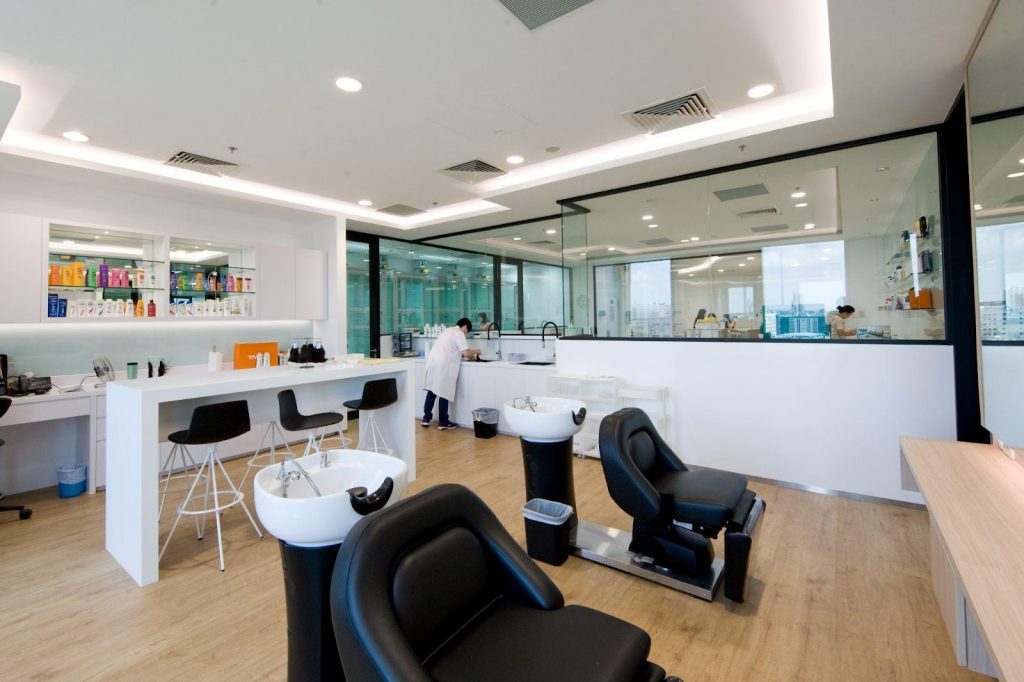 A portion of their space has been configured to replicate certain environments for controlled experiments too.

There's a hair salon (to test out the fragrances of hair products), shower diffusion booths (to test out the smell of cleansing products), and a laundromat (to test out laundry detergents and enhancers); even a climactic chamber that allows researchers to replicate the conditions of various climates.
"We have to know how [the products] work. We need to assess how they perform in use when people are, let's say, bathing or showering," Joel says.
The shower diffusion booths, for example, let soaps and shampoos foam up in a cabin with a fixed amount of water. There's a little window that allows perfumers and fragrance development managers to sniff the resulting bloom.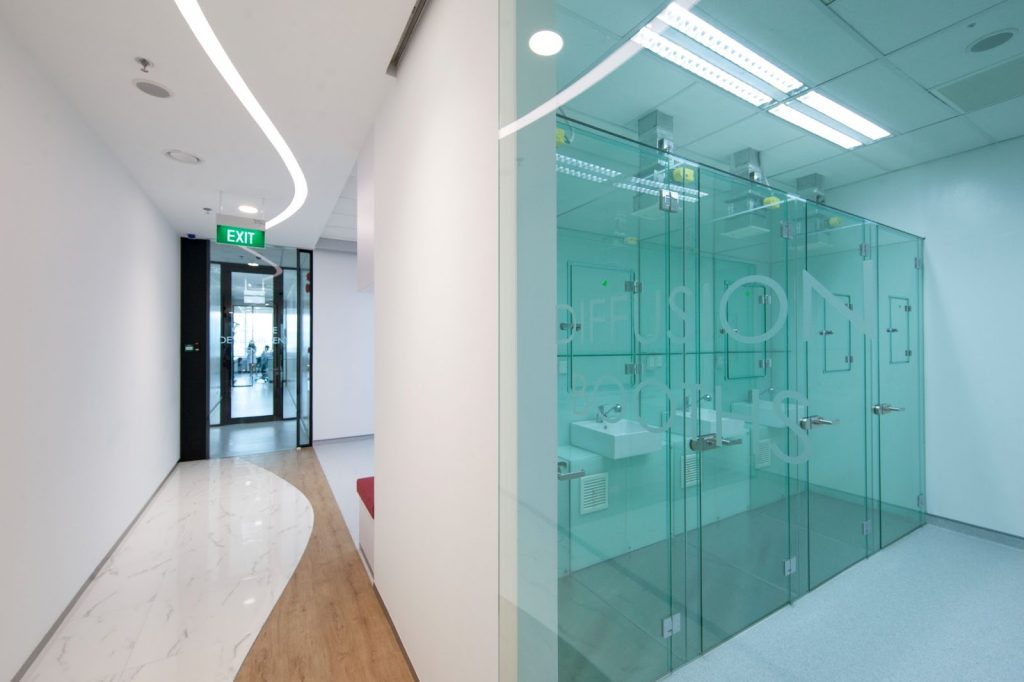 SSP is the chosen home for Firmenich's labs, and Joel doesn't hesitate to say that location is key.
"We wanted something which was located very close to public transport — we have the MRT nearby, we have lots of buses stopping here as well. And it's also not far from some of our key clients," he says, though he stops short of dropping some big names.
"The easy commute attracts new talent. Some of the young ones, if they see that they have to go to far-flung corners of Singapore… not so exciting eh?" he jokes.

He brings up the shuttle buses, which allow for external panellists to get to the various buildings across SSP. The enhanced accessibility is especially important for Firmenich since they started hiring visually-impaired external panellists.

"Often, people say 'You're recruiting them because they have very sensitive noses'. And I always say no, that's not it. The main reason is to help the community and give them jobs."
The dedication to social responsibility and sustainability is another reason why Firmenich chose the location.

CapitaLand clinched the first-ever BCA Green Mark Platinum Award for an Existing District for Singapore Science Park 1 when the property developer revitalised the 40-year-old estate with technology to ensure over 60 per cent in energy usage savings for infrastructure and public amenities.
"We were happy to read that Ascent is officially a green building, which is something that speaks to us. Firmenich does a lot when it comes to protecting the planet with programmes for environment and sustainability, so we were happy to know that Ascent is classified quite high on the list of green buildings."
Workplace as Our Second Home
These are both organisations dedicated to scientific breakthroughs, as are fellow science-driven tenants like Craft Health and Alchemy FoodTech. It's no surprise then, that they've decided to reside their operations at SSP, which has very well supported their unique needs.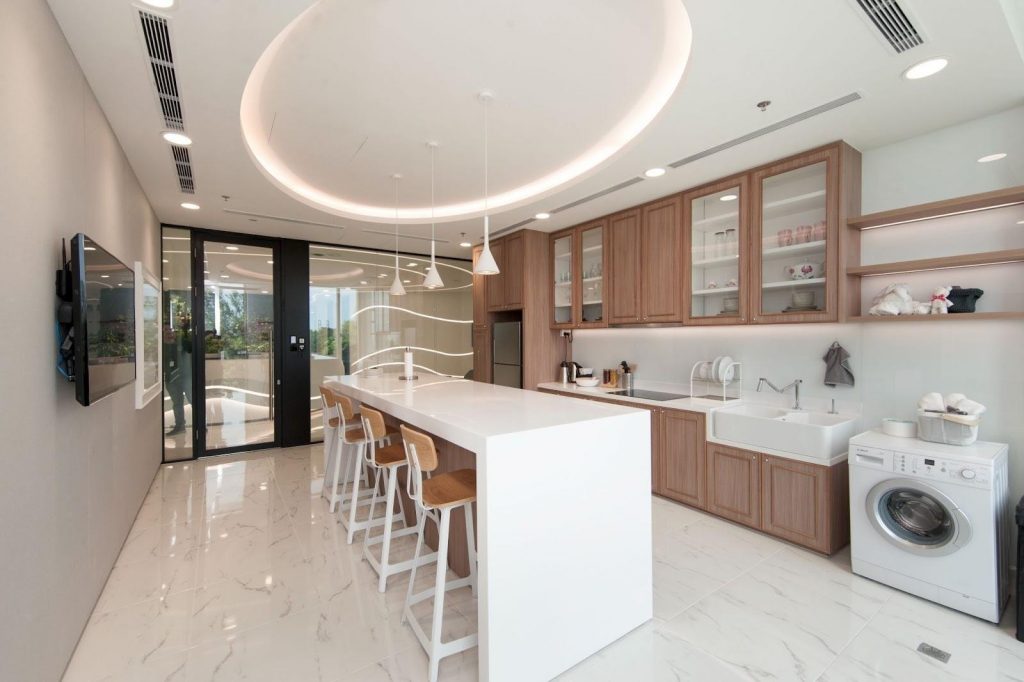 As Dr Zhang puts it, it's "where you work can make a world of a difference when it comes to productivity and efficiency".

SSP promotes knowledge exchanges and technology diffusion, so it isn't merely about complex codes and data, but about people working together to tackle different problems that exist in society.

As we navigate through the pressing issues of our world, it's clear that science parks have a vital role to play when bolstering the economy and stimulating a culture of innovation and growth.

Nothing beats memories of lab experiments in secondary school — of mischievous and clueless teenagers concocting colourful chemicals in test tubes. While I may not be the best at the subject, it was certainly exciting to see what happens when knowledge is put to good use.
---
This story is brought to you in partnership with CapitaLand.
As one of the largest private commercial, retail and industrial asset owners, CapitaLand offers top space solutions that meet the diverse needs of business professionals, including a wide selection of properties at Singapore Science Park.

To learn more, contact the CapitaLand team at sg.marketing@capitaland.com

If you have a lead for a story, feedback on our work, or just want to say hi, you can also email us at community@ricemedia.co. And if you haven't already, follow RICE on Instagram, Spotify, Facebook, and Telegram.