Photography by the author.
"I will leave when I win $500. I'm still $300 short," Mr Lim tells me as he puts down a $50 chip on the banker to win this round of baccarat.
The cards are dealt, and unfortunately for the player in his 60s, the value of the player's cards is higher than the banker's. The $50 chip is swiftly swept into the dealer's chip tray.
"So now you are $350 short," I tell Mr Lim, having observed the game standing behind him.
He shrugs.
"It's like that. That's why you have to keep playing then you can win." In the next 15 minutes, he recoups $25.
I leave the table shortly after without knowing if Mr Lim would go on to meet his personal targets for the day. I wonder if he will stay overnight if the bad streak continues.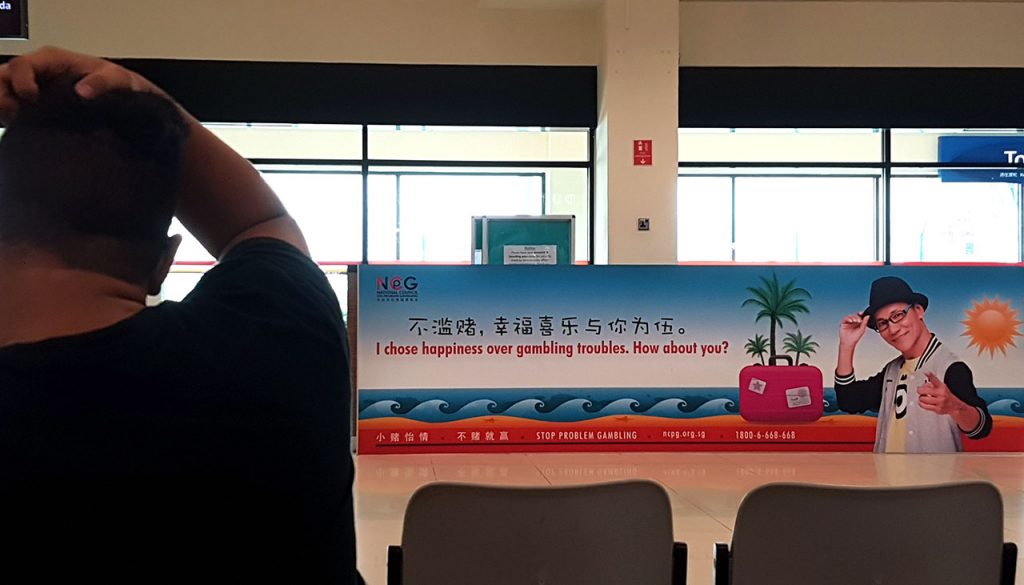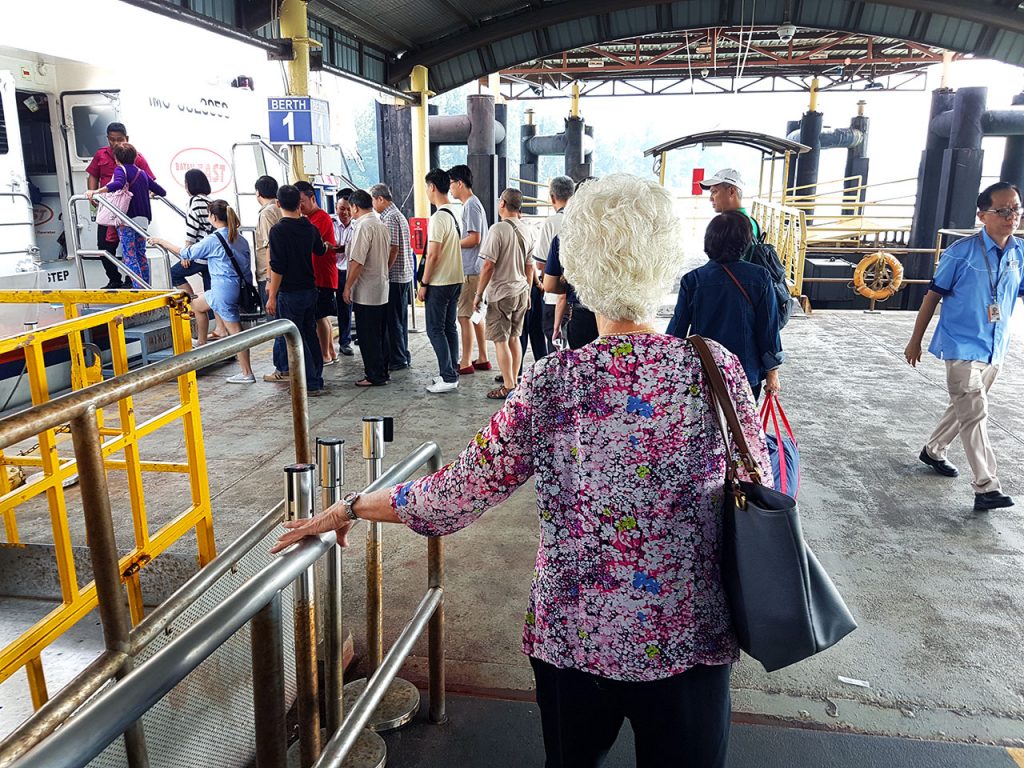 We are at the casino onboard the Aegean Paradise, a cruise ship that is stationed in international waters off Batam. It is obvious that I stand out among the passengers.
The casino deck is a sea of grey and silver, with about two-thirds of the people here aged 55 and above, including a number of married couples.
Elderly women are typically dressed in blouses with floral prints and carry small sling bags which presumably contain their cash; the men in polo T-shirts, trousers and sandals.
I count only two other gamblers who look my age.
In the embarkation queue, an old man asks if I'm new on the ship as he hasn't seen me before.
The floating casino, with over 50 tables offering games such as baccarat, blackjack, roulette and sic-bo, is a popular destination for many Singaporean retirees and elderly.
Because of the off-putting $100 entrance levy fee at the casinos at the two integrated resorts (IRs), many are driven to gamble here instead. Paying the fee is already incurring a loss before even stepping foot inside.
A round-trip by ferry to the ship, with meals and drinks provided for, costs $45. Senior citizens even enjoy special concession rates of just $25 on the evening ferry.
Clearly the appeal of Aegean Paradise is geared towards elderly gamblers like Mr Lim looking for a day's fun and hoping to strike riches.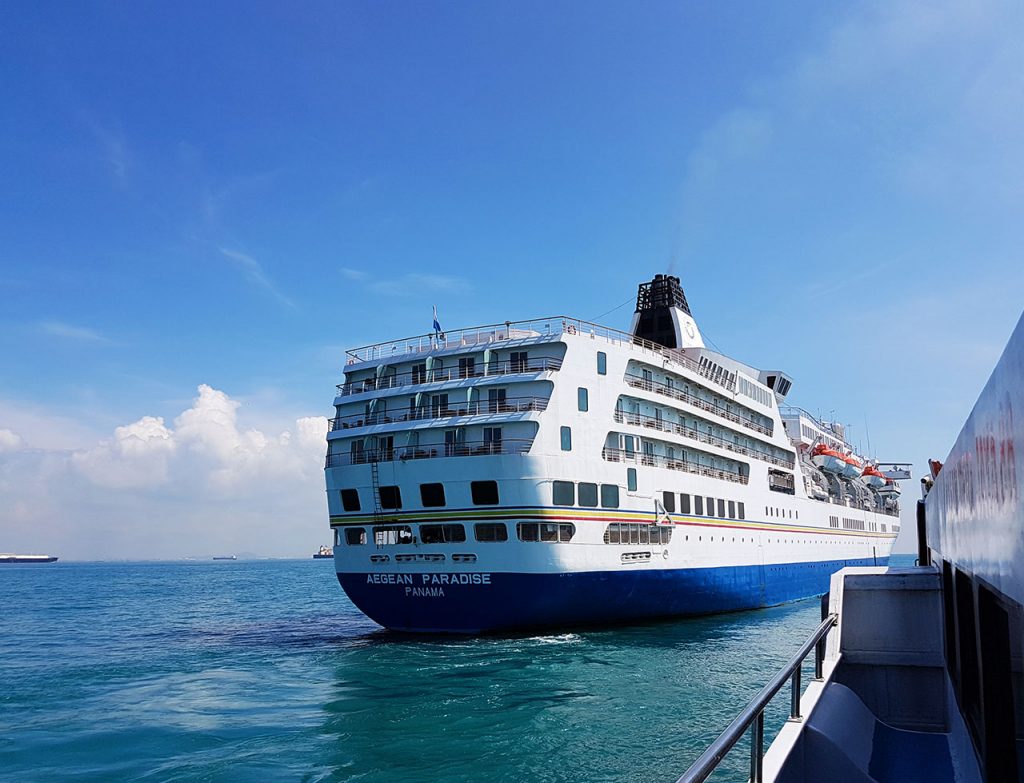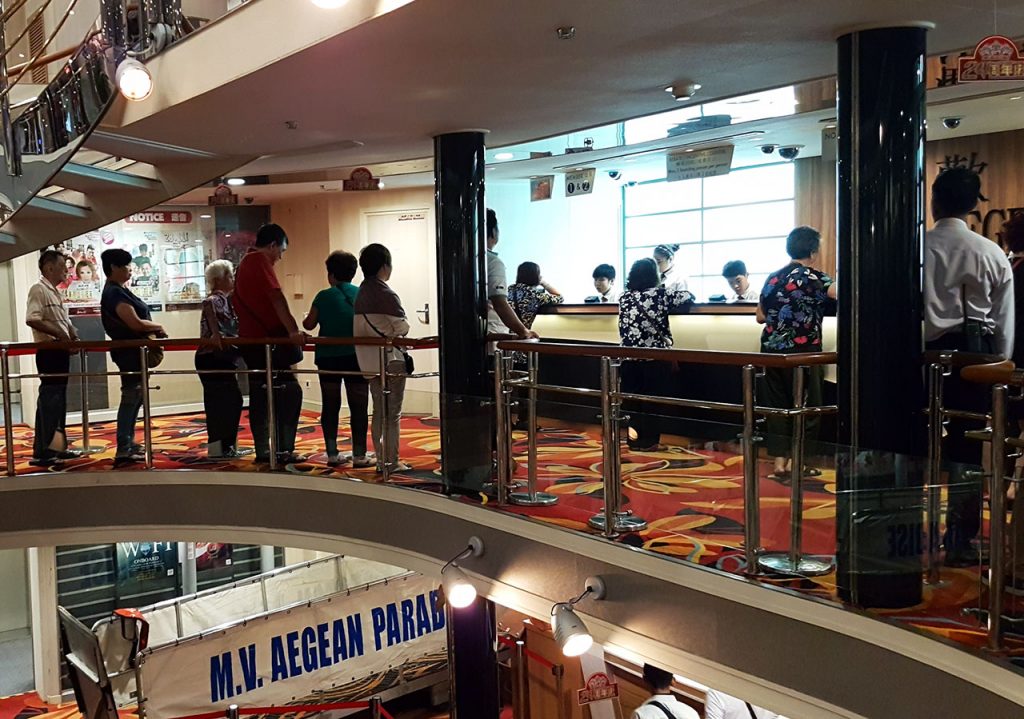 Most are regulars who have been frequenting the ship's predecessor, MV
Leisure World
, which had operated off Singapore since 2000 and was the only one of three casino ships to remain afloat after the opening of the IRs.
Yet many of these gamblers do not think they are addicts.
Most whom I spoke to made the one-hour ferry trip because they want to escape their monotonous lives on the mainland but do not want to take a long coach ride to Genting or Kuala Lumpur.
Gambling here is simply part of the short getaway – if they manage to win some money, then all the better.
They also shrug off my concerns about throwing their savings away in a day.
"Our lives are so short. We also cannot spend all the money if we keep it at home, might as well come here and try our luck and have some fun," says Madam Chen, a 68-year-old retiree.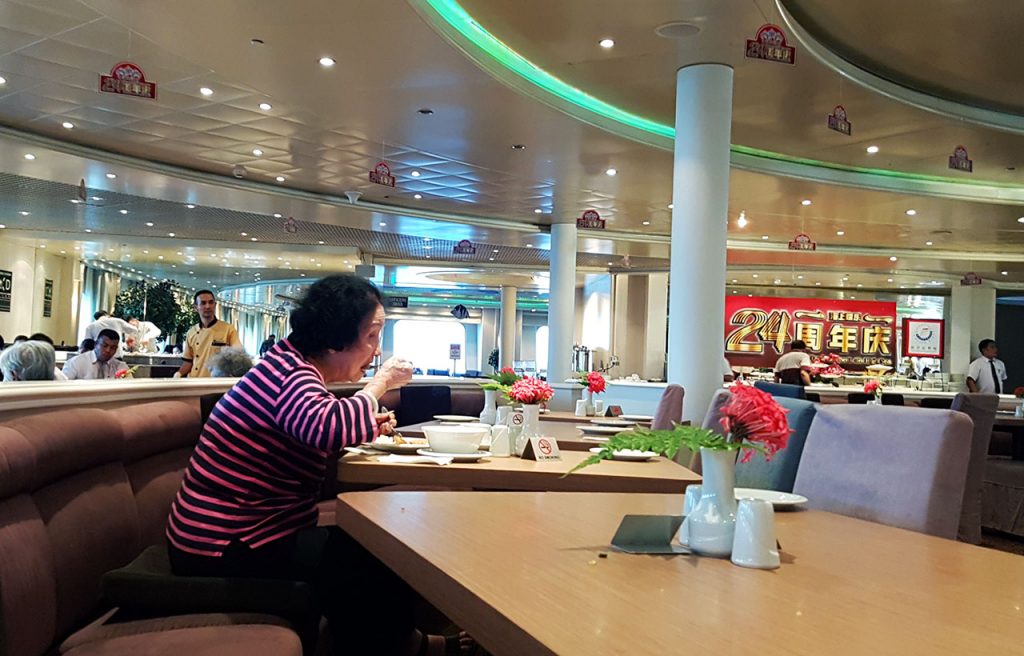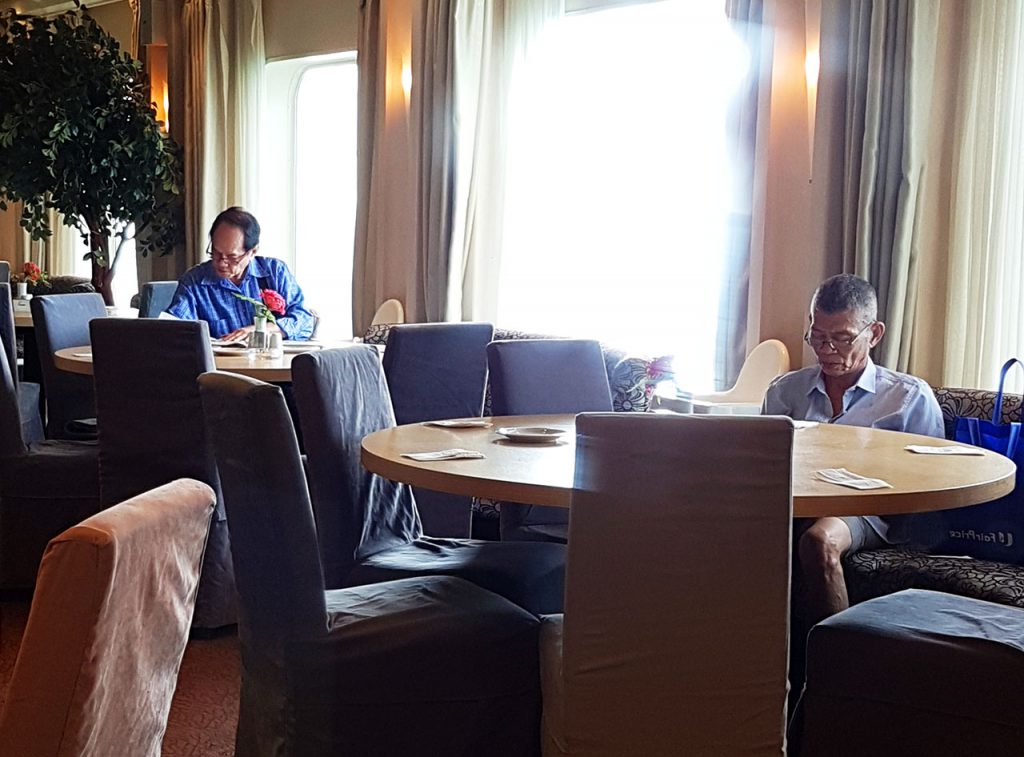 According to a 2014 survey done by the National Council on Problem Gambling, the percentage of probable pathological gamblers aged 50 and above had fallen from two per cent in 2011 to 0.5 per cent that year.
Despite the perceived decrease in elderly problem gamblers, the risk is still high in an ageing population. Furthermore, this group of gamblers is less likely to seek help for their addiction because of a lack of awareness of assistance available, or they might be ashamed to do so, says Mythily Subramaniam of the Institute of Mental Health.
The casino is already packed and bustling with activity when I arrive at five minutes past 11 in the morning. The baccarat and roulette tables are mostly crowded with old folks – perhaps because betting is simple and straightforward, unlike the more complicated games of chance such as poker and blackjack.
A minimum bet at the roulette table is $2, which easily draws in the punters.
Chips of different colours and varying stacks are placed on the number board in a flurry, either on a single number or between numbers. Once in a while, players look at the display of previous winning numbers and pause – as though there were a pattern to be discerned – before making another bet.
It is a scene that resembles the start of a game of Risk, when players place their troops all over the game board. In this case, while these gamblers think they are positioning their chips strategically, in reality it is all an elaborate display of hopefulness.
The odds, no matter how hard they try, are never in their favour.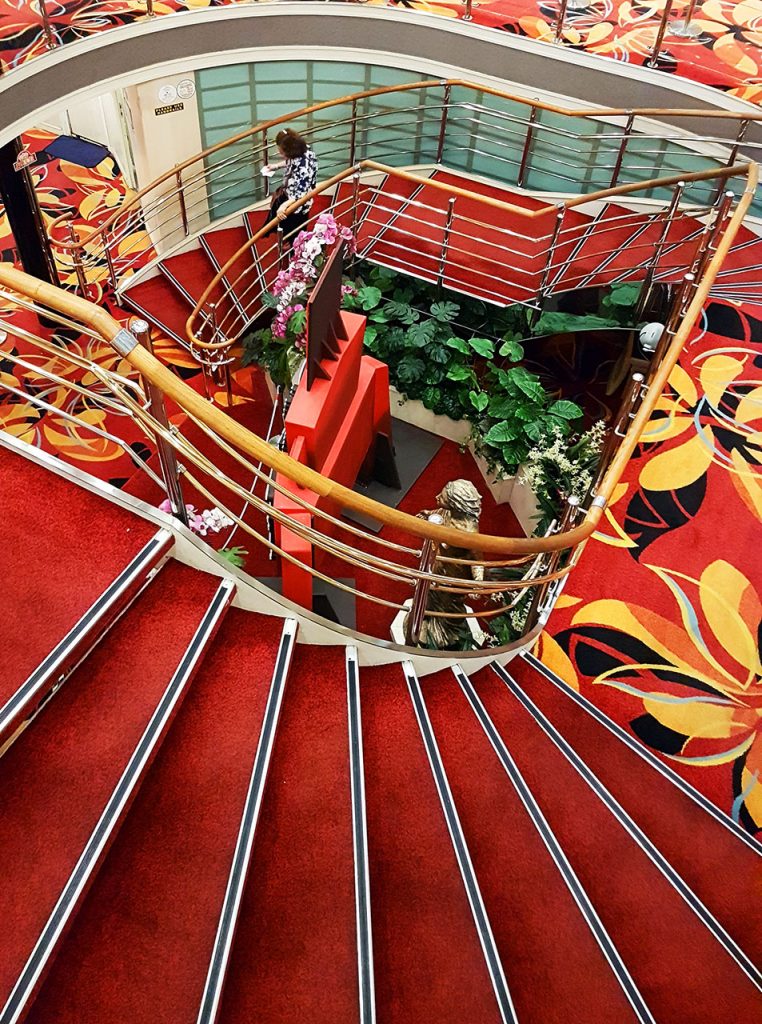 I ask an old lady beside me why she had bet on no less than 15 numbers and combinations.
"Of course must bet a lot lah! How to win big if you only bet on one number or colour?" she replies nonchalantly, as though I had asked a stupid question.
"No more bets!" the croupier calls after spinning the ball in the wheel. There is a momentary silence, as the gamblers pray that the winning number will be theirs.
After multiple bounces, the ball rests on 35, black. There are a few groans and cusses as the croupier sweeps away all the lost bets. I hazard an estimate of almost $500 wiped out in an instant.
The old lady cheers and turns to me, "See?" She was one of two players who won that round, never mind that she had lost her other 14 bets, some of them considerably larger than this winning one.
All that mattered was that she had won some chips from the croupier.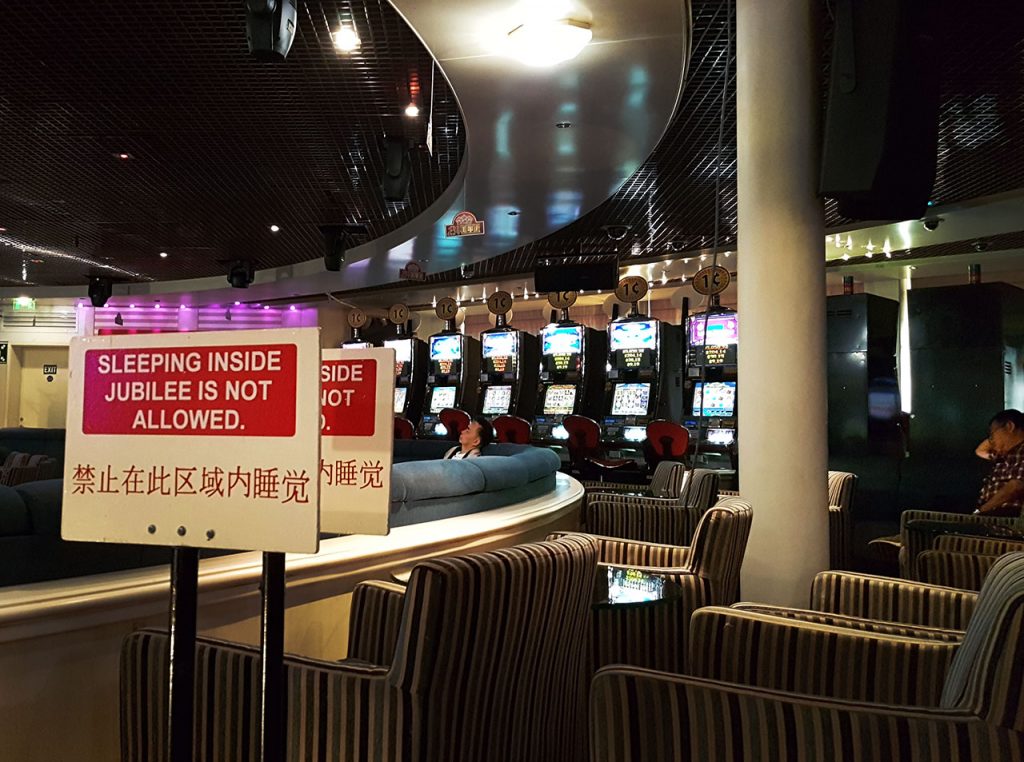 Over at the jackpot room, the atmosphere is much more subdued.
Old folks sit with their eyes glued to the vibrant displays with four fingers robotically tapping on the spin button, like part of a production line in a dystopian world.
They pay no heed to their dwindling cash deposits. The credits may run out, but luck doesn't, and they instinctively insert another $50 note into the machine when they hit the limit.
No one speaks, and the only sound here is the music from the 50-odd machines that lulls players into a dreamlike sense of hope. Periodically, a public service announcement trumpets the success of a passenger who just won $32,000 from the jackpot machine, encouraging others to keep trying their luck.
Most passengers take the last ferry out at 8.30pm in order to maximise their time at the casino. The last group of passengers arrive at 10pm.
Surprisingly, however, not all of them are here to gamble.
"I'm just here to accompany my friends," says Mr Ng, a part-time taxi driver in his 60s.
When I ask him why he is not at the gaming tables, he says he quit gambling after a scarring experience when he lost $10,000 in Genting many years ago.
"Gambling is bad," he reiterates and shows me his HomeTeamNS Passion Card. "Sometimes I go to the HomeTeamNS club at Balestier and I see people my age and older spending the day in front of the jackpot machine. It's very sad, and some more with the card they get free entry."
What brings him to a gambling ship then?
Surprise, surprise, he has nothing to do at home and just wants to relax, though he doesn't explain why he has chosen such a late time to come.
It is also an odd choice of place to unwind, considering that there's not much else to do on this ship, save for a karaoke room. Maybe he just loves the sea and the smell of cigarette smoke.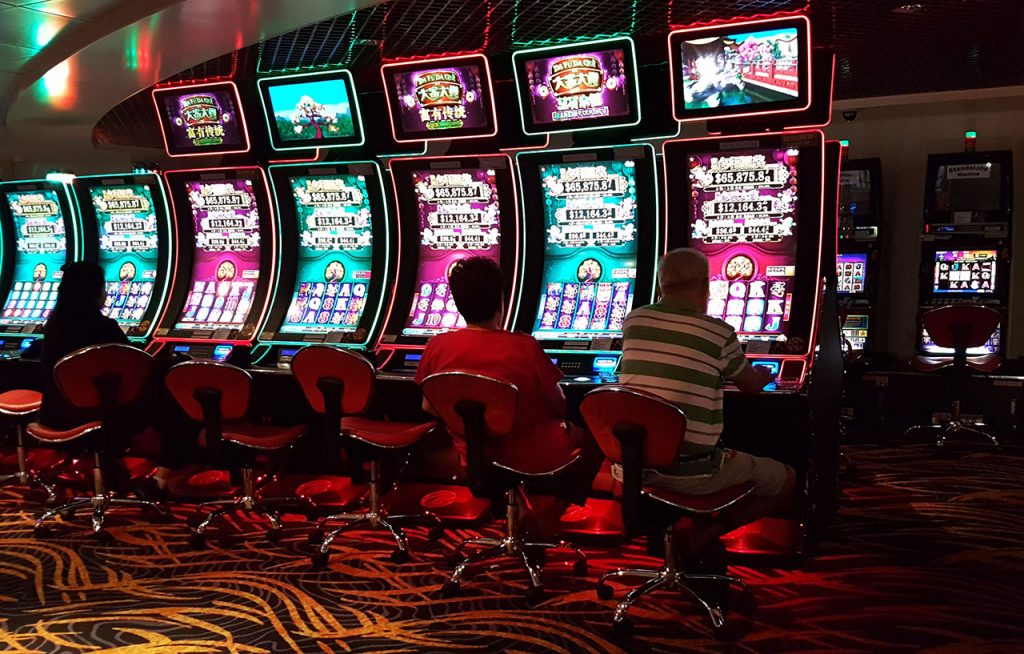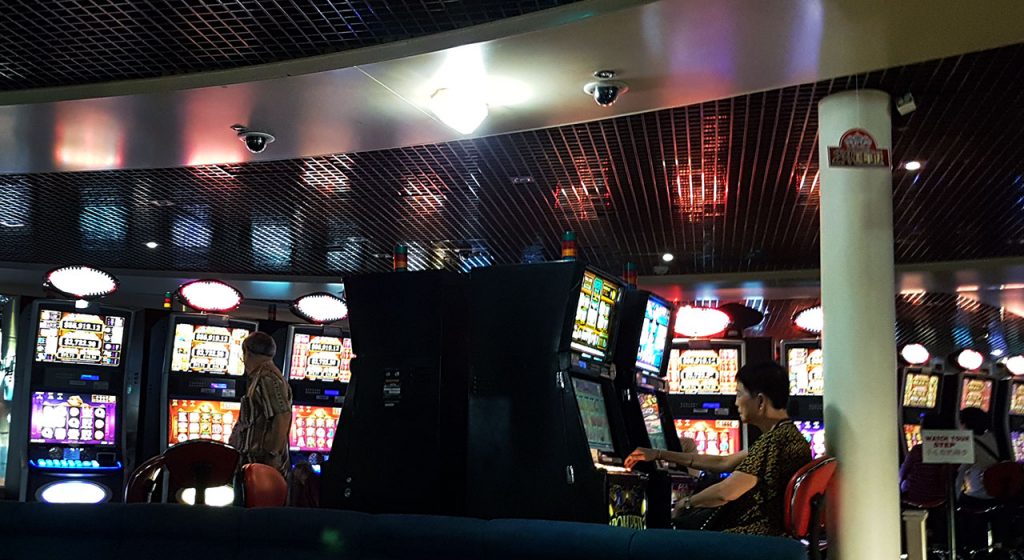 At 1am, I find myself watching a game of
pontoon
, a variation of blackjack.
A woman who looks to be in her 60s is bleeding chips, but she is not giving up.
Her betting pattern remains consistently one-dimensional: a $20 bet on her cards and an additional $5 on getting a pair which would pay 10 to one. I'm confused by how she thinks she can even recoup her losses at this rate.
Her chips continue to be swiped away by the dealer, and I'm almost certain she would be forced to leave the table.
She rubs her tired eyes, and struggles to put her chips properly on the betting table. At times, she even reads the number on her cards wrongly.
As luck would have it, she is dealt a king pair and thus, another lifeline. She keeps going, but only barely. Within an hour, she loses another $200, and still there is no variation to her play.
Each time she exceeds 21, she points at the guilty card and curses, as though its existence were a crime.
I soon realise that she's simply betting on the probability of striking a bountiful winning streak, not the odds of beating the dealer, and it's painful to watch her cling on to false hope.
A waiter comes to her side and clears her ash tray. She passes him a $20 chip, one of her last few, which he graciously accepts. A little deed of generosity to be repaid with good fortune, perhaps?
Unfortunately, there is no such promise.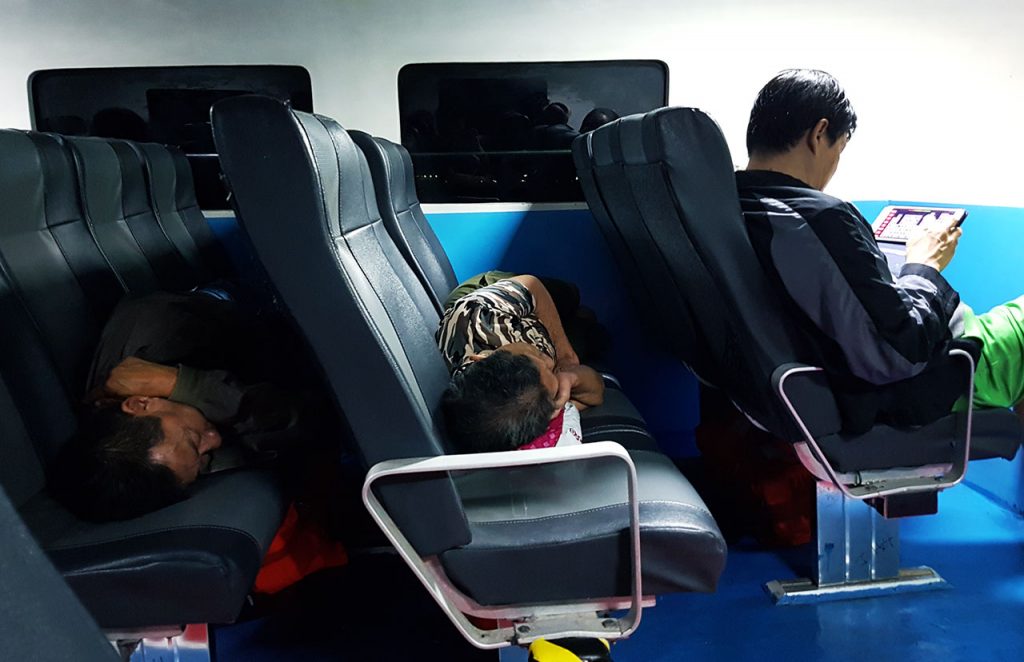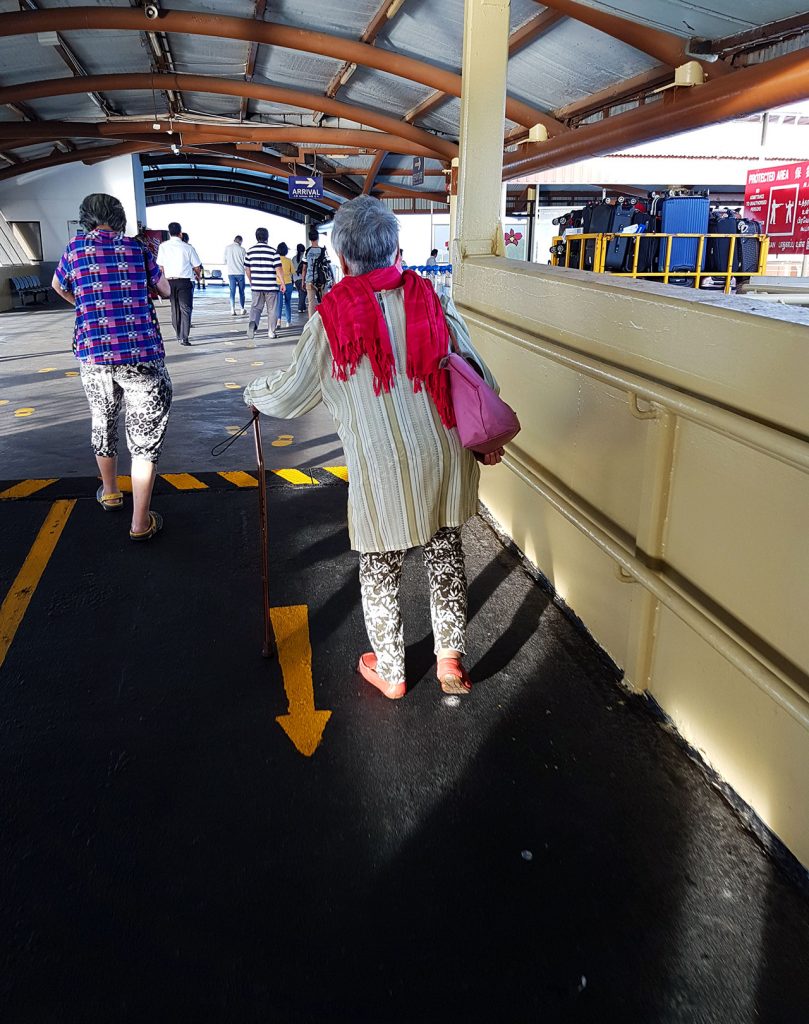 At 6.15am, I board the first shuttle ferry back to the island and am joined by the old lady from the pontoon table, who now looks dishevelled in clothes that are at least two-days-old. She drops into a row of seats and immediately dozes off.
There are plenty of gamblers still aboard the Aegean Paradise as we depart for Singapore. Home may be a dull and lonely place to these elderly, but on the third deck of the cruise liner, it is a decaying paradise that promises fortunes.