Most people couldn't believe it when KFC said they were creating a
Colonel Sanders Dating Sim
—a fact emphasised with, "Officially created by KFC. No, really" on their
Steam store listing
. The objective is simple enough: try to date Colonel Sanders.
Cue publications jumping on the news: netizens spamming "Finger Lickin' Good" jokes and memes upon realising that the game is actually happening.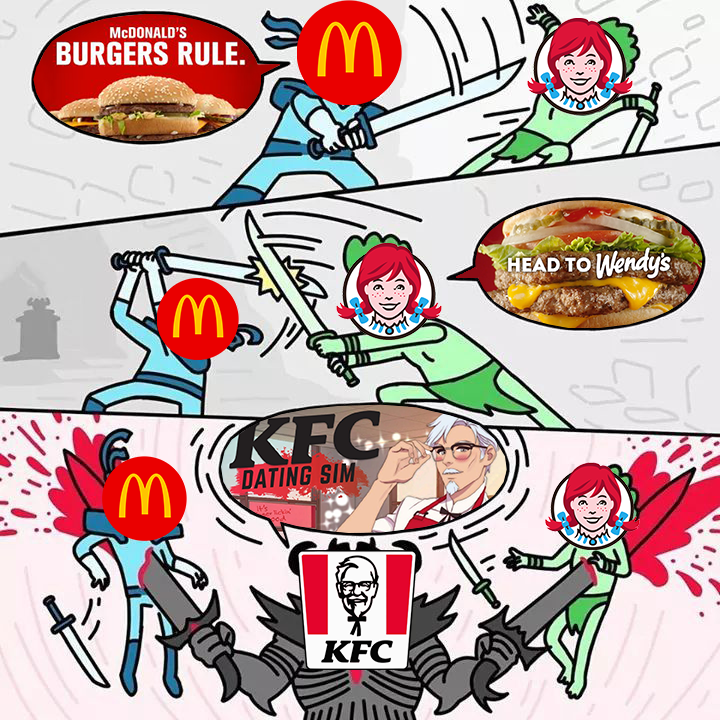 Cynics immediately dismissed this as a marketing sham. Being one of those said cynics myself, the only way to find out if this was anything more was to play the game.
After all, the game is free, and I'm getting paid to write this article. And like KFC, I too am a sucker for money.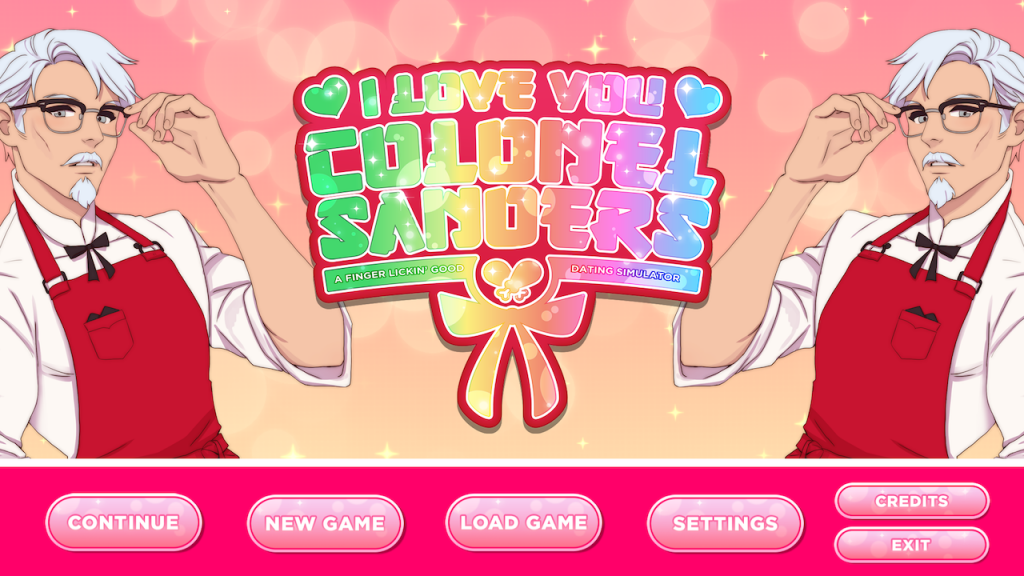 Full disclosure: I was already prejudiced against the game from the start, knowing that KFC, being the big, bad corporation that it is, would try to plant the idea that all things KFC are good, and that I should just throw my money at them.
And so, as a form of defiance, I started the game with the objective of getting the worst ending possible. I wanted Colonel Sanders to hate my guts. I'd scream, "I'm loving it!" at every possible chance just to spite the Colonel.
So here's how it goes down:
I'm placed in a 3-day culinary school called the University of Cooking School, with classmates like a clumsy best friend, two rivals who look like they belong in another genre, a child, and some kind of kitchen equipment robot. Colonel Sanders is the favourite student of our corgi professor named Sprinkles.
Nothing really makes much sense there. How is it that culinary school only lasts 3 days, or that the professor has already liked a student before the term even starts? Or that we have a dog for a professor?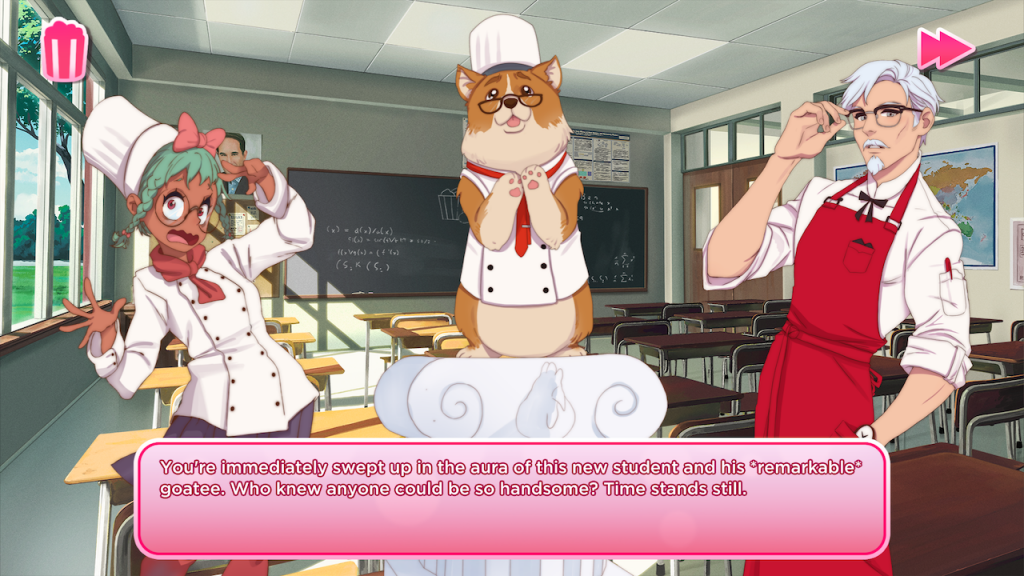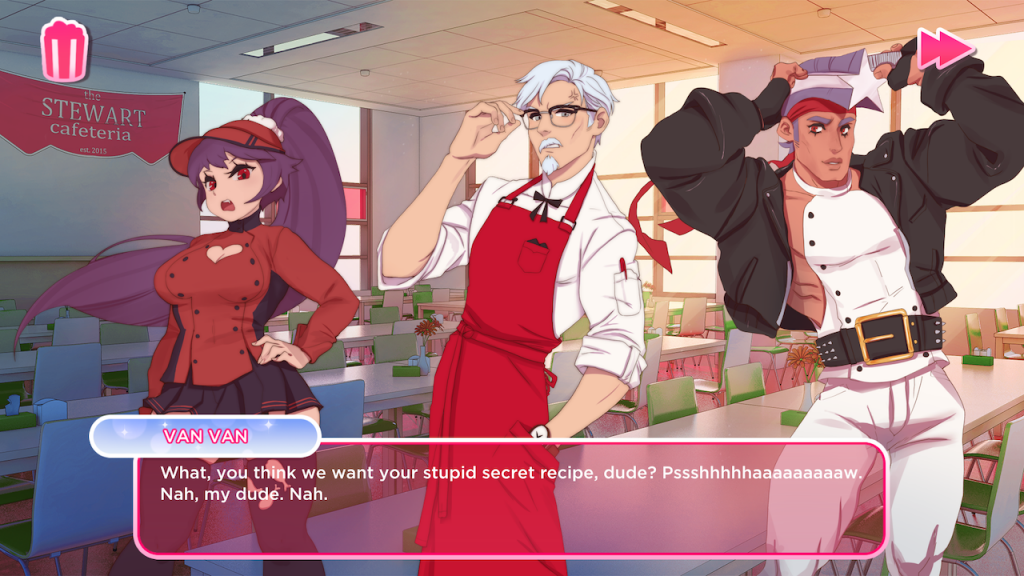 Gameplay is as simple as it gets. Much of my interactions involve reading and choosing what to respond to, leaving me with little freedom in gameplay. Later on, there are slight variations involving a timed quiz or a pseudo-turn-based battle. In practice, these do nothing except offer a graphical change to the "click here to continue" buttons.
Attempts to go for the worst possible choices would send me to a 'Game Over' message, which is unlike typical visual novels where you're allowed to continue the game to experience the consequences of your interactions.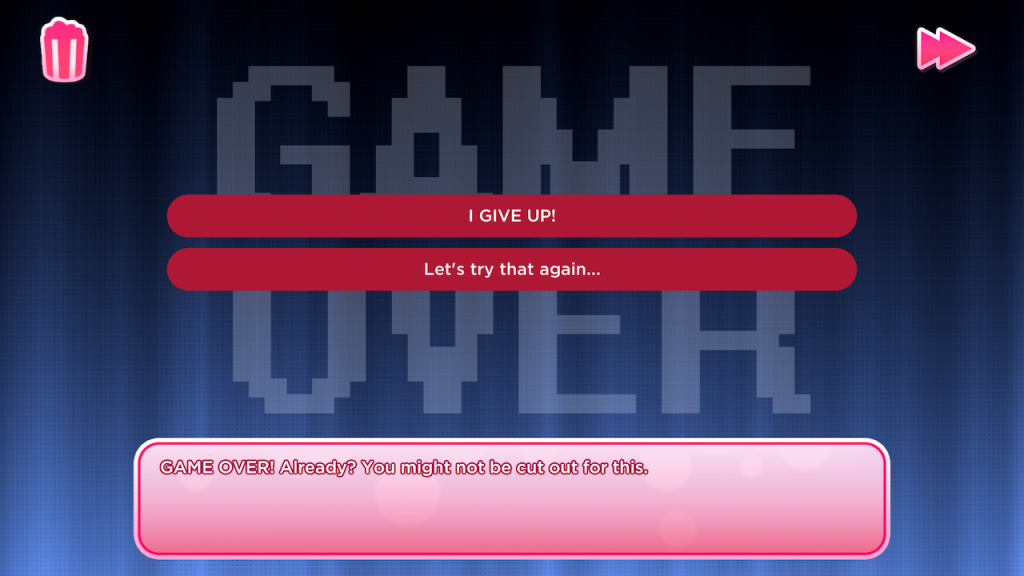 After a few more premature game overs, my strategy clearly wasn't working (it isn't difficult to figure this out—the 'best' choices are always related to KFC, for obvious reasons).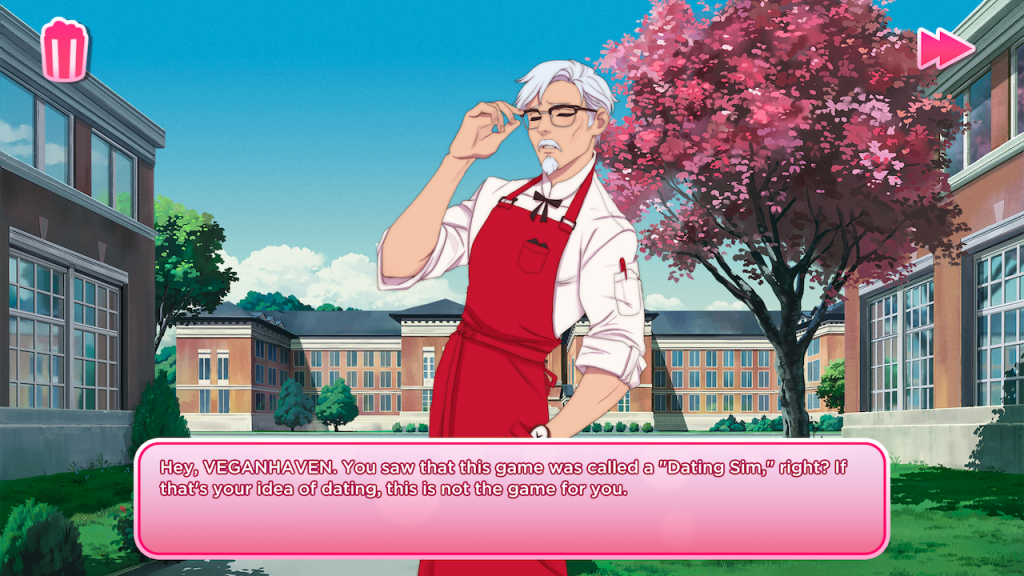 Frustrated by my inability to play against the corporate narrative, I was ready to hand in a negative review citing the poor game UI, disposable cardboard personalities for characters, lack of real choices, and how Harland Sanders has given me one more reason to
hate corporate KFC
.
But a look at Steam store reviews tells me that the game has received an overwhelmingly positive reaction, with 95% of users giving a positive review. There seems to be two camps here: the majority who went with the ride and enjoyed it as it is, and a minority who looked at it as an actual game.
Even of the negative reviews weren't actually negative, and were meant to be ironic.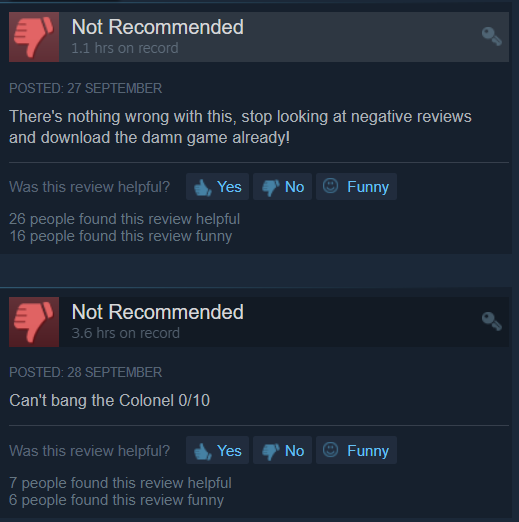 Then it hit me—
what the heck was I doing
? I was taking this way too seriously.
Liberating myself from the chains of explaining the joke, I changed my mindset and replayed the game. KFC wants me to date Colonel Sanders? Fine, then I'll be the best lover the Colonel has ever had. I'll give him the Finger Lickin' Good puns, and crave the Colonel's thick gravy as much as corporate KFC wants. By going along with the ride, I converted the next hour or so into something actually fun.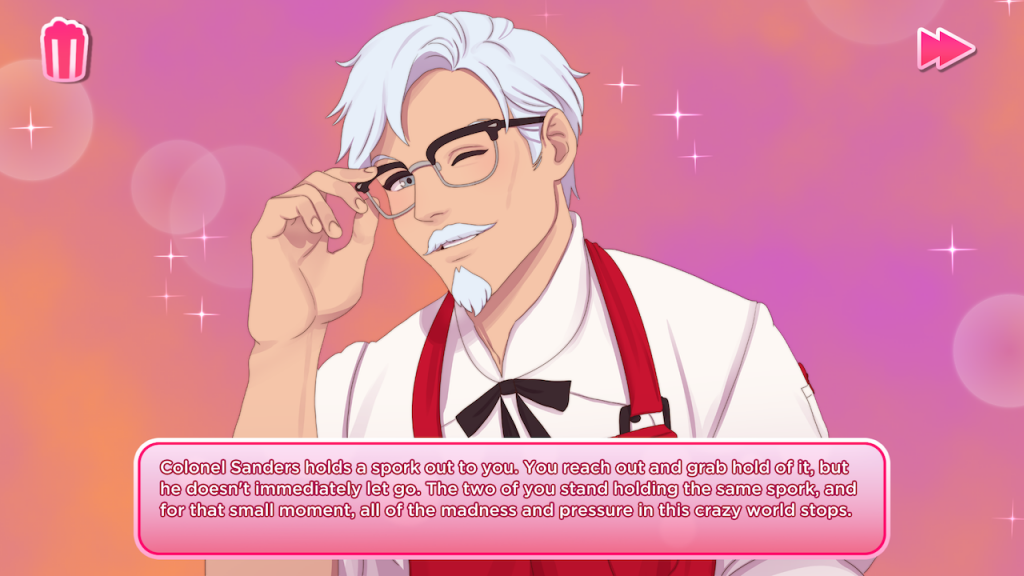 Despite what some reviews might say, not once did I feel like I might turn gay. Also, there were never attempts to create a compelling story or build believable personalities that would allow me to see the characters as anything more than technically well-done drawings. What the game does have is incredible self-awareness in being a marketing stunt, one made to appeal to millennials or Gen Zs with
lolsorandom xd
humour.
As a surprisingly educational aside, the game actually teaches you a little about the KFC company. For instance, alleging that frozen chicken tastes good will result in a disappointed Colonel, and the game's fact dropping about KFC's use of fresh chicken; which seems to be true even in Singapore. Pete Harman, the businessman who opened the first KFC franchise, even makes a small cameo.
Is it a good game to invest in for more than an hour?
No. The novelty of your quirky classmates and Bishonen Colonel Sanders quickly wears off, and turns into an overused joke.
Critics have denounced the game as being insincere towards parodying the dating sim genre, which has a pretty convoluted history of being misunderstood. While dating sims are recognised as a genre, many works still remain untranslated and unplayed by the gaming population. As such, gamers and non-gamers unexposed to the variety of dating sims available form an unrepresentative idea of what makes a "dating sim"—not unlike parodies like this KFC game, and Doki Doki Literature Club.
Critics see this as disrespect towards the genre, especially since the very thing they are parodying doesn't even necessarily exist. It's the gaming equivalent of introducing people to pasta via instant cup pasta.
But rather than looking at this as a game, it's more accurate to look at it as an interactive ad or a piece of 'content'.
Realistically speaking, anyone who is going to be amused by this is not going to treat it as an actual game in the first place. Putting anymore effort into this would be counterproductive to constructing a fulfilling experience for the player, who fully knows they are just playing an ad for the "lul factor".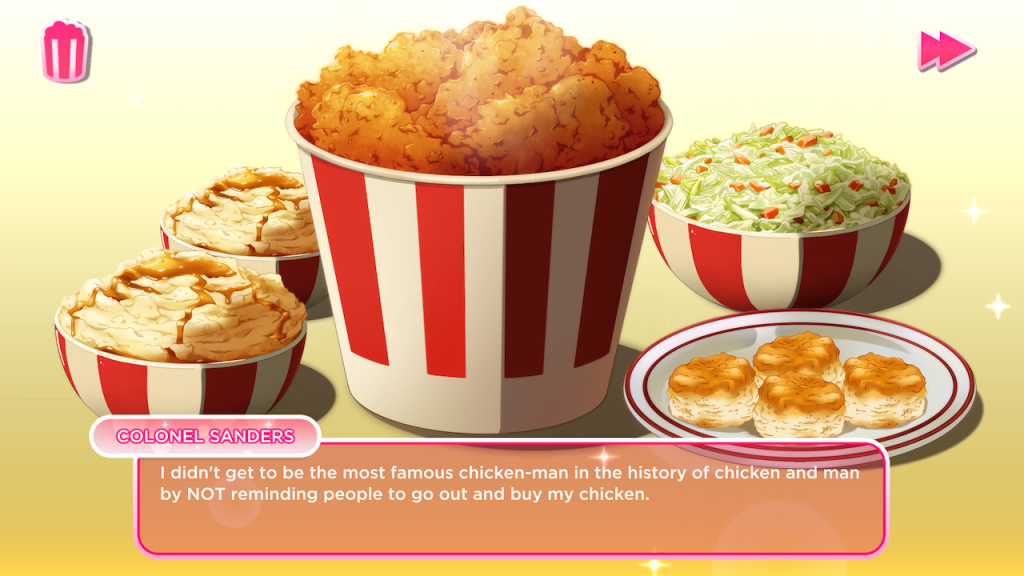 I hate ads as much as the next person, and I skip every YouTube ad before they waste another millisecond beyond the obligatory 500 I'm forced to go through. The difference here is that this is completely optional and non-intrusive.
Who am I to take away the enjoyment of the people who downloaded the game precisely because they wanted to laugh at the absurdity of the premise for a good 30 minutes before uninstalling it?
This was always meant to be a giant meme. It's a high effort shitpost by corporate KFC meant to be taken as a joke. By treating it as anything but, you become the heckler in a stand-up comedy show trying to ruin the night for everyone else.
Looking back at some previous marketing stunts, Colonel Sanders has been cat effigy, CGI Instagram influencer, striptease dancer for Mother's Day, WWE wrestler, and romantic novel love interest before Bishonen romantic interest. Some may look at these absurd marketing stunts by KFC as marketers getting more clever at getting short attention span consumers to notice their brands among the numerous inescapable ads.
But from the perspective of a content creator, this KFC game is a wet dream and what all blatant paid content should be. Content creators share a migraine-inducing relationship with marketers, often having to justify ads and product placements to the content consumers. Quality of content and consumer experience are common tradeoffs in this tripartite arrangement.
Instead of being a shill and blind promotion of the product, I Love You, Colonel Sanders brings value in the form of humour. I'm sure Psyop, the creative agency behind the game, thoroughly enjoyed the development process.
If content like this means that consumers, content creators, and marketers can stop frowning about the subject of advertising and instead turn to laugh, then I do hope that this is how paid content will look like in the future.
This article wasn't sponsored. But brands, if you want to do something like this sometime, hit us up at community@ricemedia.co.