Top image: Amos Kng (Photo: Jin for Rice Media)
I first met Amos Kng at a social gathering. He was an athletic, middle-aged man who could pass for someone in his late thirties. Fresh-faced with a big smile and gregarious personality, he wore a white stretched T-shirt that showed off his bulging muscles.
 "What do you do for a living?" I asked him, as were the typical pleasantries exchanged with a stranger.

"I provide security solutions for individuals and companies," he said. 
"Oh," I pondered. "You mean like… bodyguards? Security guards?"
"Some of it, yes. But, it is more complicated than that. I do a lot of other things too."
That was my introduction to the security for-hire industry in Singapore. Amos is the CEO of SRS – Security and Risk Solutions Pte Ltd – a private agency that provides all kinds of security services and consultation for clients across the globe. With a foothold in 12 countries across Asia Pacific and Latin America, this homegrown Singaporean company is the only local security company that has gone international.
I was intrigued. I had never met a Singaporean with such a profession before. I was under the impression that security jobs in Singapore are gig-based and unreliable, reserved solely for men with brawn.
However, Amos's initial description of his company seems to paint a picture of a well-established, fully functional, and lucrative business. He drives a sleek sports car and has an impressive collection of expensive bottles of liquor. I requested an interview with his team and went to his office at Aljunied one rainy Friday evening.
SRS occupies two units at the Gemini office building. At one unit, there is a well-furnished, well-stocked bar next to a living room area where Amos entertains his high-profile clients. At another, there are two floors of workspaces and a high-tech control room with many monitor displays mounted on the wall.
"This is where we track the movement of goods or our subjects," Amos explained. "We install tracking devices upon request. Often, it is tracking things like shipping cargos, sensitive package deliveries and so on. Sometimes we track human subjects too. It depends on the request of our clients—and usually, no two cases are the same."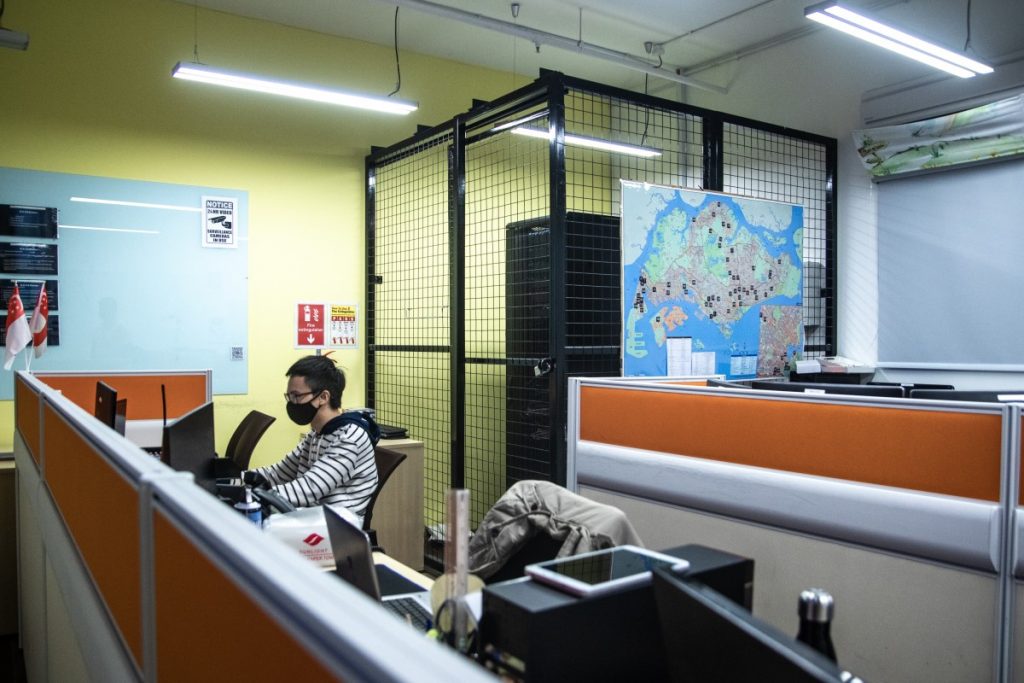 Ex Singapore Police Force officers with teeth
I sat down with Amos, his co-founder and COO Jon Lium, and their general manager James Fang for this interview. As it turns out, they all started their career in the police force. In the past, they had been tasked to protect ministers and dignitaries and hence they have had quite an extensive experience providing security services.
Amos left the police force to work with the logistics industry and then started the business with Jon. They left the police because they thought the management was too rigid, procedural, and top-down, not allowing much room for freedom, creativity, and ability to execute their ideas.
It was initially a bootstrapping affair, and they catered to the more banal security requests such as supplying security staffing. However, they also saw an opportunity in the market to provide an all-rounded security solution and to consult, as no other Singaporean agency did when they started.

"Usually, the big security company providers came from overseas, from places like the United States, United Kingdom, and Europe," Amos explained.
"For example, G4S, Securitas, and Prosegur. These companies supply everything from staffing to IT and cyber security, logistics security and so on. They are usually hired by anyone from the governments to high net-worth individuals and celebrities to big corporations. Meanwhile, the Singaporean companies usually only provide brute manpower, and the foreign security companies outsource to them."
"In Singapore, you need about three different licenses to operate a business like SRS. First is the private security manpower license from the police. You need this to provide security guards, bodyguards, and so on. And then, there is the security service provider license for any other security consultation service. Lastly, there is the private investigation license to do surveillance, counter-surveillance work, fraud assignments and digital fraud."
None of the security providers in Singapore can carry firearms. People outside of the police force who can carry firearms fall under the auxiliary police force act, and can be called on to support the operations of SPF.
According to Jon, SRS mostly hires people from the police force. "It is just a natural and easier choice," said Jon. "Furthermore, there is a law that stipulates that only Singaporeans, Malaysians, and PRs can be hired as security manpower."
However, when it comes to other roles in the company, such as risk analysts or IT and cyber security experts, they have hired far and wide, across nationalities and educational backgrounds. They have hired people with higher degrees in relevant fields like political science, cybersecurity, and international relations.

"It is perhaps unheard of for Singaporeans to work in this industry because it is very niche, but it is a promising and exciting career, and probably one of the only few alternatives to the police force," said James.
"I think if more Singaporeans know about this industry, they will also want to have a career here. Usually, the stereotype is, again, security guard work is low-paying, gig-based, and seasonal. However, there is so much more to the security industry than just the provision of physical guards."
A one-stop shop for all things security
As the three partners told me, SRS is the only local security company that has gone international. They have merged their original entity, SRS, with Arslan, a London-based security company that started as the official security provider for Uber.
Both being small and nimble security businesses with global aspirations, they merged to expand their client portfolio. Arslan, for example, gave them access to some international event security gigs, such as the FIFA World Cup in 2022.
Amos and Jon attributed their international successes to their ability to differentiate themselves from other local security companies that only provide physical guard services. SRS has a diversified breadth of services and offerings, and they always stay on top of the latest security technology products.
They also have a very flexible management style, and they can tailor to any client's service and request.

"We see ourselves as a holistic and integrated security solution provider. We do not box ourselves into strict categories, and this is what makes us attractive," said James.

According to Jon, Singapore's security provider is a natural choice for clients from the US and China who want to do business in each other's territories since Singaporeans speak both languages. However, since not many Singapore security companies can cater to various international service requests, this has become a wasted opportunity.

"This is the gap in the market that Arslan SRS addresses," Amos said. "We do everything: from installing security devices like security cameras, alarms, to disinfection solutions to protect your physical safety, anything under the sun. We provide surveillance, security guards and strongmen for any kind of purposes. We do shipping and logistic monitoring. We extract data from locked devices, provide IT and cybersecurity protection. We do risk analysis for big corporations. We do intelligence gathering for brand protection work…. Whatever you need, you name it, and we will provide for you."
In Singapore, Amos and Jon have always focused more on corporate clients and only entertain jobs with more scope.
"We do not provide security guards for shopping malls, or condominiums and so on. We also shy away from laymen personal private investigation requests, such as following someone's cheating spouse. To us, these jobs are not 'high-calibre' enough," Amos said with a chuckle.

Their clients are mainly big corporations, from brand name big tech companies to entertainment companies, financial companies to supply and chain companies.
"One thing that is great about our business is the exposure to such a diverse portfolio of clients… We are challenged to learn a lot daily." Jon further elaborated.
"For risk analysis, we have our analysts collect signals of information from news, intelligent sources, and so on. For example, if there is a bomb blast in Jakarta, we will deploy our analysts to find out quickly the epicentre of the blast, the impact of the incident, the impact on the traffic, the cause of the incident and so on… With this information, we can advise our corporate clients in Jakarta whether they should shut down the office or evacuate employees."
"For brand protection, we have our private investigators do covert operations to track product counterfeits. For example, going to nightclubs and bars to check whether the alcohol served is not a counterfeit of our client's brand. Or perhaps having female investigators pretend to be mystery shoppers to check that the makeup products sold at a store are not counterfeits."
Their strategy of doing corporate security pays off well as big corporations usually have an international footprint and therefore can procure them many contracts overseas. As a result, they have built a solid reputation in the region and elsewhere. They hire workforce across countries and have good relationships with powerful regional partners such as military generals and political leaders.
Outside of Singapore, they can provide firearm protection. Some repeat clients hire them to provide security for them in a completely brand new territory.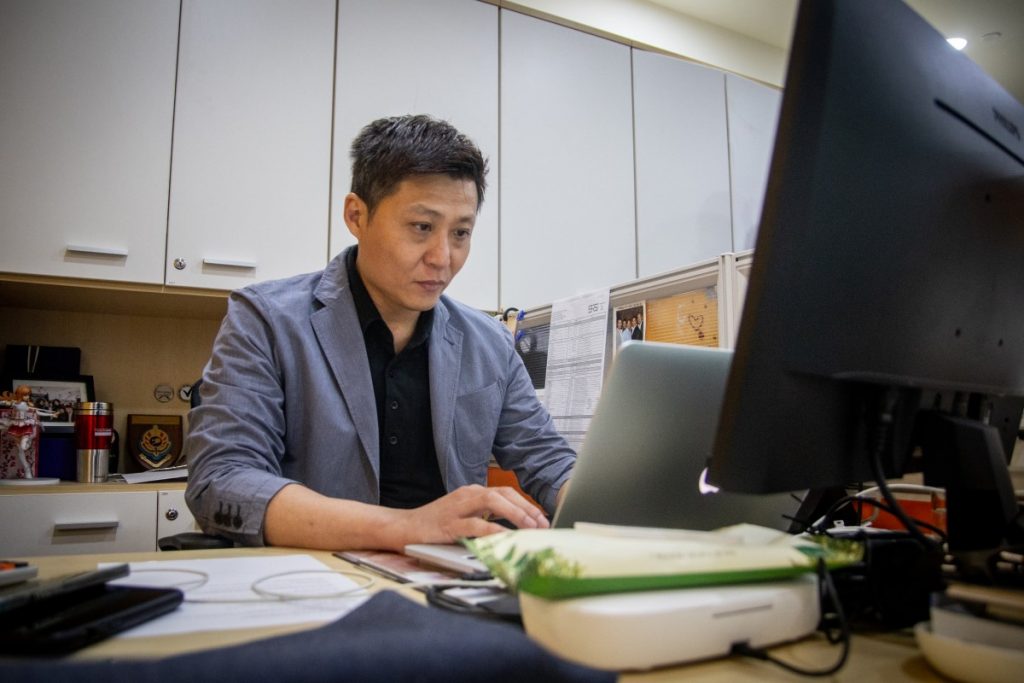 "I had been dispatched to places like Kenya and El Salvador before," said James. "These are countries that are foreign to me. Instead of hiring anyone there, our clients prefer to work with us because they have trusted us."
"We also do other non-corporate assignments, such as deploying staffing to execute Anton Piller order to seize evidence. We also protect celebrities, public personalities, or high net worth individuals when they come to Singapore," James added.
"When they visit, we do everything like driving them around, doing security sweep at their properties, installing security devices, tailing them for protection, checking their itineraries and deploying manpower to do security check at the places they are about to visit, making sure to minimise any physical, emotional, and psychological risk to their well being. Bottom line, we make sure that there will be no threat to their bodies and reputation during their time with us."

According to them, it is the work behind the scenes that takes a lot of time and resources.
"When you think of guarding celebrities, you think of VIP moments, glamorous red carpet events where we pose wearing tuxedos and dark shades, whispering to our walkie talkies," Amos said.
"However, what you do not know are weeks and weeks of research, preparation and logistical arrangement before the arrival of the celebrity. Clients pay us to do all this background work."
Never a dull moment
Jon almost got divorced in the first two years that he launched the business. Why? The work was extremely time and labour intensive.
"In the early days, we lacked staffing, and the people that we hired could be unreliable. They might not show up for work, so I had to stand in."

With a single call from a client, they often had to drop everything they were doing, take their passports out and fly on duty.
"Once I was being 'activated' in the middle of a haircut," James shared fondly. "I had to go to the Philippines the next morning. I bought the ticket that very night."
Once Amos was on holiday in Thailand with his family. With one phone call from a British client, he had to fly to Vietnam immediately, leaving his family in the wake.
"Doing physical security work is also physically taxing and challenging," Jon explained, "Especially in the early days when we had to do most of the groundwork ourselves. When you are guarding a client at risk, you really can't make many movements. Sometimes you even have to hold your pee and shit or relieve yourself at less-than-ideal places."
However, the three of them said that all the risk, sacrifice, and discomfort they have experienced are worth it. Their career has provided them with an unparalleled source of stimulation, enjoyment, and satisfaction.
They shared with me many more interesting cases. Once, they protected an Indonesian Datuk who received a bullet in his house. The Datuk was involved in court proceedings in Singapore with USD800 million on the line. His opponent used Malaysian gangster intimidation, so they had to enlist help from Singapore's 369 secret society members as part of the defence strategy.
"However, we always stay within the laws," Jon assured me, "Everything we do, we follow the regulation of the jurisdiction of where we operate, and we do our due diligence to make sure that we are not protecting bad actors. We have turned away clients before because we are not sure about their background and reputation."
In another case, Amos was deployed to investigate an insurance fraud case in Pakistan. A young Pakistani man in Singapore had falsified the death of his mother to claim insurance. Amos visited a graveyard in the middle of nowhere in a Pakistani village to check whether this person's mother was really buried there.
They also took many seasonal, exciting cases, for example, counter-piracy work on the South East Asian and African waters.
"Working with celebrities has always been fun, too," said Jon. "You won't believe how entitled and diva-like some celebrities can act. So it can be highly frustrating yet amusing to work with them."

In short, there has never been a dull moment in their jobs. "It has been a very colourful and exciting career for me. Zero regrets. Otherwise, why else do you think I look so young at this age?" Amos concluded with a laugh.
---