All images generated by Midjourney AI
Eager eyes shift towards Paola Antonelli as she takes the stage at Victoria Theatre. The influential Italian architect, curator and author is, after all, this year's Curatorial Director for the Design Futures Symposium held during Singapore Design Week 2022.
Amidst hushed rumblings among an animated audience—all dressed to the nines, betraying their formal wear with gleeful reverence—she posits a question: "Who has agency to determine and build the future?"
It's a question that neatly sums up the focus of the symposium, one that implores members of the audience to imagine bold visions of both the future of design and the design of the future. How do we start solving some of the key problems (stuff like food wastage, climate change, land scarcity) in the near horizon?
As a Singaporean normie, my instinctual response is the government and policy-making. I must admit that design is the last thing I'd count on to tackle Singapore's quandaries.
The Design Futures Symposium 2022 begs to differ. Held at Victoria Theatre on 20th September, the conference hosted local and international designers and thinkers as they discussed how the practice of design was crucial to meeting challenges we might face in the future.
"Think of design as an enzyme for progress," Paola proclaims to several nodding heads in the audience. A proclamation she would repeat several more times to drive the point home.
The last time I heard 'enzyme' was in secondary school biology lessons. I was terrible at the subject, which probably explains why I'm writing for RICE now.
If I learned anything from those lessons, it's that enzymes are catalysts (using 'catalyst' instead of 'enzyme' would have made for a much less impactful line) speeding up chemical reactions in our bodies.
Enzymes are crucial to keeping a person alive and well. Perhaps that is what makes 'enzyme' a stronger term. Not only do we want to progress quickly, but we also want progress that benefits everyone and keeps us all alive and well.
Unfortunately, mention 'design' and people think of bold colours bravely mish-mashed together in pursuit of wacky chairs with off-beat curves and contours sitting in the corner of our living room. More an aesthetic pursuit, less a tool for progress.
I shift in my seat; a physical response to my brain working overtime. It's a feeble attempt to wrestle with the abstract concept. Of course, the drinks from the symposium's open bar were also working against me.
I'm not a designer in any sense. But with the help of AI image generator Midjourney, my inebriated self no longer needs to concretise the abstract alone.
We can now visualise what Singapore might look like in a millennium, as suggested by some of the groundbreaking speakers at the Design Futures Symposium 2022.
Behold an AI's fever dream of Singapore's future.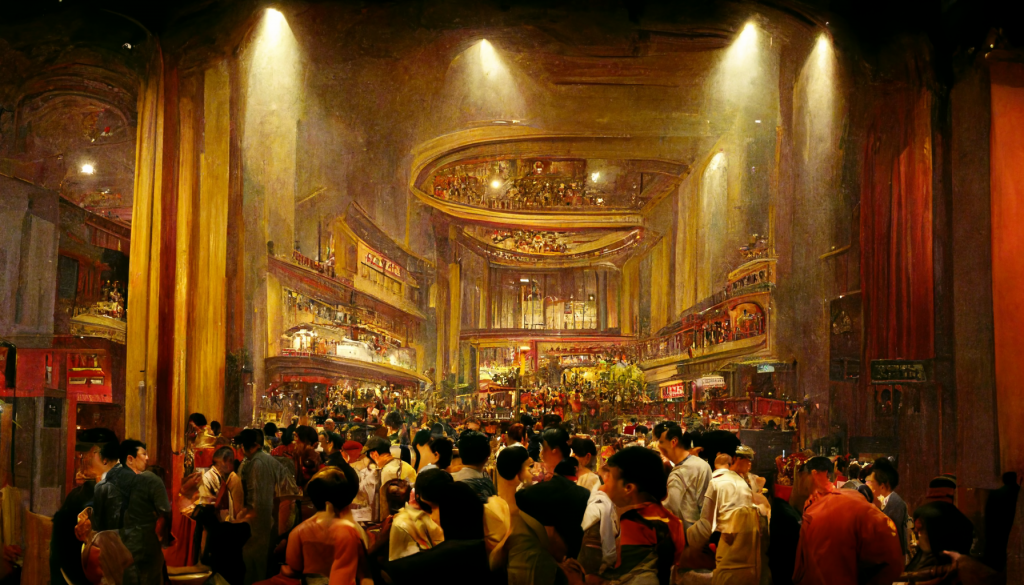 Food Waste, Fly Away!
Imagine heading down to your estate's hawker centre for a nasi lemak fix.
Transparent glass cases with thousands of black soldier fly larvae are positioned right next to our tray return stations. Instead of relegating our chicken bones and uneaten rice to rubbish bins, we throw food scraps into these glass cases, feeding the ravenous larvae inside.
In 2021, only 19 percent of our total food waste was recycled. Food waste increases our carbon footprint and contributes to global warming and climate change.
Black soldier fly larvae feast on our food waste and alleviate the problem—right at the doorstep of our beloved hawker centres. Within a matter of days, the bugs convert food waste into protein and rich fertiliser, which can then be used on food crops for human consumption.
Design kicks in when we start with the glass cases: What do they look like? How do we make them practical in a hawker centre setting? Perhaps, through design, we might even make black soldier fly larvae look pleasant to the eye.
Buckle up because we could soon share a meal with creepy crawlies in our peripheral vision. A small price to pay to reduce food waste, if you ask me.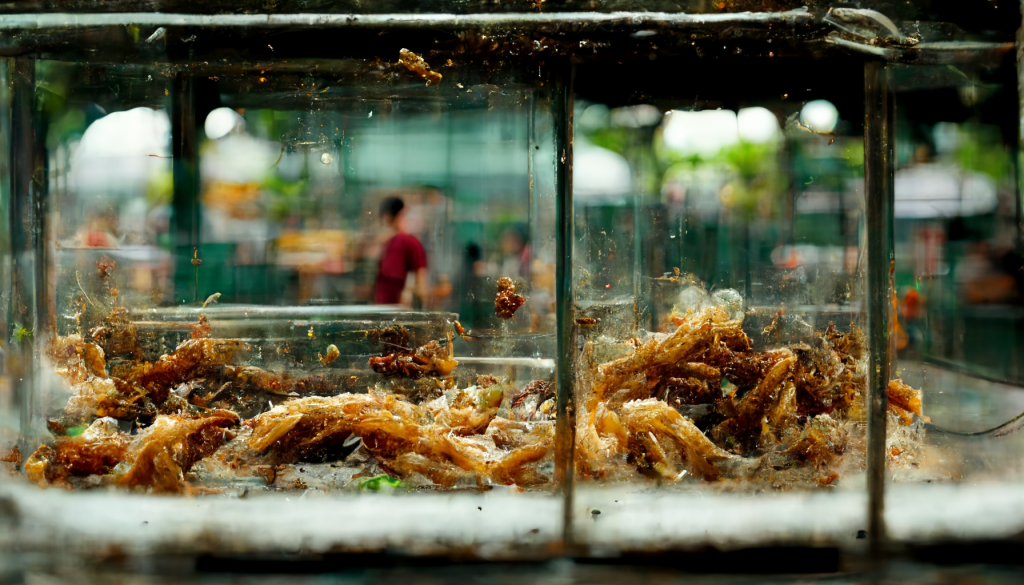 A Growing Population on Diminishing Land
Front and centre on the average Singaporean's mind is the country's housing shortage. Land scarcity, the perennial problem for Singapore's policymakers, has finally caught up with the country as home prices climb 3.4 percent.
But what if it's possible to squeeze as many people as humanly possible within the smallest possible land area, all without compromising our quality of life?
In 2010, architects Belinda Huang and Khoo Peng Beng of ARC Studio discovered that it would take only 1,000 Singapores to house the entire world's population using only 0.5 percent of the world's land area.
In a cruelly ironic twist, Singapore—the model solution to a global land planning problem—now faces the same problem of its own.
As old housing estates are reclaimed to make way for new developments, perhaps the future of Singapore public housing rests in building flats as high as possible, modelled in the image of the Pinnacle@Duxton.
We imagine, inspired by the talk of about a 1000 Singapores, how a future where Singapore's entire population is housed using only 0.5 percent of the country's land area might look like.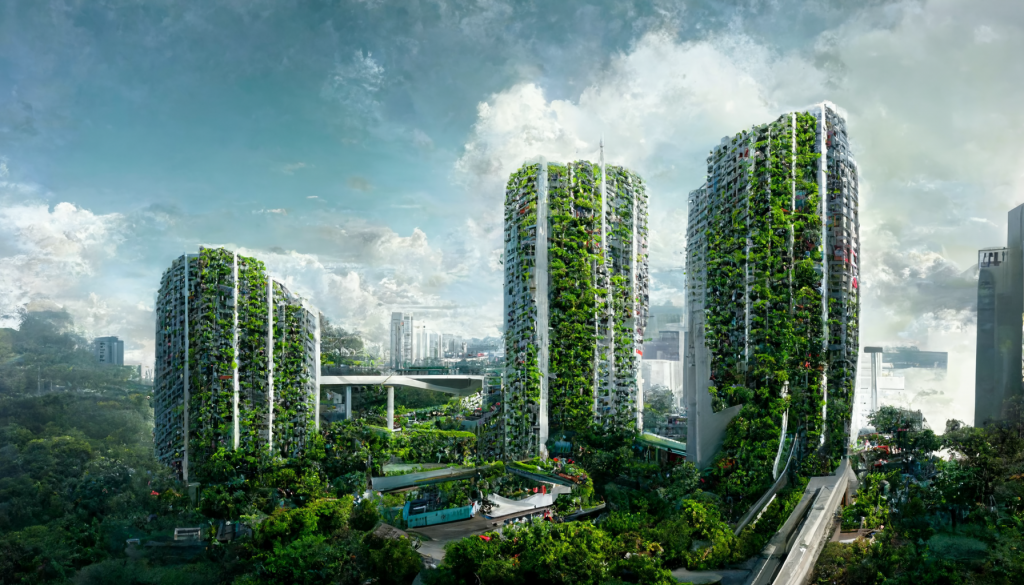 The Future of Play: Moving into the Metaverse
In land-scarce Singapore, we tire of spaces faster than we can build them. Singaporeans looking to play have the usual span of options—Clarke Quay for a night out, Universal Studios for cheap thrills, and shopping malls for everything else.
Perhaps—and I preface this with a hard disclaimer that I am no tech/cryptobro—that the metaverse could open up more spaces for Singaporeans to play. No longer shall Singaporeans be subjected to the mere limitations of physical space when digital space is limitless.
Those who love to party and socialise at clubs but can't handle their drinks can simply plug out when things get too much. The metaverse can't substitute what we always need: a real toilet.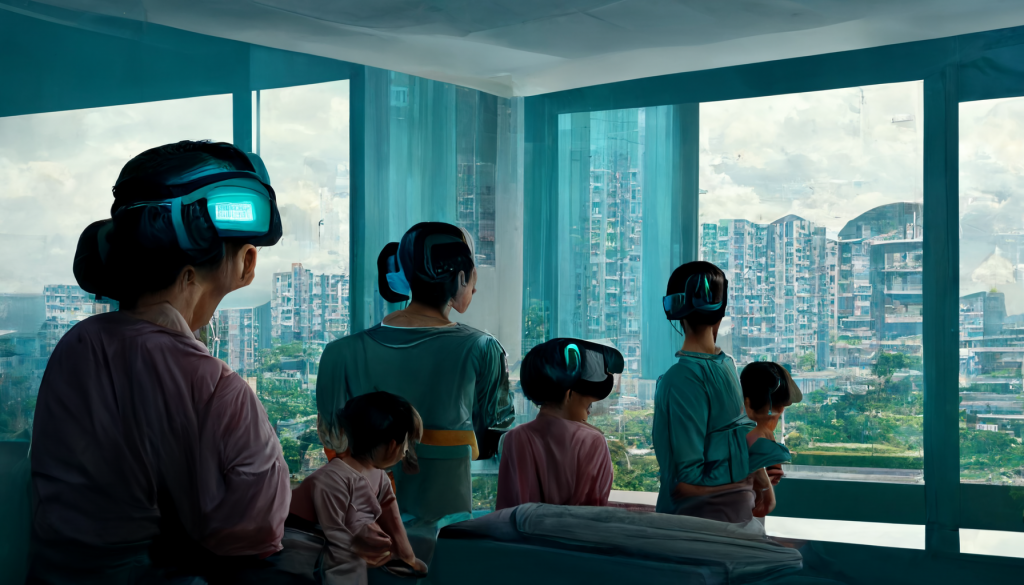 From Fever Dream to Reality
Beneath fanatical fever dreams of Singapore's future as envisioned by an AI are very human ideas—originated and explored by the thinkers and shakers at Design Futures Symposium 2022.
Its twisted concoctions are, at the end of the day, guided by human prompts—albeit entered by a slightly intoxicated one.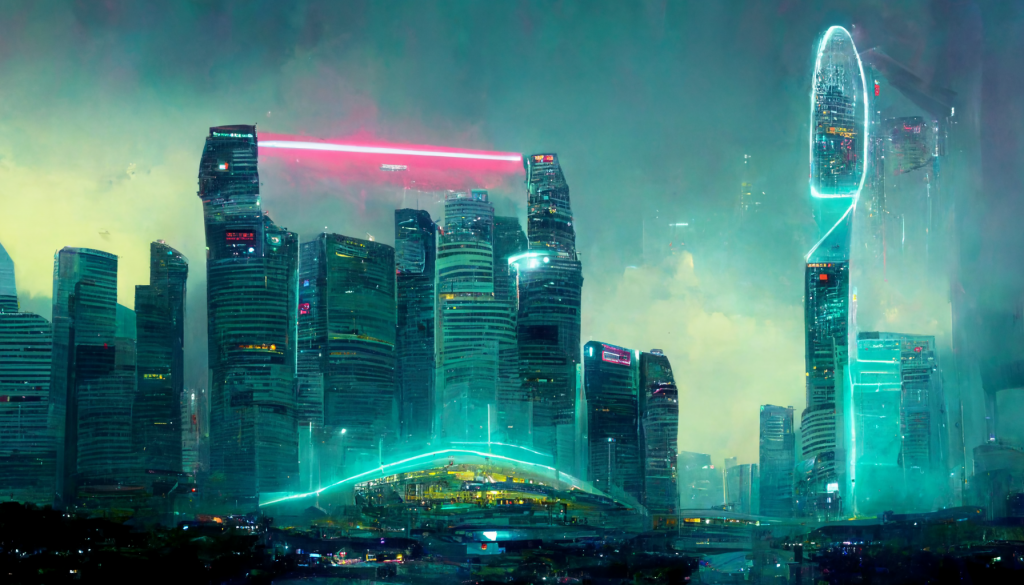 As audience members file out of Victoria Theatre with echoes of 'design as an enzyme for progress' ringing in our heads, I am reminded that the practice of design is not the sole domain of the aesthetically inclined.
Rather, design is simply something that humans do. And, if this is true, then the future is ours—all of us—to design.
---
Catch the first batch of video highlights from the Design Futures Symposium here.
If you haven't already, follow RICE on Instagram, TikTok, Facebook, and Telegram. If you have a lead for a story, feedback on our work, or just want to say hi, you can also email us at community@ricemedia.co.