All images by Stephanie Lee for RICE Media unless otherwise stated.
My jaw dropped when I saw the price tag of a lightweight sports wheelchair.
"$5,000?! Are you kidding me? Is a wheelchair so freaking expensive nowadays?"
I badly needed a new wheelchair for my new ventures into recreational para-sports in 2022. I wanted to explore wheelchair running, para-fencing, and para-archery. I can't do all that with my heavy manual wheelchair, a loyal friend for 12 years.
It faithfully accompanied me when I was training as a para-table tennis player in 2014 and 2015. But let's just say that my ancient wheelchair has reached the point where it's more like a relic from the '70s rather than a functioning mobility aid.
Back in 2009, it cost me only $1,000.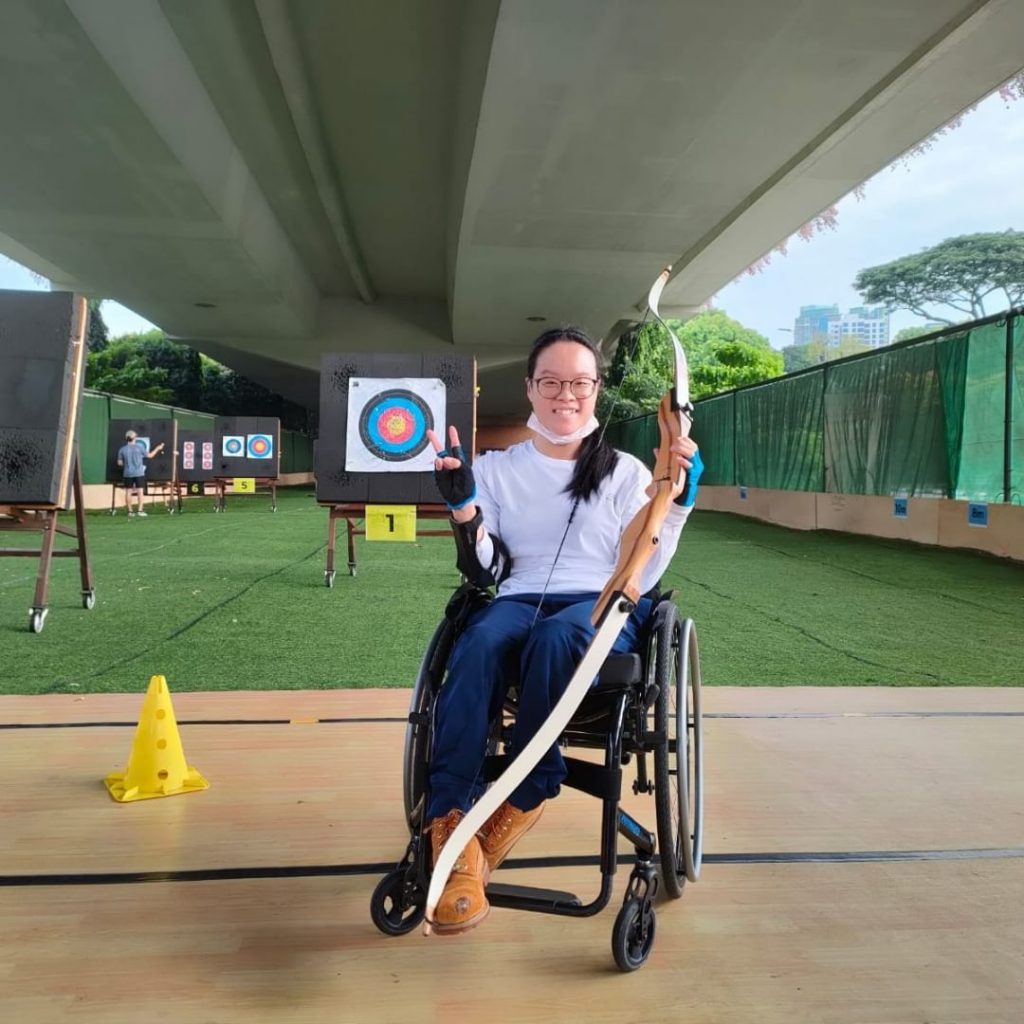 I'm not alone in sharing this sentiment about the high cost of being a para-athlete.
Here's the bitter truth. Para-athletes aren't getting enough funding for our equipment and competition expenses. And I believe it stems from a glaring lack of media coverage of para-sports in Singapore.
Take, for instance, the stark contrast in coverage between the SEA Games 2023 and ASEAN Para Games 2023. Over 60 news articles discussed the former; only 10 touched upon the latter.
During the course of the ASEAN Para Games this year, I reached out to para-athletes about their funding and training situation.
Para-shuttler and aspiring Paralympian Tay Wei Ming shares with me his financial struggles in his bid to realize his Paralympics dream. Para-rugby player and amputee Tan Whee Boon also lamented the lack of media attention.
Why are para-athletes overlooked by the media, affecting their progress and potential for success? And how can Singaporeans better support our para-athletes?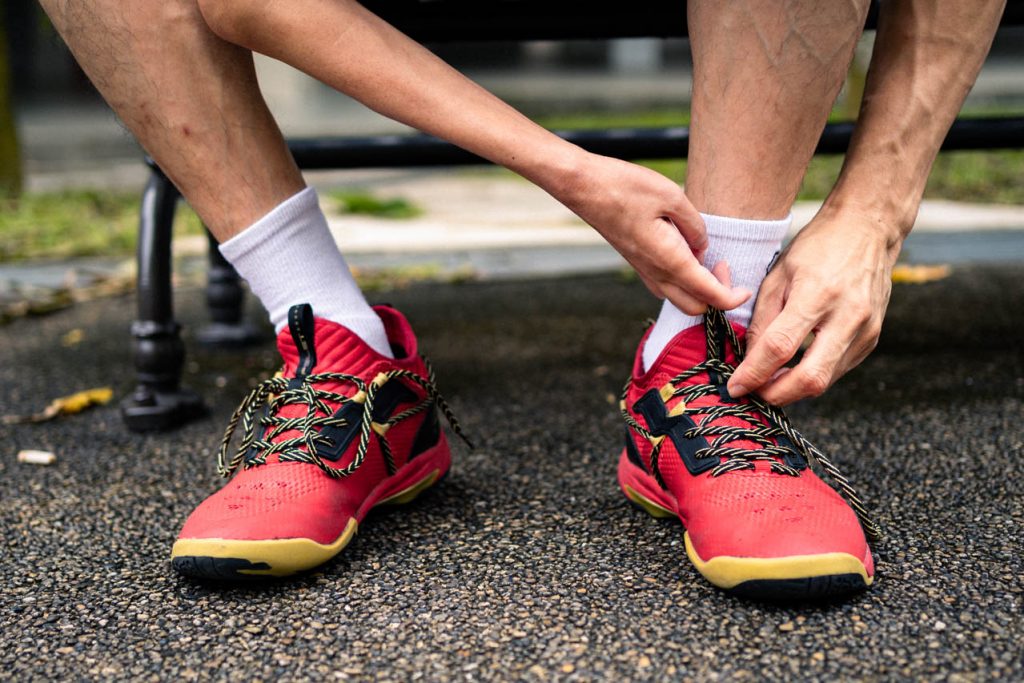 We All Know Yip Pin Xiu. How About The Rest?
Granted, the media has done an excellent job portraying the achievements of our beloved Yip Pin Xiu, a true pioneer and trailblazer in the local para-sports arena. Up-and-coming para-athletes like Toh Wei Soong and the Soon siblings are getting some love too.
But what of other para-athletes? I ask some able-bodied peers to name a few. Almost immediately, they answer, "Yip Pin Xiu!"
"Any more?"
They shake their heads.
It was expected. But I lowkey wished they had also added Theresa Goh—she's a Paralympic medallist too.
Are people in Singapore into para-sports news in the first place? Just to get a sense of the vibe, I ran a poll on Telegram's sgAskEveryone platform. I asked 735 Singaporeans, totally anonymously, "Are you interested in news of disabled sports?" Most are in their 20s and 30s.
About 1 in 4 mentioned they were actually interested—a minority, but still a comforting response.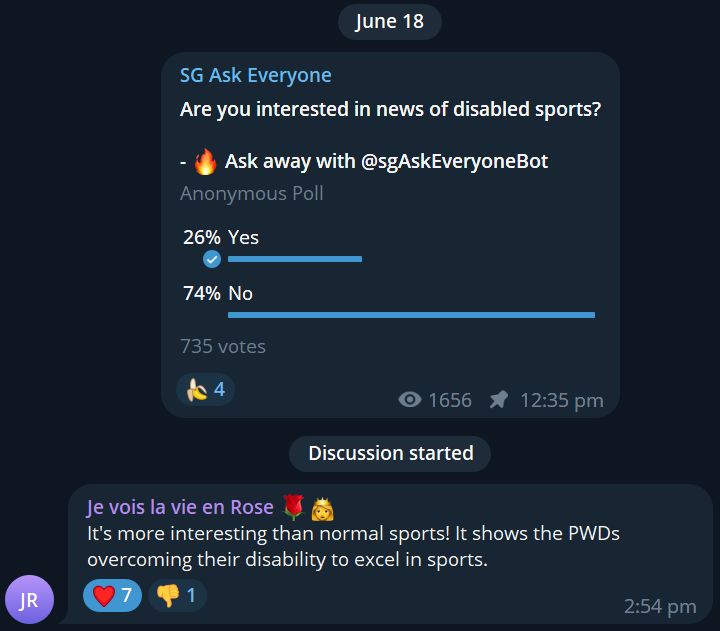 With a lower following and consumer-driven demand, it might make more commercial sense for mainstream news outlets to focus on able-bodied sports more than para-sports. There's only so much that you can cover in a day, after all.
From Benchwarmer to Cheerleader
Yet, the more important question is: Do Singaporeans care about the disabled community? And why should they care anyway?
So, here's my challenge for you to put yourself in the shoes of a para-chess player. Try playing a game of chess blindfolded.
I did. And it was downright difficult for me to know which piece I was moving while remembering the new board layout every time a chess piece was moved.
We are so accustomed to our abilities that many of us can't (or don't want to) imagine what life might be like on the other side. It's difficult to relate to their struggles—and where there's little resonance factor, there's little incentive to be acquainted with their affairs.
Not many would know how despite being virtually impaired, national para-chess player Edwin Tan is able to overcome his personal challenges to represent Singapore at the ASEAN Para Games in 2015, 2017, and 2021. His determination and passion for international chess are truly inspiring.
But passion and the potential to inspire others can only do so much without the right backing.
The Singapore Spirit
Para-athletes get some funding from SportCares (SportSG's philanthropic arm) and SDSC. But the amount of financial support is limited due to tight budgets. Some would say that the funding isn't even enough to purchase adaptive equipment.
While some elite para-athletes are lucky to receive partial funding from the government-funded Sports Excellence Scholarship (spexScholarship), not all are so lucky.
As of 2023, only 11 para-athletes are spexScholars. This is less than one-third of the total pool of 37 local para-athletes that competed in the 2022 ASEAN Para Games.
Perhaps due to insufficient media coverage of para-athletes, many companies and donors aren't aware of the financial struggles of para-sports organizations and para-athletes. And with limited sponsorship, many para-athletes find themselves in a tight spot to continue training.
I mistakenly assumed someone like Edwin wouldn't need to fork out financial expenses except for competition registration fees. But he reveals otherwise.
"I need sponsorship to take part in overseas competitions," he says. "So far, I have been paying almost all the expenses out of my pocket when I go for overseas competitions."
"These include flight tickets, accommodation, F&B, transport, equipment, and competition registration fees," he continues. "For equipment, I use an adapted chess board rather than the normal board so I can recognise the pieces and where they move."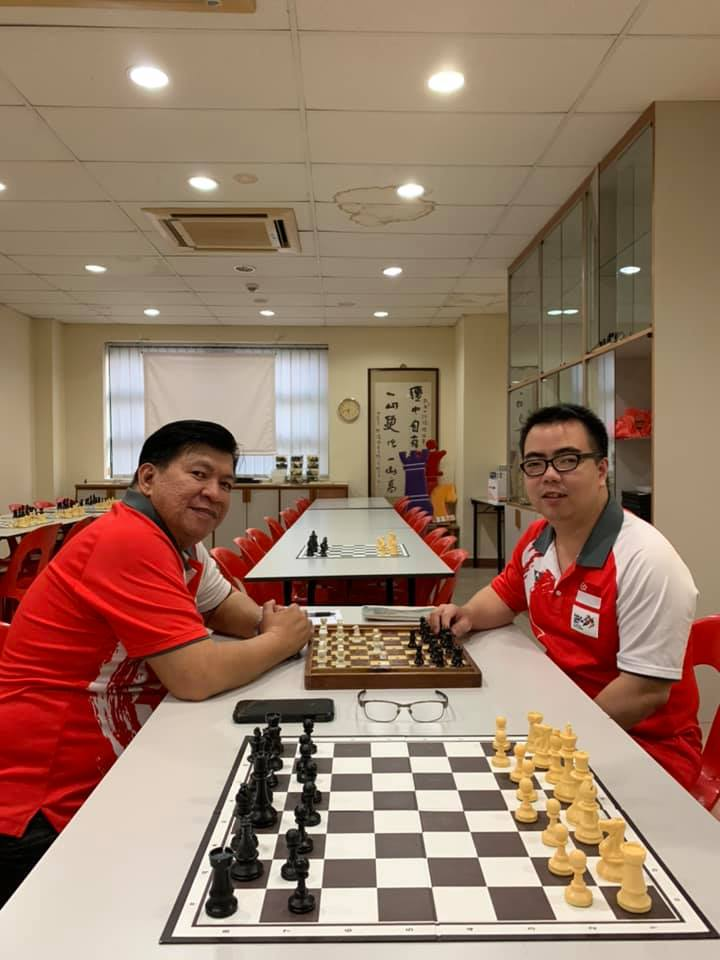 Para rugby player Tan Whee Boon is in a similar boat.
"I have to cover the expenses personally for customised safety belts and protection gears after I got my para-rugby wheelchair from SportCares," he says.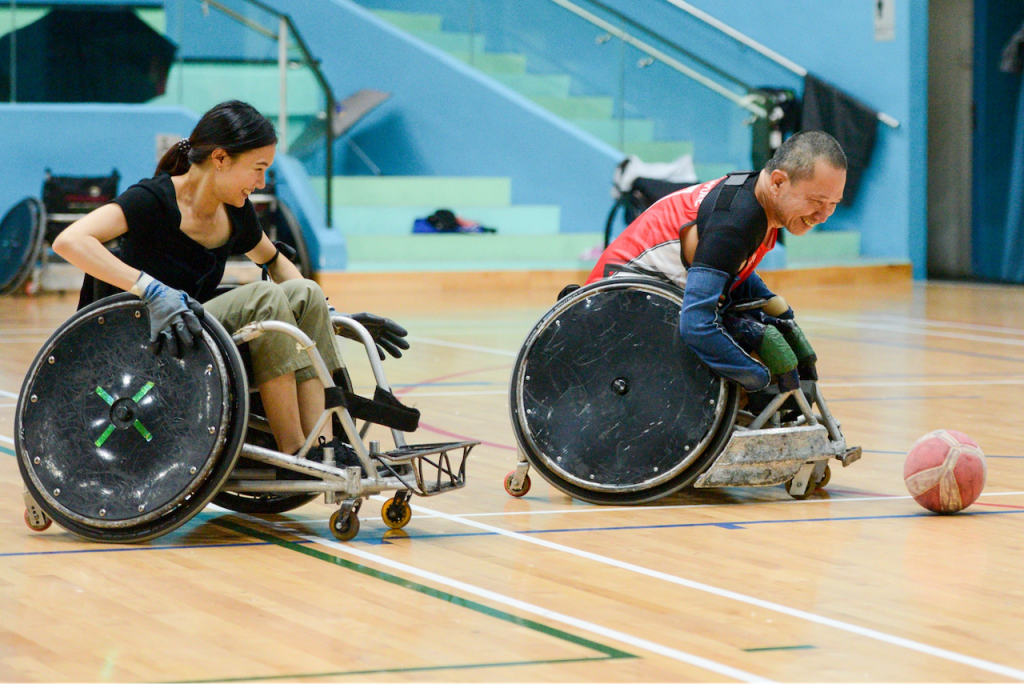 I can attest to the importance of finances in our training.
In 2014 and 2015, I was a recreational para-table tennis player and took part in local competitions. During our training, the physically disabled players couldn't pick up the balls that fell onto the floor. So the coaches from the Table Tennis Association for the Disabled spent a large sum of money to purchase two robots that helped to catch table tennis balls.
When I went down to the recreational training venue at Bedok a few weeks ago, I talked to one of the coaches, Francis To.
"Do you still have those robots to catch the ping pong balls?"
"They're not around anymore in the elite and recreational training venues. The robots were spoilt after several years but we've not replaced them."
Looking around, I saw that the players were training in the sweltering heat without any fan or aircon. There used to be fans when I trained at the previous recreational para-table tennis venue, Yishun Sports Hall.
My heart sank when I saw the impact on para-athletes due to the lack of funding. No money means no robots, no fans, and no aircon.
A Race Against Time
Para-shuttler Tay Wei Ming has been aiming to fulfil his dreams of competing in the upcoming Paris 2024 Paralympics.
Currently ranked #15 in the 'Race to Paris' global rankings, Wei Ming has to break into the top 8 to secure a spot in the Paris Paralympics. In order to push up his ranking, he has to compete and perform in more international competitions within the qualification period, which ends in March 2024.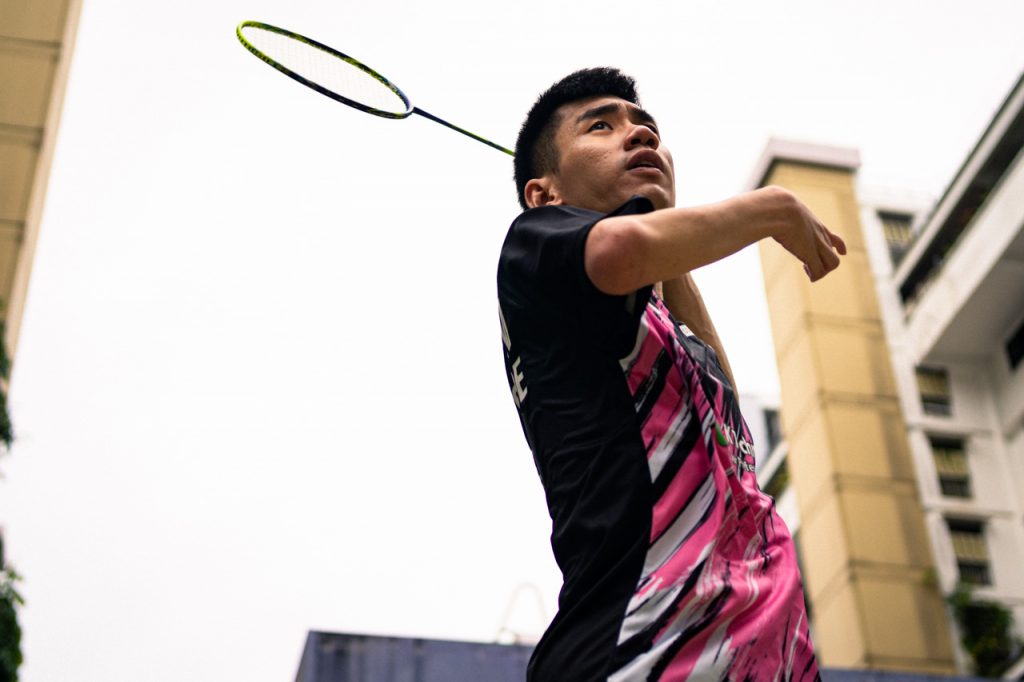 Initially, he had almost zero financial support to train and take part in overseas competitions after his six-year spexScholarship contract ended in 2020. The pandemic also meant that the budget of the scholarship organisation had to be cut. As travel borders were shut, no overseas competitions could be hosted, which meant no results for Wei Ming.
His mature age also presented some challenges in progressing as quickly compared to younger para-athletes.
No funding, no progress. Yet determined not to give up his Paralympic dream, Wei Ming had been contacting corporate companies to seek sponsorship support, as well as raising funds on Giving.sg platform to cover various expenses to compete overseas. These expenses include flight tickets, travel insurance, accommodation, and competition registration fees.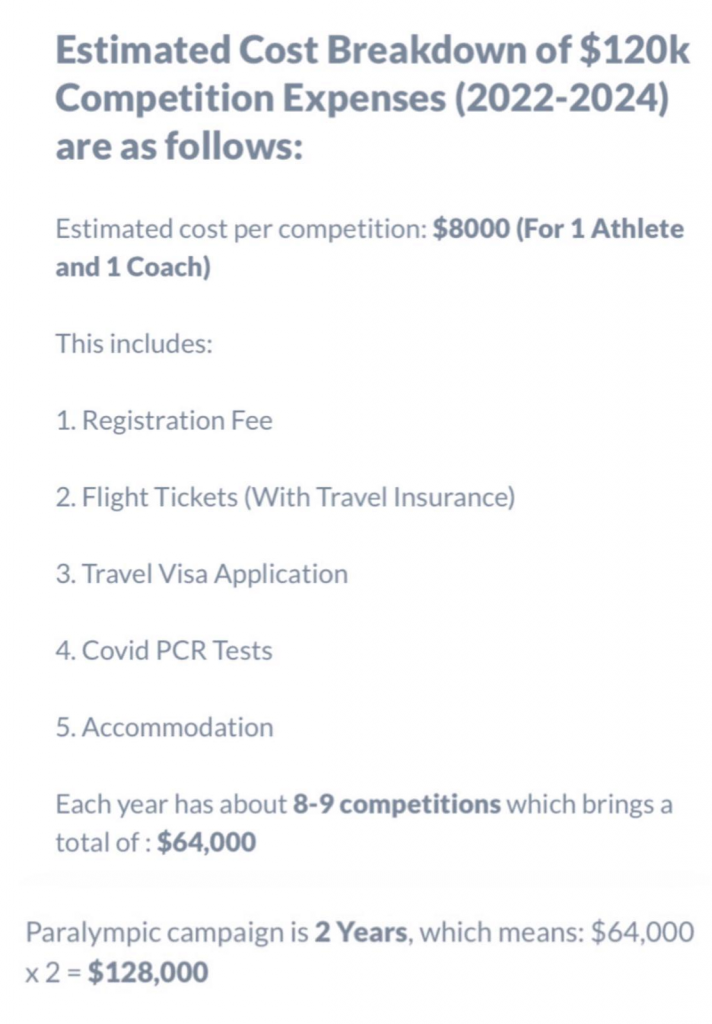 Currently, only half of the $80,000 goal (the projected budget for ten overseas competitions) has been achieved. Time is ticking fast—he has yet to raise funds for the remaining five competitions until March 2024.
"If I do qualify for Paris 2024 Paralympics, this will be the first time a para-shuttler will be able to represent Singapore in its history," he says.
The potential to make history is one thing. Getting more media attention and funding, however, will play a huge part in reaffirming his desire to represent Singapore on the global stage.
"It has been really tough for me to soldier on with limited government support," he says.
"But more funding from the public is definitely a moral booster and motivation for me to qualify for Paris 2024."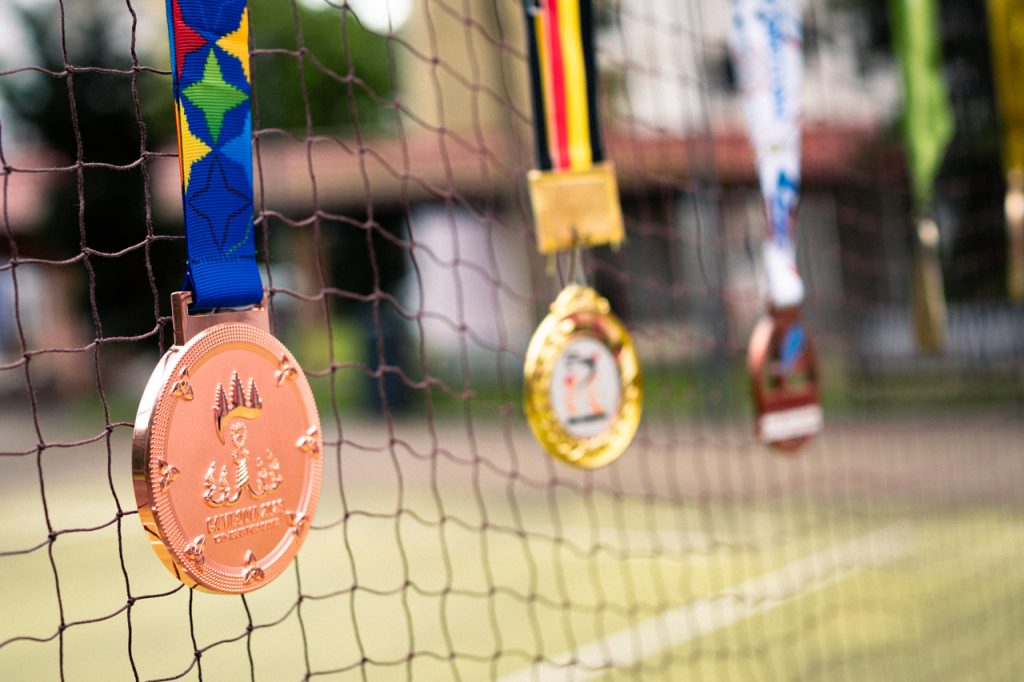 Beyond the Track
Wei Ming has thoughts on what can be improved for Singapore's para-sports community.
"Singapore's culture generally focuses a lot on academic excellence. Naturally, this means we focus less on sports. The pool of able-bodied athletes is small in Singapore, and the pool of para-athletes is even smaller!" he points out.
"Right now, we para-athletes have to deliver excellent results first before funding can be provided. But what we need now is funding to nurture young children with disabilities to excel in para-sports."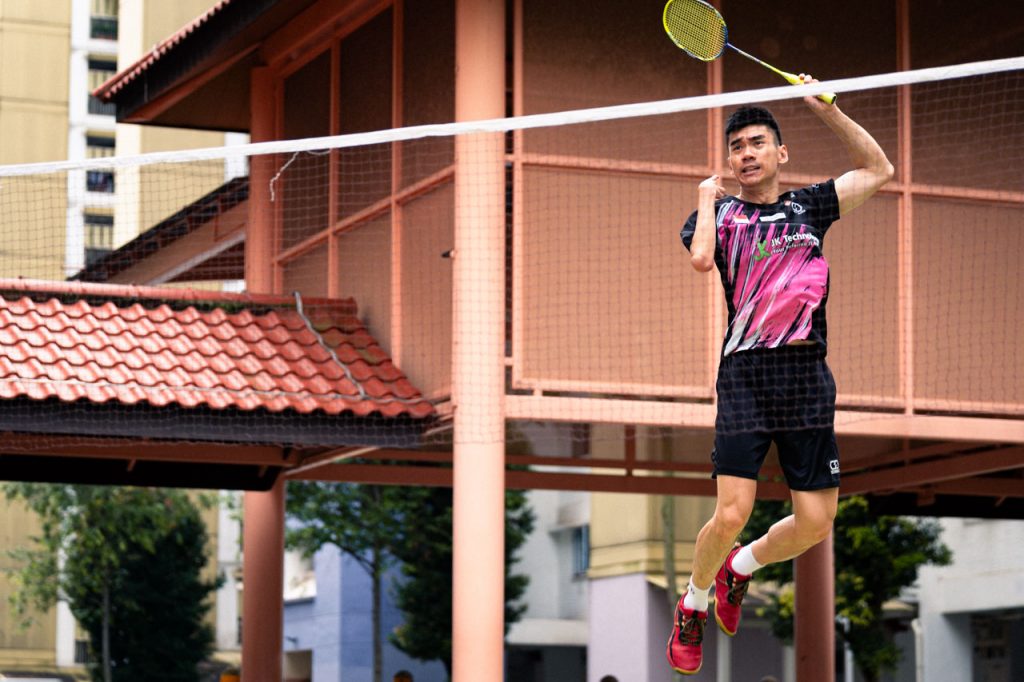 And he couldn't be more right.
During my childhood, there was almost zero media coverage given to para-sports, though I've heard about Yip Pin Xiu and para-swimming. But I can't swim due to insufficient strength and poor coordination in my leg muscles; I almost drowned in the water once. And I had never heard about para-table tennis, let alone other para-sports.
It wasn't until 2014, after I finished my GCE O-levels, when I first heard about para-table tennis. I decided to give it a try but stopped as I found that the sport wasn't for me.
Still, my heart broke when I saw that from a bustling pool of over 40 para-table tennis players in 2015, now there are only less than 20 players.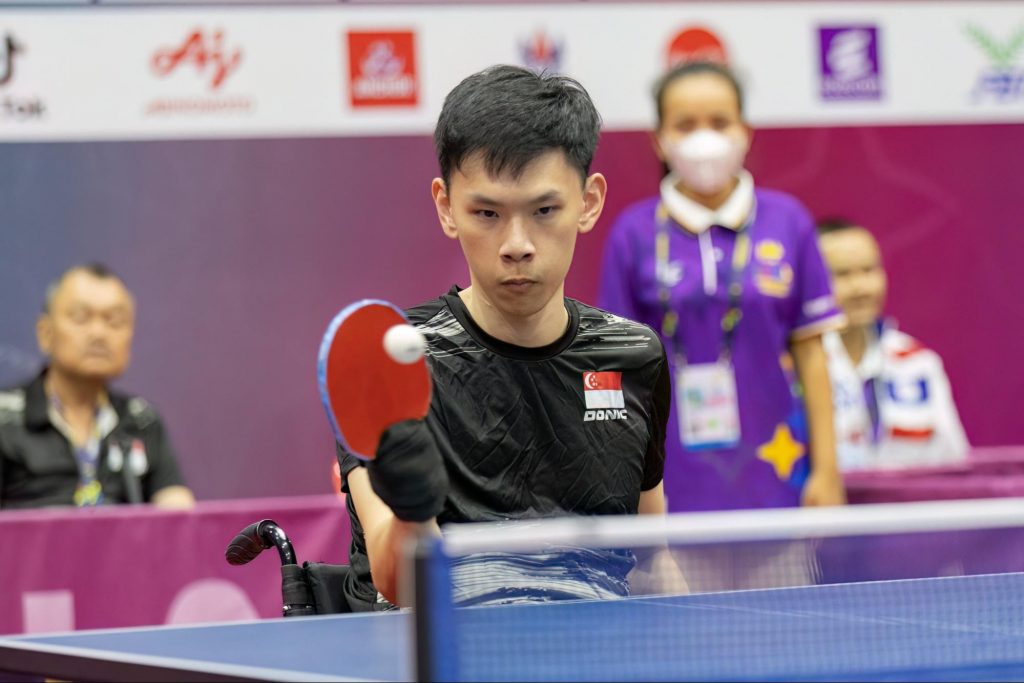 Granted, Yip Pin Xiu may never be able to beat Joseph Schooling's 2016 Rio Olympics 100m butterfly record of 50:39 seconds. However, para-sports aren't any less exciting. Some para-sports have playing fields that are almost on the same levels as able-bodied sports, including para-archery, para-badminton, and para-table tennis.
But maybe one young para-swimmer out there is training hard to hit 50:39 seconds. But is he or she training with well-qualified coaches, top-notch equipment, and the right infrastructure?
Young para-athletes need more funding and better training infrastructure to be nurtured into young para-sports champions. Yet at the same time, we need a larger pool of para-athletes to attract funding.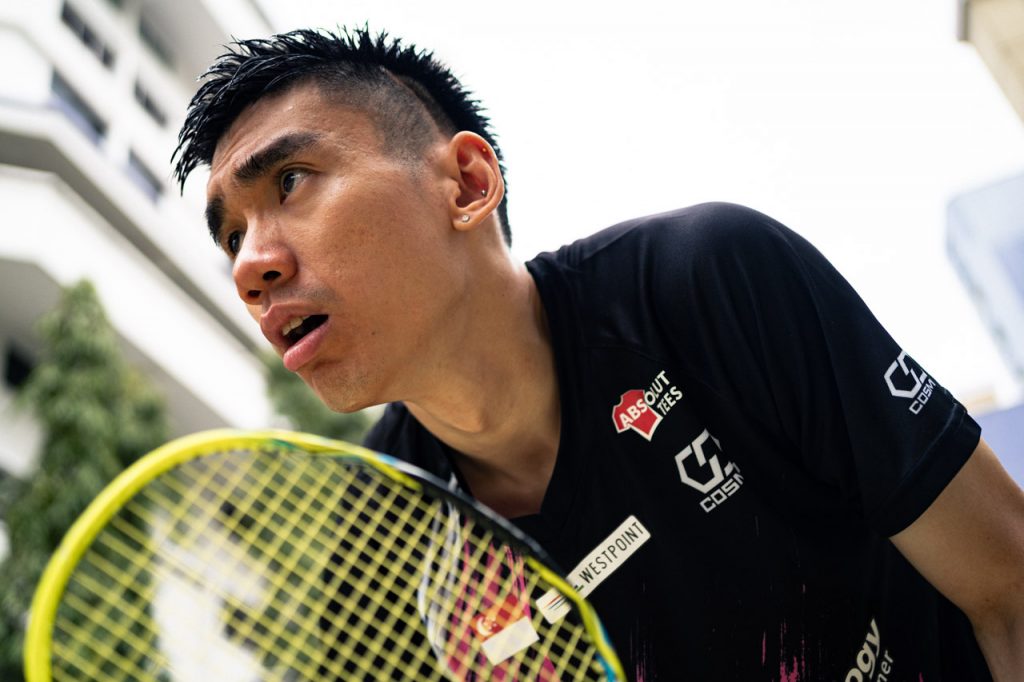 A Smile Runs a Mile
Juggling between challenges posed by our disabilities and a rigorous training schedule is exhausting for many para-athletes – both physically and mentally. While Singapore has no conclusive local statistics on the mental health of persons with disabilities, it is reported in the United States that adults with disabilities experience frequent mental distress five times more than adults without disabilities.
I used to feel drained after training. But my heart swells when able-bodied folks on the road come to me with a warm smile and compliment me on my achievements.
In the sporting world, physical ability and hard work are prized above all else. The disabled community might not have full control over physical attributes, but what we can do is train ourselves to push beyond our limitations. By showing what we can achieve despite our disabilities, we inspire others to embrace their own potential and break down barriers that limit their own possibilities.
Outside of the medals, awards and praise, what we seek is acceptance.
Showing support really helps any of us, able-bodied and disabled alike, to get through life's thunderstorms and scorching suns.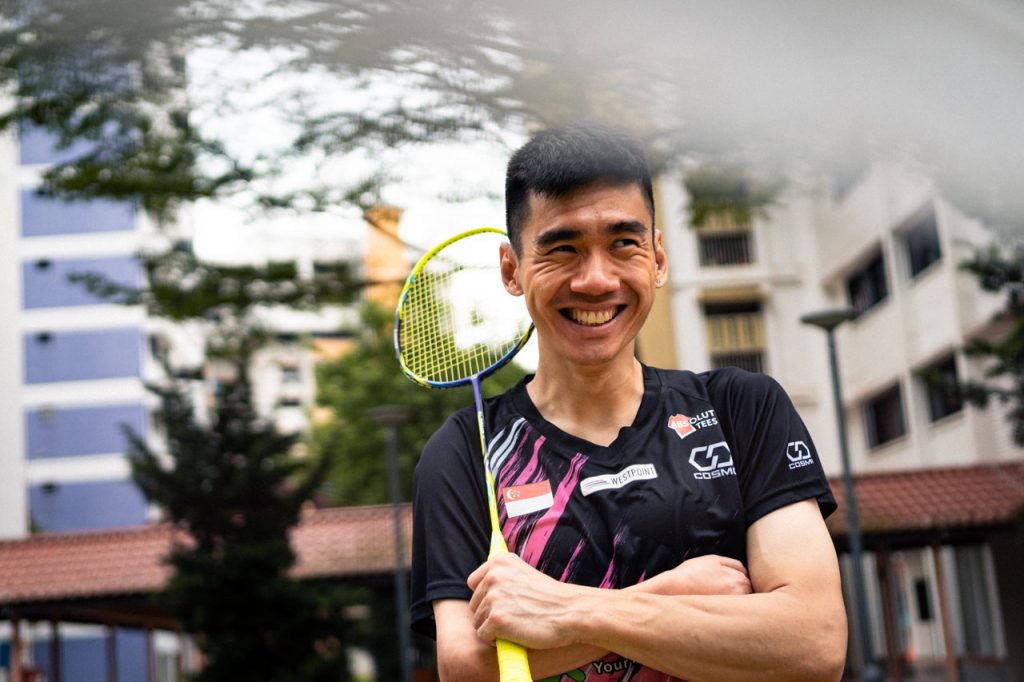 Will one year to the Paris 2024 Paralympics give us enough time to save some dreams?
It starts with getting to know our fellow para-athletes who may be (surprise!) our next-door neighbours. And reach a point where we can create an inclusive and supportive environment for our para-athletes to thrive and fly our Singapore flag high.
---
If you haven't already, follow RICE on Instagram, TikTok, Facebook, and Telegram. If you have a lead for a story, feedback on our work, or just want to say hi, you can also email us at community@ricemedia.co.