Love is a battlefield, and so is staking claims to seats. From MRTs to restaurants to polyclinics, finding a place to park your bum is a perennial Singaporean skirmish. This is no different at this year's Ramadan Bazaar at Geylang Serai.
This year's big bazaar will run for 36 days (the longest in its history), and it has already attracted over 2 million visitors. After years of laying low because of the pandemic, the mega pasar malam is bound to attract crowds.
But maybe there are just too many people, according to an annoyed man who complained on Facebook that there aren't enough seats at the bazaar for Muslims to break their fast in the evening. Specifically, he blames non-Muslim bazaar patrons for taking up the precious space.
Although this year's organisers anticipated even larger crowds with an extended 'rooftop' area, the problem remains. Unlike finding a spot to eat at a CBD hawker centre at lunchtime, the problem of seat-finding takes on a cultural and religious dimension at Geylang Serai's Ramadan Bazaar.
To rectify the problem, the man proposed that the bazaar's organisers put up posters to explicitly reserve seats for Muslims from 6:30 PM onwards to let them break their fast.
During the holy month of Ramadan, Muslims worldwide fast from dawn to dusk. Non-Muslims, however, may not be aware of the time to break fast. What the man wants is for non-Muslims to give way to the ones who are fasting. Even though it's very much a public space and everyone is entitled to the seats.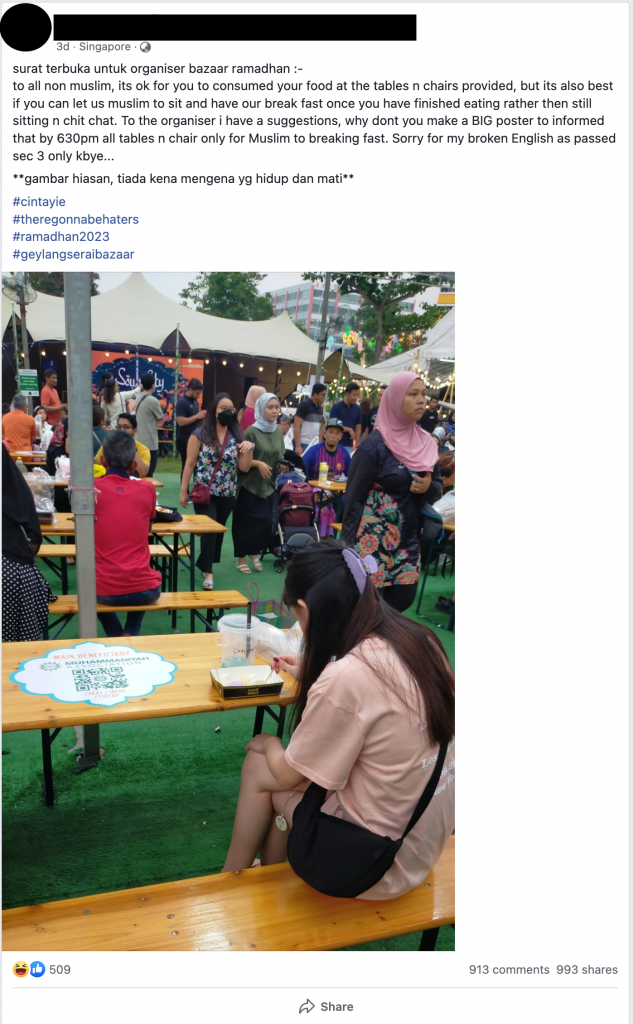 A Public Space
His post was met with mixed responses.
Some netizens claimed that measures were put in place in Kuala Lumpur to ensure Muslims in Malaysia were guaranteed seats to break their fast.

A netizen remarked that the extra crowd control inevitably raises the need for more manpower. Reminding non-Muslims to vacate the area in the evening requires security guards.
And more manpower means more financial resources needed. These potential costs, according to the netizen, would be likely to be passed on to customers and stallholders. With rental prices at Geylang Serai Ramadan Bazaar crossing past the S$25,000 threshold, hiring more manpower might deter stallholders from returning to Geylang Serai during Ramadan.

Sure, Muslim patrons can break their fast by simply sipping water and eating dates, but they would benefit from having the space to have a meal. It's written into the history of Geylang Serai's Ramadan Bazaar. The bazaar first started in the 1950s to cater to the needs of the Malay-Muslim community to get food to break their fast and shop for new clothes and wares in preparation for Hari Raya Aidilfitri.
While the bazaar has kept to its original purpose (despite silly rainbow-coloured fare), it has become an annual spectacle for all Singaporeans, regardless of ethnicity and religion. After all, the Geylang Serai Ramadan Bazaar is a public space where everyone is welcome to soak in the vibes of this Malay-Muslim festive season.
It would be unfair to expect anyone to give up their seats. It's akin to saying that public spaces should clear out non-Muslim customers at sunset for Muslims to break their fast.
That's not to say that non-Muslim Singaporeans should not exercise some civic-mindedness and cultural sensitivity during Ramadan. If it's near sunset and you've finished a meal at the bazaar, giving up your seat to those standing around would be more than welcome instead of lounging about.

Just Ask
Netizens also pointed out the photo that accompanied the suggestion for non-Muslims to vacate the seating areas at Geylang Bazaar. In the photo, a lone woman sits at the corner of a bench enjoying her meal, unaware that a photo had been taken of her. The rest of the bench remains unoccupied.
Of course, the easiest solution is the most straightforward one. They could have just politely asked for the seats if they needed them. Just plain communication instead of passive-aggressive online posts.
Netizens were quick to point out the passive-aggressiveness underlies his suggestions, going so far as to quip that its source was the well-documented phenomenon of being hangry. Would he be just as angry about something else if all the tables were packed with Muslim eaters?

It should go without mentioning that patience, self-control and empathy form extra emphasis for a Muslim's religious observation during Ramadan. Getting annoyed and judgemental doesn't seem very pious despite the well-meaning intentions.
Just ask.
---
If you haven't already, follow RICE on Instagram, TikTok, Facebook, and Telegram. If you have a lead for a story, feedback on our work, or just want to say hi, you can also email the writer at hykel@ricemedia.co or at community@ricemedia.co.