All photos by Marc Clarence Beraquit for RICE Media unless otherwise stated
The release of the sample count results, barely three hours after the ballot boxes were sealed, dashed Tan Kin Lian's hopes of winning the presidential race.
His 14 percent vote share in the sample count paled in comparison to frontrunner Tharman Shanmugaratnam, who garnered 70 percent. Ng Kok Song fared better than Tan Kin Lian, but not by much. Mr Ng amassed 16 percent of the sample count vote share.
Fairly accurate in their predictions of the results, the sample count tells candidates whether to continue holding onto hope or call it a night with a concession. Mr Tharman ended the night with 70.4 percent of the votes—a devastatingly decisive margin.
With a gap that large at the point of sample count, only a statistical miracle could save him. Mr Tan's hopes of actually occupying the Istana grounds (and turning it into a cycling haven) were already lost.
The only consolation was that Mr Tan amassed a larger vote share than he did in the 2011 Presidential Election. Although, position-wise, he remained dead last on both attempts.
The supporters, gathered in the living room of his private residence somewhere in Yio Chu Kang, emerge from the front door. Mr Tan leads the entourage, unfazed by camera flashes and questions from the media.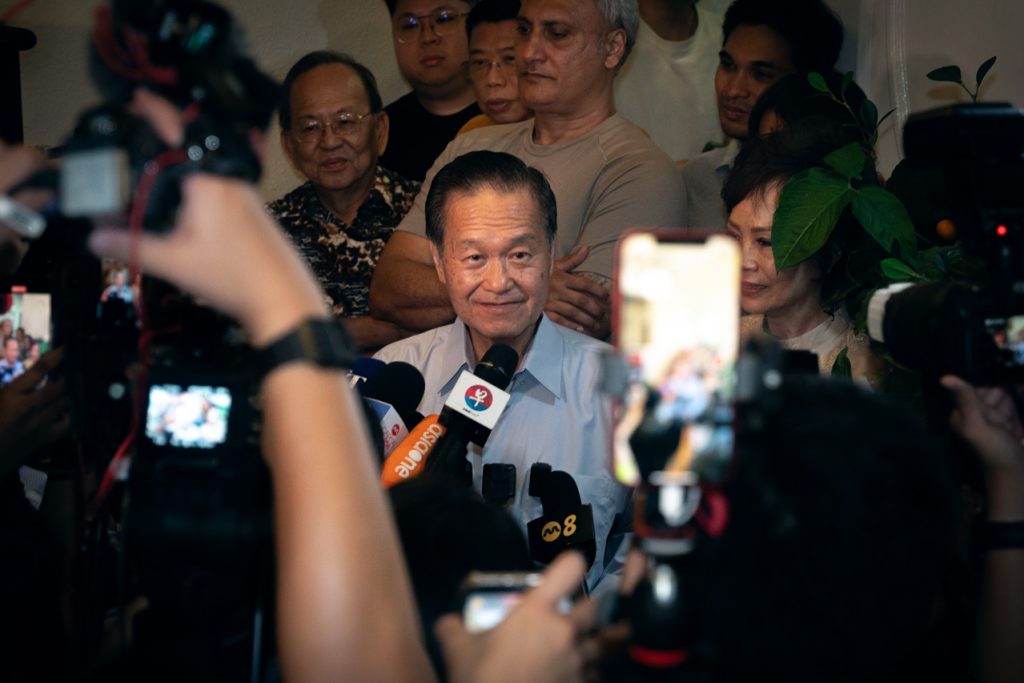 Anyone who followed the election coverage expected a concession, just as Mr Ng did. At that point, counting the votes only seemed like a formality for his strongest competitor. Mr Tan's presidential campaign was unpredictable; his response to the sample count was no different.
"I wish to send my sincere congratulations to Mr Tharman Shanmugaratnam for his success in this contest, and I am confident that he will be elected as President of Singapore."
"I will concede defeat when the final results are out, but Mr Tharman has certainly gotten an overwhelming lead as of now."
His wife, Madam Tay Siew Hong, could not stop smiling beside him.
The Black Sheep
The sample count had almost decisively declared to Mr Tan that winning the elections was now a mathematical improbability, unlike the underdog story he hoped for when he first threw his hat into the presidential race.
He stops short of conceding defeat, deciding instead to prolong the inevitable. It is an unavoidable conclusion some of his most ardent supporters could not take lying down.
About 20 minutes after Mr Tan responds to the sample count, Iris Koh emerges from the confines of Mr Tan's living room. She squeezes past the media to get to a buffet spread that had been set up for Mr Tan's friends, family, and supporters.
Iris Koh, the 47-year-old founder of anti-vaccine group Healing the Divide, is an ardent Tan Kin Lian supporter. She co-manages the Telegram group 'Tan Kin Lian for President', recruited volunteers to be Mr Tan's counting agents, and started a petition objecting to Mr Tharman's candidacy.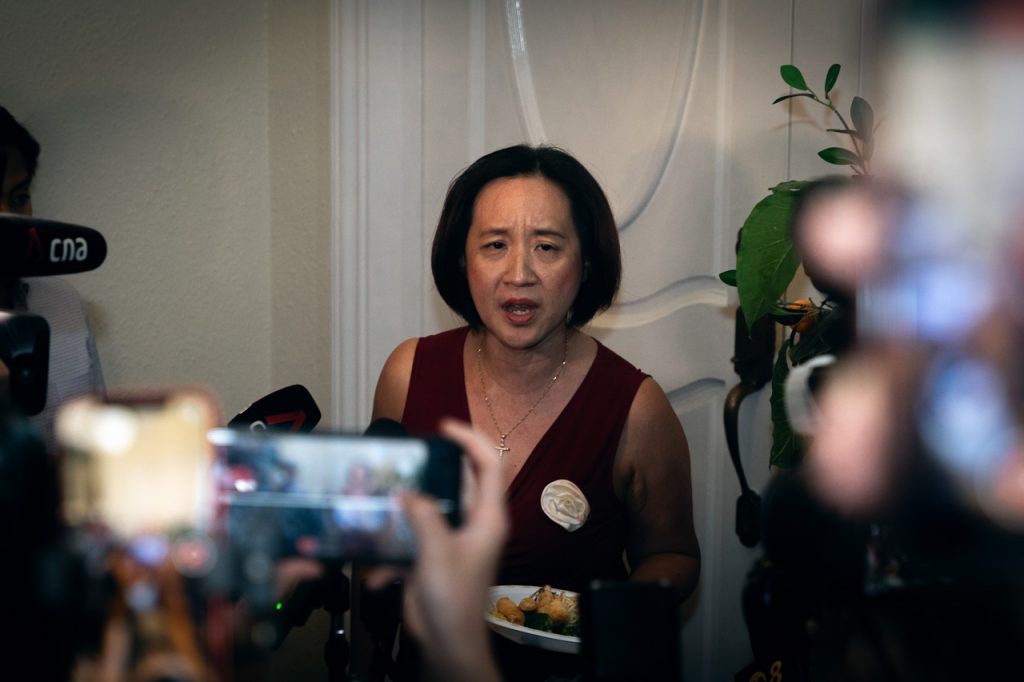 Media personnel seized the opportunity to ask Iris for comment. That's when hell broke loose.
Her response gathers intensity the more food she piles onto her plate. She did herself no favours, launching into a tirade that destroyed what remained of her credibility.
"You (the media) will destroy Singapore because there's no independence of press in this country," Ms Koh declares while helping herself to spring rolls, sweet-and-sour fish, and spaghetti. "Nobody is running negative news about the establishment."
She decides she's had enough spaghetti. She moves on to other dishes while continuing her takedown of the mainstream media.
"You keep painting negative pictures of people who are against the establishment and people who are speaking up. That's why we have the results today. And the mainstream media is 100 percent corrupt. You should all go home."
Her rant is met with restrained chuckles from members of the press. Iris appears to resent the media's refusal to run her story—she alleged in her petition that Mr Tharman was involved with "foreign entities."
Her allegations are a non-issue. After all, Mr Tharman, having spent most of his career as a minister in various ministries, would naturally be expected to build relationships with foreign organisations.
If she wanted a story, she got it. There was no doubt we would report about her diatribe against the media.
It Starts With Denial
The tirade only instigates more supporters to show their disapproval of the mainstream media. A supporter who was standing silently behind the hordes of media personnel gets riled up. Every so often, the supporter interjects with her opinions of the state of the press.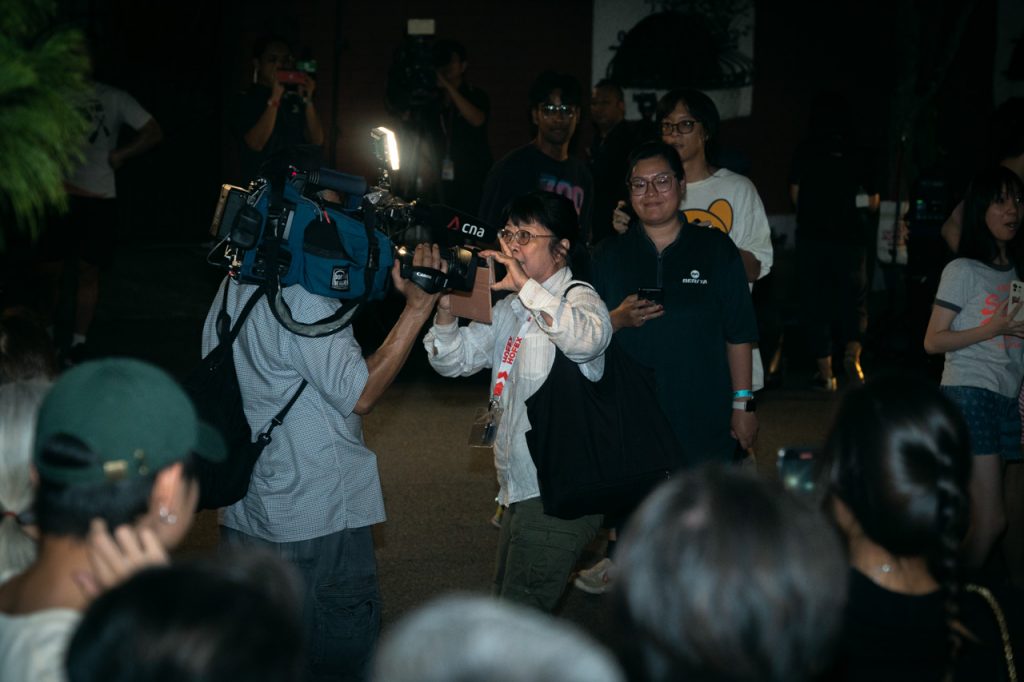 "CNA stands for Corrupt National Agency!"
Attention swerves to the supporter who stood right in the middle of the gates to Mr Tan's house. Unlike Iris, the supporter is less coherent in her rebuke of the media. She starts picking off anyone who unfortunately found themselves within a one-metre radius of her.
"This has been a very unfair election," Jennifer Tan, the supporter, tells RICE.
"Of course, [the mainstream media is] very biased. They write bad things and we pay them $900 million of taxpayers money."
The rhetoric about the mainstream media was frighteningly close to what you'd hear from Donald Trump supporters after he lost the 2020 US Presidential Election.
If anything, both Ms Koh and Ms Tan's rebukes of the mainstream media only made Singaporeans who voted for candidates other than Tan Kin Lian feel justified in their choice.
Paved With Good Intentions
It wouldn't be fair to base how the night went on the antics of Iris and Jennifer. Between their unhinged rants, the door stop was relatively uneventful. Journalists steeled themselves in front of Mr Tan's doorstep, waiting for his final concession before calling it a night.
Underlying the two tirades is the assumption that if media coverage had played nice with Mr Tan, he would have gotten a larger share of the votes. There's also the question of whether Mr Tan's controversial statements (on "blue-blooded" Singapore-born candidates and "pretty girls") even allowed the media to paint him in a positive light.
Given Mr Shanmugaratnam's overwhelming vote share, whether positive media coverage would have given Mr Tan a win was a separate issue altogether.
An autopsy dissecting Mr Tan's loss is called for by Iris and Jennifer. What was missing from the conversation at that point in the night was why supporters felt that Tan Kin Lian should have been president among the three candidates.
Not long after Jennifer disappears into Mr Tan's private residence, 74-year-old Ivy Singh-Lim pulls up to the house. She disappears into the house for a few hours before re-emerging to call it a night.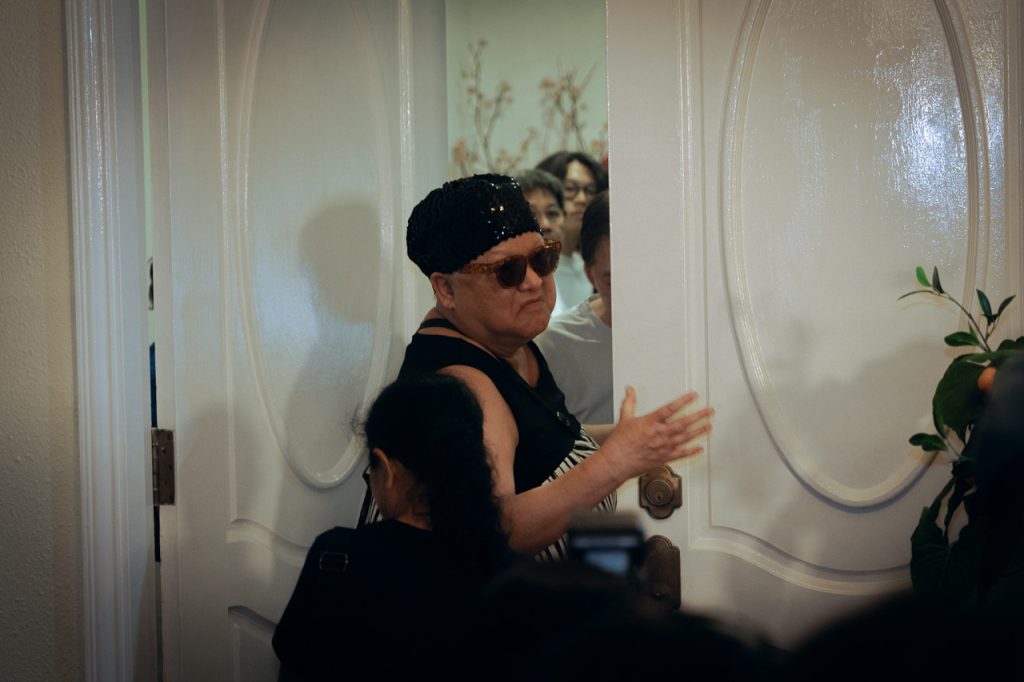 "When shit hits the fan, it will not be evenly distributed."
While Ms Singh carries noble intentions, how she expresses them would fall on deaf ears. Hidden among several personal attacks against Mr Tharman and the ruling party, she raises concerns about lower-income Singaporeans.
How To Lose With Dignity
Mr Tan's supporters start streaming out of his house. They struggle to find their shoes in front of the door while members of the press watch.
Judging by how the night had gone, approaching any of his supporters for comment would be a gamble. You're equally likely to be yelled at just as you would get a dignified comment.
71-year-old Freddy Neo, a former General Manager of NTUC Income, appears.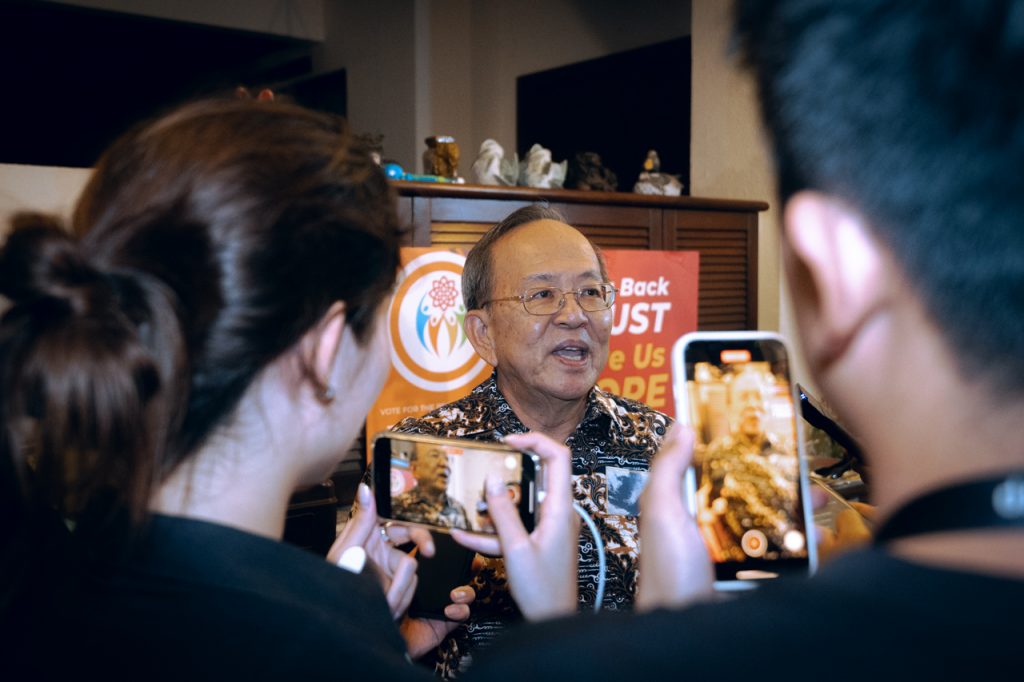 "I expected a bit lower, not 70 percent. I congratulate Mr Tharman. I hope he will be a good president," Freddy responds. "I'm here to give moral support because Mr Tan was a very good boss. I'm here to support my ex-boss and my friend."
"Mr Tan has more or less accepted the result. I gave him encouragement." His measured response was a fresh breath of air amidst the tension.
Campaign hustings can bring out the ugly sides of Singaporeans, even from the best of us. However, taking the loss in a less-than-dignified manner only makes voters feel retrospectively justified in their choice not to vote for Tan Kin Lian.
While his supporters don't represent Mr Tan, the association sticks. If he were elected as president, the same dangerous rhetoric his allies spout could erode trust in public institutions—even normalise the toxic arguments we gawk at now. There is political value in losing with dignity.
The Final Concession
A member of Mr Tan's team appears from the front doors to inform the media that the former presidential hopeful is resting. A final concession was unlikely.
Media personnel try to confirm whether Mr Tan would finally concede soon, but the answer remains the same: "He is resting."
At the very least, Mr Tan can be satisfied with the knowledge that he gave Singaporeans a choice. And we would not have known how strong a mandate Mr Tharman would have gotten without this presidential election.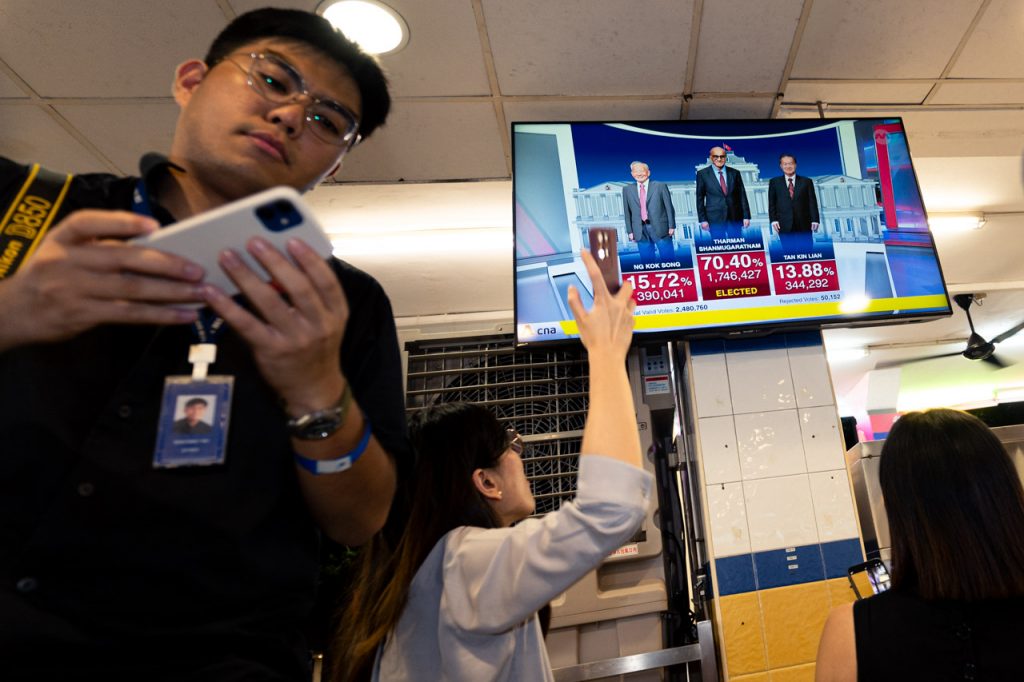 With Mr Tharman receiving an overwhelming vote share, it indicates that the former PAP veteran and cabinet minister had almost certainly achieved one of the main functions of the presidency even before the election: Being a unifying figure for Singaporeans.
We pack up our gear. It was clear, at least from his media team, that Mr Tan will not be making a reappearance. We depart for the office, remembering just how widely his wife was beaming, standing next to him after the sample vote count.
---
If you haven't already, follow RICE on Instagram, TikTok, Facebook, and Telegram. If you have a lead for a story, feedback on our work, or just want to say hi, you can also email the writer at hykel@ricemedia.co or at community@ricemedia.co.