All images by Zachary Tang unless otherwise stated.
I first heard about young singer Kira Peace a few days before her concert, 'Kira Rising,' which was held at Scape at Orchard Road in early November.
It wasn't her posts that appeared on my feed, but those of various TikTok users who said that they were going to attend the event just to troll her or to take advantage of the free drinks that would be provided.
Snce the day of the concert, several videos showing the trolls in action have started gaining views. One video, which has amassed close to 260,000 views to date, titled "What people would rather do than watch Kira," showed what various patrons did at the concert to mock Kira.
Some blasted music on their phones out loud while Kira was singing, some played mobile games, and others were seen scrolling dating apps.
Some attendees even threw glow sticks at Kira's face as she performed.
To be fair, a few users did come out to speak up against the trolls, although these videos are few and sparse. TikToker Wen writes: "I think those who went out of the way to be "satirical" in her concert are bullies" and that "putting her down like that is just tasteless."
With so much hate slung at her, I wonder how a girl so young has the courage to continue with her music career. She has since released a new song, Girl in The Mirror, and hosted another meetup.
Showing no signs of slowing down or being affected by the hordes of haters, I set out to speak to Kira to find out what exactly makes this teen, tick.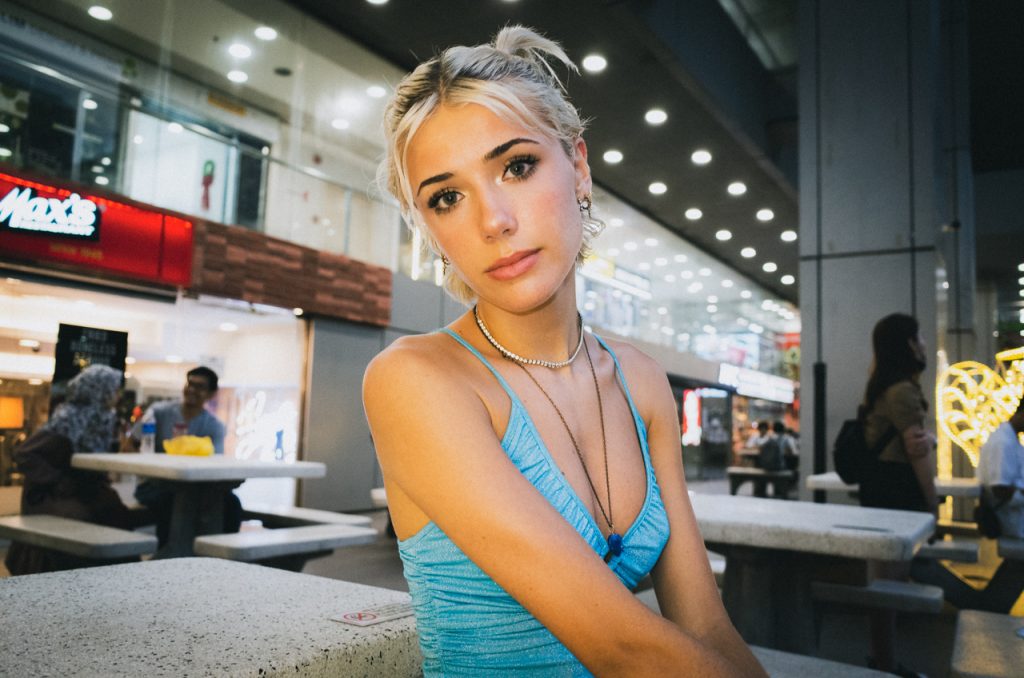 Meeting Kira
A few hours before our interview, it dawns on me that all I know about Kira is through TikTok, specifically, the handful of videos she made that have gone viral—mostly, for the wrong reasons.
En route to Zendyll Studios, where I'm scheduled to meet Kira, her sister Bianca, and her father Brian, I quickly start scrolling through her channel from the beginning—when she was about 15—tracking her transition from student to full-time singer.
In the past, her social media persona was confident and feisty. One of her most viral videos shows her writing her Instagram handle on a note, folding it, and giving it to a bartender in a bar. "The way she's so confident," one user comments. That soon gives way to content that is more wholesome and jovial, which starts being posted around the time she dropped out of high school.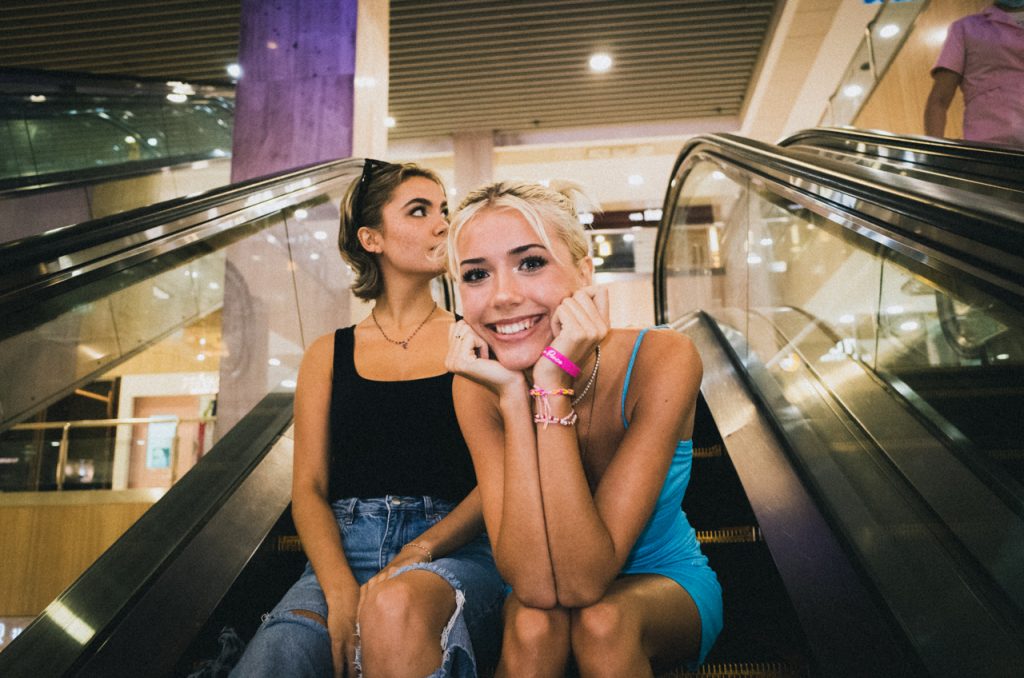 When I arrive at the studio, the girl I meet is surprisingly timid, sweet, and even a little nervous. Now 17, Kira's voice is childlike at times, reminding me of how young that age truly is.
The first story Kira tells me is about the first time she dipped her toes in the music industry, at only 12-years-old, when she recorded her first song and video titled 'Just Like A Movie' in Los Angeles.
For a child with a dream of singing, it was a fairytale come true. "I felt like I was in my own little bubble," she recalls as we chat behind a recording booth. The lyrics say as much: I feel like I'm ready to fly, moment of truth, do or die.
But upon returning to school after the shoot, her world came crumbling down.
She could hear all her classmates whispering about her song, and by recess, they were making fun of her to her face.
"Everyone was saying, 'oh, there's so much auto-tune. It's all fake. The music video sucks," she recounts.
She also remembers her classmates shaming her for casting a love interest in the video that was older than her—a thorny issue that comes up often in the music industry. It's especially relevant for Kira who has featured older men in her videos on multiple occasions.
"After that, I wanted to stop making music, and I left it," she confesses. "I was just really embarrassed because I thought I made something great, but not everyone thought it was great."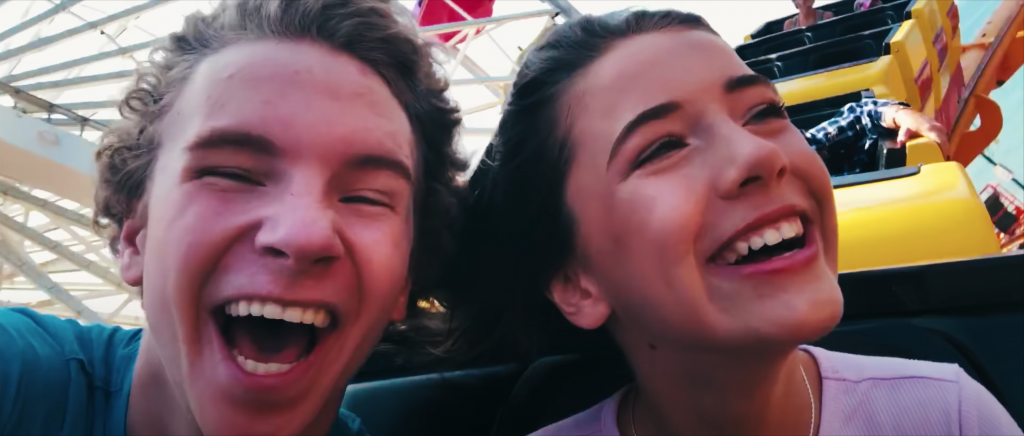 A Brief History of Kira Peace
When she turned 15, Kira decided to give music a second try, this time, using social media apps like TikTok to further her reach. It's also the time when users in Singapore may recall her sudden burst into virality after a series of videos she made caused a stir online.
One of her most contentious videos to date is a skit which starts with her in a fighting position and text on screen saying, "I'll fight off the hot boys in sg don't worry." She then turns around, shocked that no one is there to fight her, implying there are no hot boys in Singapore.
Users took this as Kira saying that Singaporean boys were not attractive, leading to an extensive backlash in her comment sections.
Two days later, she posted a video where she was surrounded by four boys who appeared to be both local and foreign models, with the text on screen saying she "was wrong" about the boys in Singapore. To some, this was her way of apologising for her previous videos.
In another TikTok, however, she asks "Sg ladies" to hit her up, while a song by The Weeknd with lyrics about a girl with same-sex attraction plays. Were her previous videos about not finding attractive boys in Singapore really about her questioning her sexuality?
By October 2021, a second round of hate started circulating after she wrote in a video that she couldn't wait to "leave sg". "CB can't even grow hair but can grow attitude ;)," one comment said.
In 2022, however, she posted both an original song about her love for Singapore on National Day, and a new video about being intrigued by boys in Singapore. "not what u was saying before," user 'seeing skz !! 💖' commented.
While Kira seems to go back and forth on her opinions from video to video, what remains constant is the unusually high amount of hate in her comment sections. When she cut her hair short and died it blonde, users called her a durian, Ellen 'Degenerate,' and even made jokes about her going through chemotherapy.
And although the handful of Kira's viral videos outlined above make her appear like a contentious personality, scrolling her TikTok profile in its entirety shows a very different person.
Considering some of her videos were made when she was as young as 14, her channel merely shows a regular teenager going through the various emotions and life phases of puberty. Her channel, like that of many Gen-z's, is a new age answer to the private diaries many used to keep and who have since gone out of fashion.
Most users online wouldn't see this spectrum, however, as social media algorithms are trained to boost specific videos with high engagement—which are, therefore, often contentious.
Echoing this sentiment, TikTok user Elliebabana's shared her thoughts in a video, wondering about the hate Kira received: "I literally don't get the hate around Kira Peace? When I was in secondary school I also complained a lot about sg on social media. I was just too ugly to post my face online so my comments didn't blow up. She's just a kid chasing her dreams? Her confidence and enthusiasm is contagious sia makes me wanna print my face out on a shirt and give my ahma ahgong."
Kira's sister, Bianca, also explains to me how many of her videos are taken out of context. She uses the video about Kira wanting to leave Singapore as an example.
"This video was actually made a few days before we were going for a family trip to Amsterdam," Bianca says. "Kira was just excited to go on holiday, but it was taken out of context."
Dropping Out of School
When we sit down, Kira tells me why she left the Stamford International School in June this year, two years away from graduating, to embark on her singing journey full-time.
While it wasn't her original plan, it became increasingly hard to balance both performing and studying in an environment Kira describes as highly toxic.
Kira recalls how she was constantly bullied and tells me how kids would ambush her in her school hallways, singing her songs out loud to her, and trying to embarrass her.
"A lot of my teachers and friends were very concerned with this choice [to leave school]," she continues. "They were like, is she just being an irrational teenager?"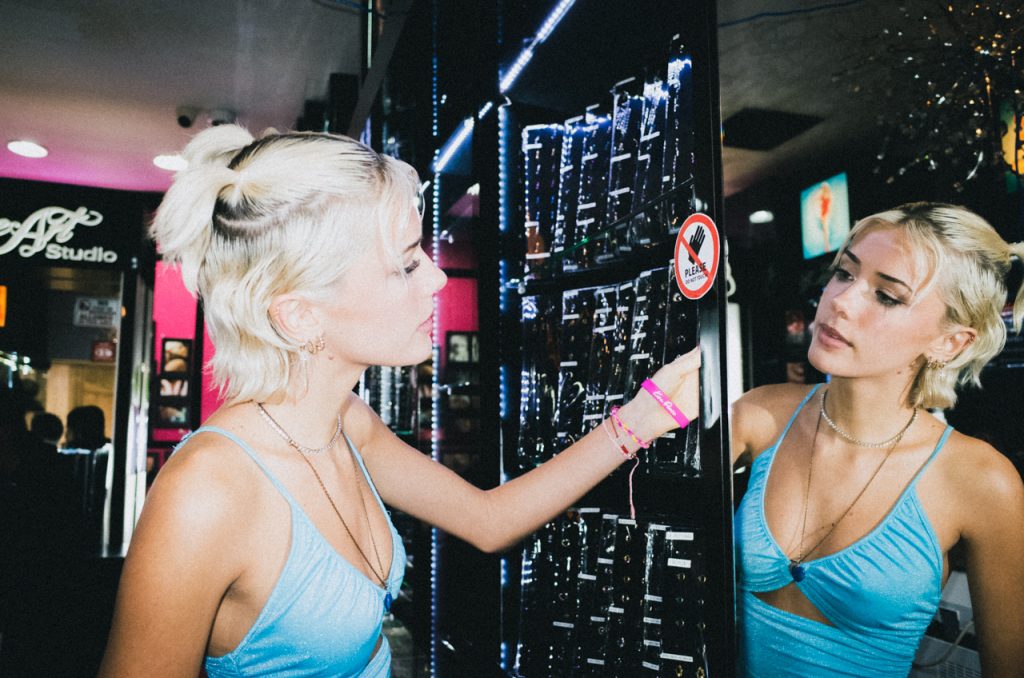 "Thankfully, my family has been very supportive, but many people like to comment about it and say, oh, just go back to school. But I'm very happy with the choice I made now."
Age is a recurring hurdle for Kira. On top of being called an unreasonable child for wanting to do music full-time, her fan base, who are mostly between 12 and 15 years old, is also weaponized to illegitimize her career.
"Because most of my fans are younger than me, people see them as just irrational kids," she says with a shrug.
Social Media, Misogyny, and the Sexualisation of Young Girls
While only Kira can comment, explain, or apologise for her videos that were received poorly, how she has been dragged online says a lot about what it's like to grow up in the age of social media.
Being a teenager before social media existed was vastly different, but I'd say the same for older Gen-Z's and millennials who grew up with a very different type of social media than what we have today.
In the late 2000s and well into the 2010s, platforms like Facebook were centred around connecting individuals that know each other. In essence, people engaged with the content of people they knew in real life or who were extended connections.
Today, with apps like TikTok and the invention of algorithms, the focus of social media has shifted from connecting to entertaining. This means that algorithms work to give a user content they will enjoy and engage with at any cost and deprioritise whether you know the creator or not.
For a teenager posting online, this means their streams of consciousness won't be seen by their family and friends exclusively but by the entire world. Society must grapple with whether this is fair for all users, including kids and teenagers, who use these apps without yet understanding the consequences and digital footprints.
Furthermore, this unprecedented exposure Gen-Z's are receiving is significantly more harmful to women and girls. Kira tells me that most of her haters are boys, men even, and that she often sees comments about her clothing, style or appearance.
In an age when young women are particularly predisposed to eating disorders—and largely because of social media—I wonder what the long-term consequences of growing up with this level of attention, and hate, will have.
For now, however, Kira appears to be unbothered by the comments.
"I do wear colourful things, and I like to wear crop tops and things like that," she says. "Some people don't think that's very appropriate for my age, but I think it's cute. So that's all that matters."
This cheerful approach may be what has kept her fanbase growing while the storm continues online. Her last 'Kira Meetup' attracted queues before the show, which led to a venue packed with dedicated fans throughout her performance. They even helped her film a sarcastic TikTok, which begins with Kira saying that no one came to the launch of her new song. "Just kidding," she continues, before panning the camera to her audience of cheering fans.
A Dream That Begs to Be Chased
Kira grew up moving countries every few years. She's lived in France, Thailand, India, Indonesia, and Singapore. Unfortunately, as a third-culture kid, she doesn't have a support network outside of her family in Singapore. "I still have friends, they are just far away," she assures me.
It's no wonder family plays a big part in shaping Kira's identity. It shows in how close-knit Kira and her sister, Bianca, are. Many times throughout our conversation, I noticed Kira looking up at her for reassurance before finishing her sentences.
From behind me, Bianca gives her a little nod of validation.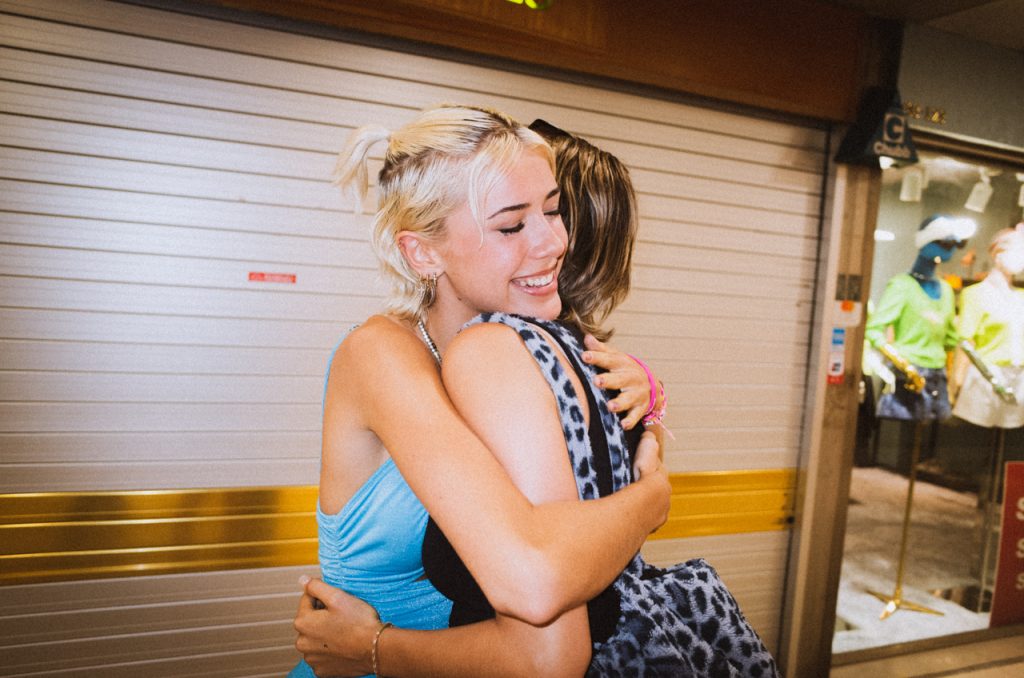 Her family is also the reason why she can do what she does today—her father supports her financially and handles all the logistics of being a musician, while her sister handles her social media accounts and assists with her projects.
While Kira is in a position of immense privilege, it is hard to see her entire family banding together to help her chase her dream as anything but endearing and heartwarming.
When I ask Kira how she deals with the hate she receives, she tells me, "I try not to read any of the comments. And if I ever need to, I talk to my older sister. She's sweet, helps comfort me, makes me laugh, and is like my twin."
Her dad chimes in when we discuss the criticism. "I like the analogy of, you know, if you are in a lift, would that person say the same thing to you, to your face? Probably not."
"They'd probably be a very shy person that's sitting at home."
What her entire family has, from her sister to her father, is a positivity that is infectious and essential to survive in the vicious industry they are entering. It's the only explanation for why a girl who is so young, and who has received such colossal amounts of hate, still does what she loves most.
Curious about what keeps her going, I ask her if it has all been worth it so far.
"When I have my Kira meetups, and I meet a true fan, I feel like the luckiest girl," she responds. "For so long, I've been doubting myself and asking myself if anyone will show up. But every time, I'm proven wrong."
---
If you haven't already, follow RICE on Instagram, TikTok, Facebook, and Telegram. If you have a lead for a story, feedback on our work, or just want to say hi, you can also email us at community@ricemedia.co.