Top Image: Zachary Tang / RICE File Photo
Foodies love Shafiee from Fiie's Cafe at Lucky Plaza. Shafiee, on the other hand, tolerates them with a grumpy glare.
In a recent interview (or rather, a reluctant chat) with 8days, the man—branded 'Lucky Plaza's rudest nasi ayam goreng seller'—explained his gruff attitude towards paying customers. "To be honest, it's 'cos some people are idiots. There are some very entitled customers out there."
"If they want service, go to Jollibee," he added, referring to the fried chicken chain next to his eatery.
Where Jollibee offers Chickenjoy, Shafiee offers the opposite. The mean plate of fried chicken and rice comes with mean glares and brash instructions—sometimes even yelling at customers who don't follow the eatery's unspoken SOP.
It couldn't be clearer that customer service doesn't top his list of priorities. In a way, it is understandable. Especially if you, like Shafie:
(a) Recently inherited a family business that's been in existence for over two decades
(b) Have to deal with rising rent without raising the price of food
(c) Have to deal with Singaporean customers
(d) Your work day starts before 6 AM
Still, like all gems, diehard fans exist. Among the 1,700-odd comments on the article were plaudits from customers, many of whom seemed happy to be on the receiving end of Shafiie's wrath, or at least mentioned they didn't find him that rude.
One wrote: "Although he may look grumpy, he's really a very nice guy to talk to when he's free."
Another commenter was a little more colourful: "It's a pretty straightforward deal, you pay, he give you the food. Go eat and bye bye [sic]. Some of y'all want him to rub nipple cream on you or what?"
And then there are the customers willing to work around Shafiie's quirks. One said she made it a point to memorise her order in advance. Despite the occasional tongue lashings, she and her colleagues have been patronising the stall for years, she said, adding, "We must be crazy!"
Crazy, sane, or something in between, it does point to a larger pattern of food habits. At some hawker joints and eateries in Singapore, the scoldings are almost like a package deal, and yet we keep going back like the masochistic gluttons we are.
Do grumpy hawkers make the best food? Or do we live with grouchiness because we can't resist their food?
A Meal Worth the Scolding
Singaporeans queue for hours just for a meal. What's a little rudeness compared to that?
If you need any evidence that we're really in it to satisfy our taste buds (and not our ego), look no further than this Sethlui.com listicle titled '8 Notoriously Grumpy Eateries That Singaporeans Still Go Back To Queue For'.
On the ever-popular crystal dumpling purveyor Tiong Bahru Lien Fa Shui Jing Bao, the writer noted that orders are brisk despite the owner's "constant annoyance towards the loyal-est of customers".
Over at seafood joint Eng Seng Restaurant, staff are said to be "obnoxious" and often forcefully chase customers out at closing. A recent Google review describes the staff as "mildly friendly", though, so we're not sure if they've mellowed out since the 2015 article.
But the alleged bad service doesn't seem to affect how well the restaurant is doing. In fact, it's a "testament to just how good the pepper crab is and how much abuse Singaporeans are willing to tolerate for good food", says the writer.
On the other hand, cantankerous hawkers whose food hasn't garnered rave reviews don't exactly get the same love. I mean, of course not. Why tolerate shit service if all you get out of it is shit food?
We Know They're Past The Bullshit
If there's one thing a hawker isn't, it's a huckster. They let their food do the talking—no airs, artificial niceties or viral XMM-pointing-at-things marketing needed.
In a world where nearly everyone wears literal and metaphorical masks, the unadulterated authenticity is refreshing.
What you see is truly what you get. And most of the time, it'll be a makcik who scowls at you when you stumble over your lunch order but still presses an extra begedil into your rice when you come back the next day. It's true love that's what it is:
Most of the time, their grumblings simply add colour to our days.
In a way, their tough love can feel almost parental. After all, mealtimes at home are when the scolding and berating always happen. If you've ever had a cai fan hawker nag at you for skipping the rice ("It gives you energy!"), you'll know what I mean.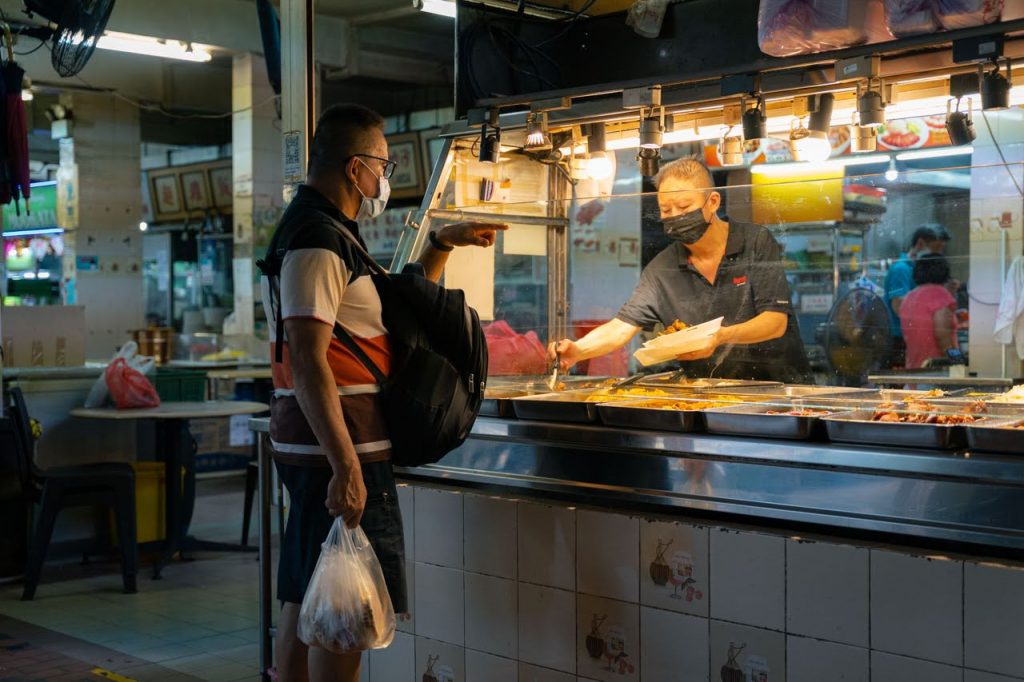 They're Not Actually That Mean, Right?
Most of what people label as 'bad service' can be subjective. Sometimes it's simply a hawker trying to keep things running smoothly.
Just take Shafiie as an example. He has strict rules on queueing and ordering before finding a seat, and will not hesitate to snap at errant diners. But he told 8days that the strict system was devised after previous diners at the eatery threw hands over some seats.
Take another example. Famously fierce Tham Lay Mon of Wah Kee Big Prawn Noodles at Pek Kio Food Centre actually has a soft heart. She barks at customers to keep them in order as people have slipped or dropped boiling hot soup on others before, she told TODAY.
And let's not forget that their work is backbreaking. You'd struggle to plaster a smile on your face too if you had to wake up at 3 AM to open your drink stall, or churn minced meat by hand at 5 AM, or chop up entire batang fish on the regular. You get the point.
But as much as we tolerate bad vibes for good food, the distress can be valid sometimes. Take the chicken rice hawker who was called out for rudely rejecting a customer's Community Development Council (CDC) vouchers.
A glance at the Facebook reviews of Shafiee's shop also reveals that the man does need to lighten up a little. Not that he cares about what people say about him, according to the 8days story.
Rude or Just Straightforward?
Our hawker's no-nonsense behaviour and lack of tact might come off as rude to the uninitiated. But I think it's simply a quirk that most of us have come to love.
And while our hawkers certainly aren't as misunderstood as Hong Kong's famously rude and unfriendly service staff, they've built something of an endearing reputation for customers who've never been let down by the food.
There's even a science behind why we seem to seek out rude hawkers. Matt Johnson, professor of psychology at Hult International Business School, told Vice that pleasant surprises release dopamine, also known as the happy hormone.
Say a hawker barked at you while you were ordering your laksa. That would presumably leave you with low expectations for the food. If your bowl of laksa exceeds expectations, however, you'll get a dose of dopamine. Thus the urge to keep coming back for more. The price for pain, in this case, is pleasure.
Some also endure the rough treatment for the hype, said Dr Ramani Durvasula, the professor of psychology at California State University Los Angeles. When we hear others recalling an experience at Fiie's Cafe—where they absorb hostility for the goal of good food— it embeds a sense of morbid curiosity.
Lucky us. Instead of booking a seat at a gimmicky restaurant that markets its awful service, all we need to do for that dopamine hit is to head to our nearest kopitiam. You don't even have to pay a service charge.
---
If you haven't already, follow RICE on Instagram, TikTok, Facebook, and Telegram. If you have a lead for a story, feedback on our work, or just want to say hi, you can also email the writer at kim@ricemedia.co or at community@ricemedia.co.