I'm at the basement galleries of the National Museum of Singapore, weaving in and out of the 15 installations that are the finalists of the 2018 Asia Pacific Breweries (APB) Foundation Signature Art Prize, organised by the Singapore Art Museum. In one, a video installation shows a group of sleeping people getting covered with the droppings of migratory birds. In another, Vietnamese children live in a rural, adult-less, make-believe world. And then there's what looks like a giant, shiny arrow pointing towards the sky in the middle of the exhibition space.
Needless to say, art, and specifically, contemporary art, is often incomprehensible and strange. But perhaps it only appears so when you view things on the surface without going any deeper. Much like accepting the status quo or listening to one side of a story without investigating the other, we deny ourselves access to knowledge and progress when we do so.
This applies in real life as well, such as in the acceptance of dominant narratives as truth, and in the quashing of minority voices, either willfully or out of ignorance.
Let's go back four centuries to rural Vietnam where Alexandre de Rhodes, a French Jesuit missionary, has just set foot in the country. In his travels, he recorded his observations of rural life in provincial Vietnam (now considered a historical document, titled 'History of the Kingdom of Tonkin'), and eventually developed a Romanised Vietnamese alphabet before writing the first trilingual Vietnamese-Latin-Portuguese dictionary.
While this new Romanised script raised literacy among the people, it also allowed for the widespread dissemination of Christian ideologies over traditional folk religion. It even replaced the original Vietnamese script as the dominant written form, rendering the population's youth unable to read their country's old literature.
Yet the French missionary remains a Vietnamese hero.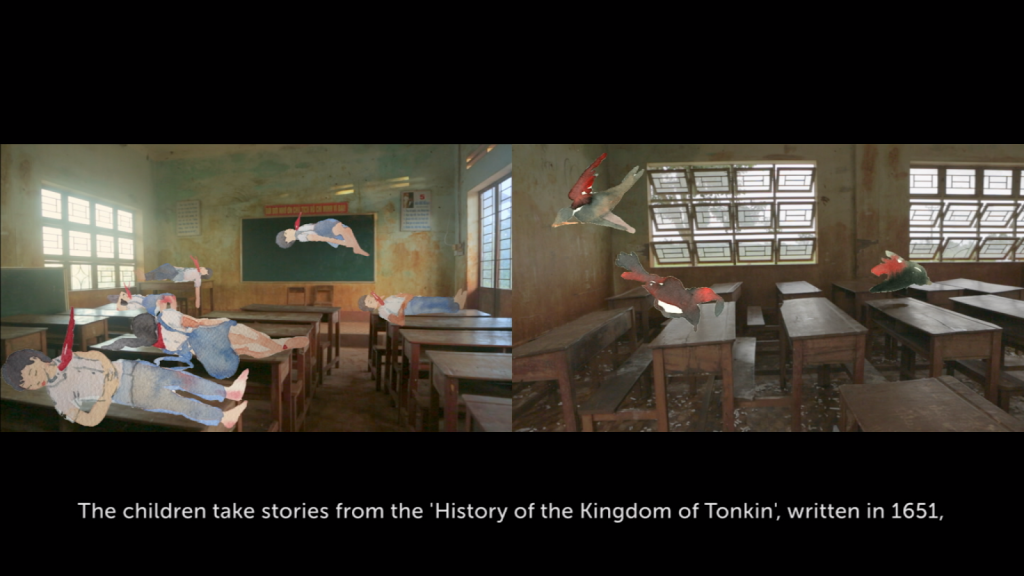 Phan Thao Nguyen, a young Saigon-based artist who bagged the grand prize at this edition of the APB Signature Art Prize, sought to challenge this image.
"We Vietnamese tend to assume that Alexandre de Rhodes is the father of Romanised Vietnamese … However, during my research on Romanised Vietnamese, I learnt that de Rhodes could not be considered the father of this script, as there were many before him. Francisco de Pino for example, and other Vietnamese missionaries who contributed to the complete Romanised Vietnamese script," she told the Hanoi Grapevine.
"When something occurs, we need to reassess it to see what is the truth, and each person, observing the issue through their own lenses, has a very different perspective from one another."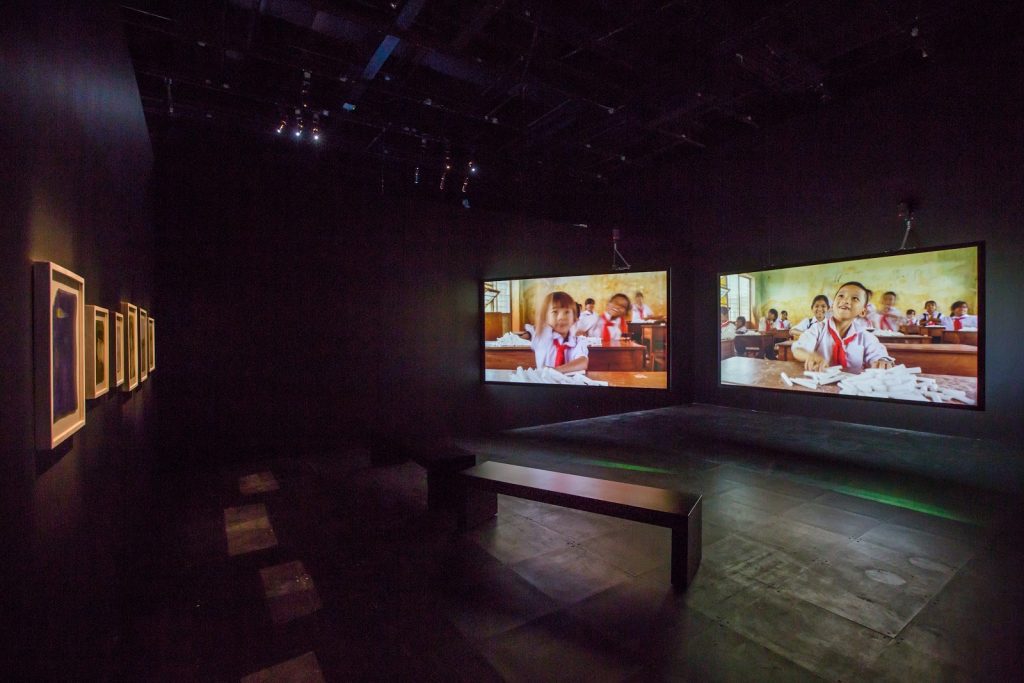 Her artwork, "Tropical Siesta", comprising of a series of paintings and a 14-minute film, invokes alternative perspectives of Alexandre, and reclaims national narratives for themselves. The children that populate this imaginary world recreate Alexandre's historical depictions of 17th century Vietnam. They attend a school named after the missionary, and study only his texts, deprived of other memories and records that have been locked away.
Over the course of the film, they reenact, transform and manipulate the contents of Alexandre's records—from brutal punishment methods to a morbid folktale of a water goddess that had drowned—oblivious to the darkness of their enactments.
An artwork like "Tropical Siesta" nudges us to explore our history, and awakens us to issues we might have never considered before.
Likewise, in Chikako Yamashiro's "Mud man", a 3-channel video featuring a community of slumbering people, who are only awakened when a bird drops poems (embedded within seeds found in bird poo) onto them.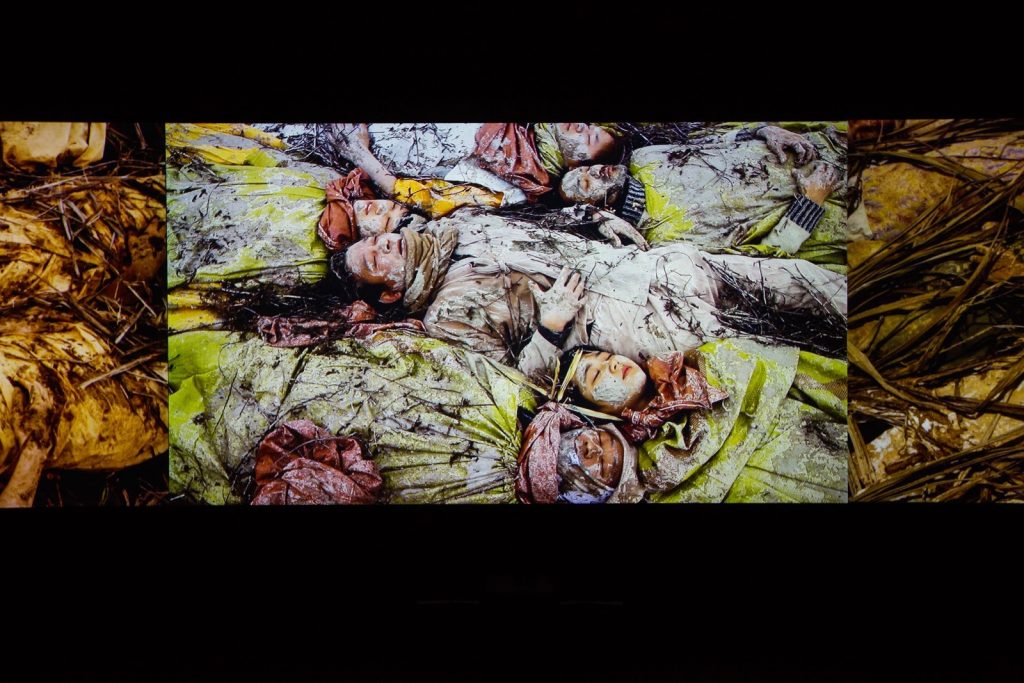 As the people pick up the clumps to listen to the voices within, they hear and begin to recall, and to recite, poems of their history, nature, and other similar communities. The artist says, "When we think about what kind of future we should choose for the next generation, and considering how we can survive as a species, we need to know memories of the past and our history."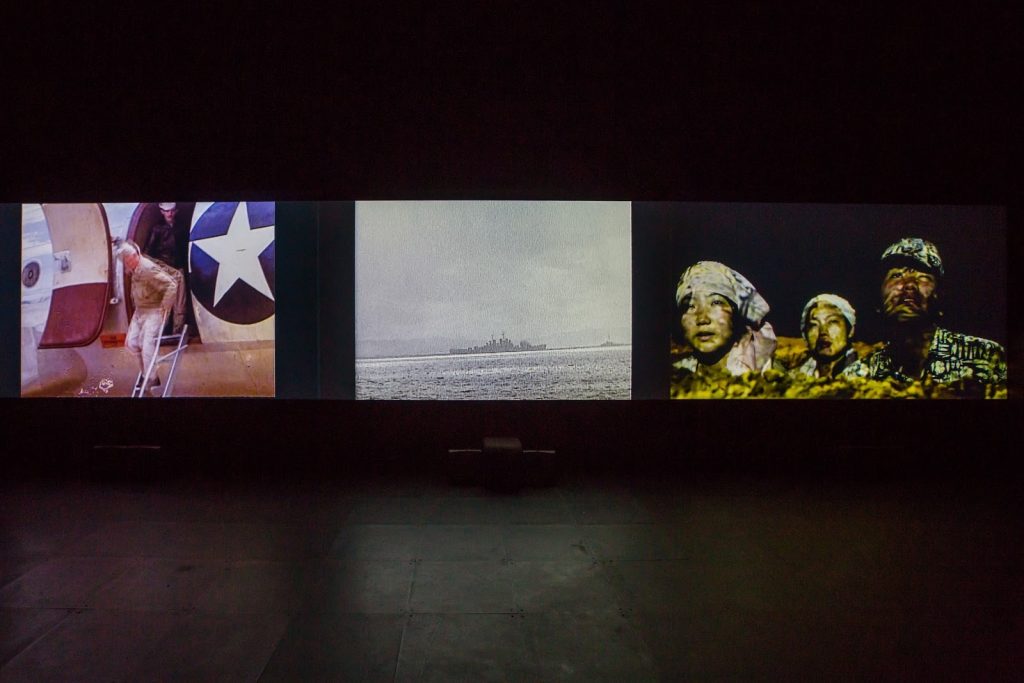 Inspired by the resistance of Okinawans against the building of an American military base on their land, her work also highlights the continuing social and political tensions experienced in her native Okinawa. The work explores their position as minorities in their own country, addressing cultural identity and geopolitical issues that arise from the fact that they used to be an independent kingdom prior to its formal annexation by the Japanese Meiji government in 1879.
"Mud man" shines the light on these often overlooked or forgotten narratives in Japanese history, while empowering them with a voice and visibility—a luxury not many can afford; certainly not the marginalised Māori women that are the subject of Mata Aho Collective's "Kaokao #1".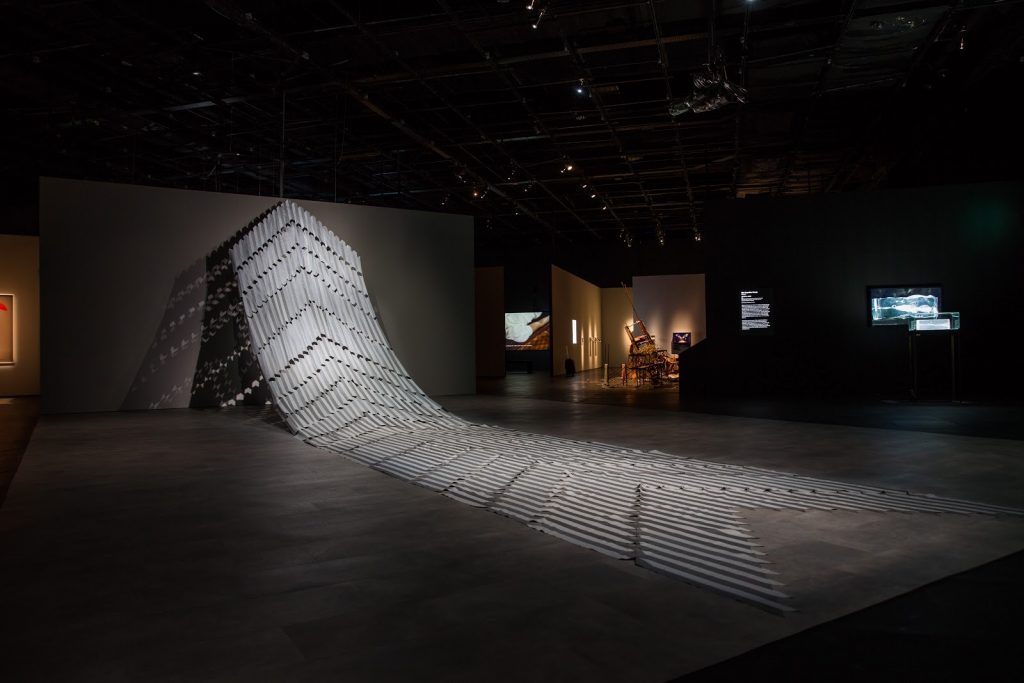 "Through much of New Zealand's recent history, Māori women have led protests, been the instigators of change and are powerful leaders in their respective fields. Yet, in spite of all this undeniable strength, we are often invisible within the wider community," they explain over email.
"There are so many women in the creative sector doing incredible things but are only known to those who work immediately alongside them. Visibility is afforded to those who have a platform, and for Maori women to be visible, we have to achieve to the highest possible platform to get the smallest recognition."
Composed of reflective tape made with a Maori weaving technique, the New Zealand group's 200m-long installation boasts a specific chevron pattern, which is called kaokao in Māori. Apart from being a conventional military symbol, the chevron is also representative of "new life and growth" in Māori culture, and is a common pattern used for traditional birthing mats.
The work thus alludes to the role of marginalised Māori women in military resistance, spotlighting figures such as Te Puea Herangi, a Māori leader who fought against conscription of her minority community in the first World War.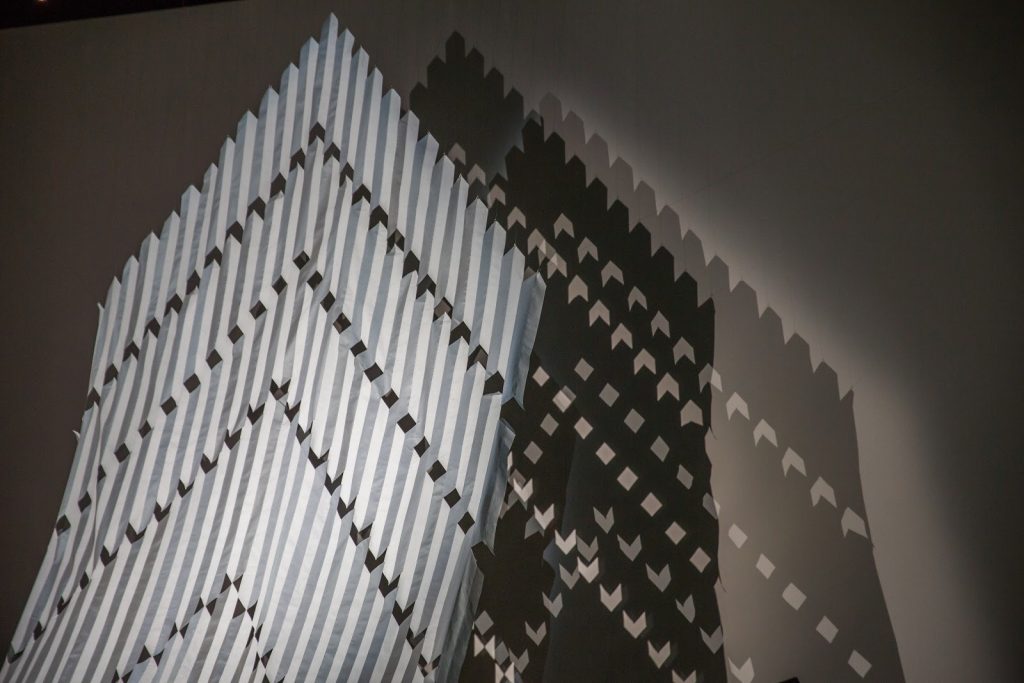 Beyond paying homage to and empowering the Māori people, the artwork also acknowledges women in general, whose voices and identities have been historically sidelined. Reflective tape, a common material used in the male-dominated industries of manufacturing and labour, is given a new context to represent the invisible work of women—akin to rewriting a dominant narrative to give voice to marginalised subjects.
They said, "One particular issue that we're interested in pursuing further in our work is the historical framing and representation of women's stories. Women's roles within cosmological narratives can often be to assist a male protagonist to fulfil his quest or impart knowledge. We're interested in presenting women in general as the protagonists within these narratives."
Perhaps these works of art will lead us to look beyond the surface, and question both the narratives and realities we've been presented—the election of a minority president being one of them. After all, most of us stick to the perspectives we're familiar with, or were taught to have.
By peeling back the layers on works of art, we also start to peel back the layers that reveal the truth.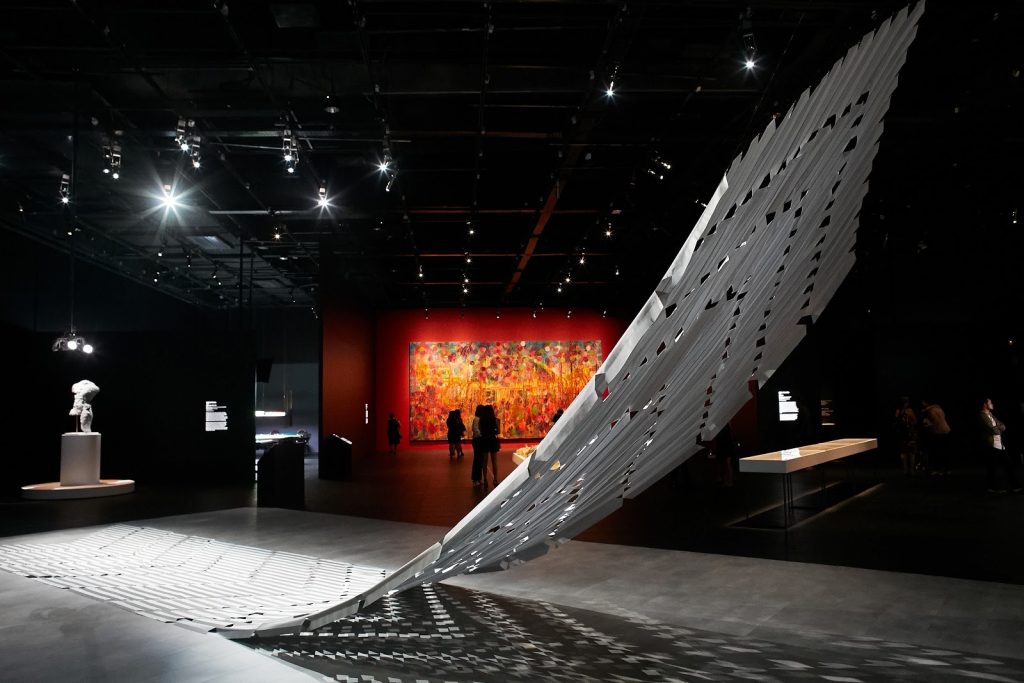 The fourth instalment of the APB Foundation Signature Art Prize, organised by the Singapore Art Museum and held at the National Museum of Singapore, features an exhibition of the 15 finalists' artworks as well as a smorgasbord of programmes till
2 September
. Swing by the exhibition to see the works of Phan Thao Nguyen, Chikako Yamashiro, and the Mata Aho Collective for yourself.
APB Foundation Signature Art Prize 2018 Exhibition
Organised by the Singapore Art Museum
Venue: National Museum of Singapore (93 Stamford Road, S178897)
Opening hours: 10am – 7pm daily (10am – midnight on Singapore Night Festival days (23 – 25 August 2018))
Admission: Free entry for all
While you're at it, why not take part in these talks, tours, workshops and giveaways as well?
Stand a chance to win a Diana Mini Lomography Camera (worth $95)! Visit Singapore Art Museum's exhibitions (Imaginarium: Into the Space of Time at SAM at 8Q, and APB Foundation Signature Art Prize 2018), pick up a contest slip, then put your searching skills to the test.
Venue: Basement Galleries, National Museum (93 Stamford Road, S178897) and SAM at 8Q (8 Queen Street, S188535)
Date: Till 26 August 2018
Poetry tour of the Signature Art Prize exhibition
Join a poetry-meets-contemporary art tour of the Signature Art Prize artworks! Discover the artworks like never before: through live readings of poetry written in response to select artworks, shortlisted in a month-long competition by the museum.
Venue: Basement Galleries, National Museum (93 Stamford Road, S178897)
Date: 25 August 2018
Time: 7pm – 7.30pm
Admission: Free
Night Festival highlights at the Signature Art Prize exhibition
From music and dance interventions in the artwork spaces itself, to open mic performances – explore the Signature Art Prize artworks across various disciplines during the Singapore Night Festival.
Venue: Basement Galleries, National Museum (93 Stamford Road, S178897)
Date: 24 & 25 August 2018
Time: Various timings
Admission: Free
Minority Identities Tour and Panel Discussion
Learn more about how contemporary artists, including the Mata Aho Collective, engage with the theme of minority identities – from racial and cultural heritage to sexual orientations – in their works.
Venue: Basement Galleries, National Museum (93 Stamford Road, S178897)
Date: 31 August 2018
Time: 6.30pm to 8.30pm
Admission: Free with registration
Specialist Talk with Signature Art Prize Artist and a Museum Archivist
In this talk, Signature Art Prize artist Shubigi Rao and Singapore Art Museum archivist Dr Chu Chu Yuan discuss the importance of the archive and the role it plays in the creation of art.
Venue: Glass Hall, Singapore Art Museum (71 Bras Basah Road, S189555)
Date: 1 September 2018
Time: 2pm to 3.30pm
Admission: Free with registration