All images by Jen Chan. 
"The photograph is a memento from a life being lived." – John Berger 
For several months now, the shutdown of non-essential workplaces and schools has forced us to rethink what is essential to our lives. 
I took the chance to investigate my compressed social life by photographing 8 souls from various walks of life. These portraits are a representation of the people I still engaged with—directly or not—during these unprecedented times.
Every morning during the circuit breaker period, I took a 5-minute walk for a leg stretch, and occasionally a trip to nearby markets for food, where I met this uncle—a senior fish stall owner at the wet market, who is still very concerned about how COVID-19 is affecting his income. 
Having sold seafood in the market for over a decade, he is very proud of his work. Before I took his picture, he carefully aligned his fishes for me. As he works alone, he has never imagined how his fresh seafood would be as essential to us as his stall is to him. Never considering himself an essential worker, he continues to open the stall everyday despite the situation.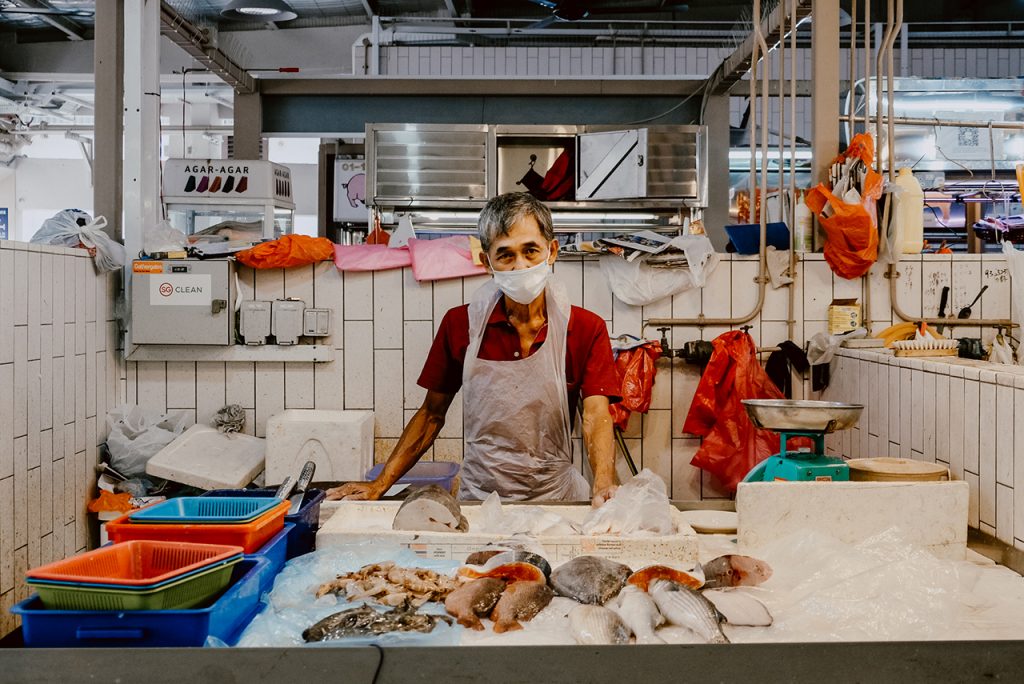 The second essential worker I photographed was a young hawker, who runs a family business in the stall with his mother. Just like the fish stall uncle, he has never considered himself an essential worker. What makes sense to him is that he continues to support his family. He misses the pre-coronavirus days of seeing familiar faces and chit-chatting with them every day, when the uncles and aunties would hang around the hawker centre.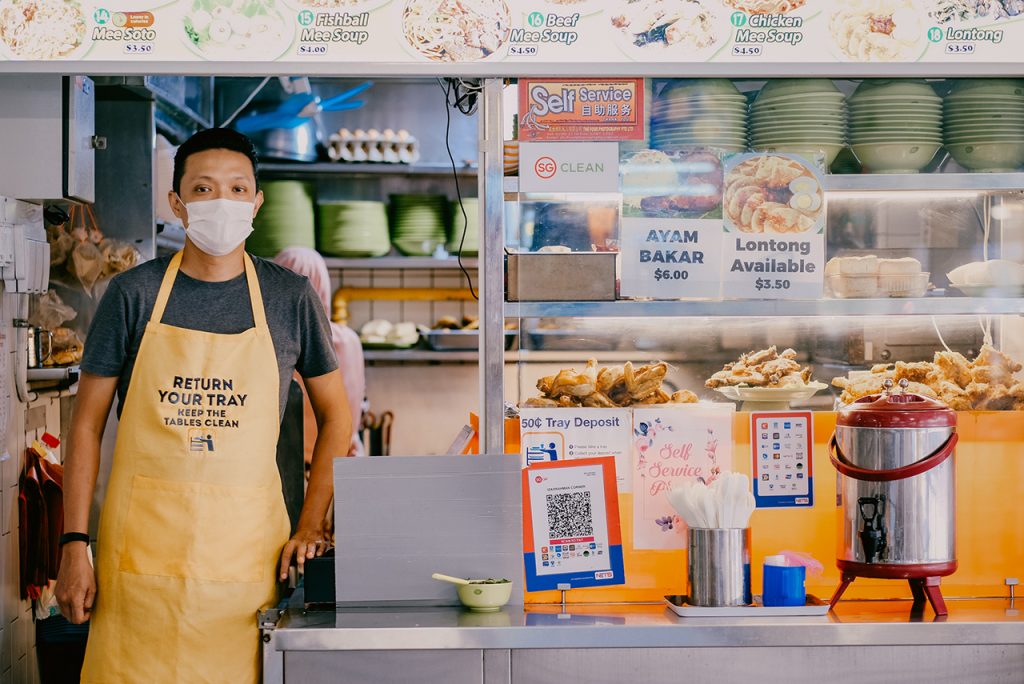 Similarly, those working at an Indian mama shop or as a taxi driver, might still be able to sustain their jobs during the circuit breaker. Despite the risk of catching the virus while on the street, they continue their work simply because they need to secure their jobs.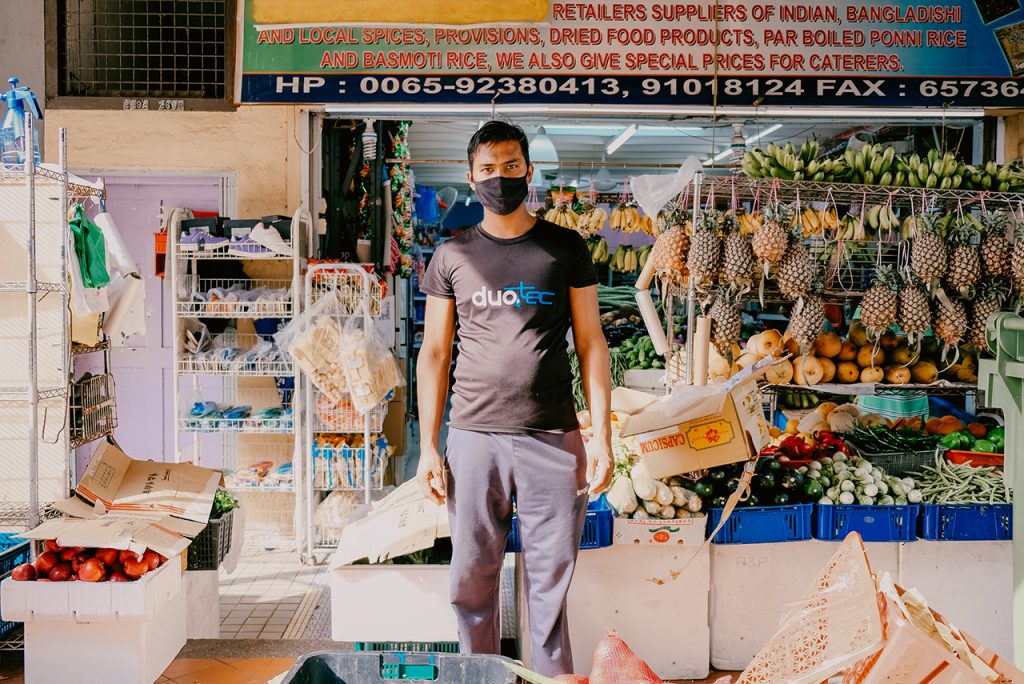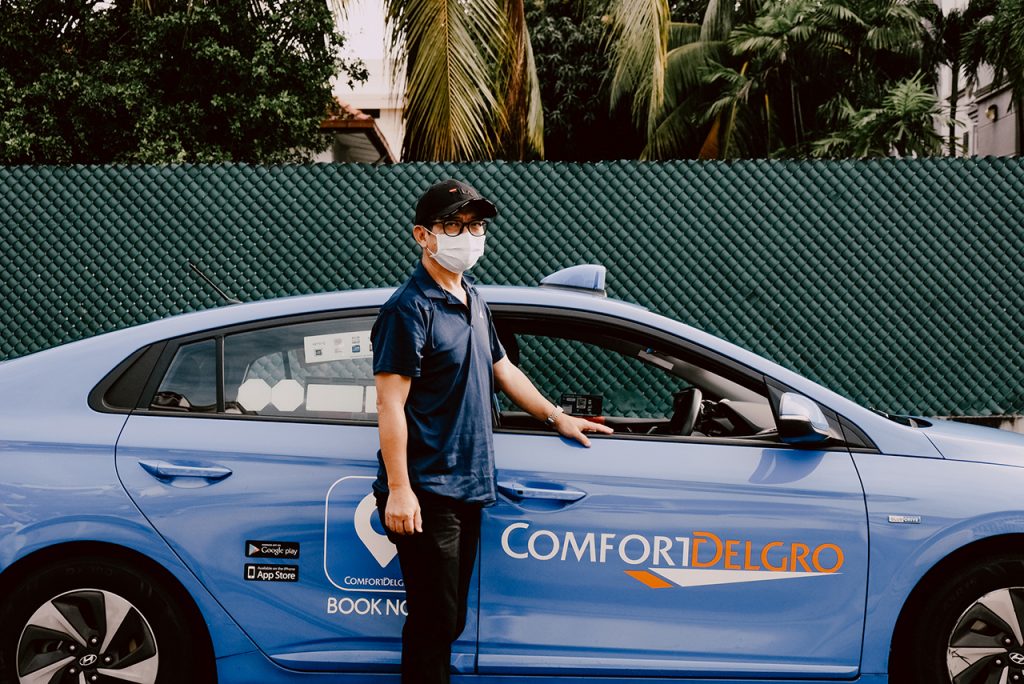 Working as a food delivery driver for nearly three years, Sharil enjoys the freedom granted by his job, and told me that he will continue working in the industry despite the uncertainties. The safety measures provided by his company and the government are sufficient for him to maintain his work that he considers well-paid.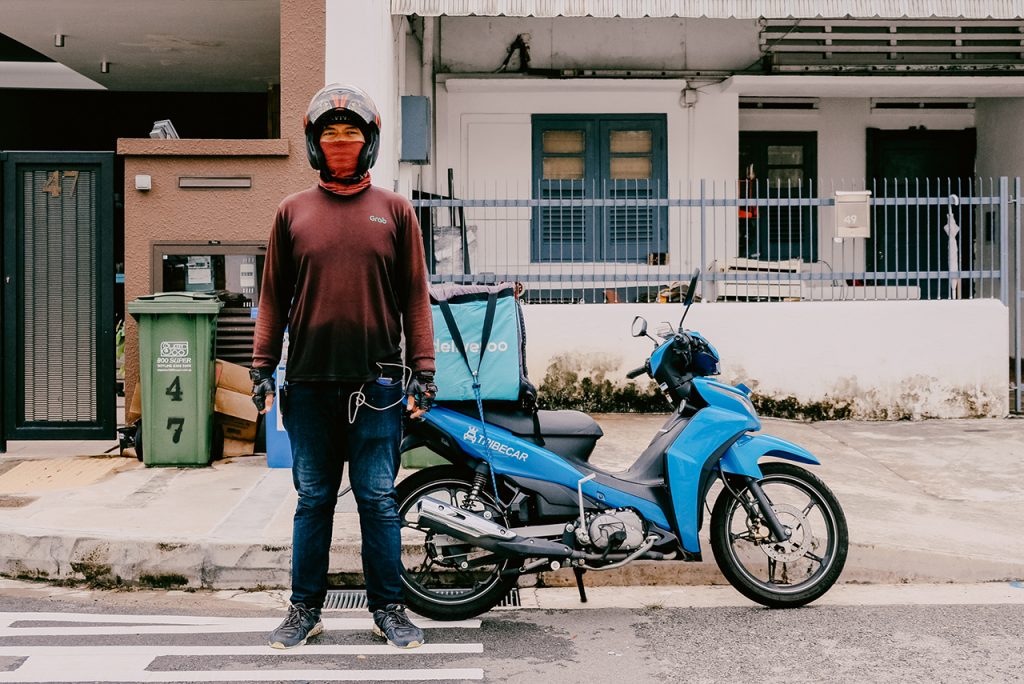 Auntie Amy, a convenience store worker, is very supportive of my photography project. Being an essential worker, she wants to voice  her concerns about low wages, work safety, and employment benefits (like taking holidays) to gain more attention from the government. Yet she has little choice but to continue her shift at the store during the circuit breaker in order to sustain her income. The CPF amount that she can claim every month is too low for her to feed herself.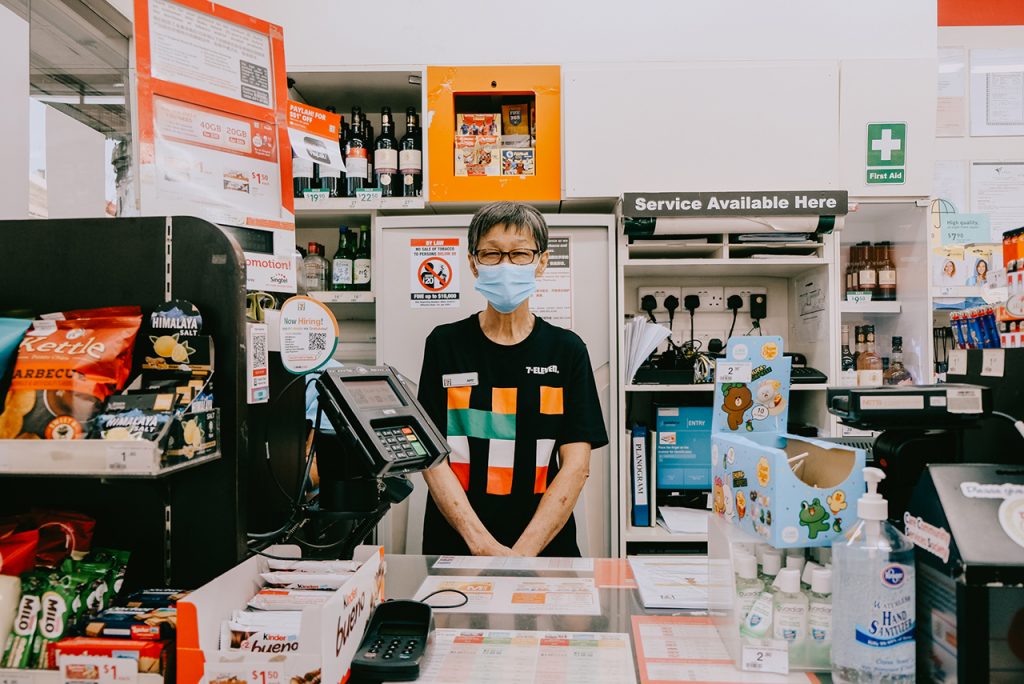 And then there are the essential but often invisible workers? From the farmer who grows our food, to the garbage collector who takes care of our waste. 
When it comes to the landscape workers who are mostly migrant workers from India or Bangladesh, are they deemed essential while our green grass can "take care" of itself, allowing more biodiversity without frequent cutting?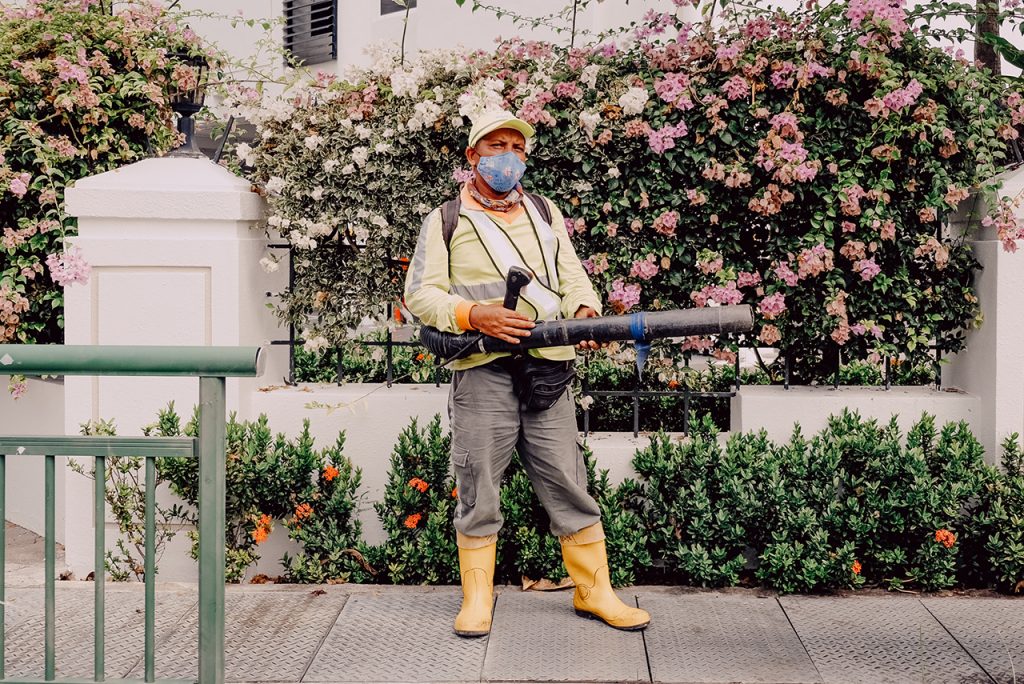 Besides our basic needs like shelter, food, and transport, what else is essential, and who else is considered an essential worker? Can musicians and writers who provide food for our souls be perceived as essential? Is the term essential limited only to describing things that are practical? 
Ethan, who is a bassist, has had most of his scheduled musical work postponed as all gigs were cancelled and live music venues were closed. However, he managed to bring his work online, and continues to create music with his band. He has also diverted more of his focus to his work for a social initiative/training program to teach people about active listening, hoping to serve the community in a different way.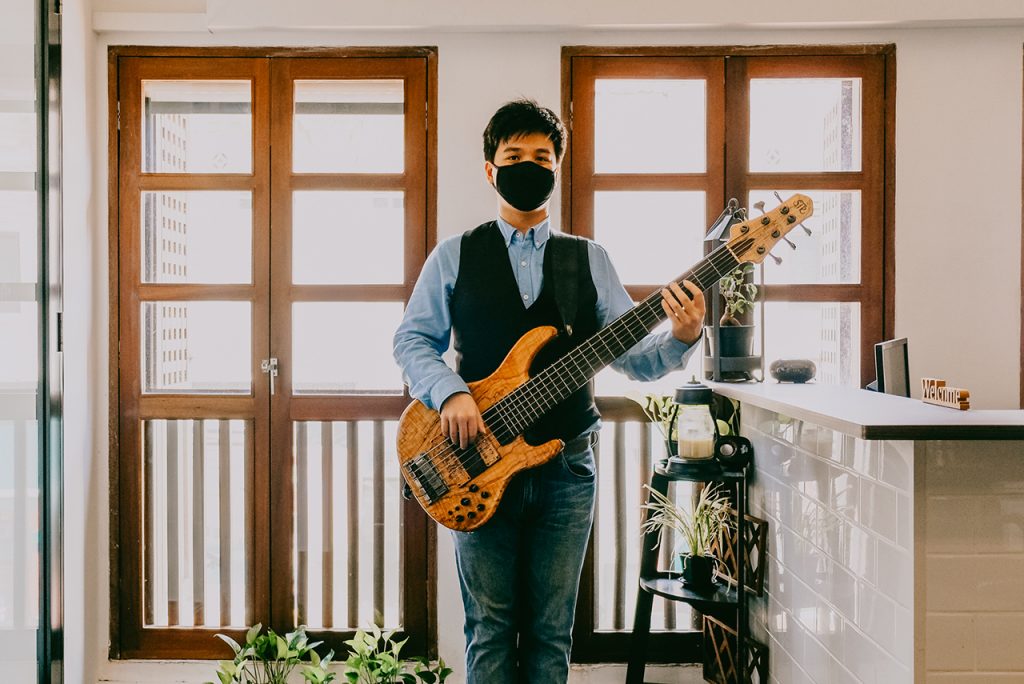 I realized that other than the routines of my everyday life, there is one thing I couldn't live without during the circuit breaker:  music. 
Music, to me, is the art form that touches me the most, a way of conversing with myself and expressing my emotions. This way of reaching one's self that allows the space inside our mind to thrive is, for lack of a better word, essential to all of us.
Are you continuing to struggle with the ripple effects of Covid-19? Tell us your story at community@ricemedia.co.