All photographs by the author.
I understand the appeal of packed lunches: you get to save money and control what you eat, down to how many drops of oil you put on your salad. 
Personally, however, I cannot say no to a $3.50 plate of rice infused with the ambrosia of chicken, or a soup redolent with the essence of fish, carefully extracted for hours over hot charcoal.
Ever since RICE moved to its new office, this sentiment has been reinforced. Within 10 minutes of walking are Maxwell Food Centre, Amoy Street Food Centre, People's Park Food Centre, and Chinatown Complex Food Centre. This is gastronomic nirvana on a budget. (Yes, I am putting on weight, perhaps unsurprising for someone who works at a company called RICE.)
Since relocating to this epicentre of epicurean delights, I've also started noticing many foreigners who eat packed lunches at the area's parks. They look so contented, as if they're models from a university prospectus in which everyone is lounging happily on the grass while eating ham sandwiches.
Why? Do they not know about the deliciousness that is local food and food centres? Or can they not bear to part with their solyanka and gazpacho? 
To answer this riddle, I decide to stake out the green spaces around the Rice office in search of these packed-lunch-eating workers to find out what I can glean from their lunches—but before that, I pray to the Flying Spaghetti Monster that I don't encounter any surströmming.
5 July, 1:15 PM. Telok Ayer Park.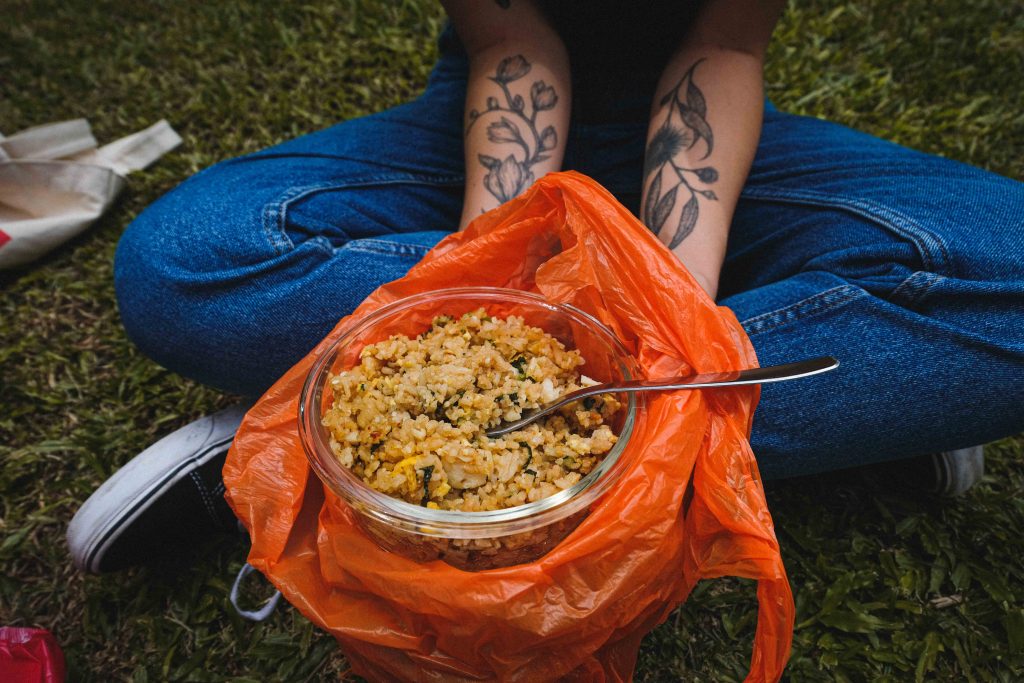 My first victim is Anna, who is lounging on the grass at Telok Ayer Park with a friend. I find out that she's originally from Russia and lived in New York before landing on our shores.
Hearing that, I imagine hidden in her Tupperware the full moon of a bloody borscht, a soft pretzel in the shape of infinity, or—
"I'm having fried rice," Anna says.
"Fried rice?!" I echo in disbelief.
"It's very expensive to cook Russian food. The ingredients for it are very expensive. I buy the ingredients that are cheap here. Like rice. I miss [Russian and New York food] but I like local food a lot. But also, this is specifically a money thing. I … buy the cheapest ingredients."
Ah—I was misled. Anna may look like a foreigner, but her sensibilities are entirely local. More than her love of fried rice and local food, Anna's penny-pinching ways brand her, deeply, as one of us Singaporeans.
8 July, 12:18 PM. Telok Ayer Park.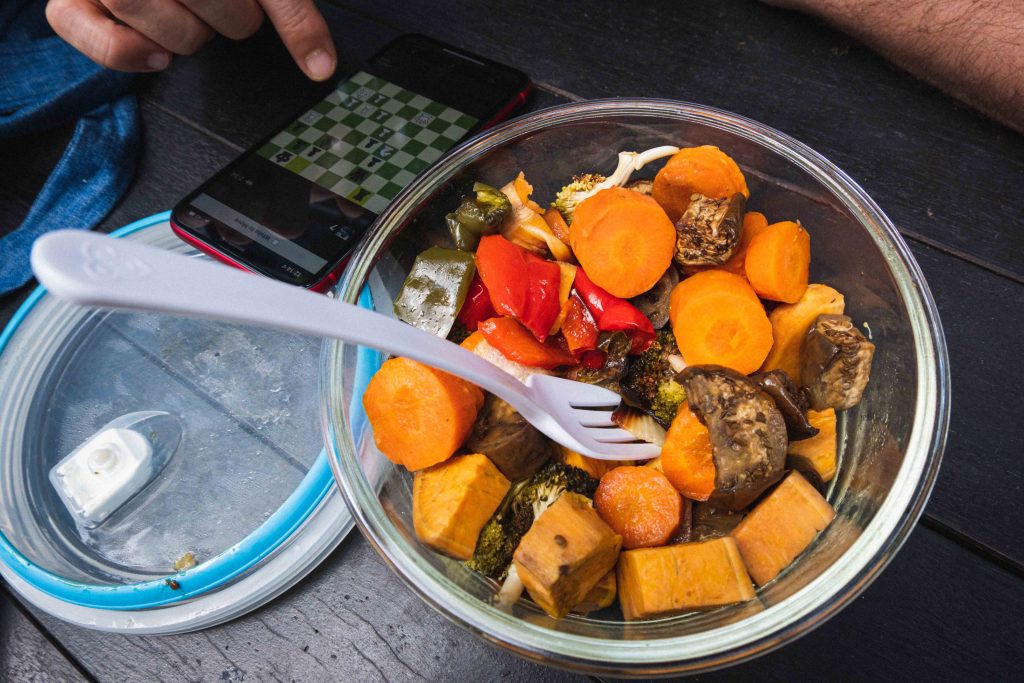 Quique, a Spaniard who has been in Singapore for 5 years, is playing a game of chess on his iPhone when I approach him.
As he tries to tear down the patriarchal monarchy with his queen, he tells me:
"I'm having roasted vegetables. I roasted it yesterday night and it has carrots, potatoes, broccoli, aubergines, and bell pepper. Some onion. That's all. … I just put a bit of olive oil when baking it."
"It's a long time ago, but when I was back in Spain, I was working in a factory, usually I was bringing my own food. Almost every day."
In Singapore, Quique does not cook as often as he does in Spain, even though his lunches across these two countries are "the same … no big difference". He has the hawker centres here to thank: they allow him to easily replicate his go-to meal.
"Usually I go to one of [the salad stalls in the] hawker centre. I always choose the same ingredients, which are couscous, bell pepper. I love edamames."
Therefore, even with his preference for simple salads, Quique feels welcome in our hawker centres. That our hawker centres have started offering more cosmopolitan food—while preserving their characters as bastions of culinary tradition—is the surest suggestion of the plurality of Singapore society today.
It becomes clear to me that this won't be the last time I see Quique. I know that, in the near future, I will see him at Amoy Food Centre very often, almost indistinguishable from all the hungry Singaporeans there queuing for their favourite dishes.
8 July, 1:10 PM. Raffles Place Park.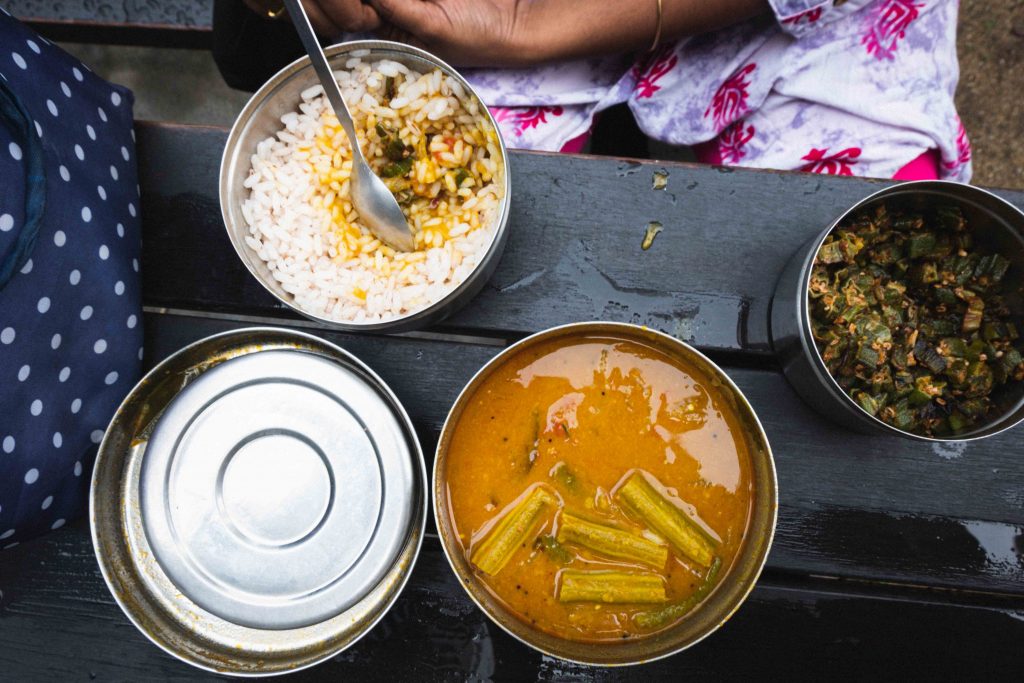 Raffles Place Park: a stolen breath within the towering offices in the area.
At one of the benches dotting the patches of green, Abi, an Indian national, is having lunch with a friend she has not seen in a "very very long time". Despite my imposition, she patiently walks me through the dishes that she's brought.
"This is rice. This is sambar. And this, a lady's finger … stir fry."
I want to comment on how hungry her dishes are making me, and ask if the ones sold in hawker centres can measure up to hers.
But once she has finished explaining her dishes, she smiles at me to signal that she will now be focusing her attention on her friend, and leaves me to my own devices. As she catches up with her companion, I use my own device to snap photographs of her food.
Her toggling of attention reminds me of seasoned Singaporeans everywhere who have developed the protective ability to zone out the many insurance/property/SIM card agents stalking Raffles Place Park and other public spaces. It is a skill necessary for sanity and survival in Singapore.
Abi's expert use of it tells me that, in the 8 years she's been here, she has seamlessly adopted the culture of Raffles Place, and larger Singapore society in general.
8 July, 1:27 PM. The Sail @ Marina Bay.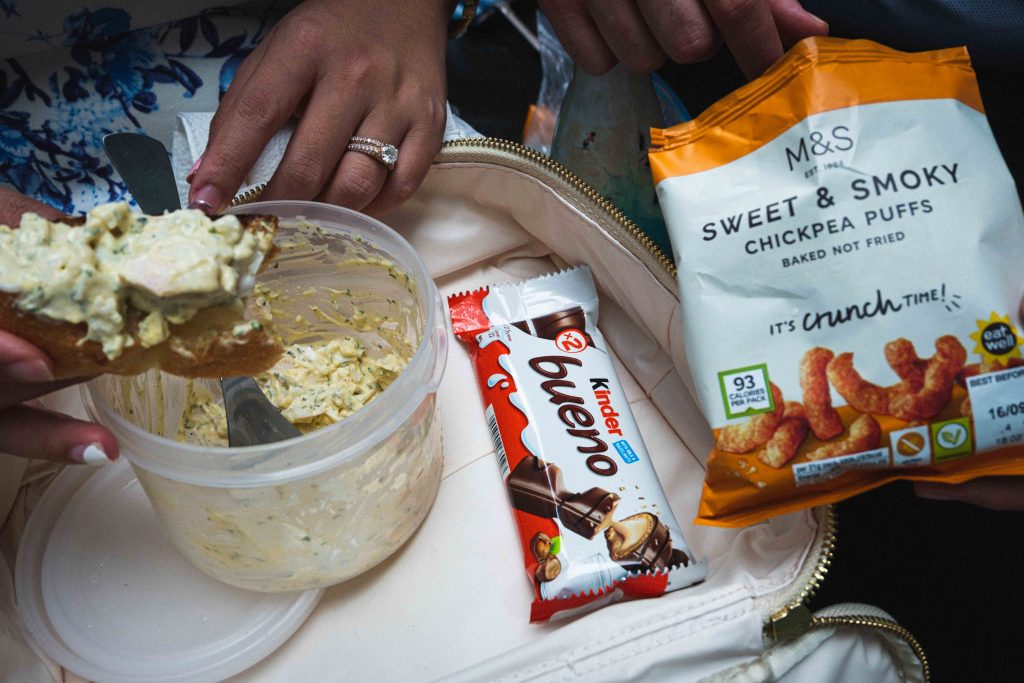 Perched on some granite slabs, Steven and his partner chomp on a home-made egg mayo sandwich, a packet of Marks & Spencer chickpea puffs, and save some Kinder Bueno for dessert.
"2, 3 times a week, we bring [lunch]. Eating the same thing over the week [can be boring], so it's nicer to bring [food] … Sandwiches, soups, pasta, salad. Usually just leftovers from the week. We'll cook dinner and have leftovers."
For once, I can't really place them through their lunch. Steven is Caucasian, his partner is East Asian, but the food they cook—what Singaporean aunties would generically call 'Western food'—seems disconnected from either region. Devoid of a strong connection to their home, their sandwich is simply egg mayo on white bread, not po' boy or shaobing.
Stalling for time, I ask them who does the cooking.
"This is a collaboration," the two Americans reply in tandem.
Then I realise that Steven and his partner are the type of people for whom eating is not as meaningful as the act of cooking. Home—and the food of home—is wherever, whatever they cook together.
9 July, 12:43 PM. Raffles Place Park.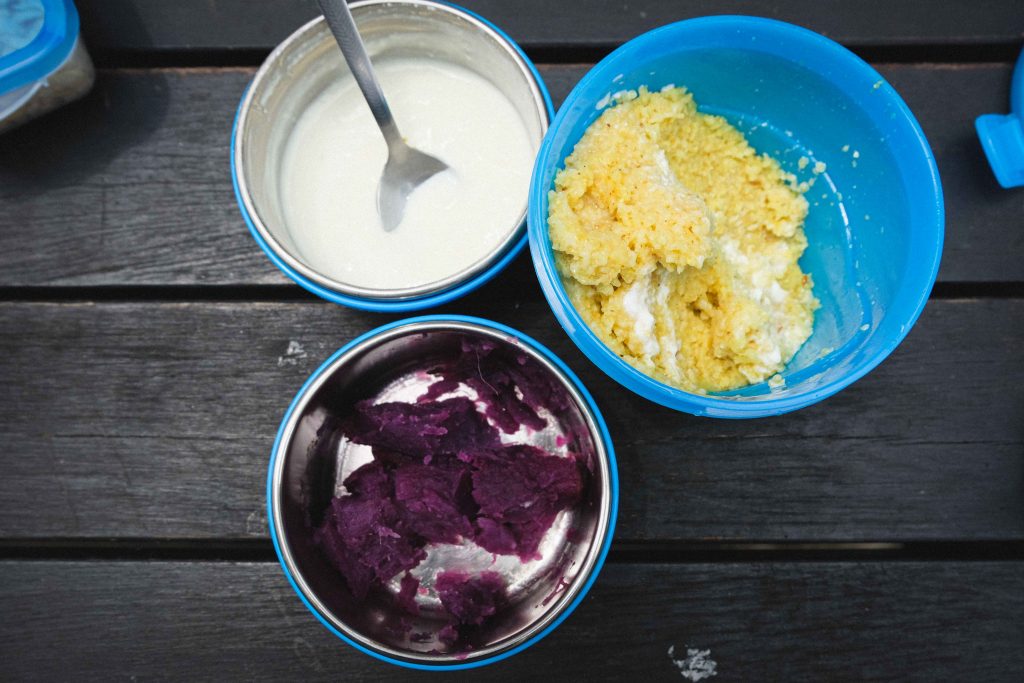 Broken wheat. Sweet potato. Yoghurt curd.
The voices of Chandni's lunch are seeping out of their skin like the sap of an overripe mango. They murmur to me, "Vigour. Purity. Yoga."
Chandni, an Indian IT professional, echoes her food: "If you're cooking by yourself it's more healthy. You know the ingredients. What you're adding, what you're doing."
"But the biggest reason? I cook lunch almost daily because there are less vegetarian [options] available. [I am a] vegetarian. [If] there are more [I] can sometimes eat out."
I am caught off guard by Chandni's last comment. A little wistful, a little hopeful, it sits so uneasily with me that I can no longer hear what her lunch is whispering.
Fifteen minutes later, mulling over this unsettling sensation as I weave through the human horde surging underground, a smell makes me recall the pungent, spiced rava idli I had at MTR 1924. Then, along with it, resurface memories of the vegetal chew of the beet burger at Real Food and the comforting Indian and Chinese vegetarian cai png stalls in hawker centres.
Perhaps Chandni has only been here for a few months; perhaps she has no one with whom to explore the city even though, as she admitted to me just now, she would dearly love to.
I hurry back to Raffles Place Park, but the bench is already empty.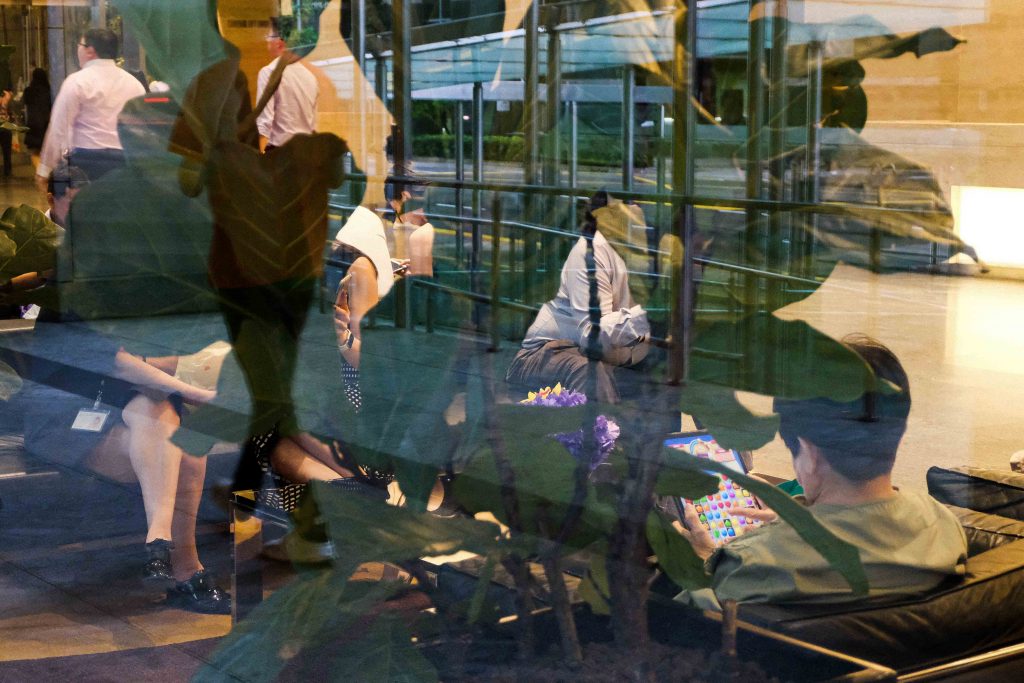 Truth be told, after these expeditions, I'm a little disappointed in the packed lunches of the foreigners working and living in Singapore. I was not rewarded by Tupperwares of solyanka or gazpacho or a Thanksgiving turkey or two for the hungry American.
And where are the disgustingly pungent preserved fish of which German food critic Wolfgang Fassbender says "the biggest challenge when eating … is to vomit only after the first bite, as opposed to before"?
I had come prepared to defend the dignity of durian against the stench of surströmming, but encountered only salads, fried rice, lady's finger stir fries—dishes that my colleagues have also brought to work.
Was I unfairly exoticising these foreigners who now call Singapore their home? It would seem so: in their consumption of these ubiquitous dishes, they seem to have integrated neatly into our culture.
Perhaps, then, the takeaway of these takeaway foods is that even if their meals had the flavour of the ethnically exotic, the very fact that they were prepared, cooked, and packed in a home kitchen in Singapore irrevocably ties them to this place.
In other words, as long as they exist and live within our society, everything—both food and people—will inevitably have the particular terroir of Singapore imprinted on them. Witness fried-rice-loving Anna, or Raffles-Place-power-OL Abi.
Conversely, RICE intern William's steamed salmon or the decidedly non-Singaporean lunch of "Sometimes spaghetti with potato cheese cakes. Sometimes shepherd's pie. Sometimes leftover pizza" that another Rice colleague brings suggest that we are all, regardless of nationality, sitting at the same global dining table.
On this metaphorical dining table, we may be a Singaporean having a pastrami sandwich; to our left may be a Venuezalan eating Roti john; on our right a Japanese slurping feijoada.
As the great Flying Spaghetti Monster says: it doesn't matter if your noodle is made from wheat, buckwheat, or rice flour, because a strand connects us all.