Images courtesy of Angeline Lim unless otherwise stated.
The following is an account of Angeline Lim as told to RICE. Angeline's 17-year-old West Highland White Terrier suffered seizures and was on the brink of death, but managed to find a new lease of life through hyperbaric oxygen treatment
.
Hyperbaric oxygen treatment allows patients to breathe 100% oxygen at two to three times atmospheric pressure in a sealed chamber. According to medical literature, this increases tissue oxygenation 15 to 25 times and accelerates the body's natural healing process.
Angeline also talks about the comforts dogs bring her during the circuit breaker, and why she is grateful that veterinarians are classified as an essential service.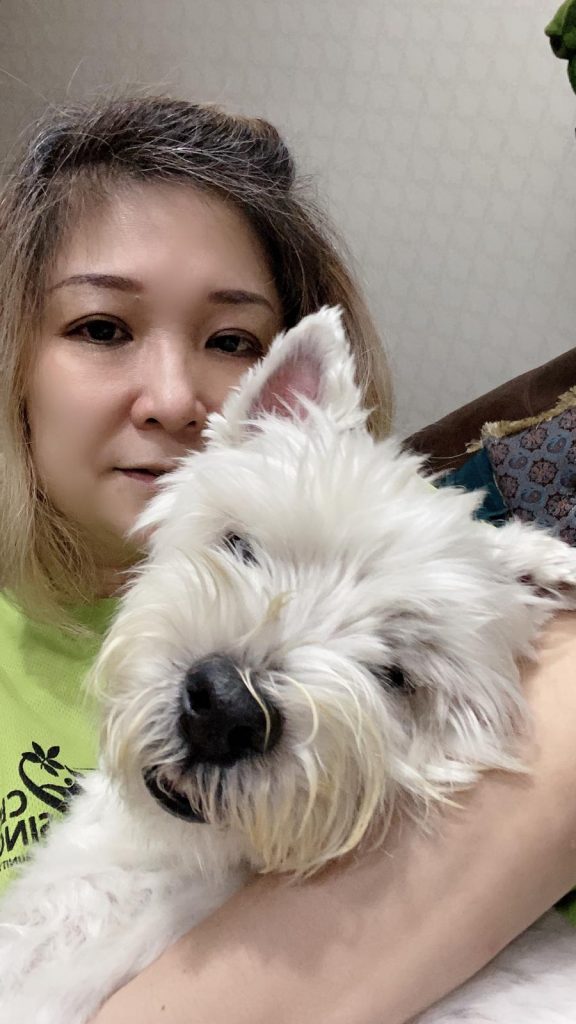 A few days after the new year, my dog, Fluffy, had a seizure. At the back of his head, it's like something is moving … crunching his brains like that.
He was panting so hard that he couldn't breathe. His tongue turned purple.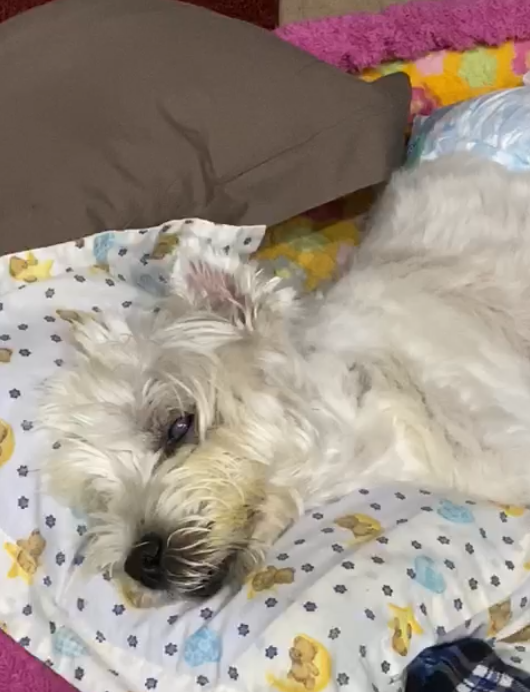 We rushed him to the vet, where he was hospitalised for two days. But after he was discharged, he had another seizure. So he was readmitted into the hospital.
For the next three weeks, Fluffy was in and out of the hospital. Once a week.
In, out. In, out. In out.
The third time he was admitted, the vet told us that he will pass on within two weeks: "Fluffy is old. He can't breathe. And his seizures might be caused by a tumour in his brain." So they advised us to put him to sleep.
Even my friends were telling me: "Don't be sad. Fluffy is suffering. Let him go."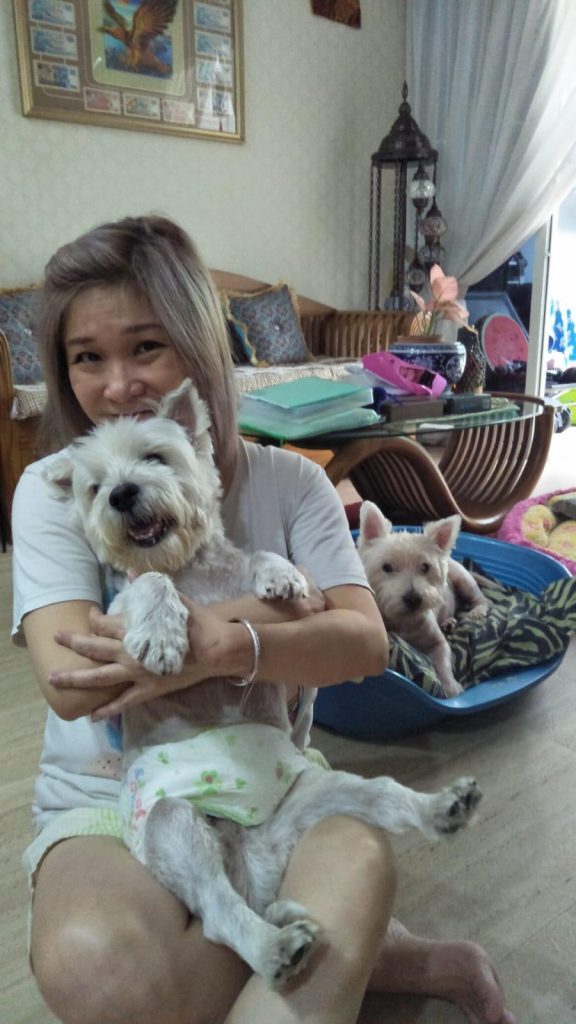 Fluffy is 17 this year. He's a West Highland White Terrier.
I adopted him four years ago, in 2016. Actually, I didn't want to take him in because my Schnauzer had just passed away. That experience—seeing your dog go—really very …
Very heart pain.
And I already had two other dogs at home, Chanel and Gucci, both 15 this year. My house is full of old dogs!
Initially, I was just fostering Fluffy because I was helping out at a charity that rehomes stray dogs. He would stay with me while the charity looks for someone to adopt him permanently.
But he ended up becoming my baby.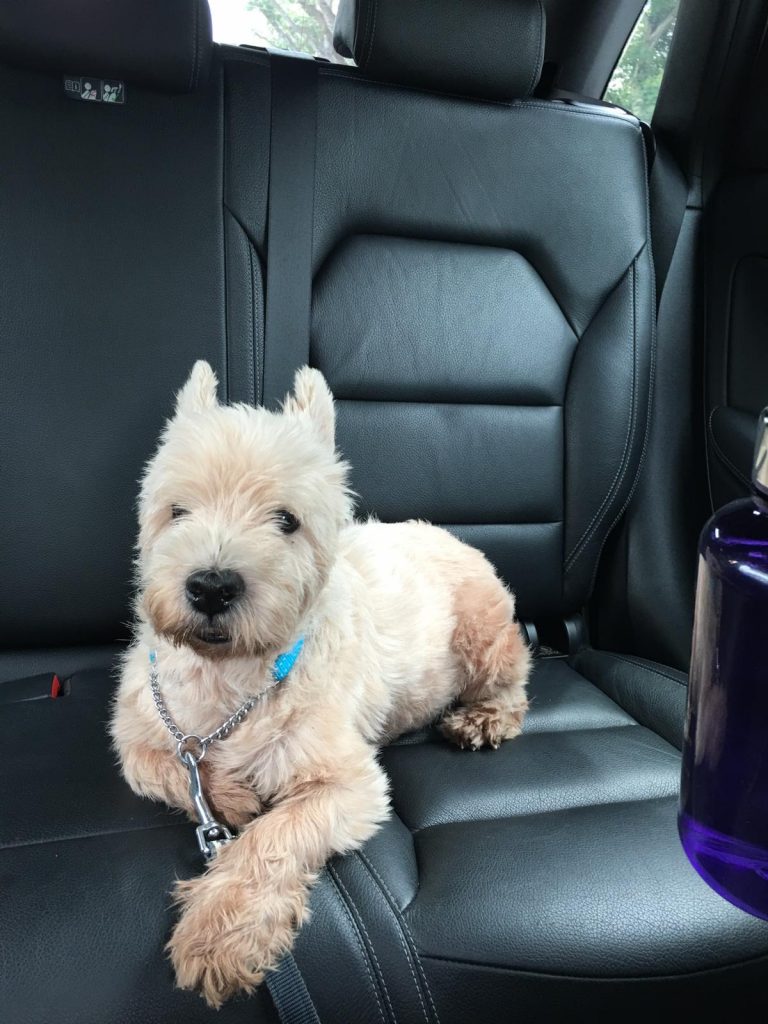 It didn't take much for him to be part of my family. Fluffy is very demure and caring.
Especially now, during the circuit breaker. Dogs really provide companionship. When I am sad, they know it. Fluffy will sit beside me, go underneath my arm and ask me to sayang him. Chanel will use her head to push me, ask me to start moving, don't sit still.
But outside those times … my dogs bully me, actually. Fluffy especially. He wants us to carry him. And when you carry him, he won't allow you to sit down! You have to walk around with him in your arms, like a baby. If not, he will keep barking.
Do dogs make life easier during the circuit breaker? … Actually, I don't think so. <laughter>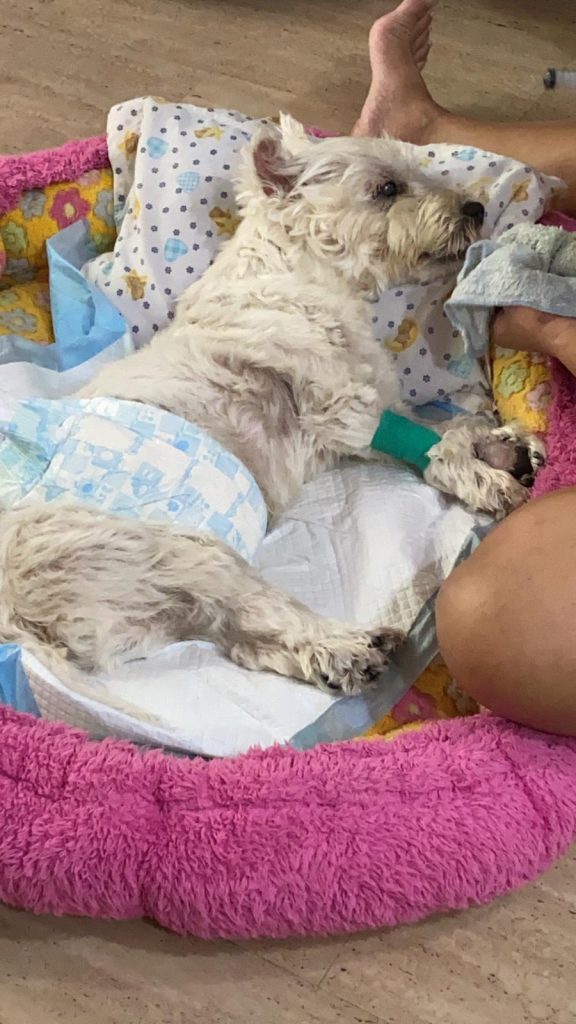 Fluffy has always had difficulty breathing because his lungs have a build-up of fluids. So he has been taking medication that opens up his lungs to help him breathe.
But he's a fighter.
Even when he was having his seizures, he was still trying to survive. He could still eat.
When he was hospitalised, he didn't want to stay there. After the third time in the hospital, he grew very restless … he wanted to go home. He kept wanting his nanny—Gina, my domestic helper—to carry him.
So I thought, there's no way I'll put him to sleep. Why should I do that? He's still trying to survive.
Instead, I'll bring him home, give him palliative care, and see how long he can hold on. This will be the last time I admit him to the hospital.
But I told Gina that we have to prepare ourselves. Because the doctor said he might go any time.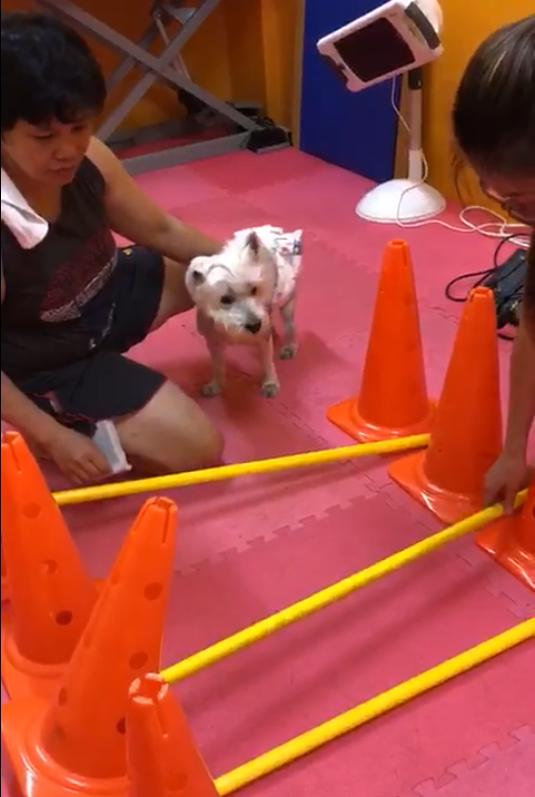 To help his joints, Fluffy has been undergoing rehabilitation treatment at
RehabVet
. Dr Sara, the vet, helps him with physical therapy and hydrotherapy.
Early in 2019, RehabVet got the first and only hyperbaric chamber for pets in Singapore. When Dr Sara heard that Fluffy was being admitted to the hospital, she asked me, "Why don't you give Fluffy a try in the hyperbaric chamber? It gives 100% oxygen and may help Fluffy's breathing."
But I was quite sceptical la. I'm a bit stubborn … like what's this hyperbaric thing? It looks like a giant bullet. I don't want to put my baby in it.
But since Fluffy was at the last stage of his life, I thought, ok, I will give it a shot.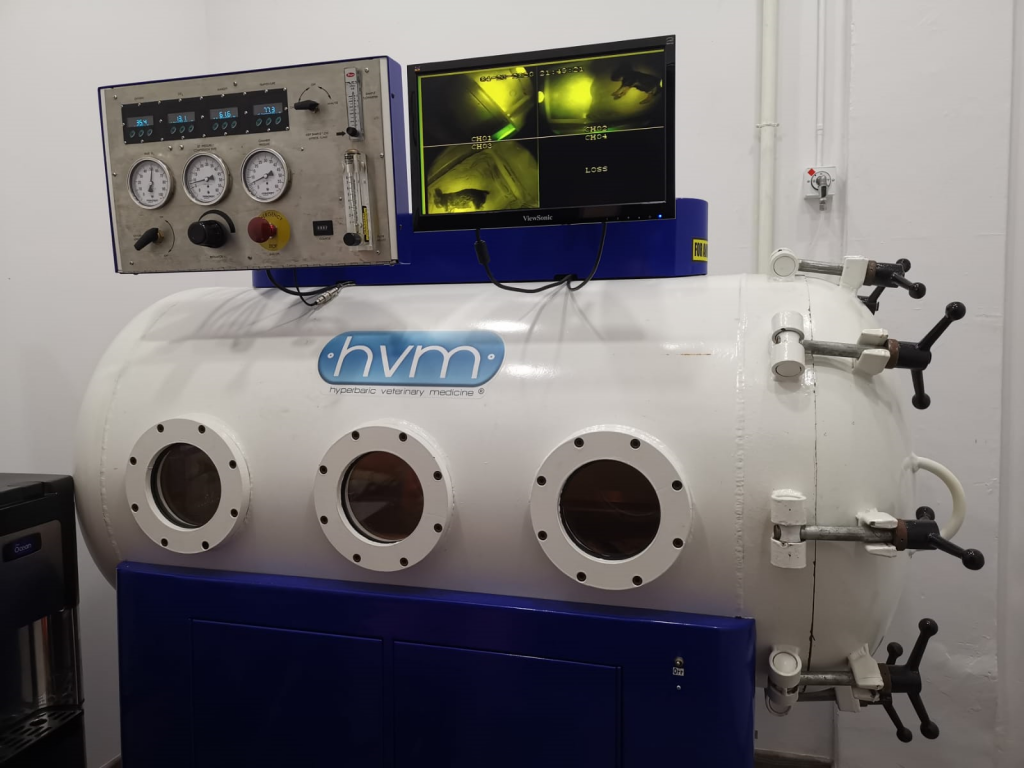 The first time he went into the hyperbaric chamber, Dr Sara put him for only 10 minutes because she did not want to stress him out.
When I brought him home after that, he was very alert all of a sudden. He started to bark. He wanted food. Before this, he didn't have the strength to bark or lift up his head.
So I decided to send for hyperbaric treatment weekly. From 10 minutes at first to one hour all the way. He just snoozes inside. Oh—the second time he pooed inside. Luckily just nuggets … nothing big!
It really helps him. After his seizure, he totally couldn't walk. But just yesterday, when Gina brought him downstairs, he was trying to stand, with Gina's help. Gina held his pampers to support him!
And his tongue, from purple, turned to light purple, to pink.
He can even bite you now!
I think RehabVet … they really did a good job in saving Fluffy.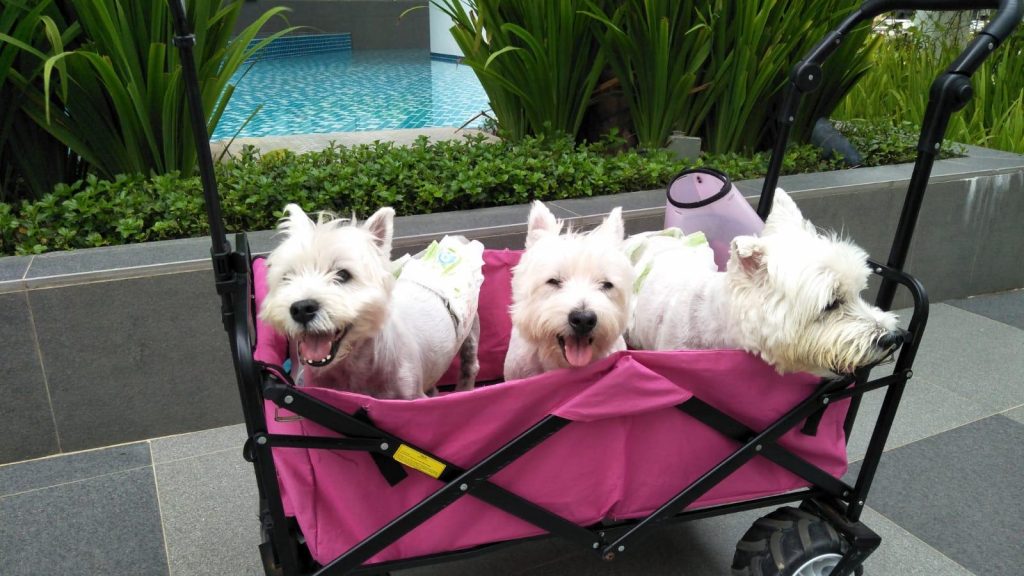 In this time of the circuit breaker, I think vets are very essential.
Animals—they are not able to tell you that they are sick. They cannot help themselves. We have to be the ones. So if the vet or rehab centre has to lockdown or close, then who's going to save the animals?
Nobody is going to save them. We can't save them because we are not experts.
I sincerely hope the government will not lock them down. Because we really need these people around to help our pets, like how Dr Sara helped Fluffy.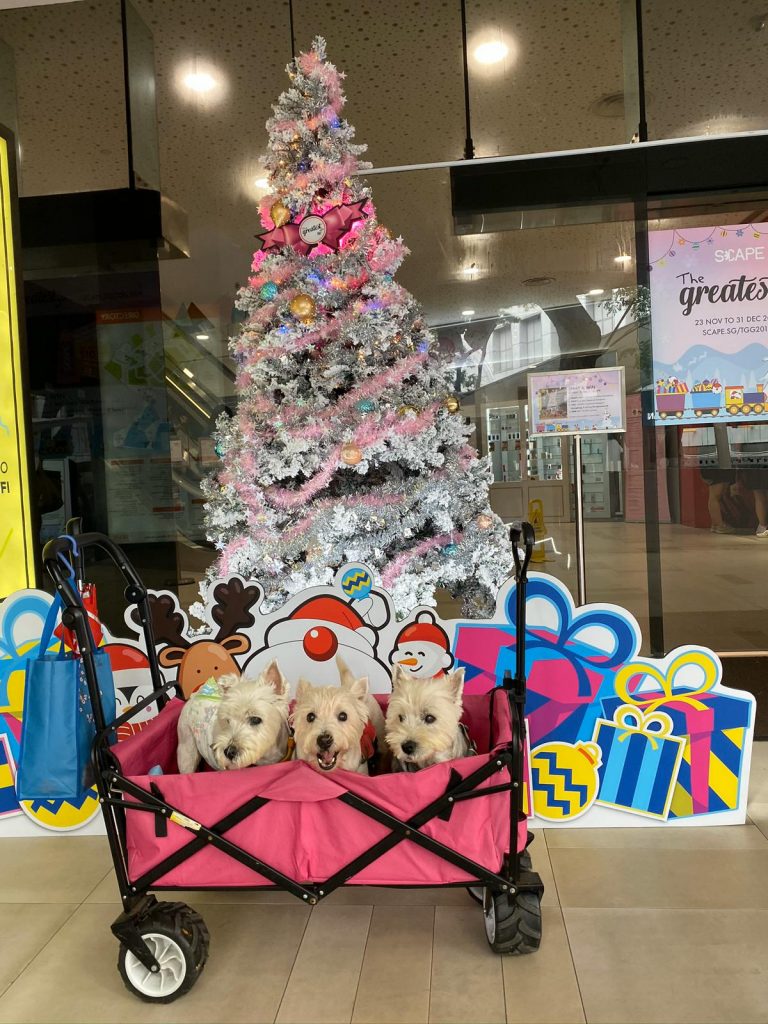 Dr Sara really gave Fluffy a second life.
Some time after Fluffy's third visit to the hospital, Fluffy's original parents came to visit him for the last time. To say goodbye. It was … how should I put it …
We were all very worried for Fluffy. And tired, physically and mentally. It was very challenging.
But because they visited after Fluffy had already gone for the hyperbaric treatment, they were so shocked that Fluffy was trying to get back on his feet. Even the vets and nurses were shocked that Fluffy is now so barky, so alert.
He's a real fighter. I thank Dr Sara for it. Really. Me and my nanny are so happy that Fluffy's life is prolonged.
Thank you God that he survived.