All images courtesy of RehabVet unless otherwise stated.
Singaporeans are attached to their pets—at least the ones that don't abandon them—that much we know. It's gotten to the point that people are seriously considering animal chiropractic treatments despite the pseudoscientific presumptions.
Pseudoscience or not, all pet owners want to ensure that their beloved furry companions lead happy, healthy lives.
With increasing interest in alternative treatments for humans (crystals, reiki, palmistry, etc), it's no surprise that the interconnected universe of wellness is spilling over into the world of pet care.
There's a term that's gaining traction today: Integrative veterinary medicine (IVM), an approach that combines conventional and alternative therapies.
A Diff-fur-rent Approach
Generally speaking, people don't visit vets beyond the usual routine check-ups, vaccinations and emergency treatments for their pets. IVM proposes an approach that seeks to address the root cause of a pet's health issues rather than just treating the symptoms.
By combining the best of conventional medicine with alternative therapies, IVM intends to provide tailored treatment plans for each pet. It shouldn't be considered a replacement for traditional veterinary treatments like surgery and medications though—therapies like acupuncture, herbal medicine, nutritional supplements, and physiotherapy are meant to be complementary.
Now, people might think: Why the hell would I go through the trouble of putting my cat in rehab?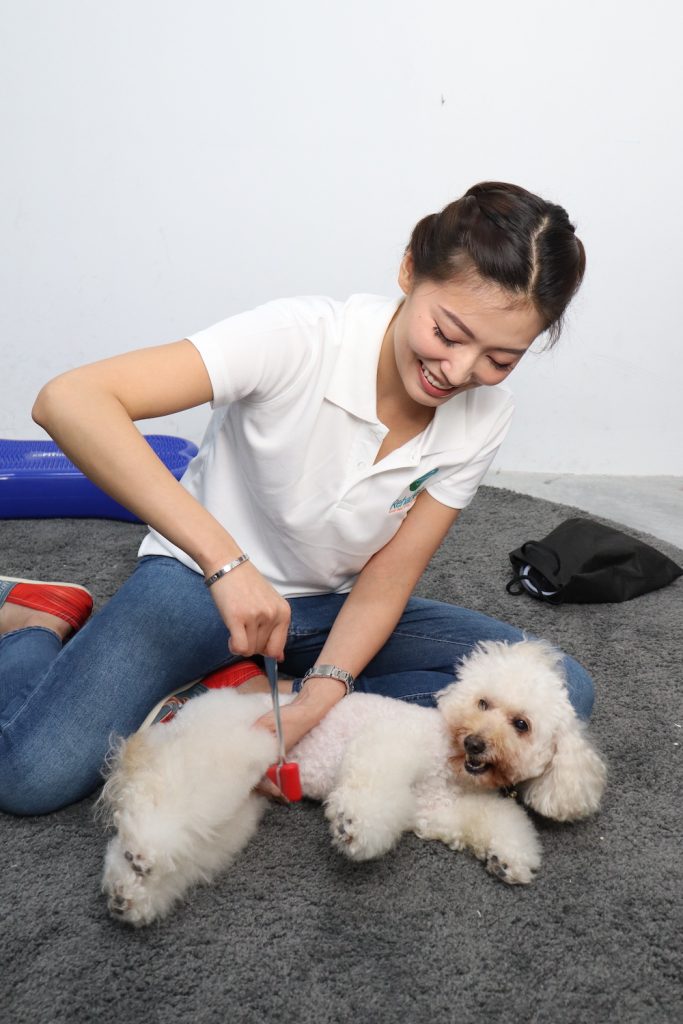 It is, according to RehabVet Clinic founder Dr Sara Lam, to put emphasis on prevention and maintaining optimal health. Instead of only treating illnesses when they arise, IVM practitioners in Singapore's first full-fledged animal rehabilitation clinic focus on promoting overall wellness.
Plus, they identify potential issues before they become serious problems. This proactive approach could help to reduce the need for invasive treatments and medications, which may carry risks and side effects.
Moreover, by addressing the underlying causes of a pet's health problems, IVM can often provide more effective and lasting solutions. Essentially, long-term fixes that can help animals do the things they used to do.
In recognising that every pet (and their individual issue) is unique, IVM practitioners develop individualised care plans that take into account factors such as age, breed, lifestyle, and medical history.
This tailored approach can lead to better outcomes and improved quality of life for pets, as well as greater peace of mind for their owners.
As the Fur Flies
RehabVet, a pioneer in veterinary rehabilitation in Singapore, is at the forefront of the IVM movement. Their team of certified veterinary physiotherapists and rehabilitation therapists offer services designed to improve the health and well-being of pets.
"We established RehabVet in Singapore to cater to the growing demand for holistic pet wellness among Singaporeans," says Dr Lam.
"As pet owners become more conscious of their pets' health, they seek comprehensive and preventive care options to enhance their pets' well-being."
The specialised facilities in her centre reflect its focus on physical therapy for pets recovering from injury or surgery or those with chronic pain or neurological conditions. RehabVet's physiotherapy services employ manual therapy, therapeutic exercises, and advanced equipment, such as underwater treadmills, to help pets regain strength and confidence.
As pets get older, mobility issues become more apparent—the need for rehabilitation becomes clearer. Customised exercise regimens and therapeutic guidance, like the ones offered by RehabVet, mitigate further mobility-related health issues.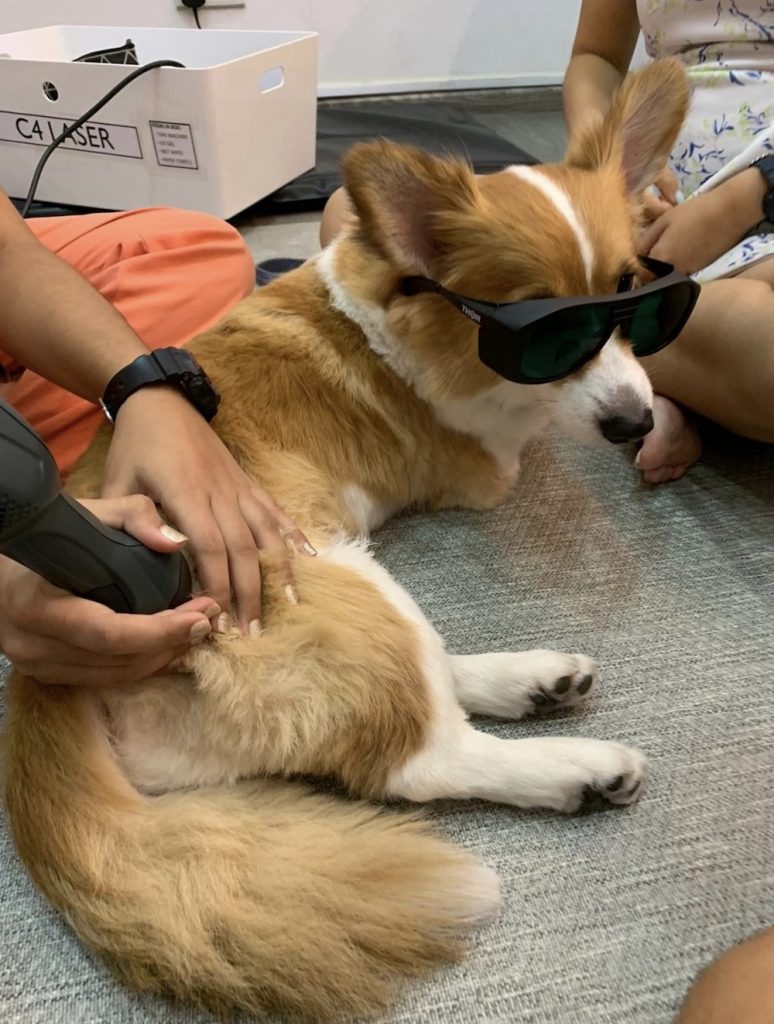 Acupuncture, a natural pain relief method, is also available to manage a variety of conditions in pets such as arthritis, gastrointestinal disorders, and anxiety. Just as it is for humans, a skilled (veterinary) acupuncturist uses tiny needles to stimulate specific points on an animal's body, promoting healing and relaxation.
For pet owners who believe in supplements, there are herbal medicine prescriptions that work in conjunction with other treatments to support a pet's recovery and overall health. These natural remedies can help to manage inflammation, pain, and other symptoms without the side effects commonly associated with conventional medications.
It seems like a lot of bother for furry companions. How much care is too much if it concerns the wellness of our pets? The question doesn't really matter if the animals can't speak for themselves.
But for the many clients of RehabVet, alternative treatments aren't so far-fetched when typical vets can only do so much to improve their pets' mobility and strength or even relieve hidden injuries.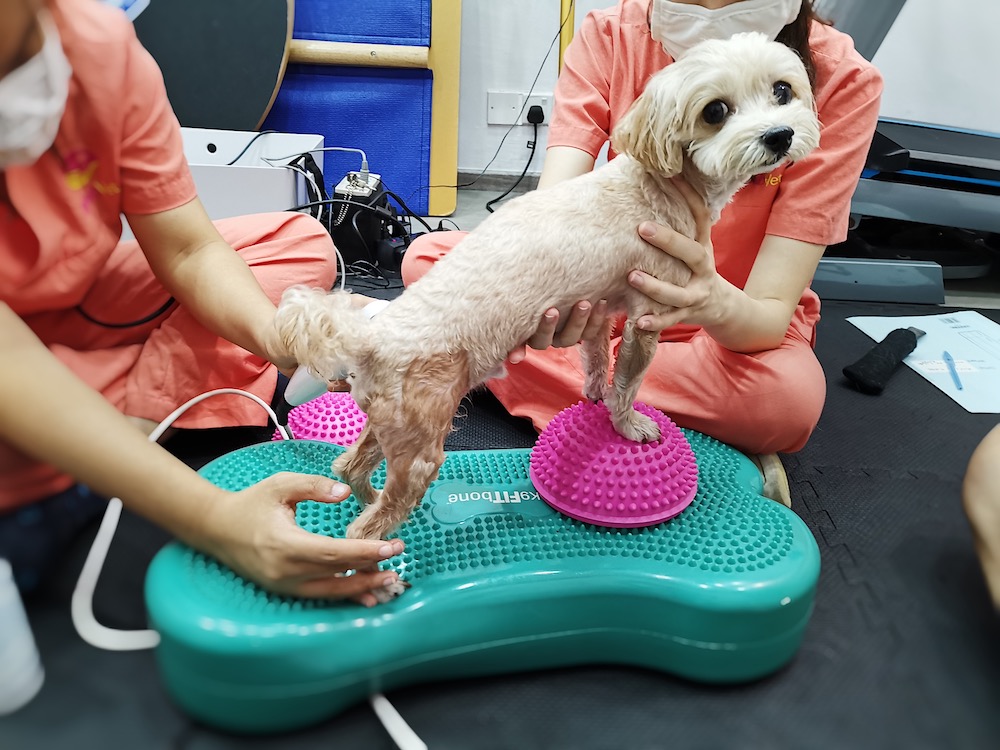 Take Trixie, for example—a dog that had been suffering from a mysterious nerve issue that caused severe vision loss and imbalance. Initially sceptical, the dog's owner brought her to RehabVet Clinic out of desperation.
It was there that Dr Lam spent an extensive amount of time inspecting Trixie to provide customised pain management recommendations and a plan to rehabilitate the dog. Over the course of several sessions—including some time in Hyperbaric Oxygen Therapy—Trixie's vision, balance and mobility slowly improved.
"Most recently, Trixie became playful again, even though it was for just a few seconds, it filled me with a hope and joy I haven't felt for over a year," Trixie's owner wrote.
"My despair is finally beginning to fade and at the very least, I finally feel that I am able to do something that brings Trixie some measure of relief and pain management."
An Era of Holistic Wellness
In an age where pets are the new children (and houseplants are the new pets), the new household hierarchy signifies the shift in our priorities for furkids. We're cooking food at home for them; we're investing in automatic litter cleaners; we're giving them swimming lessons.
We're pampering our pets from the moment they enter our lives because we know we'll outlive them. And it's changing the landscape of pet care in Singapore and beyond.
It's no surprise that there is increasing demand for integrative veterinary medicine. As more pet owners recognise the benefits of a holistic approach, there's no doubt that the demand for services like those offered by RehabVet will continue to grow.
"Seeing the remarkable progress and transformation of pets and fur kids as they regain their mobility and live pain-free lives is what truly motivates me," Dr Lam says of her work with pets.
"I'm passionate about providing the best possible care so that these beloved family members can enjoy happier, healthier lives with their loved ones"
---
This article is brought to you by RehabVet.
If you're a pet owner seeking a more comprehensive and personalised approach to your pet's healthcare, why not consider exploring the world of integrative veterinary medicine? With a wealth of services available, ranging from physiotherapy and acupuncture to nutritional consultations and weight management, RehabVet is well-equipped to help you navigate this exciting new frontier in pet care. Reach out to their friendly team today and discover how they can support your pet's journey towards optimal health and well-being.
If you haven't already, follow RICE on Instagram, TikTok, Facebook, and Telegram. If you have a lead for a story, feedback on our work, or just want to say hi, you can also email us at community@ricemedia.co.