Top Image: Wildlife Reserves Singapore
Closing the gates
For the first time in its 46-year history, Wildlife Reserves Singapore shuttered its gates to visitors on April 7th, when the nationwide circuit breaker was instituted.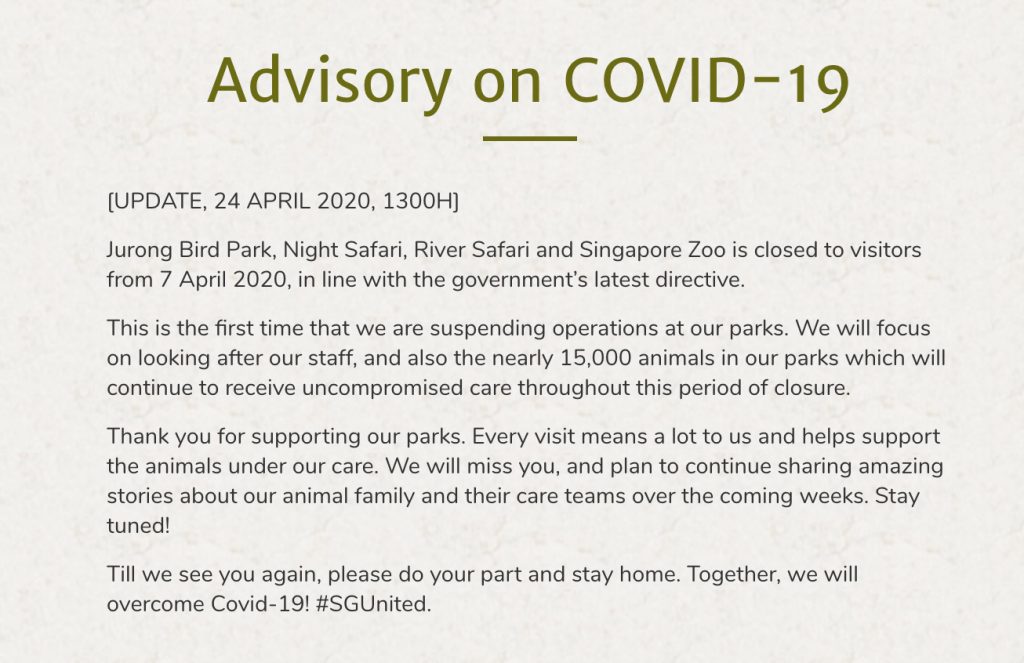 The impact of border closures and subsequent worldwide lockdowns hit the organisation as early as February. The four parks draw just over 5 million visitors annually, and
tourists from China
account for 15 percent of all guests who come to the parks.
"We are a self-funding organisation and rely heavily on visitation as our main source of revenue. So we saw sharp declines of 70 per cent across February and March," said Dr. Cheng Wen-Haur, Deputy CEO & Chief Life Sciences Officer at Wildlife Reserves Singapore. 
Nearly 15,000 animals representing 1,040 species—a good proportion of which are globally threatened—are cared for across the four parks by over 1,000 full-time staff. 
In a word, there are a lot of mouths to feed and exacting animal welfare standards to maintain at a time when global food supply chains have been disrupted and people in the tourism industry are worried about job losses.
To mitigate the immediate impact, senior management have taken up to a 15 percent pay cut from February till the end of the year.
The organisation's budget has also been reprioritised to safeguard jobs, manage animals at the parks, and continue to fund projects that protect threatened species in the wild. 
But mental preparedness has been a whole other ball game.
For many of the staff, when the parks had to close, there was a feeling of acceptance and mild shock.
"As visitorship started to decrease … there was a sense of inevitability that the parks might be closed. Wildlife tours are under my charge and as part of safe distancing measures, it was one of the products suspended in March. Together with the dwindling attendance, it did put me into a '… what am I going to do?' sort of mentality," said Sean Lee. 
A senior executive and wildlife guide at WRS, he began preparing his tours team for the transition to new duties.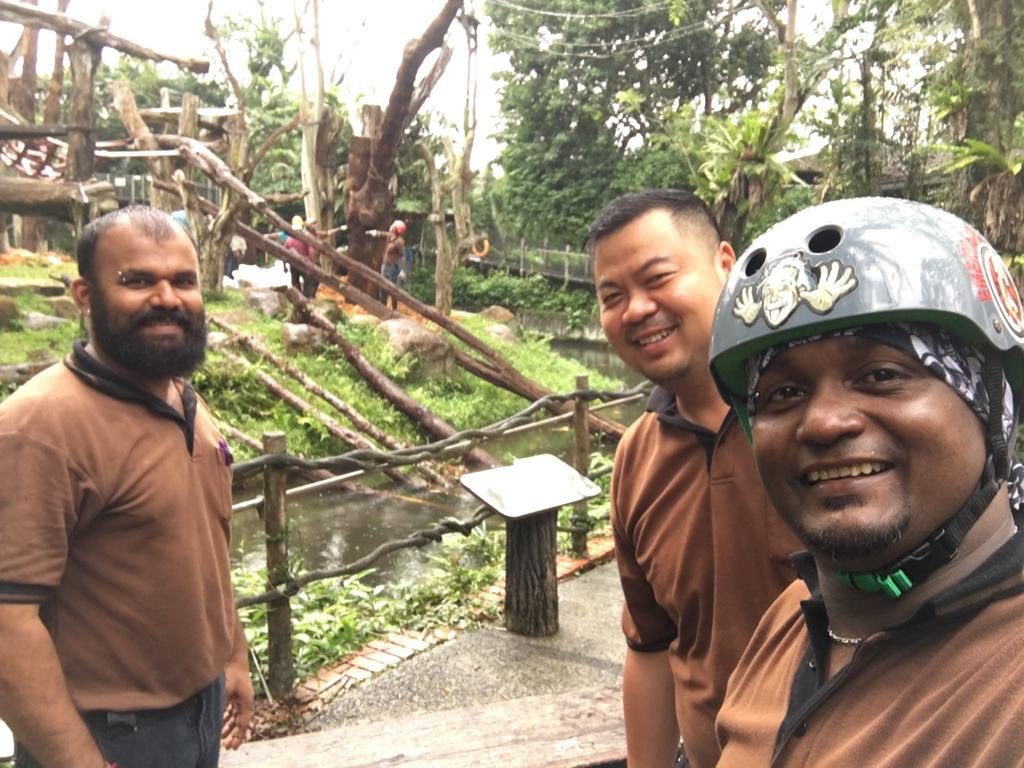 Other long-time staff members like Jeremy Chew, who works with the orangutans at the Singapore Zoo, took to
social media
a day before the circuit breaker kicked in to say goodbye to some of his teammates, as the organisation went into split team arrangements to prepare for life under lockdown.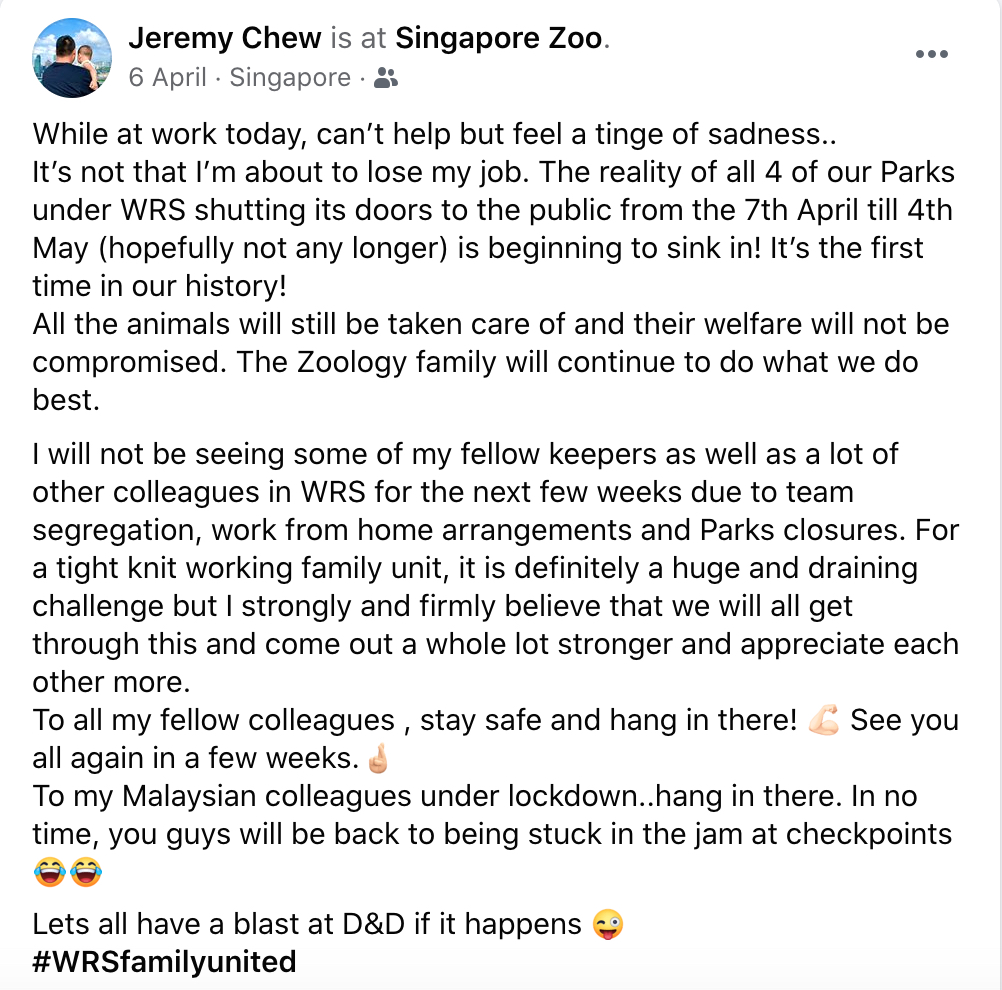 The staff geared up for what has since become the 'New Normal'—safe distancing, testing animals for Covid-19, split team arrangements, loneliness, gratitude, and new routines with the animals in their charge.
Empty parks and the New Normal
The impact of the global lockdown on zoos and aquariums has been at turns tragic and endearing. Many have gone on fundraising drives. Some will have to feed the herbivores to carnivores. Most are running out of the resources to last through an extended lockdown. 
When news emerged that seven of Bronx Zoo's big cats had tested positive for Covid-19, WRS also stayed alert and closely monitored its animals, minimising contact with the carnivores, great apes and primates, which would be most susceptible to getting infected.
Kumaran Sesshe talks to RICE about taking care of the orangutans during lockdown
"At the start of the circuit breaker, it just felt a little dystopian with the lack of visitors, and fewer staff being out and about," Dr. Charlene Yeong, one of WRS's veterinarians, tells me.
"Working in split teams and being mindful of safe distancing has made managing the caseload more challenging," she adds. "This is especially so when we have either a lot of cases, or have field sedations of large animals. We are restricting procedures to essential ones, and have postponed the routine procedures where possible."
When I ask her what has kept her up at night with worry, she pauses before telling me about a particularly difficult case.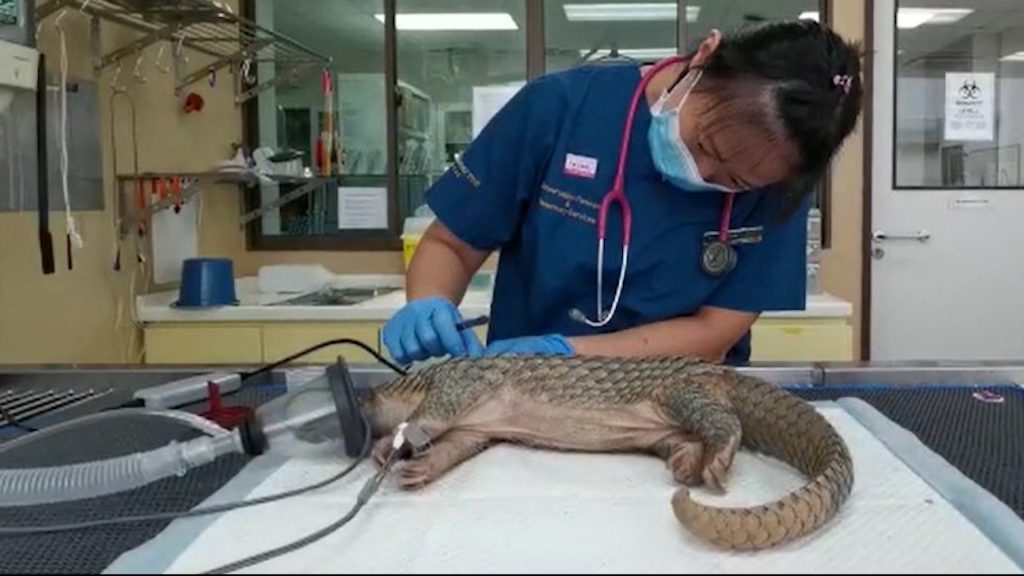 "We had a big carnivore under intensive care. It needed frequent checks, and we took turns within our team to stay overnight to care for it. That was literally keeping us up at night, and was a challenging period. On the last night of the shift, we had to complete our last check and treatment, pack up and disinfect all common surfaces, and leave before the next shift came in."
With the current split team arrangement set to continue for another month, there may be more complex veterinary scenarios ahead.
"One of my biggest concerns is the sedation of one of our large animals, such as the hoof stock. In an ideal situation, a large team is required for these procedures. We have not had to worry about that yet, but if we are faced with it, we will find a way," says Charlene.
Working in split teams has made communication trickier and everyone has to be prepared to take on multiple roles.
"It's sometimes difficult to explain certain things over a call or video call when previously we could have physically met to show and help everyone get a clearer understanding of the situation," said Kimberly Wee, a junior keeper.
For staff like Sean, with the cessation of wildlife tours, he's been rostered to be a part of the emergency response team at Jurong Bird Park, which is an essential services role. While the team is on standby, they take on other roles concurrently.
Sean has been working with the Avian team to assist with their daily husbandry duties, a role he had as a bird keeper about 11 years ago.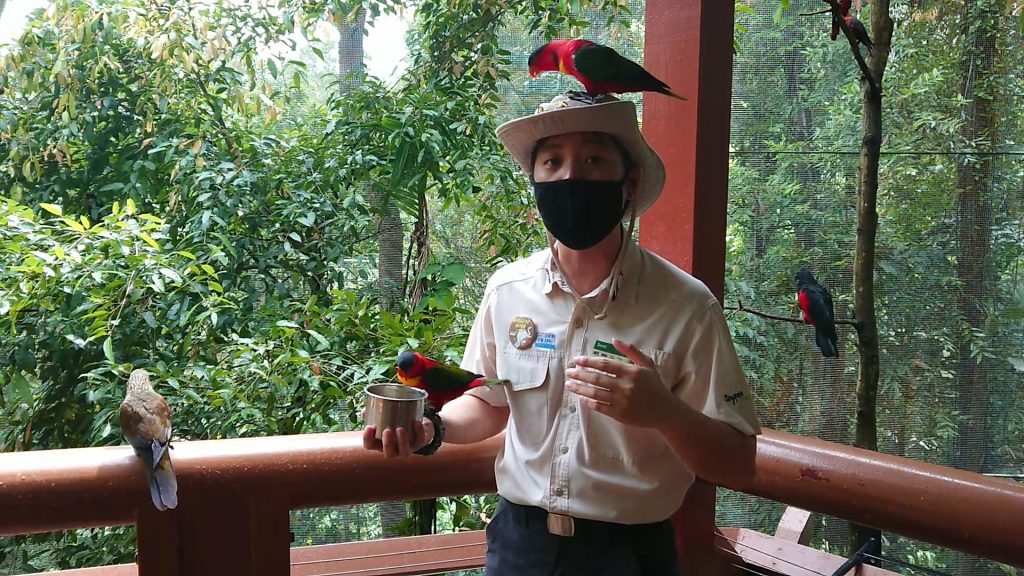 "There was one especially wet day when we had to lug four buggies worth of trimmed leaves and branches from the shoebill exhibit and by the time we were done, we were all drenched in perspiration and muddy water," he says, though he sounds more thrilled than frustrated recalling the day.
Supply chain disruptions have also impacted on the types of plants and materials that are available to refurbish exhibits, or the manpower and contractors needed for larger tasks. 
WRS has been sourcing from multiple suppliers and currently has a stockpile of critical items like animal feed and medical supplies.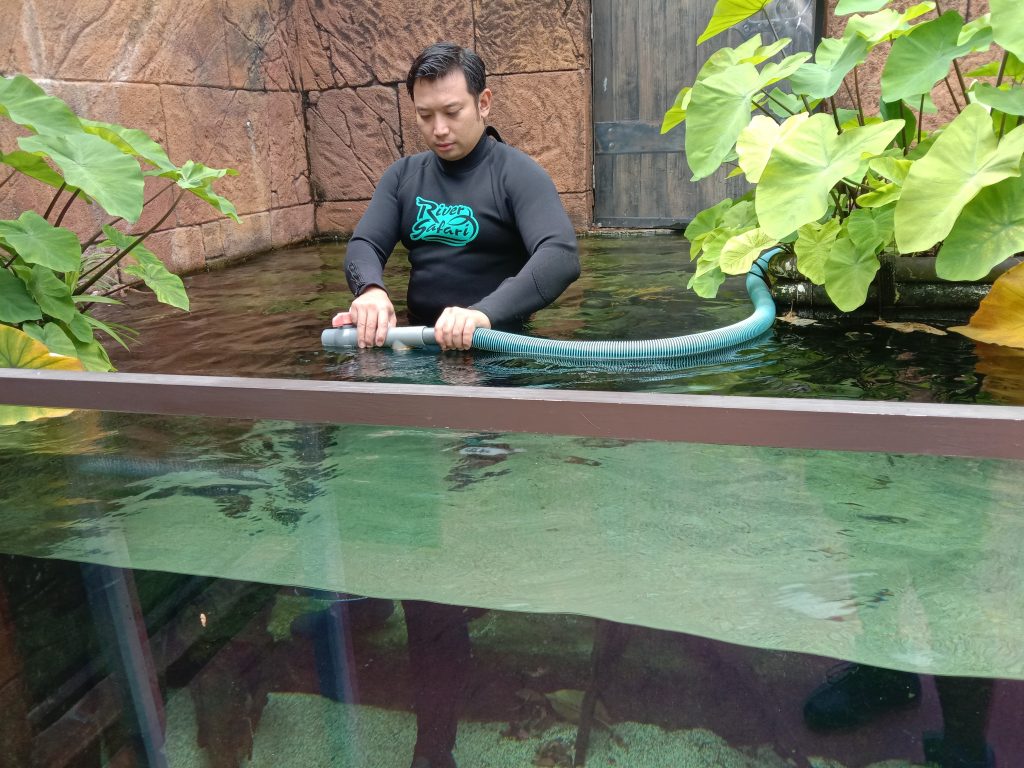 Muhammad Saufi Bin Suria, an aquarist at River Safari, is an avid plant and ichthyology enthusiast (i.e. he loves fish). So scarcity meant they had to grow what they couldn't source for and purchase.
"I was tasked with sprucing up some of our smaller aquarium exhibits and hit a stumbling block when the availability and delivery of aquatic plant stocks were delayed. We decided the best solution was for me to propagate plant cultures in our laboratory tanks. The process took a while, but was fruitful," he quipped. 
Animals Explore the Parks While Humans Stay Home
Globally, zoos and aquariums have had to devise enrichment activities for the animals in their care to change up routines during the lockdown. For parents who remember reading the books of Eric Carle to their children, this means that scenes from his books seem to have come alive.
There are frolicking flamingos in Oregon Zoo. An aardvark and some penguins have gone on a playdate to visit gorillas (behind glass of course). 
And a video of a pair of Rockhopper penguins at Shedd Aquarium in Chicago went viral because they seem just like any human visitor, enjoying a bit of a stroll and pausing to peer at Amazonian fish in one exhibit.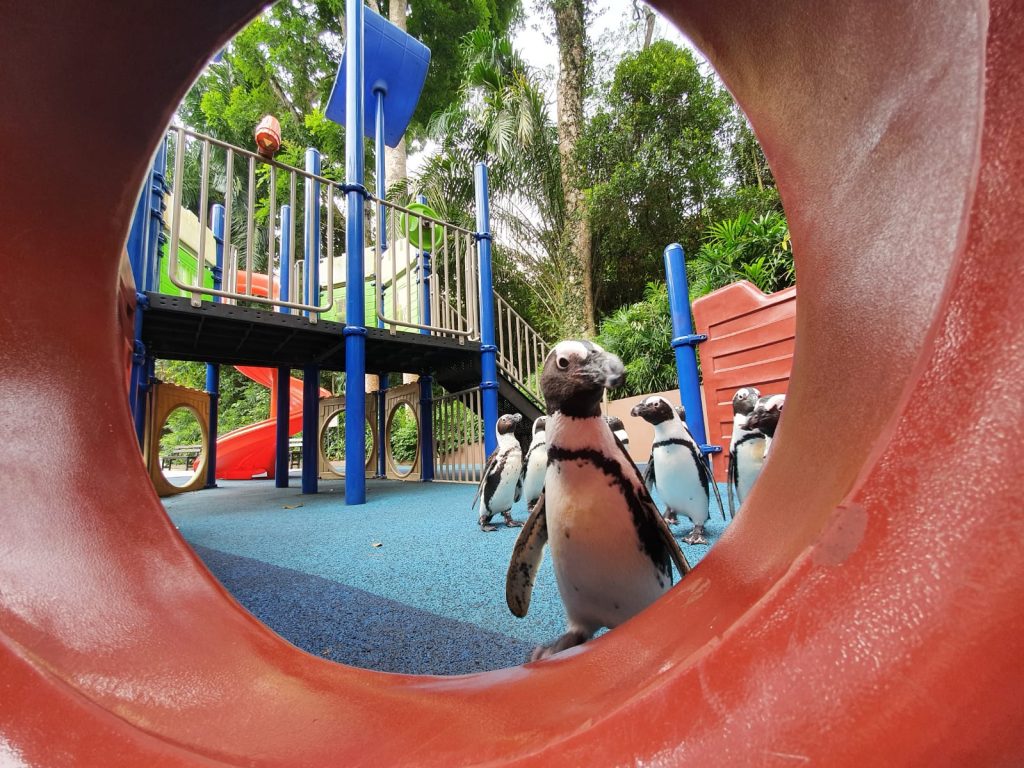 Like their compatriots overseas, Singapore zoo's African penguins have also been
venturing out
of their exhibits several times a week as part of the zoo's enrichment programme during the lockdown. 
Another species that's been getting out and about are the ring-tailed coatimundis. Native to South America and related to raccoons, the zoo's five male coatis (as they're called) began going for occasional walks about a year ago.
But with the closure of the parks, they now go for 15-minute walks every morning, or early evening. They've been trained by their handlers and much like dogs, can roam around in uncontrolled environments.
Are the animals generally happier? Are they feeling calmer without the endless stream of people peering at them, or the cacophony of voices that characterise most tourist destinations?
It's hard to tell.
Vint Virga, a veterinarian and animal behaviourist, has studied animals in zoos for decades and can attest to the fact that they both think, and feel. They can report on their inner states. But according to Virga, "We're not listening."
It would be interesting to see what Virga makes of the current conditions, as animals in zoos wander about, or have more frequent encounters with wild animals, which have also been more abundantly sighted since the virus drove global human populations indoors.
But one thing is certain. While staff at WRS variously shared that they miss their teammates and the social aspects of their jobs, they have become closer to the animals they work with.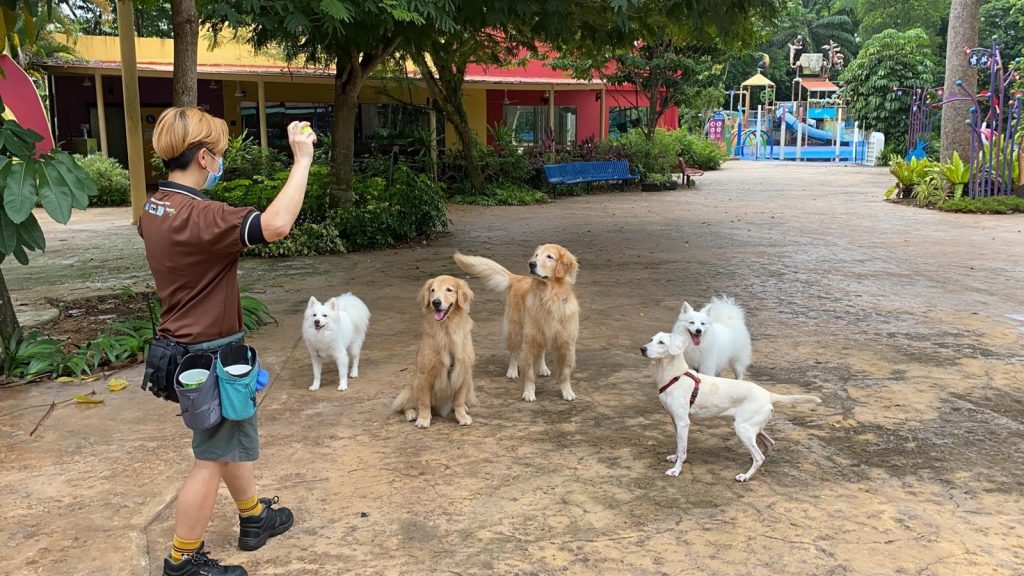 Most significantly, there has been a renewed call by scientists and staff across zoological and biodiversity conservation institutions to recognise that a "
one health approach
" will be the only way to tackle and prevent a recurrence of a pandemic like Covid-19.
Simply put, environmental contamination, habitat and biodiversity loss or emerging infectious diseases happen because people, animals and the environment are interacting and intrinsically connected.
That connection can be either profoundly rewarding, or potentially destructive, as Covid-19 has proven to be.
Preparing For An Uncertain Future
As Singapore rounds the corner to June 1st when circuit breaker measures will be gradually eased, many businesses, including WRS, will not be reopening. 
In fact, there are no clear indications as yet, that the parks will definitely reopen even in the final leg of the three-phased approach to exiting the circuit breaker, slated for the third quarter of 2020. 
With the drop in revenue takings from admission tickets, F&B purchases, retail, and token feeding sessions, WRS has stepped up its online efforts to appeal for support.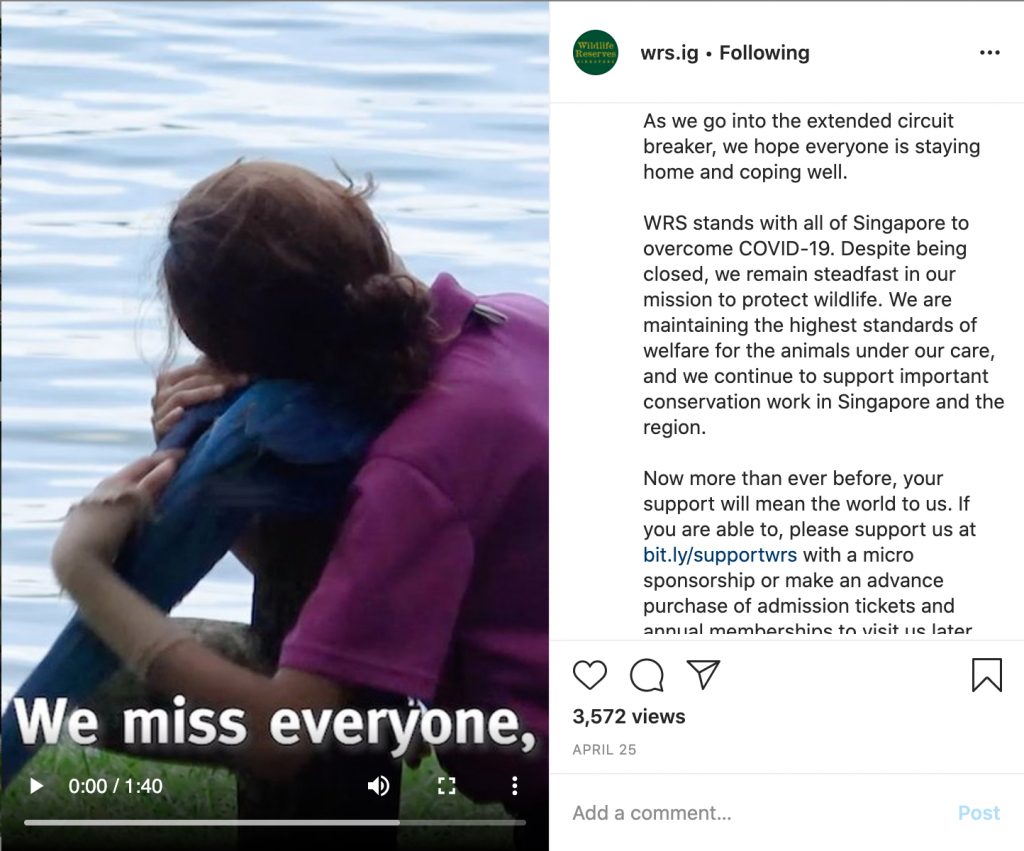 The organisation is also trying to stay engaged with its members and visitors by providing
e-learning resources
for children to complement existing HBL programmes and
wildlife interaction
sessions with keepers via video call.
While its staff benefited from the training measures that were rolled out as part of the government's Unity Budget on February 18th, WRS will continue to need assistance with staff costs and training. 
Then there are the nearly 50 local and regional conservation projects in over 9 countries that the organisation supports through grant funding amounting to $2 million annually, which could be impacted by the current crisis.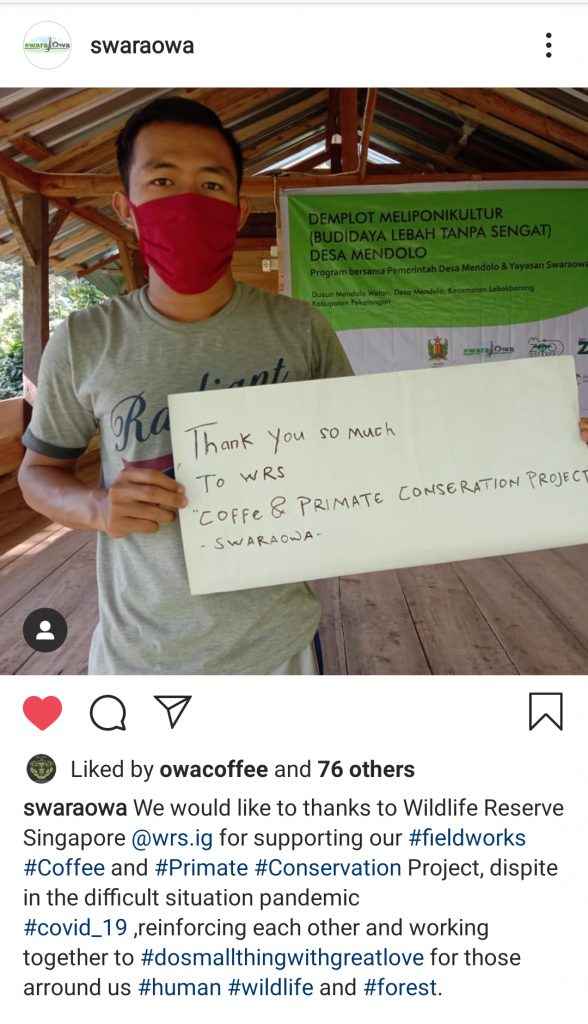 "The
ongoing success of the projects is dependent on our ongoing support. We are in close engagement with our partners to discuss how best to adapt each project to survive through this challenging period," Dr. Cheng said. 
Many of these field-based conservation projects focus on protecting some of the world's most critically endangered species in Southeast Asia's protected nature reserves and biodiversity hotspots.
They include the Sumatran orangutan, Malayan tiger, the Asiatic black bear and several species of turtles that are being wiped out by the illegal wildlife trade and habitat loss.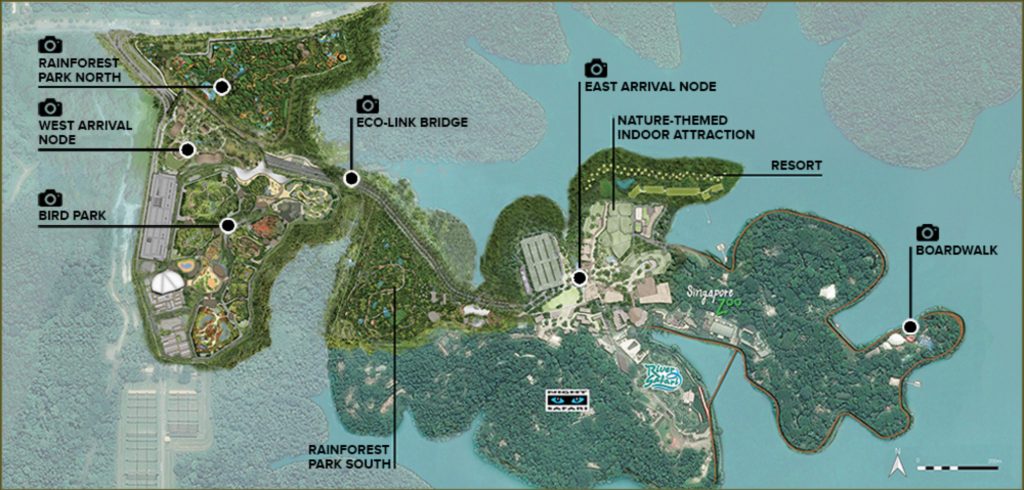 The construction sector in Singapore has also been
hit hard
by the Covid-19 crisis, with many projects coming to a virtual standstill when workers were widely infected and had to remain in gazetted dorms, under quarantine. 
This could cause inevitable delays to the ambitious plan for a "mega nature and wildlife destination" in Singapore, undertaken by Mandai Park Development, which will see the Mandai area—currently home to the Singapore Zoo, Night Safari and River Safari—expanded to include the relocated bird park, a rainforest park, an indoor attraction and an eco-friendly resort.
While the Mandai Wildlife bridge is now in operation to ensure animals are not affected by ongoing construction, it's unclear when Singapore's overall building industry will come to life again for the new bird park and West Arrival Node to see an opening in 2022, and for the other projects on the site to be progressively finished by 2024.
The larger Mandai project aside, it's clear that life at WRS, like much of the world, will be permanently altered by the pandemic.
That means when the four parks open their doors to visitors once again, it will be mandatory for both staff and outsiders to log in via Safe Entry, do temperature screenings, frequently sanitise and disinfect areas, practice safe distancing and wear masks for the duration of the visit or work day.
Cashless payments will become the norm and the parks will likely operate on reduced capacity, with a reorganisation of activities that may cause crowds to gather.
"The experience of visiting our parks will be very different for quite a while after our parks are allowed to reopen. In this new reality, safe distancing measures and social responsibilities will be the order of the day," Dr. Cheng said.
What do you most miss most since Wildlife Reserves Singapore closed its gates? Tell us at community@ricemedia.co.