Top Image: Facebook Screengrab / Jeffri Piperdy
Jeffri Piperdy, a professional magician and busker since 2017, is about to embark on his finale in Orchard Road. His arms and upper body are bound by a straitjacket. The 23-year-old performer steps onto a plank placed atop a cylinder. Jeffri will have to free himself of his restraints while balancing on the plank.
The performance draws passers-by into his audience of about 40 people. Jeffri finally manages to escape, and the crowd applauds. Audience members eye each other before walking up to Jeffri with $2 notes in their hands.
His performances draw both locals and tourists in with street-side spectacle—he's good at what he does. But there's another secret up his sleeves. Among Singapore's tightly-knit busking community, the name strikes a discordant note. Because Jeffri Piperdy holds the country's buskers in fear.
A Discordant Note Along Orchard Road
Claiming that other buskers along Orchard Road have breached National Arts Council (NAC) rules, Jeffri allegedly calls the police on them.
According to four local buskers we spoke to, Jeffri reports illegal foreign buskers to the police. But he doesn't stop there. He allegedly calls the cops on licensed local buskers too, citing other reasons such as "obstruction of walkway".
The local buskers we spoke to have said that there is no obstruction. What usually happens is the police show up and leave after clarifications have been made, they say.
Buskers who've been on the receiving end of Jeffri's transgressions believe that he intends to disrupt their performances or get them off the streets altogether.
When the police show up, affected buskers face a tricky dilemma: Stop the show to speak with the police or continue performing until the end and handle the matter afterwards.
Both options end in the same outcome; audience members lose interest and leave, and the busker loses potential income. After all, the mere presence of law enforcement waiting at the sidelines intimidates audience members and deters anyone interested to continue watching the performance.
26-year-old Jonathan Goh, a circus busker and Founder of Buskers' Association Singapore, tells RICE these incidents started in early 2019 and peaked around Christmas the same year.
"It started as a disagreement among buskers. Jeffri felt that foreign buskers came to Singapore and illegally took up their space. There was less money to be made. He also felt that if there were more buskers on the street, he earned less money."
Where Jeffri got the idea to call the police on his fellow buskers is unclear. But his omnipresence along Orchard Road strikes fear among the local busking community.
He doesn't work alone. According to Jonathan, a network of assistants, some of whom share the same gripes as Jeffri, call the police on his behalf.
Their loyalty to his cause comes with rewards, buskers say. Cash is doled out to associates depending on how severely the busker is affected.
According to screenshots RICE obtained, his reward system starts from $5 for a single call, increases to $50 if the busker's items are seized by the police, and goes up to $500 if the busker gets deported.
To confirm that the number we obtained in the screenshots was indeed Jeffri's number, we searched the NAC website which lists local buskers. The number listed for Jeffri on the NAC's website did indeed match the number found in the Whatsapp screenshots.
This confirmed, at the very least, that it was Jeffri's number which sent those messages in the screenshots. The same phone number is also listed on his professional website for busking.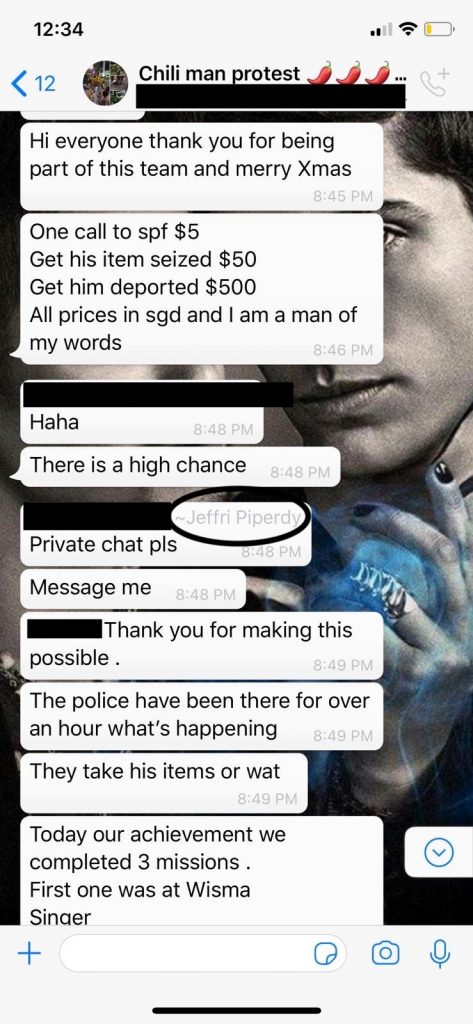 Melodies of Discontent
More often than not, it's local buskers, rather than foreign ones, who bear the brunt of Jeffri's actions. Regardless of their country of origin, it seems that they are fair game for Jeffri. In WhatsApp screenshots obtained by RICE, he tells his associates that they have to "kick local buskers out too".
Fewer buskers mean less competition; less competition means more audience members for himself. In turn, more potential income for his act.
What started out as trying to stop illegal foreign buskers has expanded to local buskers, many of whom are Jeffri's peers in the tight-knit busking community.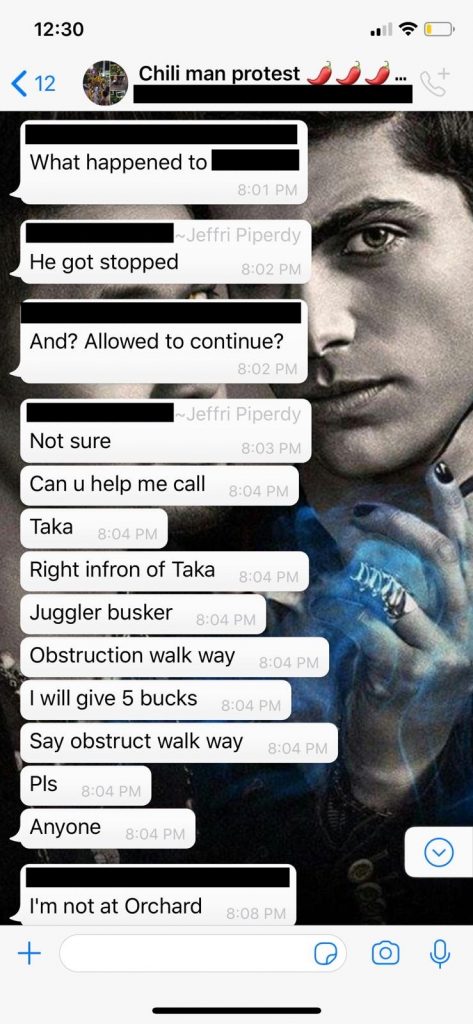 Benjamin*, a 27-year-old licensed full-time busker, has had his shows disrupted so often that he's already used to it.
His first experience took place along the river at Clarke Quay in 2022. He can't remember how many times he's had to manage these situations since.
"Aside from our income being affected, we are concerned about our image as buskers. We are trying to improve buskers' image; buskers are professionals, not beggars." Benjamin estimates that at least 50 to 80 percent of his income is affected, depending on "what it takes to deal with the police."
"When the police arrive, we are under public scrutiny. People ask whether we're doing anything wrong. We handle it professionally and the matter is resolved quickly, but image concerns are still there."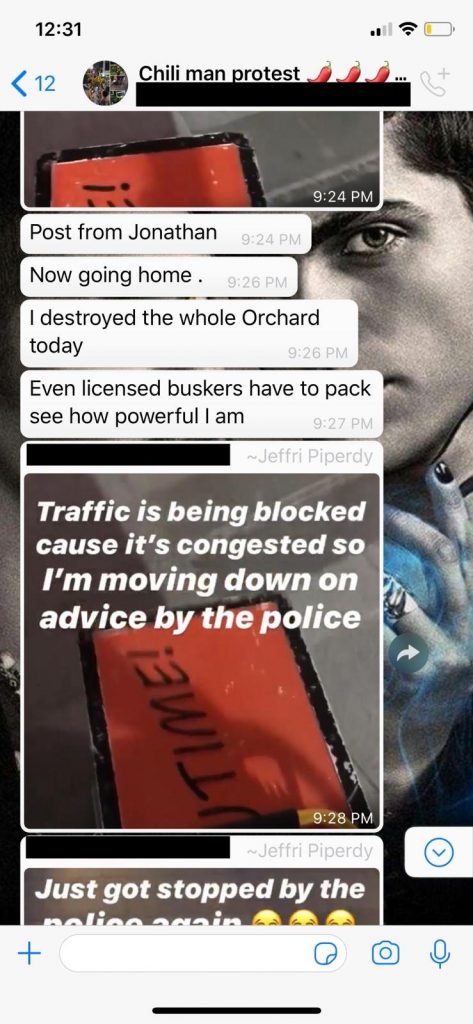 According to Benjamin, word about these incidents spreads fast. Locals considering joining the busking community now ask themselves whether sharing their art on the streets is worth the risk of dealing with Jeffri.
"On top of that, buskers have other things to worry about. Our income varies; rain disturbs our plans… Having to deal with Jeffri's antics is just additional trouble we wish we didn't have."
In an audio recording that Jonathan shared with RICE, a man, allegedly Jeffri, is instructing others on what to say to get authorities to come down to check on the buskers.
"You say the Ngee Ann City, in front of Takashimaya, there's a person; he's a juggler. He's obstructing the walkway. He's making so much noise. You say it's Christmas. It's Christmas Eve. The road is already jam packed."
"Tell them: 'Please check the whole entire Ngee Ann City. There's so many illegal buskers.' You tell them like that. I call many times with my phone already."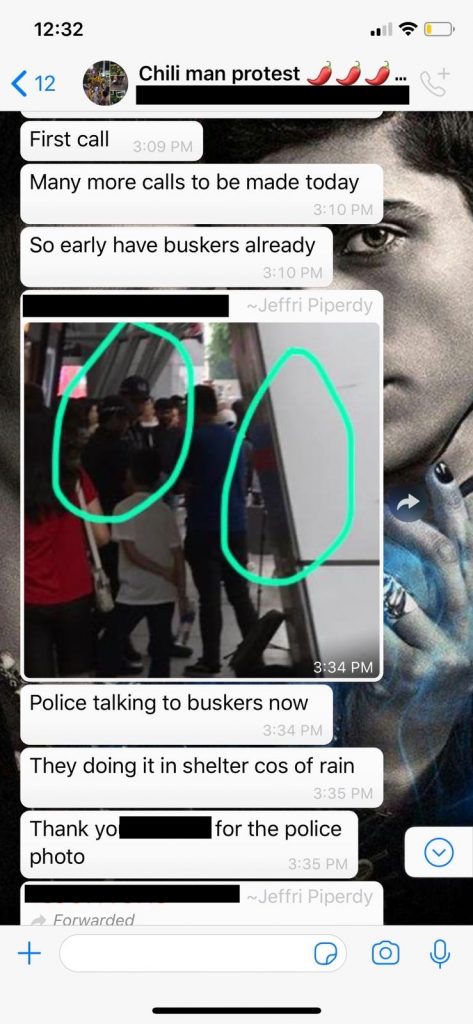 When potential performers decide busking is not worth running into trouble with the authorities, the busking community loses variety, and Singaporeans are worse off because of it.
At the same time, for Singaporeans, local buskers are seen as afterthoughts. Issues about busker affairs or their livelihoods aren't big enough for people to take seriously. As a result, issues which affect local buskers can go unaddressed or placed on the back burner.
Blowing The Whistle
An air of invincibility surrounds Jeffri and his actions, which fall in a grey area. Repeated phone calls to the police could be taken as an overzealous citizen trying to uphold the law of the land. It's difficult to legally pin down exactly what he's doing wrong.
It seems like Jeffri knows it too. In the following video, he admits to "destroying everybody", presumably the buskers along Orchard Road. When a fellow busker confronts him over the phone, he denies these allegations, only sparking more anger from the affected busker. Jeffri seems to take pleasure in the busker's frustration.
Jeffri alleged that the busker reportedly made comments about his religion. However, that was not captured in the video that Jonathan obtained and relayed to us.
Many buskers like Jonathan Goh and Benjamin have raised this issue with the National Arts Council (NAC) during 'Buskers Connect'—quarterly engagement sessions between the NAC and endorsed buskers.
The NAC, a statutory board in charge of local buskers, manages about 300 endorsed buskers and 70 busking locations. The team handling local buskers, which consists of three people, see that local buskers follow regulations and handle any concerns local buskers might have.
During these engagement sessions, buskers can raise their concerns and suggest improvements to the busking scheme.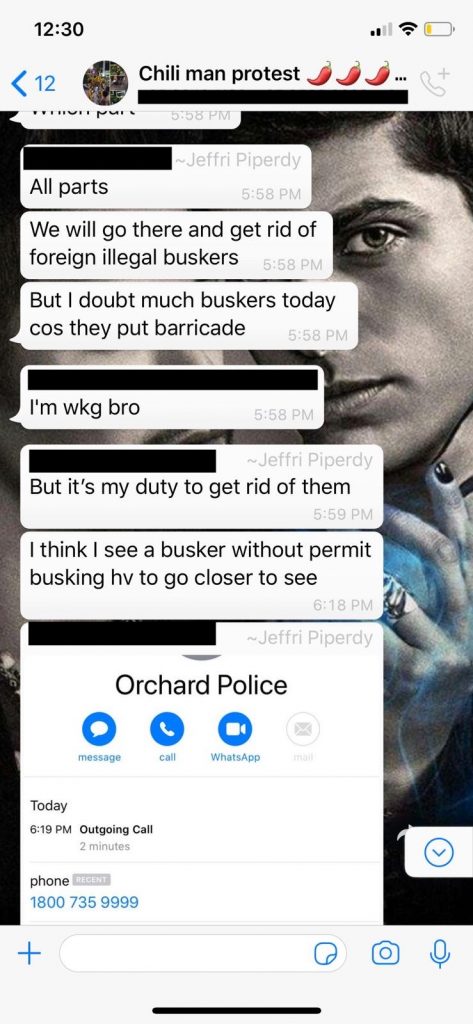 "We have raised this issue with NAC. I believe they have spoken to him," Benjamin declares. "We have called for a ban on him. But he's still out there on the streets busking."
A spokesperson from NAC confirmed the issue was raised to them via email and at an engagement session. However, NAC has not stated there was any communication with Jeffri on this matter.
Benjamin reveals that calling on the authorities to put an end to Jeffri's schemes has proven to be difficult.
"I was told that I had to file a police report and report the case number back to them. It was only after a police report that NAC could investigate. But I don't understand, if it's a dispute between buskers, why would they need to wait for a police report before they could begin investigating?"
To that, NAC clarified that they advise buskers to call 999 or to lodge a police report for any law and order issues. Any subsequent investigation will be carried out by the police. The NAC also confirmed that Jeffri is not under their investigation.
Facing The Music
From the screenshots of Jeffri's chats, we dial the number which allegedly belonged to Jeffri. During the call, Jeffri confirms that the number we obtained was indeed his.
We first ask him to confirm whether he was indeed calling the police to look into the performances of other buskers. He asks us to read through the rest of our questions before he gives a response.
We ask whether there was any truth to Jonathan and Benjamin's claims. He doesn't respond. We proceeded to ask him whether he could confirm that he had a network of associates who called the police on his behalf.
The list of questions are finally read out. When he first picked up, he sounded unconcerned. Now, he sounds slightly annoyed as he tries to come up with a response.
"These are all fabricated and it is all nonsense," he responds almost immediately after we run through the questions. He hangs up the phone.
Jonathan, the circus busker, has tried to keep Jeffri's antics at bay. However, it's difficult to keep track of Jeffri, especially when he eludes detection and hides under the veil of plausible deniability.
"With all the rules and regulation set on the busking scheme said to protect buskers and keep the community safe, Jeffri was able to use these regulations to threaten and sow discord amongst the community," Jonathan explains.
"And yet those who are working together to keep the busking community tend to be penalised by the arts council."
A Busker Gets Busted
There is little that anyone can do about Jeffri. He continues to bring joy to anyone who catches his performance.
When it comes to the local busking community, however, any mention of Jeffri raises indignance rather than delight.
It's precisely because Singapore has such strict regulations around busking that Jeffri's alleged subterfuge is especially surprising. According to the buskers we spoke to, he has essentially escaped any repercussions.
Perhaps, it's because regulation doesn't anticipate a busker turning on his own community that there are little guidelines on how to handle the matter when it occurs.
There are ways around managing logistical issues like slot allocation. On the other hand, handling situations which fall into ambiguous areas leaves much to be desired.
If everything the buskers believe of him turns out to be true, Jeffri has essentially exploited the black-and-white regulations surrounding busking in Singapore and turned them against his own community for personal gain.
Unfortunately, Jeffri won't be the last to do so. It's difficult to adjudicate matters such as these.
In the meantime, Singapore's busking community can only hope that they never fall on Jeffri's bad side. "He has mellowed down. It's been a few months since he's done this. Not as bad as last time," a busker who wanted to remain anonymous reveals before the start of his performance along Orchard Road.
The only problem is that there's nothing stopping Jeffri from starting again.
The busker starts his show, and we stay on to watch. We were curious to find out if the police would show up.
As we scan the crowd, we spot Jeffri leaning against the railings, staring down the busker.
He stays for the entire duration of the performance.
---
If you haven't already, follow RICE on Instagram, TikTok, Facebook, and Telegram. If you have a lead for a story, feedback on our work, or just want to say hi, you can also email the writer at hykel@ricemedia.co or at community@ricemedia.co.