All Images by Shiva Bharathi Gupta unless otherwise stated
Lim Tian Wee, founder of Gryphon Tea, is holding a pen in one hand while gesturing with the other. He's chatting animatedly with one of his employees when we arrive at Gryphon Tea's headquarters, a nondescript warehouse building along Pandan Loop.
The 53-year-old had just returned from Tokyo, where he met his Japanese tea suppliers of over 15 years; a meeting in Shizuoka Prefecture. Aside from its long history in wagyu beef and high-quality wasabi, the prefecture has been cultivating tea since 1244.
As a tea company based in Singapore—a country with neither the climate nor land for high-quality tea leaves—fostering a connection with suppliers abroad is crucial. Without these connections, Tian Wee is Mozart without a piano; there would be no Gryphon Tea without them.
His employee sets off, and Tian Wee turns to me. His friendly greeting takes me by surprise. The serious discussion he had only a few minutes earlier is a stark contrast to his calm and gentle demeanour. Very much like the tea he sells.
As the founder of Gryphon Tea, Tian Wee is a busy man. His schedule is filled with meetings with suppliers, quality testing, innovating new blends, mentoring young local entrepreneurs, and finding a successor.
His biggest challenge yet is something more immediate: Justifying the price of his premium tea brand on an international and global stage. It's a Singaporean success story through and through—a tale that's over a hundred years in the making.
Gryphon Tea, started in 2006, was born out of a much larger company with a storied history—Lim Lam Thye, a tea importer established in 1918. Since then, it has staked its claim for a spot in the international tea industry. In 2017, High Net Worth reported that it garnered revenue of about $5.8 million the previous year.
But Gryphon Tea, even as established as it is now, still has its work cut out for it. The homegrown brand competes with other international names—mammoths with deep pockets and sophisticated marketing machinery.
With a subsiding pandemic and rising prices, Tian Wee contends with a business conundrum daily. To compete, Gryphon Tea must punch above its weight and justify its price among a slew of other household tea brands sold in Singapore.
The Premium
Another employee returns with two bottles of dried tea leaves—one from Gryphon and the other from a competitor. Tian Wee pours the leaves into two separate plates, ready to introduce us to the ins and outs of the tea business.
Tian Wee launched Gryphon Tea in 2006. The brand prides itself on its high-quality, premium blended teas. A box of their artisanal tea costs about $22 at your neighbourhood NTUC supermarket.
The brand boasts an impressive selection of exotic and experimental flavours, from 'Templetree Lotus' to 'Nymph of the Nile'. Its artisanal selection alone contains 18 different blends of tea leaves.
Gryphon Tea's office is exactly how you would imagine it. The smell of tea leaves gently wafts around you as you enter the office. An assortment of products and shiny blending equipment sits on shelves.
Pastel-coloured Gryphon Tea boxes, stacked upon each other, colour the office's white walls as light would through a glass prism.
And in that pastel-infused glow stands Tian Wee.
"Gryphon Tea is premium because it uses strong herbs and flowers to flavour our tea. Our tea is sourced from all the tea-producing countries in the world—China, Taiwan, Japan, India, Sri Lanka, and Tanzania."
Tea leaves are sensitive specimens by nature. Apply too high a heat too quickly, and the tea gets burnt, creating toasty notes. Ferment tea leaves a tad too long, and you get notes of sourness, according to Tian Wee.
He runs his fingers through a competitor's dried tea leaves. A light prod and the leaves flake into tinier pieces. Tian Wee heaves a sigh of disapproval. The leaves were roasted for far too long, he says.
At Gryphon Tea, Tian Wee personally oversees the production process. Any leaves that do not meet his strict criteria never reach a customer.
At its heart, Tian Wee is a craftsman. He believes that tea blending and brewing is a craft. Every blend and every cup is one step closer to the perfect cup.
"People appreciate the quality of Gryphon Tea," he comfortably remarks.
"We increased our prices by 5 percent because of inflation. But we've noticed that inflation has stabilised. In fact, the retail price to the customer is the same. Our distributors have absorbed the price increase."
Of Humble Beginnings
He seems to be the picture-perfect image of a businessman who's made it, fully confident in his business decisions. The company has 500 customers in Singapore—restaurants, supermarkets, hotels, and airlines. It's also distributed throughout Southeast Asia, Japan, Korea, Mauritius, and the Maldives.
In a time when Singaporeans are worrying over the cost of living, Gryphon Tea's products have survived everyday cost-cutting exercises. Tian Wee reasons people who appreciate a good cup of tea wouldn't mind splurging on one.
Premium tea, premium founder—the man is dressed to the nines for our photoshoot. His chequered grey suit is tailored perfectly for his frame; his leather shoes shine under the office's harsh lights. He admits he would have worn something more casual if he didn't have an interview and another meeting with another supplier today.
It wasn't always this luxe. This global brand grew out of a humble local tea trading business that started in 1918. His father, Lim Keng Tong, was first a supplier of Chinese tea bags to bak kut teh shops found in the alleyways and streets all over Singapore.
"But that business was limited, and it was diminishing as well," Tian Wee recalls. "We dealt vegetables and fruits to army camps and prisons after supplying tea to bak kut teh shops. But my father felt it was not his calling, so he returned to tea. On his return to the tea business, he wanted to import tea from Vietnam."
Vietnam's post-war economy in 1975 was in shambles. The aftermath of the Vietnam War rendered the Vietnamese Dong essentially worthless at the time. The only currency with value was the US dollar, and there wasn't enough of it going around.
Keng Tong's triumphant return to the tea trading business was short-lived; he needed to get his hands on Vietnamese tea leaves, but Vietnam's exporters didn't have much valuable currency to trade with.
Keng Tong eventually agreed on a barter trade system with the Vietnamese. Motorcycles, fans, and televisions were bought in bulk, packed into containers, and shipped off to Vietnam. In exchange, Vietnamese tea on Singapore shores.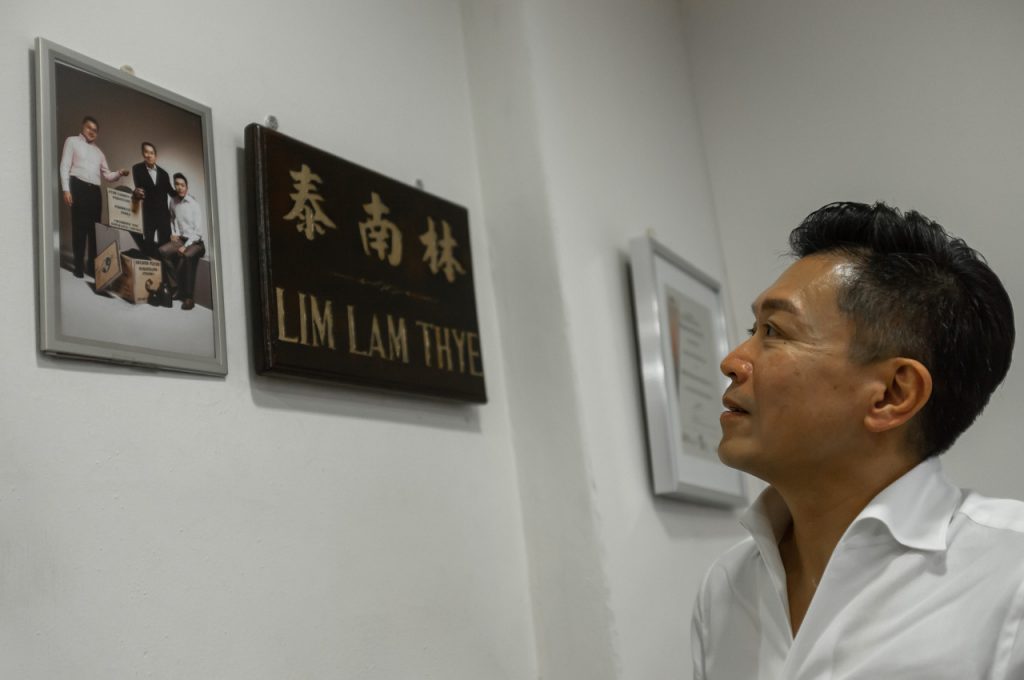 Precious Lessons From Precious Tea
A business venture as risky as the one his father had taken bore fruit. Bartering televisions for tea leaves was Lim Lam Thye's Big Bang moment. It marked the birth of Lim Lam Thye Private Limited, a major tea importer and exporter based in Singapore.
Unlike the Big Bang, however, the family business expanded slowly instead of rapidly—from strength to strength, customer to customer, built on the literal blood, sweat, and tears of Keng Tong himself.
"Back then, Singapore rained and flooded a lot. Once, my father went out for deliveries on a rainy day. He returned with bruises on his legs. I found out he fell down while on the motorcycle because it was slippery. He should have come home immediately. But he knew he needed to support the family."
The cadence of Tian Wee's speech slows. He gets sentimental. He chokes up when he recalls this particular memory of his father. Growing the business from a small shophouse near Ganges Avenue to a colossal warehouse near Pandan Loop required sacrifice. His father paid a hefty price, foregoing dreams of becoming an artist to grow the business.
"My father was an artist. In my warehouse downstairs, there are some old paintings from his younger days. He has continued drawing during his retirement."
I had not expected to see this side of Tian Wee. After all, we had only just met 30 minutes ago. Leaders of global business empires are typically Succession-level ruthless, no?
"He's not the smartest man around," Tian Wee explains after recollecting himself. "But he's certainly willing to work hard for his family. In terms of values, I learnt how to protect my family first, whether it's long-time employees or my kin. The business is to support the family."
Indeed, even in the throes of the pandemic, Gryphon Tea's loyal brand following and prudent cash management has allowed Gryphon Tea to thrive. Its employees were kept relatively insulated from the onslaught of layoffs hitting other companies.
When the bulk of the company's customers ceased physical operations because of COVID, his company pivoted to selling its products online. While his nimbleness to adapt to different challenges seems naturally acquired, it is anything but.
The Ins and Outs of a Family Business
One would expect Tian Wee to take to the family business like fish to water. Instead, Tian Wee's first few years were riddled with self-doubt.
At 30, he left a cushy job in the fast-moving consumer goods industry to enter the family business. The switch was far more a leap of faith than he had expected—it cut into the core of his confidence.
"I saw my peers growing in their careers. I doubted my own abilities. That was a moment of weakness."
If it were possible to be born with a natural golden palate, Tian Wee would have jumped at the chance. Alas, it was not to be. In an interview with The Straits Times, Tian Wee recalls how he failed to differentiate the taste of 50 various teas his father laid out for him.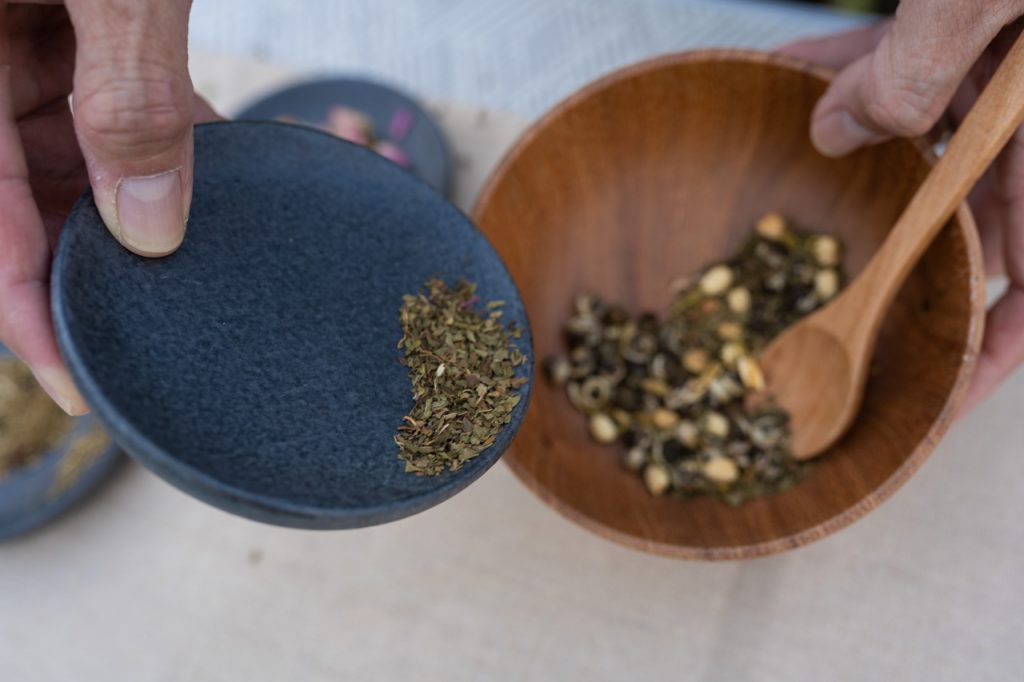 He might have had his father's financial support (a small loan of about $2,000 in 2005), but there was only so much he could rely on. "My father's expertise is in tea trading. In terms of building my own brand, I figured that out for myself."
His business acumen had to be remodelled into one of a discerning entrepreneur. "When I first started, I was going door to door to sell our premium blended teas."
"They liked the tea, but we couldn't get brand recognition because we didn't have a name. Cafes could simply take our teas and sell them under their brand. It would be no different from competitors like T2 competing in our artisanal tea selection."
In the first few years of his business, Tian Wee was also conned by one of his suppliers after personally going to Taiwan to sample Taiwanese tea. When the order of 50 kilograms worth of tea leaves arrived in Singapore—almost $4,000 worth—he realised that the tea he got was from Vietnam instead.
It was written off as a financial loss, but he learnt valuable lessons from the incident. The same Tian Wee, who only moments ago choked up over his father, now has the confident air of an astute businessman.
"That's why I value my relationship with my suppliers. There is honesty and integrity between us and all of them. It's why I personally went down to Tokyo to meet one of them last week," he opines.
The Tea Leaf, a Canvas and a Space To Play
Another employee enters the office with a pot of Tian Wee's favourite brew: Osmanthus sencha tea. The honeyed top notes of the osmanthus flower fill the room. He offers the RICE crew a cup each.
The osmanthus sencha tea has light apricot notes. The scent of osmanthus comes across especially strongly. It's refreshingly delicate.
Tian Wee personally comes up with the blends, mixing and matching different ingredients and notes for new flavours and products; he's created over 400 blends of tea in his career.
"What keeps me going is the space to play and create new products. On rare occasions, I eat flowers to really get the taste of the tea. I wanted to make an orchid tea, so I once went to a horticulturist to ask them to point me to an orchid flower with the smell. She pointed me to tiger lilies. I interpreted that into one of our teas called 'White Gingerlily'."
What's striking is how much he had inherited his father's artistic inclinations.
His father, who was also an artist, expressed himself through canvas. For Tian Wee, the tea leaf is his canvas. He leans back in his office chair, holding the cup, savouring the tea quietly.
A confession quickly breaks the silence. He admits that he would still have done something with food if he hadn't joined the family business. Perhaps, he would have become a chef. And if that failed, he would have tried until it worked.
But that belongs in a different life. Tian Wee is currently focused on growing Gryphon Tea further. "I am a true blue Singaporean boy. I grew up in a less-than-wealthy family. I find myself having to work harder than most to achieve success."
"I guess it is the FOMO mentality. It keeps me awake to make sure the business stays relevant. Right now, I would say that Gryphon Tea is at a point of thriving survival."
Small Wins Over a Long Time
The afternoon sun had just taken its post when we left the office. 'Lim Lam Thye Pte Ltd' hangs over the warehouse building in bold white letters.
Warehouse workers, clad in surgical masks and hair nets, shuffle between aisles. Much bigger brown cartons of tea leaves, unlike the ones we see in the office, are piled on each other. The workers are blending the next batch of teas. Small batches accumulate fast. In a year, Gryphon Tea purchases and supplies about 50 million tons of teas and herbs in a year.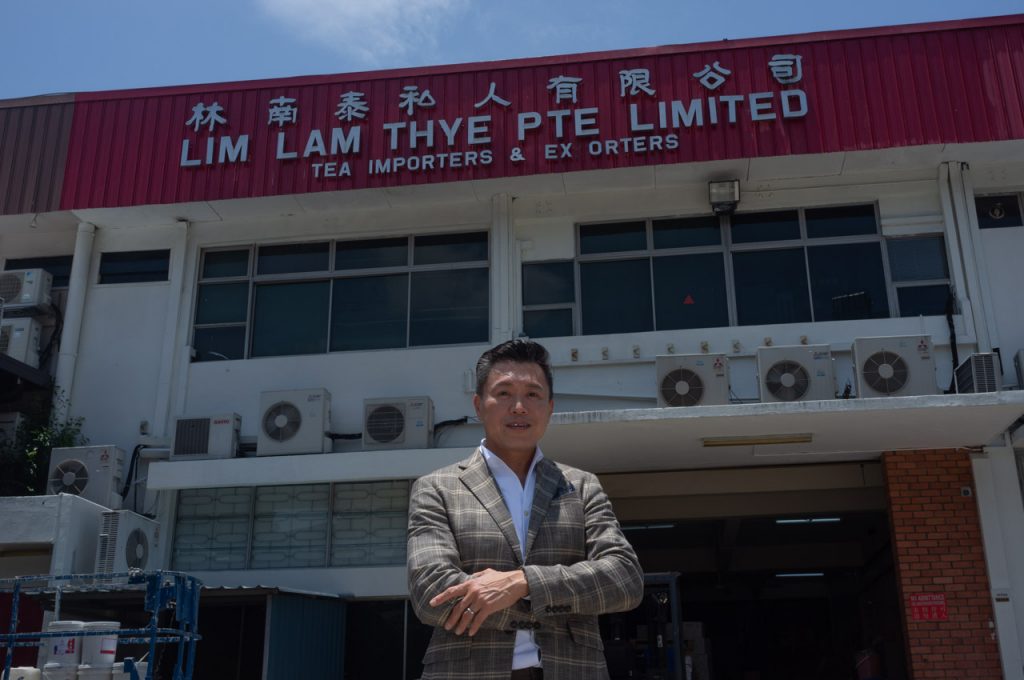 The principle behind Gryphon's approach to blending tea is the same principle behind Tian Wee's success. "I have enjoyed success when it comes gradually rather than instantly. I have enjoyed the many small wins that have compounded into what Gryphon Tea is now."
Tian Wee, having finished admiring the sign, turns to face the camera, ready for a final close-up. The sprawling warehouse looms just behind. With its open carpark out front, the complex could fit the shophouse Tian Wee grew up in several times over.
"It's an accumulation of small successes over a period of time. We don't see it as, 'Wow, we did something big'. We're not. We're really getting customers one at a time to build up confidence and our reputation. It certainly didn't come easy for us. It's been 16 years in the making."
Our ride arrives. Tian Wee has a meeting with another supplier. Just before we leave, in the corner of our eyes, Tian Wee pauses. He gazes at the sign with his father's name splashed fiercely across the facade. Before we know it, he's gone—off to brew another cup of tea.
---
If you haven't already, follow RICE on Instagram, TikTok, Facebook, and Telegram. If you have a lead for a story, feedback on our work, or just want to say hi, you can also email the writer at hykel@ricemedia.co or at community@ricemedia.co.