All images by Stephanie Lee for RICE Media
*SCAPE's McDonald's employees huddle around their team leader before the restaurant's entrance. Their leader speaks in hushed tones. A minute passes before the huddle erupts in loud cheers.
You'd be forgiven for thinking this is another morale-boosting exercise for the start of another 12-hour evening shift. Except for the fact that *SCAPE McDonald's permanently shuts its doors in four hours time.
After 13 years in operation, *SCAPE McDonald's is now gone for good—but not without a party to bid the popular outlet farewell. The *SCAPE building and the surrounding area are slated to undergo a makeover, all part of the plan to revitalise the (ailing) Somerset Belt.
So what makes this particular outlet so special? Fast food outlets are as resilient as weeds; pull one out and another pops up somewhere else. A public farewell party with free food, live music, and games seems excessive at first glance.
And as I'll soon learn, pretty awkward.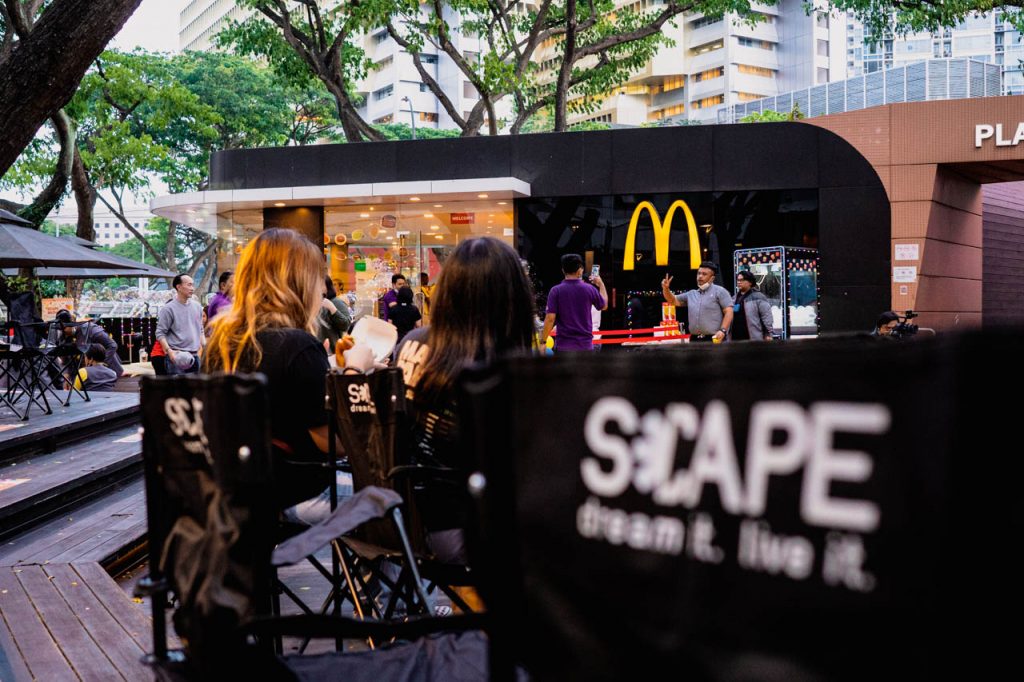 Goodbye Golden Arches
My colleague, Steph, and I are unfashionably early to the farewell party. We reached the outlet just before 7 PM.
The employees break away from the huddle and move to their respective stations. A claw machine sits to the right of the entrance. Two tables are positioned to the left of the entrance—one with free food and drinks; the other for a carnival game where participants have to shake comically huge plush toy fries out of a comically huge McDonald's packet tied to their waists.
A long queue forms for the food table. This is no buffet; people have to register with their emails for a free double fillet-o-fish burger. The line to register, unsurprisingly, was packed as soon as it opened—never underestimate how competitive Singaporeans can be when it comes to free food. Even when it's for fillet-o-fish.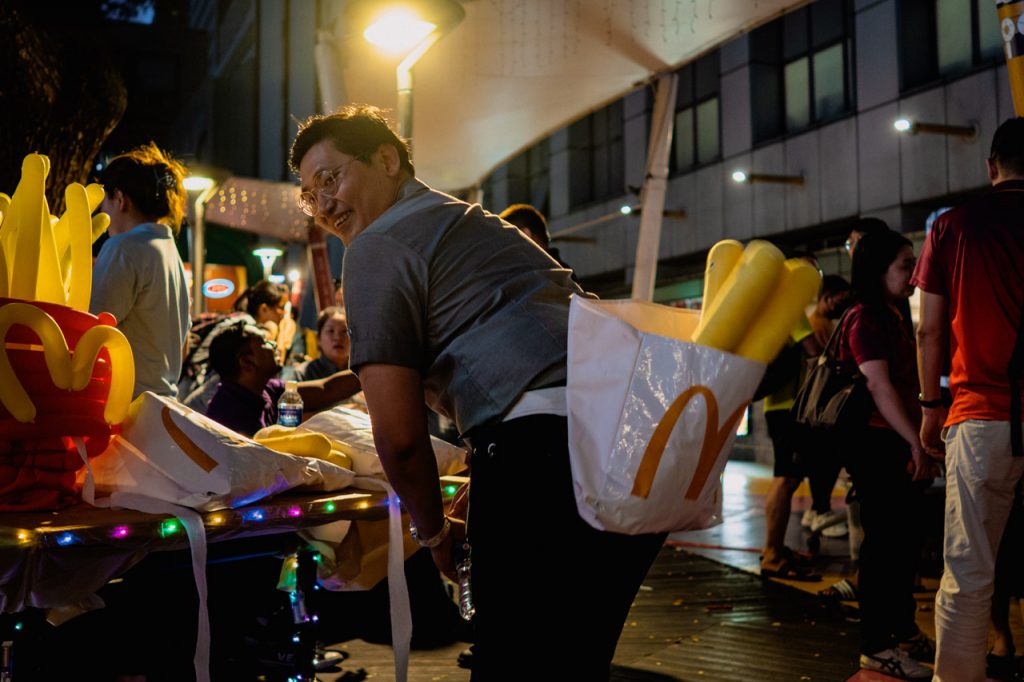 The festivities pick up quickly. The long queue for food dissolves within half an hour. Some stay for the live music performance after collecting their free food. Others leave after getting what they came for.
Staff members walk out in superhero outfits to rapturous applause from fellow employees. Any respectable comic book fan can tell you that the cosplay session has no discernible theme. Hulk mingles with Wonder Woman; Harley Quinn and Ant-Man converse with each other. The rivalry between Marvel and DC was secondary to the biggest brand name of the night: McDonald's.
Strangely enough, no cosplay of the clown solely responsible for my childhood nightmares: Ronald McDonald.
The costumed employees walk around the outlet to amused glances from customers. Some are shocked to discover from cosplaying employees that it's the outlet's last day.
One customer asks what's up with the costumes. "It's because all the managers are superheroes," Ant-Man explains.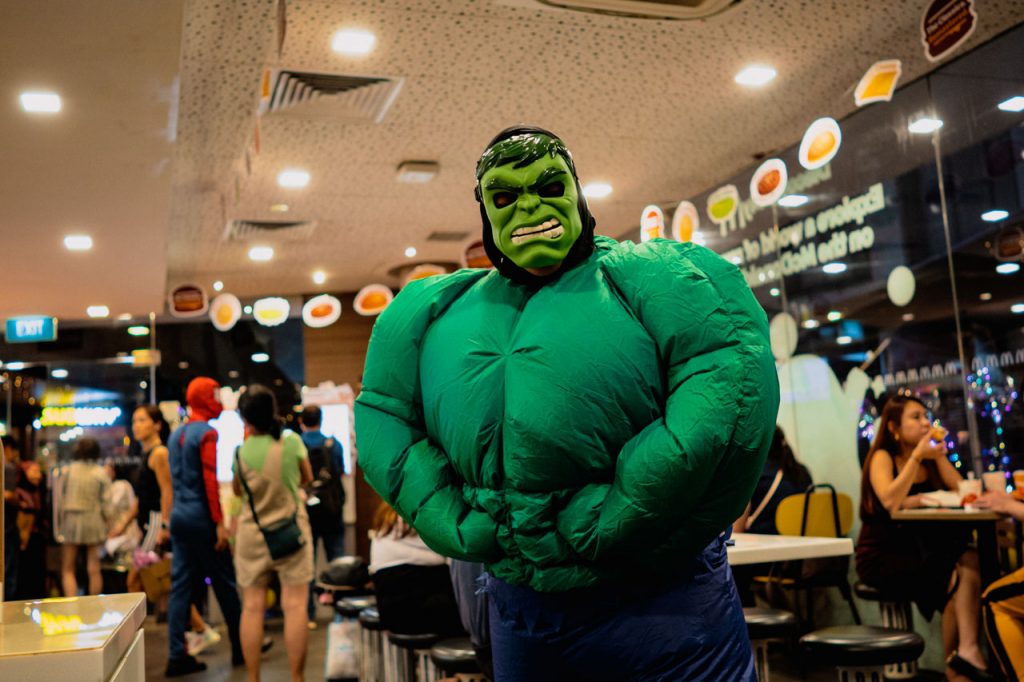 The live music performance outside seems disconnected from the main party, barring a few awkward promotions about the Big Mac. Audience members appear indifferent about the main event: The permanent closure of this McDonald's outlet.
Every so often, the 'Big Mac chant'—McDonald's push to advertise its revamped Big Mac—warbles over the speakers. A few brave audience members go up on stage to participate in the chant. An attempt entitles you to a free voucher for a Big Mac. It's cute (maybe) if you do it over the counter. It's awkward when it's blasted over the speakers to an uncaring audience.
A large group of adults gathers outside the entrance. Employees approach them like old friends; warm hugs and greetings are exchanged. "I think the former employees of this outlet are coming back to say farewell to this place," Steph opines, pointing to the ensemble.
She was right, of course. It seems that the farewell party is meant as a celebration with former employees more than members of the public.
As far as workplace parties go, it's clever. The outlet still needs to run, even on its last day of operations. And what better way to say goodbye to your workplace and work simultaneously? Throw a party during operating hours.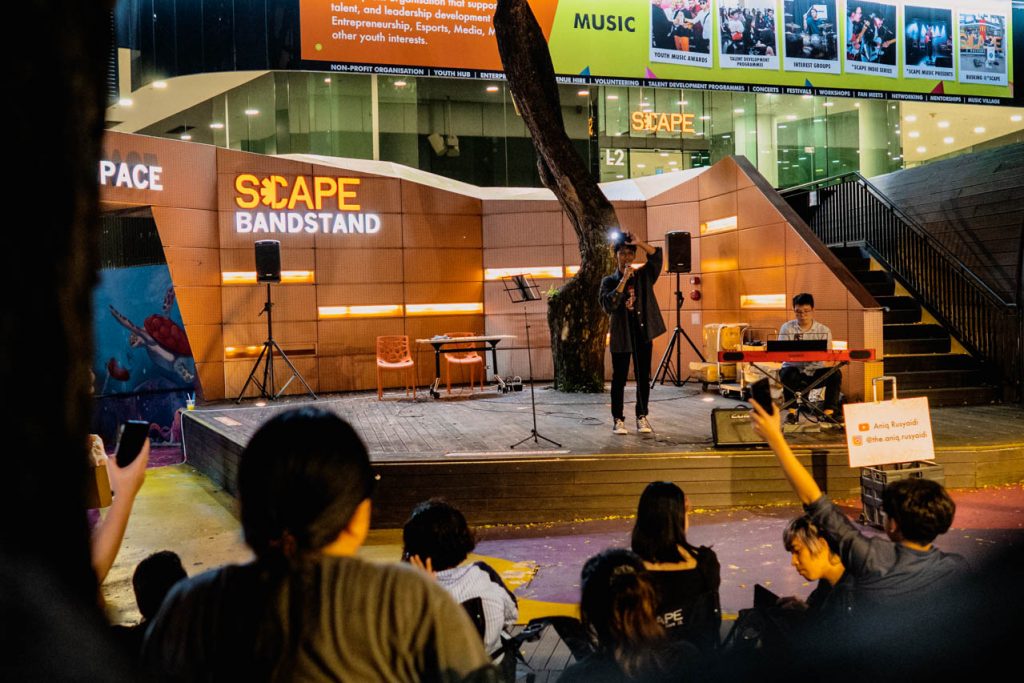 All Quiet on the *SCAPE Front
The buzz within the outlet could not be said of the surrounding area. Granted, it's a Wednesday night. But compared to its usual liveliness in days past, you can help but wonder how it got so quiet.
When you walk near Cineleisure and *SCAPE, you first notice how peaceful it is along that stretch. Strange for buildings situated in Singapore's premier shopping district. It's as if there was a giant soundproof blanket cast over the area.
Orchard Road, on the other hand, is awash with noise and traffic despite being a mere three-minute walk from *SCAPE. But when you turn into the stretch towards Cineleisure, human traffic is scarce.
The disquieting presence of the area makes Steph reminisce about its heydays. In its early years, the youth hub was famous for its crowds, internet cafes, weekend flea markets, and dance rehearsal spaces.
"This used to be where I hung out after school. It was always so crowded," Steph recalls as we walk further away from the party's epicentre into the silent *SCAPE building.
*SCAPE was originally opened in 2010 with Singapore's youth in mind—a place where they can hang out and thrive. Footfall, however, was lacking. A $2.5 million makeover later, *SCAPE rebranded itself in 2016 with new facilities and platforms for entrepreneurship and volunteerism, according to The Straits Times.
Deputy Prime Minister Lawrence Wong, then Minister for Culture, Community & Youth, explained that the makeover was intended to "keep up with the changes" of an evolving youth landscape.
Change is a constant, however. Once again, *SCAPE is undergoing yet another revamp to attract the new youths of today. Will it, too, need to play dress-up like the superheroic managers of McDonald's?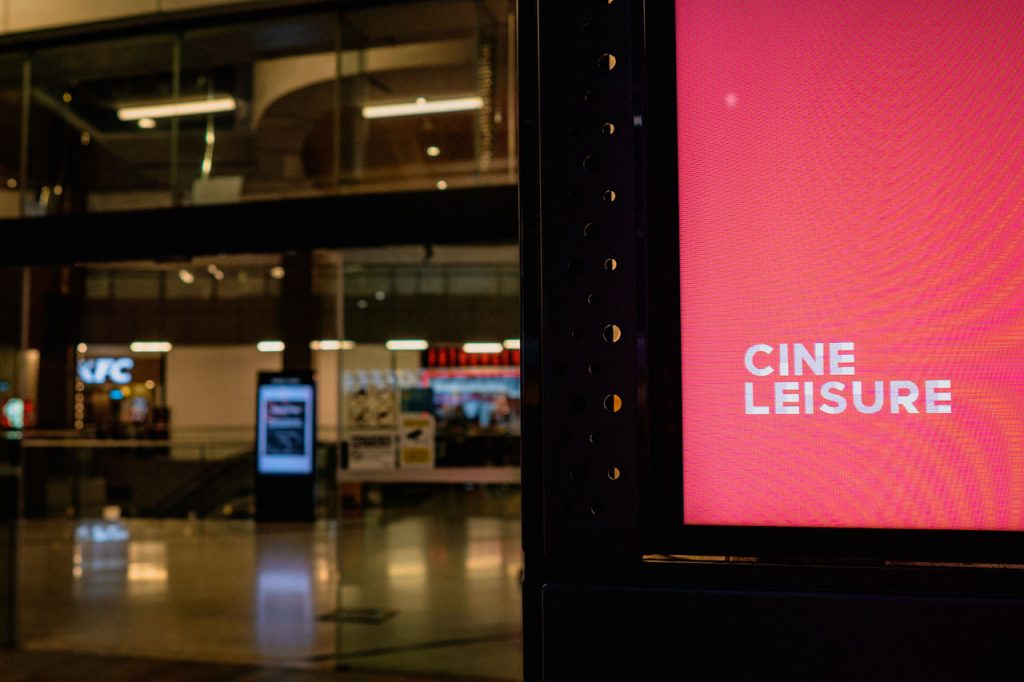 How Does a Youth Hub Fade Away?
That 2016 revamp opened its doors to a new generation of Singaporean youth. However, the same problems remained; *SCAPE did not enjoy the same footfall as its neighbours along Orchard. The building was often overshadowed by the likes of Somerset@313 and ION Orchard.
Singapore's youth, who once frequented weekend flea markets in the building's basement, moved to online shopping for convenience and better options. The same flea markets which sold vintage clothes moved out of the basement. Instead, they found new homes in pop-up events better aligned with the DIY ethos.
The skate park, a popular hangout, behind the building was converted into a basketball court that was much less popular with young Singaporeans than its predecessor.
Even *SCAPE's most loyal patrons, Singapore's dance community, found other rehearsal spaces after dance studio O School moved out of the place. What little human traffic *SCAPE had—in the form of local dancers—converged in other areas like the corridor right outside Marina Square's Hai Di Lao and the open underground space at the Esplanade.
The second last nail in the coffin was the exodus of so many of the building's mainstay retailers. The final nail is the closing of the McDonald's outlet, which once stood watch with dependable fast food at *SCAPE's entrance.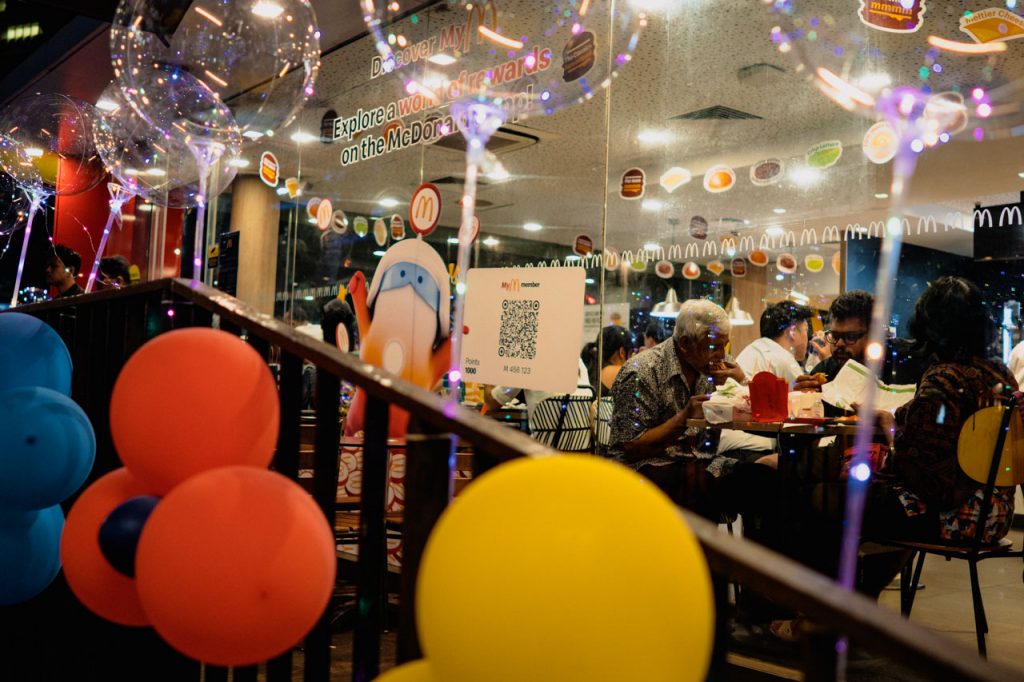 How Do You Do, Fellow Kids?
Whether the new *SCAPE will finally reclaim its throne as Singapore's youth hub remains to be seen. Appealing to Singapore's youth is an uphill battle; different generations of young Singaporeans want to see other things in their dream youth hub. *SCAPE's next revamp is welcome—but will not be its last.
What appealed to millennials in their early teenage years might not hold the Gen Z crowd. Of course, if there's anything that the new *SCAPE should prominently feature and bring back, it's the spaces for dancers.
13 years ago, youths were filming dance covers of their favourite K-Pop bands. 13 years later, nothing has changed. (This is my suggestion for the new *SCAPE building as a 24-year-old Singaporean.)
But for now, *SCAPE remains empty with a hollowness that creeps up on you. Empty spaces that shouldn't be empty, have a knack for quickly engulfing you in their folds. I can only imagine it must be so much more difficult for Singaporeans who frequented *SCAPE in its heyday.
For Steph, one of these Singaporeans, the passage of time comes at you suddenly as you move through the building's vacated corridors. You can't help but feel pity, seeing the space for what it once was and what it is now.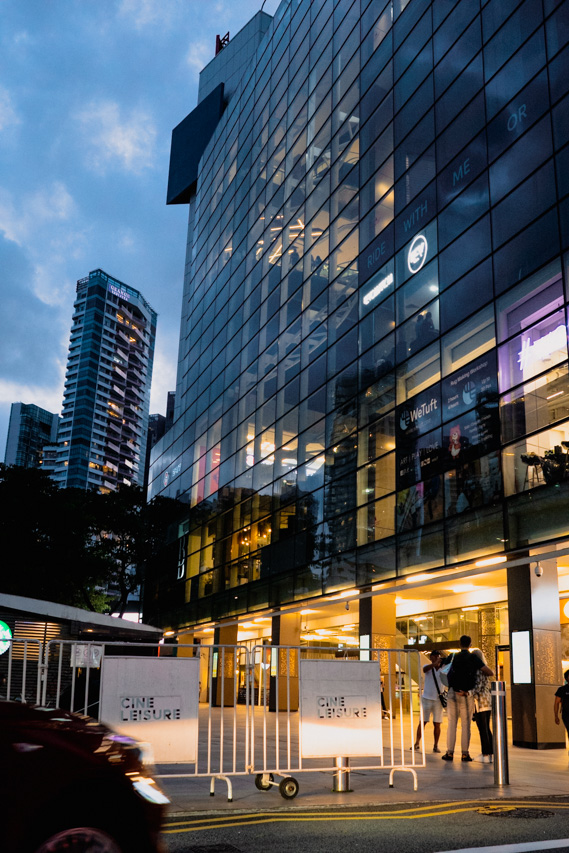 Awkward Transitions
We return to the McDonald's at the close of the farewell party. It will be another two hours before the outlet doors are permanently closed; the remnants of the old *SCAPE (save for a few surviving shops) are gone for good. A physical reminder of a millennial's youth disappears and is now encapsulated only in memory.
*SCAPE, in its current state, exists as a liminal space between 'what was' and 'what's next'. For lack of a more appropriate description, it's puberty—awkward, maturing, and finding its feet in Singapore's urban landscape. As a community space marketed for youth, it's only fitting that *SCAPE itself is having an adolescent identity crisis.
The main attraction this evening might have been to bid farewell to the McDonald's outlet. But it could have been a farewell to *SCAPE, as most Singaporeans know it.
I might have been too young to experience *SCAPE in its heyday. But the farewell party, with all the excitement and chatter, provided a small glimpse of what *SCAPE once was. Energetic, youthful, irreverent.
---
If you haven't already, follow RICE on Instagram, TikTok, Facebook, and Telegram. If you have a lead for a story, feedback on our work, or just want to say hi, you can also email the writer at hykel@ricemedia.co or at community@ricemedia.co.