Visuals by Syada Yunos for RICE Media.
Cottage core, softboi core and other core aesthetics aren't just Pinterest fashion buzzwords. For the youths of today, they're a way to express their personal identities.
Style-wise, we'd say that Singaporeans are all about efficiency and practicality. As the videographer behind Orchard Road Fashion would say, locals dress simpler with fewer colours—we prefer to blend in and not risk offhand comments from others for being too adventurous. You could argue that the weather's preventing us from being bold, but Thailand's fashion-forward youth would beg to differ.
With that utilitarian essence comes a certain pattern to our wardrobes. This is Singapore-core.
---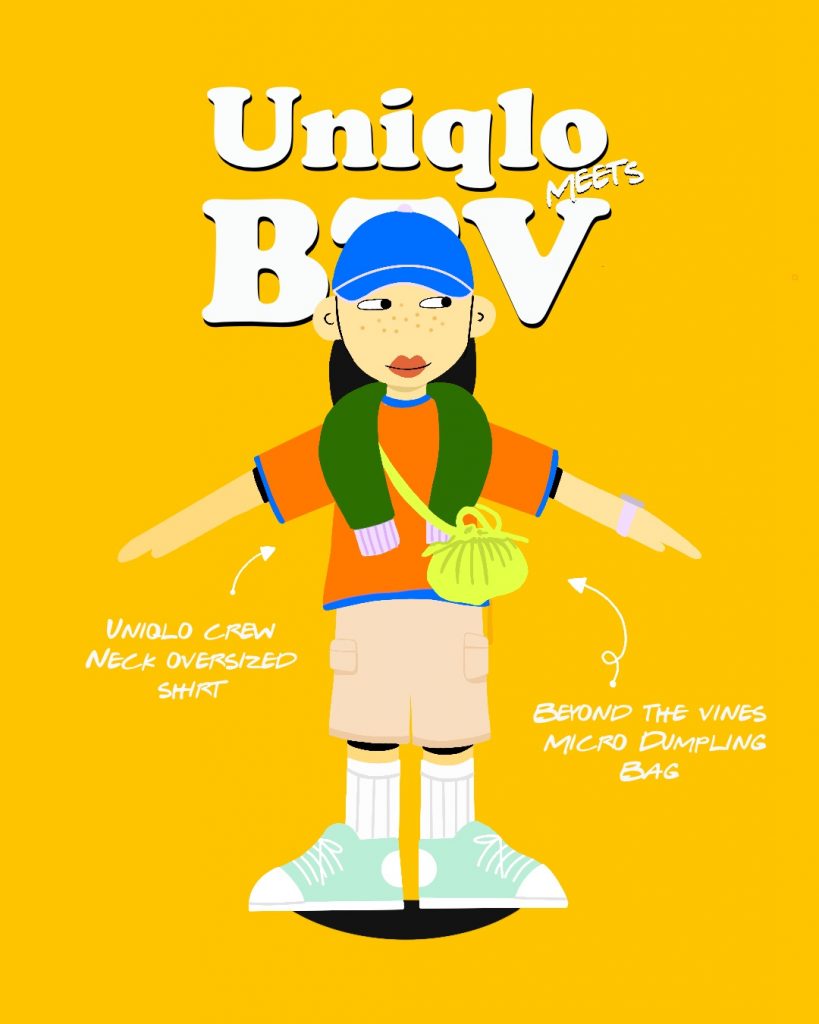 Meet the mainstream attempt at looking chic.
Singapore is notoriously boring, and that also applies to our sartorial tastes. Long after our schooling years, we still walk around in monochrome cookie-cutter uniforms. But Uniqlo Meets BTV core is about not being so black-and-white anymore. Colour blocking is in; pastel hues welcome.
Say goodbye to gender norms and say hello to a wardrobe that works for everyone. We're talking boxy oversized shirts, cargo pants and Nike/Adidas/Converse sneakers. The national accessory isn't NDP funpacks; it's a Beyond The Vines dumpling bag (or its close rival, the Gentlewoman tote).
---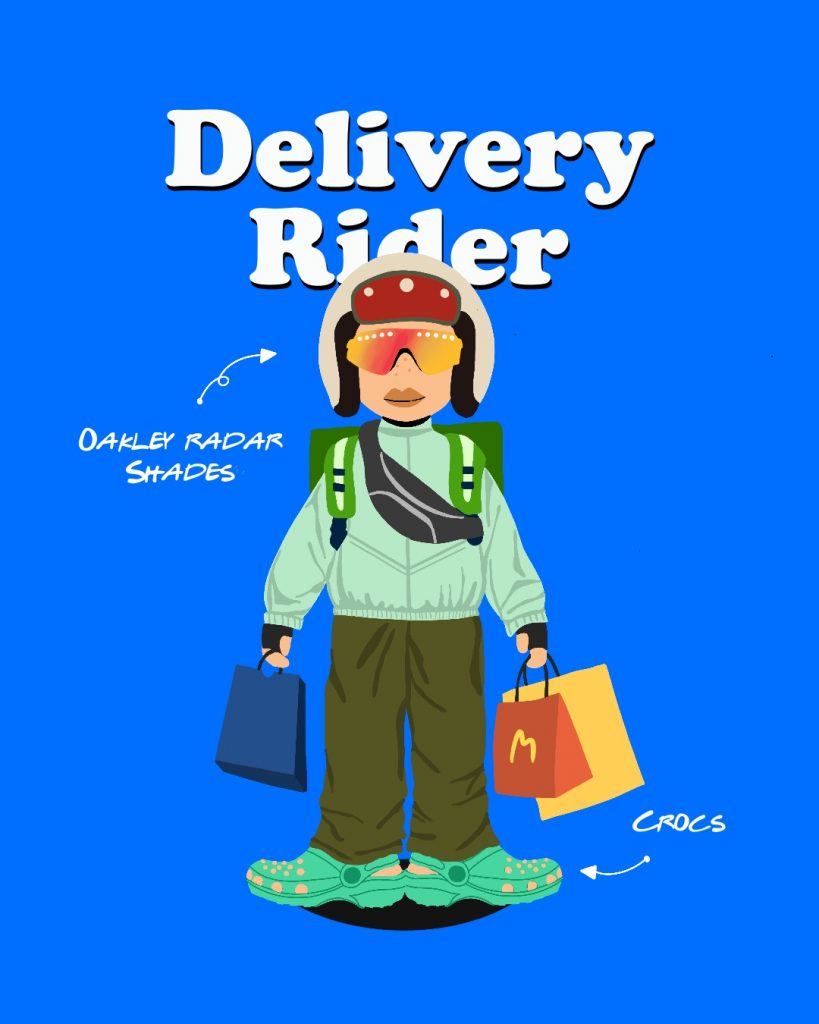 With a booming gig economy, delivery riders have emerged as icons of financial independence, grit, and hustle. Besides food, drinks and packages, they deliver looks too.
Earthy colours, reflective accents and utilitarian elements (like pockets) are part of the quintessential delivery rider outfit. It's not just about surviving Singapore's mercurial weather—you've also got to stand out on the roads.
---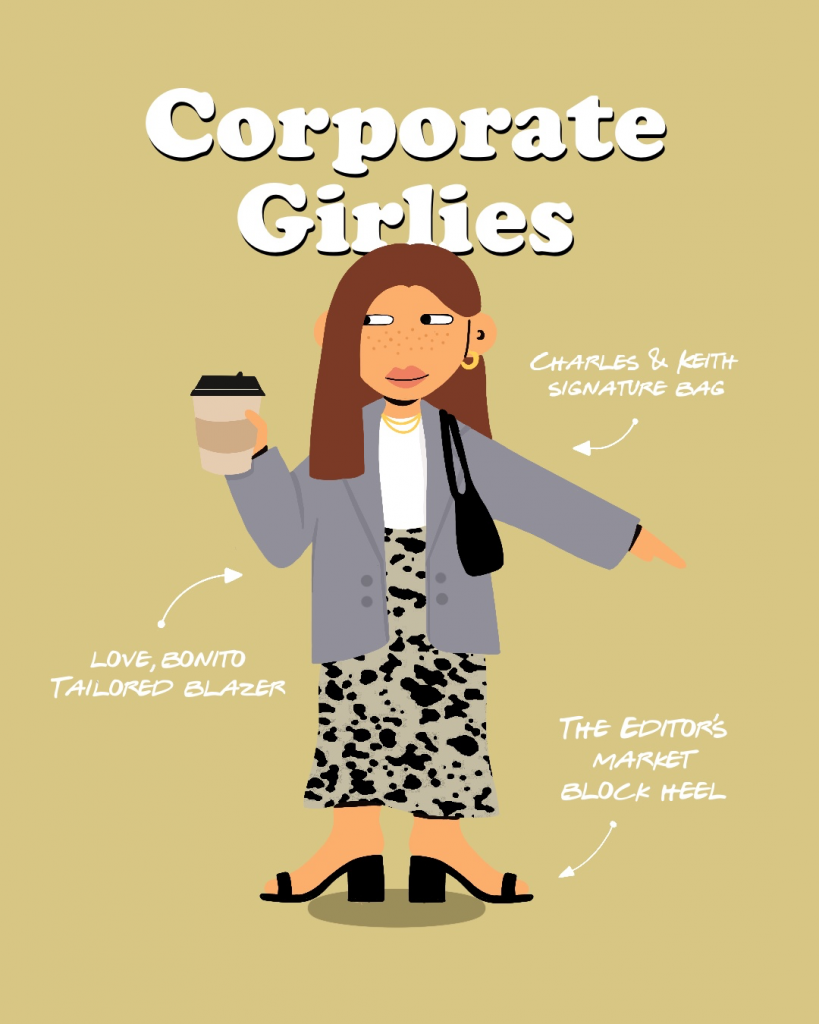 Corporate girl core is OL vibes, but upgraded.
The hallmark of the Singaporean identity is choosing safety. But the Corporate Girlie elevates chic pieces into an outfit that can stand out in the office (but not too much). And nothing screams 'Singaporean comfort zone' more than donning neutral pieces from homegrown brands like The Editor's Market and Love, Bonito.
The modern Singapore career woman is a slayer in the boardroom while donning basic yet timeless pieces, taking their professional game to the next level while embracing their vanilla side.
---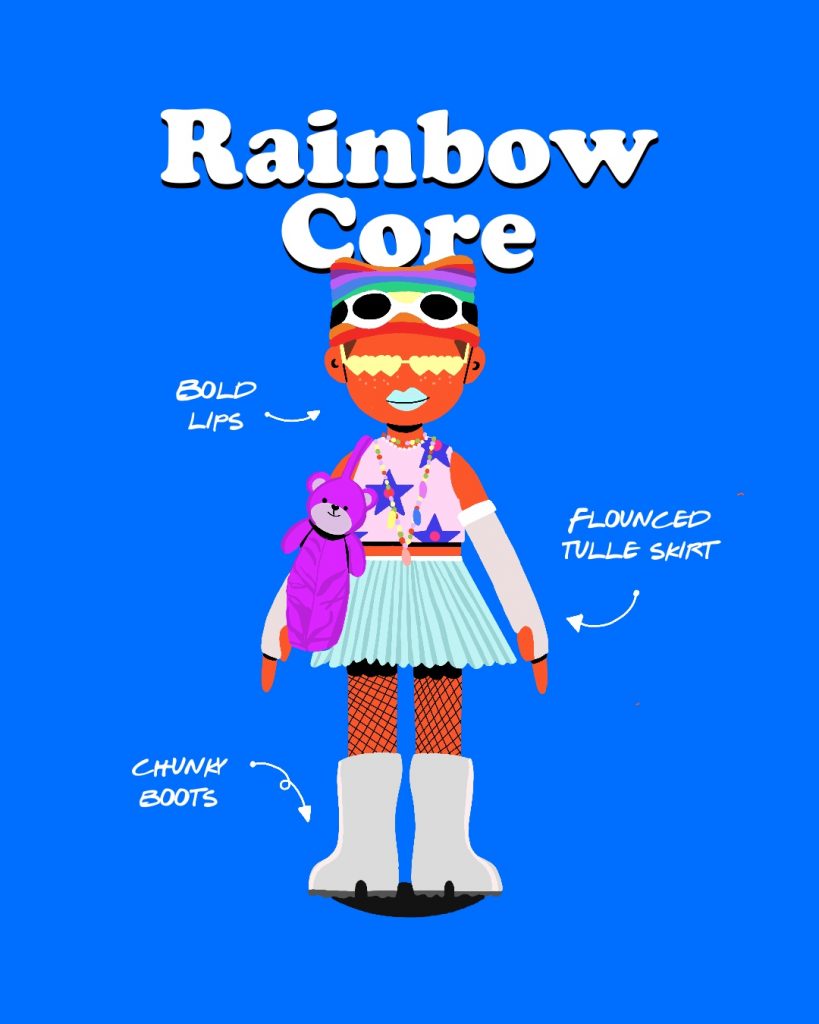 Tutus, glittery makeup and chunky boots bring the house down. Rainbow core is unapologetically extra, and extremely fabulous. Though not always synonymous with the LQBTQ+ community, these colourful outfits are often spotted at queer events.
For Rainbow core lovers, it's about turning looks that eschew antiquated gender norms and embrace their sexuality. This kaleidoscope is inspired by a broad range of style sources and blends together in an explosive mix of colours. You could say that it reflects the colours of the LGBTQ+ flag and its messages: Community and freedom of expression.
---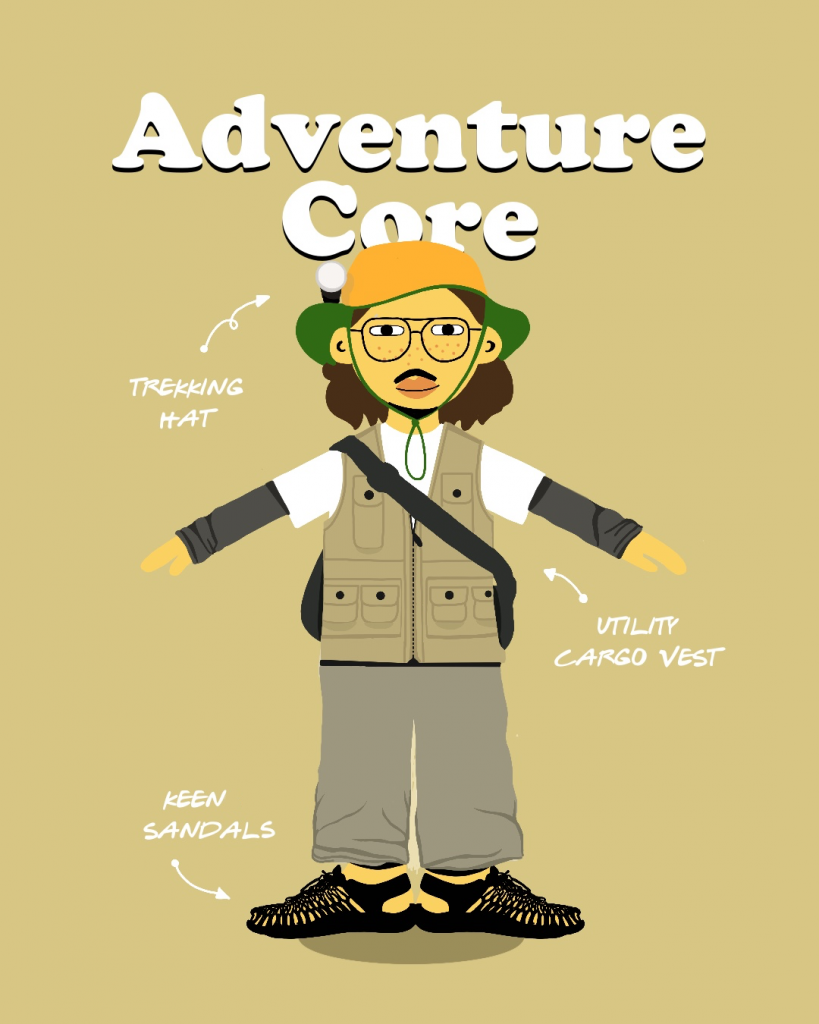 Where fashion meets function: The ultimate Decathlon pack.
This look, inspired by a new-found love for the great outdoors post-COVID, is the outfit of choice for hardened hikers and starry-eyed novices.
The utility cargo vest, which sits atop a dri-fit shirt, offers an eclectic mix of polished and yet, understated and down-to-earth. Cargo pants, handy Keen sandals and go-to bucket hats signal a love for spontaneity and the outdoors.
You're ready to bash through the thick shrubbery of Dover Forest. Or, at the very least, duly protected from Singapore's harsh and unpredictable weather anywhere else.
At its heart, adventure core embodies the essence of functional and durable clothing that doesn't sacrifice style for practicality. Whether you're hiking up Bukit Timah or simply running errands in the neighbourhood, adventure core centres on its muted understatedness and brings it to the fore.
---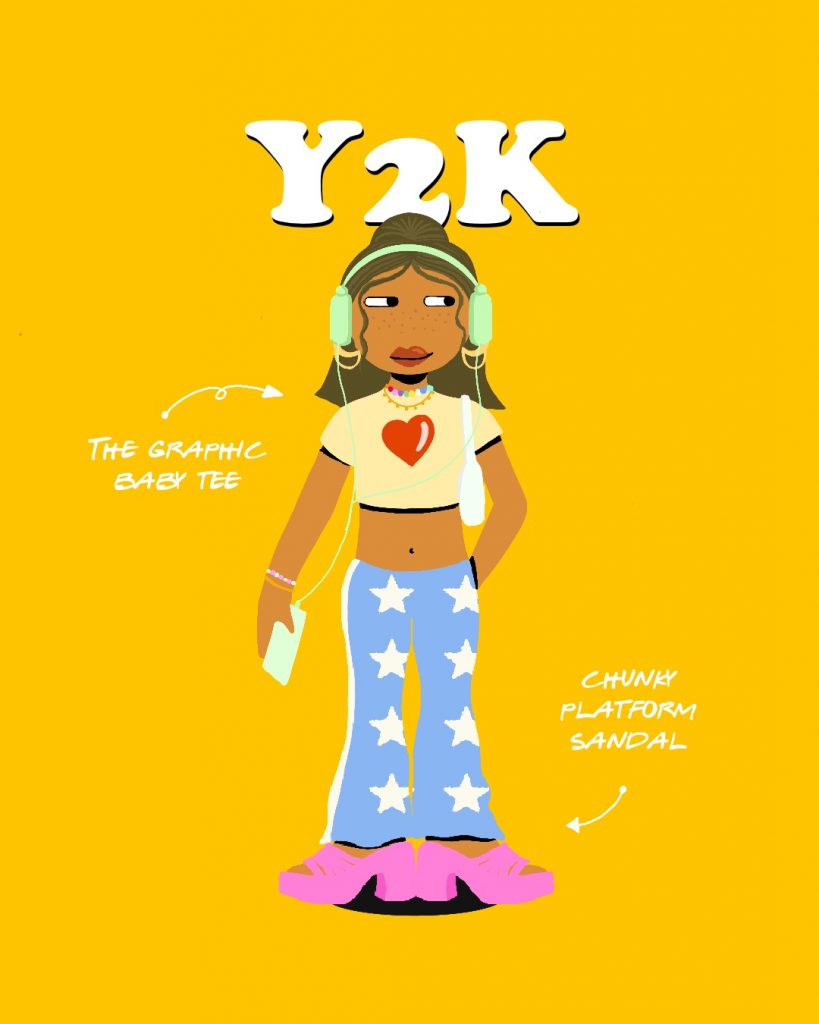 Y2K's cultural artefacts—low-rise jeans, crop tops, and catchy lyrics of early 2000s pop—have found a resurgence and returned to the warm embrace of Gen Z and its influencers. Fashion trends are cyclical—we happen to be at the point in time when choker necklaces, skinny jeans and chunky shoes are cool again.
Harking back to a simpler past offers comfort in a rapidly changing world. Plus, buying Y2K clothes is pretty affordable.
---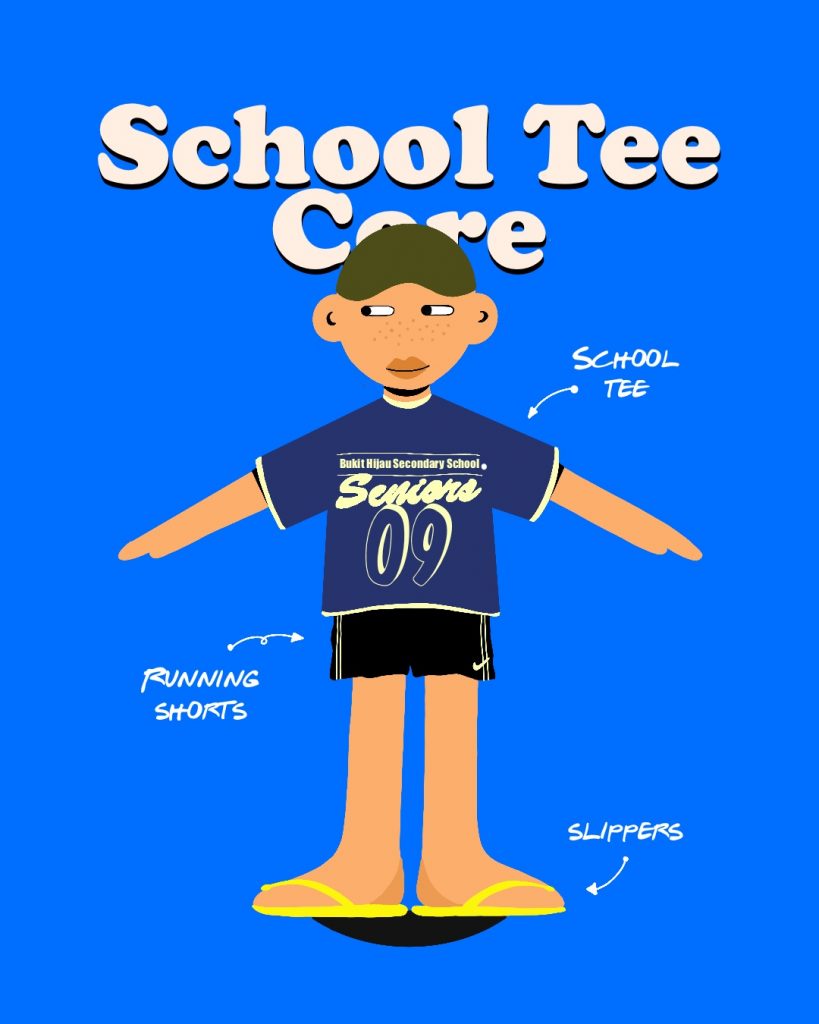 It's the fashion equivalent of listing your entire educational journey on your Instagram bio. A school shirt boldly proclaims, "Yeah, I went to this school, and I am damn proud of it"—whether you graduated a decade ago is not the point. Paired with sports shorts and flip-flops, the look is a mainstay among throngs of Singaporeans loyal to their alma mater.
The inevitable apocalypse will still see Singaporeans running away decked in their school tees. And more power to them; dri-fit shirts are the way to go after working up a sweat. It's a convenient combination of practicality, comfort and school pride for the ages.

In a country where education and academic achievements reign supreme, a school shirt from a brand-name school is akin to brandishing a badge of honour. But it's also more than just about learning; the schooling experience forms a fundamental basis of our shared memories. It's the social glue that brings us together. School Tee Core is just a way of holding on to the days before adulting.
---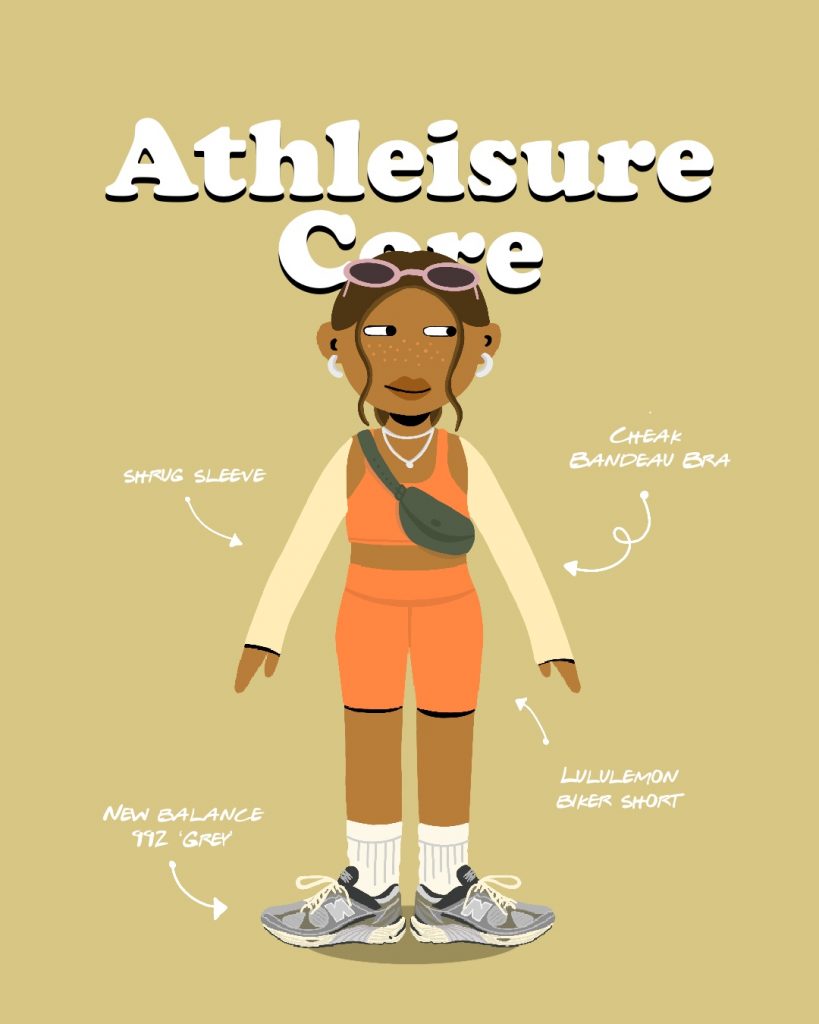 Singaporean women are all over athleisure, like a Kardashian on Instagram. Tights and a sports bra—perfectly complemented with pastel-coloured shrug sleeves—are the perfect combo of comfort, style and time efficiency.
Who doesn't love a cute little gym outfit that's versatile? An outfit that seamlessly takes you from a morning spin class to brunch to a quick yoga sesh is the Swiss Army knife of fashion.
And let's not forget Singapore's weather; lightweight, breathable activewear is a no-brainer for these ladies. Plus, it's all more of a reason to rock their Lululemons and Cheaks 24/7 and be part of the effortlessly chic #fitspo crowd.
---
If you haven't already, follow RICE on Instagram, TikTok, Facebook, and Telegram. If you have a lead for a story, feedback on our work, or just want to say hi, get in touch at community@ricemedia.co.