All images by Zachary Tang.
I am a purist when it comes to my hawker food. 
I like my char kway teow served on an oily plate with remnants of wok hei from the previous customer's order. I appreciate eating my chicken rice drenched in chilli beside a cacophony of aunties ordering cai png at the adjacent stall. And I would much rather sip my sugarcane drink in a humid coffee shop—just to enjoy the contrast of cooling drink against suffocating heat.  
So if you had told me that Da Shi Jia, known for its zi char, was Tiger Street Lab's latest featured hawker at Jewel Changi Airport, I would have scoffed. I would've doubted the 'authenticity' of zi char in a mall that houses a fountain built just for tourists' Instagram Stories. 
But that was before I met Seth Sim, the 30-year-old second-generation hawker, who reassures me that he hasn't sold out at all.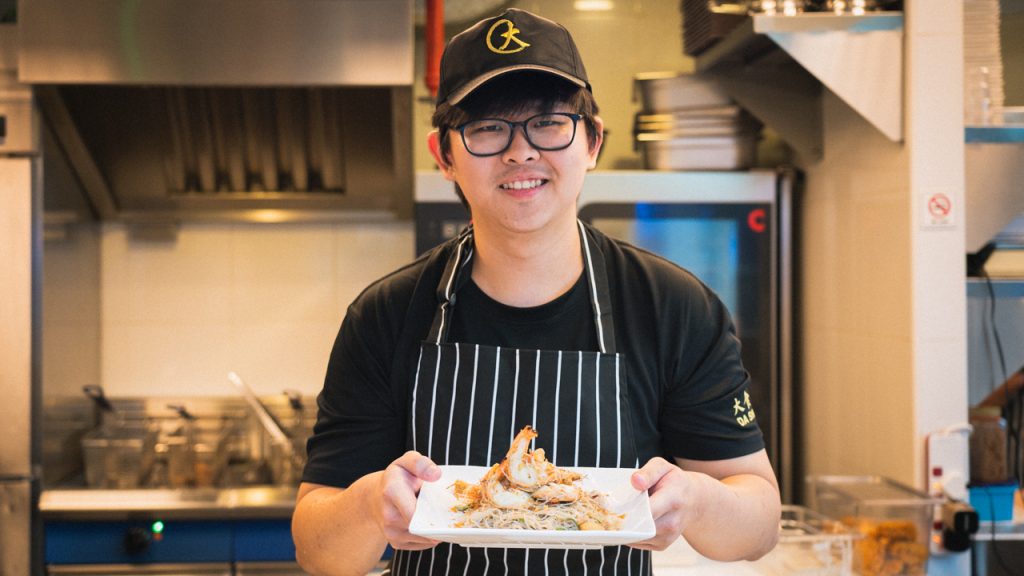 It's a common sentiment that the hawker food served in a mall must taste sterile, as though the air-conditioning instantly transforms the food's molecular structure. 
But Seth jumped at the chance to collaborate with Tiger, who has been zealously championing local street heritage in recent times. Being at Tiger Street Lab in Jewel would help market Da Shi Jia and local flavours to international tourists. In fact, his openness to trying new things to keep his family's business relevant makes me ashamed of my myopic and misplaced view: that hawker food becomes terrible once placed in a commercialised mall. 
Seth will be the first to admit that he was never this business-minded. 
At 13, he started working for Da Shi Jia, doing basic stuff like dishwashing to earn pocket money so that he could spend it at a LAN shop. The kitchen was essentially just a way for him to enable his habits since he wasn't interested in school. Every holiday and weekend, including the day before taking his GCE N-level examinations, he would return to Da Shi Jia to help out in the kitchen. 
Being a playful child, taking over his father's business wasn't the plan until he started observing his father growing old and tired. At 50-plus, Seth's father has only been on two holidays in his entire life, one of them within the last year. 
"It's painful to see my dad going through this. Up till today, he travels to the market to help me buy my prawns. Before I went to culinary school, I decided it was time to shoulder some of the responsibilities," he says. 
Despite having a private Diploma in Business, Seth entered culinary school three years ago to explore how to use modern technology in the kitchen, in hopes of tackling his manpower issues. After graduating, he started helping out in the kitchen of his 'shi fu' (master) who cooked prawn noodles, and who would sell 700 bowls a day.
He taught Seth how to handpick ingredients and select prawns. But after he began making plans to retire, Seth picked up his own prawn noodle recipe and created Da Shi Jia Big Prawn Mee's signature dish: Wok-Fried King Prawn White Bee Hoon. 
I might not be a connoisseur of prawn noodles, but the dish sure looks like it belongs in a hawker centre.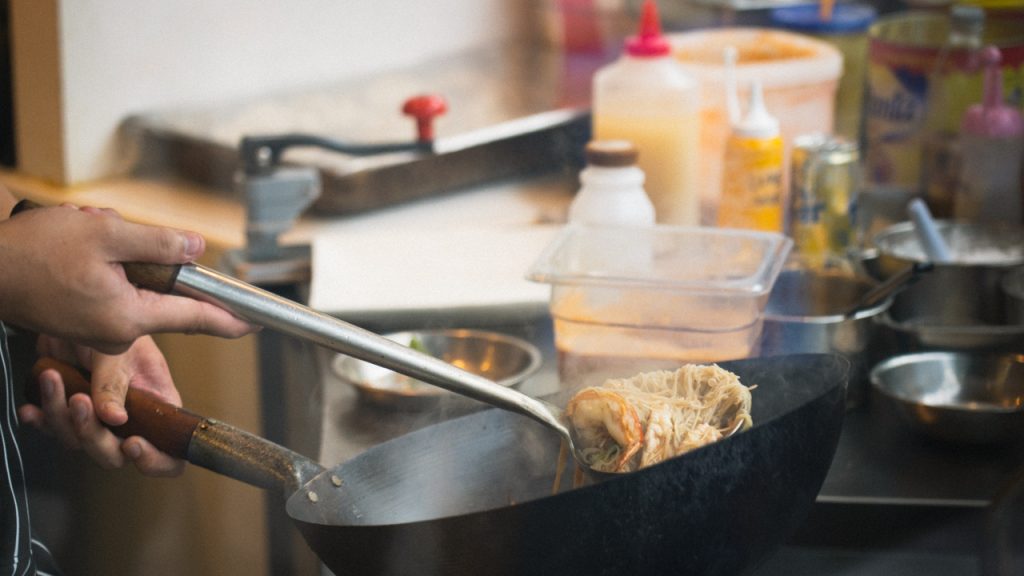 If I didn't know better, I wouldn't have expected Seth to suggest this unassuming dish to be
the
dish he recommends someone to try at Tiger Street Lab. Da Shi Jia Big Prawn Mee's star dish is his creation, so he fervently believes in its flavour, although he is cautious not to hard-sell it. 
First of all, the dish is priced at $18.80—hardly hawker pricing, though it might be justified being sold in Jewel. Secondly, he can only cook the dish in individual portions, since cooking more than one portion a time would result in an inconsistency in taste. He requires about five minutes to allow the bee hoon to soak up the prawn broth, so he's afraid customers would get impatient waiting. 
Nonetheless, I can't help thinking: when in Singapore, do as the Singaporeans do. Part of the quintessential Singaporean experience is, after all, waiting for good food. 
There was no marketing for this dish when Seth launched it on his own at Da Shi Jia Big Prawn Mee. He opted to simply place it on the menu and wait for customers to order it. After the first month, he'd sold zero portions, and the bag of onions he'd bought for the dish had turned rotten. Then, he had his first customer. 
Within the same week, that customer returned at least twice to his store. Eventually, more people came to know about the dish, including bloggers, influencers, and even a whole busload of people who'd apparently booked a bus just to visit his store for the dish. 
Now, google "da shi jia" and you'd easily find a stream of glowing food reviews about the "must-try" Wok-Fried King Prawn white Bee Hoon.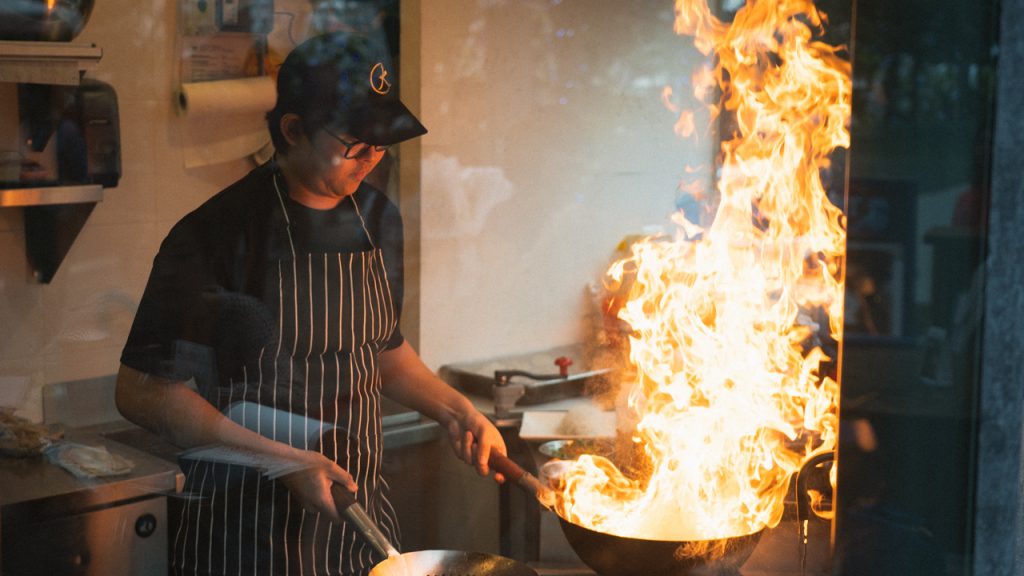 In a way, Seth's foresight and motivation behind the Wok-Fried King Prawn White Bee Hoon can be likened to his collaboration with Tiger Street Lab. Underscoring his courage and willingness to try new things to improve the family business is an unwavering sense of filial piety and duty towards his father. 
On the fifth floor of Jewel, Tiger Street Lab overlooks the fountain … and throngs of tourists queuing for photos. Yet it feels strangely therapeutic to sit alone with a glass of Tiger's cold seasonal brew, the Shiok Ale, and a basket of fried baby sotong. The store collaborates with different local hawkers to rejuvenate its food offerings regularly, but for the next six months at least, the spotlight belongs to Da Shi Jia. 
Seth's answer to Tiger Street Lab's ambitions of creating an experience that represents Singapore on an international stage includes culinary surprises that show off the best of local flavours, such as the Tiger Beer-Battered Assortments, comprising battered chicken, baby squids, mushrooms, scallops, and even—wait for it—banana. As a playful 'surprise' for customers akin to Russian roulette, Seth has infused one of the pieces in every order with a dollop of wasabi, resulting in several tables of unwitting customers getting caught off guard.
Bringing his zi char to a mall, especially one like Jewel that receives an international crowd, required Seth to serve traditional dishes best paired with Tiger Beer. Like the Pickled Garlic Fried Barramundi Fillet (PLEASE order this, you won't regret it) which has a tangy kick, so it complements the lightness of Tiger Radler. 
Seth believes it's part of his duty as a second-generation hawker to introduce local foods to tourists right in Changi Airport itself. So the mix of traditional zi char and Tiger Beer is the perfect combination of Singaporean born and bred food and drink. 
By introducing his zi char to an international crowd, he also gets a sense of how to cater zi char to anyone else's palate outside Singapore. Part of his future plans for the company involves opening multiple outlets of Da Shi Jia abroad. 
But for now, research starts with being able to satisfy a table of tourists at Jewel.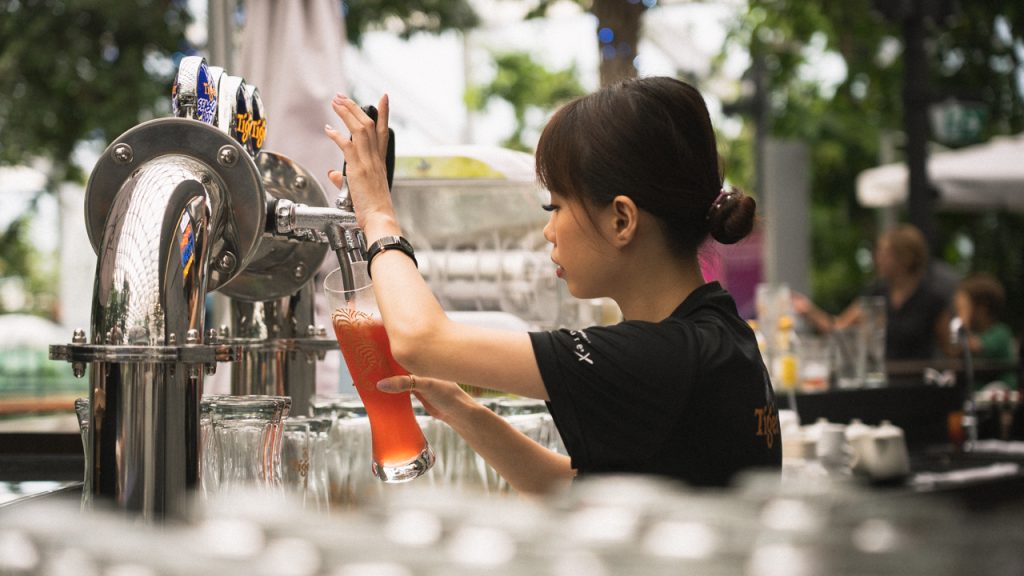 No matter the potential in this collaboration with Tiger Street Lab, Seth's father is far more traditional than his son, and perhaps even more protective of the Da Shi Jia brand. After all, his father only allows trusted employees into the main kitchen of Da Shi Jia. 
I assume Seth's father would have been afraid that a 'hip' brand like Tiger Street Lab might dilute the branding of Da Shi Jia—but he reassures me his father was afraid that he'd spoil the reputation of Tiger instead. 
This fear is unfounded. For example, his father expects that every plate should be empty when the customer leaves. So far, according to Seth, he's managed to hit a 90% success rate. The remaining 10% usually da bao their leftover food. 
I spend an afternoon with Seth, sampling the items on his menu that he recommends, including the Tiger Beer-Battered Assortments, Pickled Garlic Fried Barramundi Fillet, and, of course, the star: Wok-Fried King Prawn White Bee Hoon. 
All of the dishes wouldn't have been out of place in a regular hawker centre. Yet, they are served in Jewel to a demographic that might never set foot in the Singapore heartlands. The wok hei is exceptionally intense in the King Prawn White Bee Hoon, and I can picture myself just as hungrily digging into the Pickled Garlic Fried Barramundi Fillet in some random coffee shop at the corner of Boon Lay. 
Thanks to second-generation hawkers like Seth, with their business acumen, courage, and willingness to try new formats, we are able to keep the hawker trade alive. For all our national narratives about the importance of passion, it would be foolish to knock the very people who are turning their dreams into reality. 
If we truly claim to love and support our hawker culture, then we'd realise that selling hawker food in a commercialised mall is far from selling out. 
It is simply survival instinct.
This post is sponsored by Tiger Beer. 
Visit Seth's stall at:
Tiger Street Lab
Jewel Changi Airport
78 Airport Boulevard
#05-205
Singapore 819666