Photos by Zachary Tang and Chan Hui Wen unless otherwise stated.
To a mall, there is no sound more terrifying than silence. Silence means a lack of bodies, which means a lack of business, which means danger. It means restaurants without customers and hair salons without clients; unsold goods on untouched shelves and empty hours at empty tills. It means devastation. And at Lucky Plaza, which normally thrums with more life on Sundays than its shabby walls can contain, the absence of sound is just plain wrong.
I've spent a fair bit of time at Lucky Plaza, interviewing domestic workers and getting to know the small businesses lining its floors. On Sundays, the place is an introvert's worst nightmare. Every square inch of floor—I'm not exaggerating; I literally mean floor, not tables or benches—will be filled with people eating, queueing, picnicking, or sprawled out with their phones in front of their face, trying to make video calls over the din.
Taking the lift during peak hour (11:00 AM to 2:00 PM) is impossible. The corridors get so packed that you can't see the other end; you have to elbow your way across and pray you don't step on someone's lunch.
This particular Sunday, those same corridors are ghostly. I can not only see right through to the other end, but the storefronts on the opposite side of the building.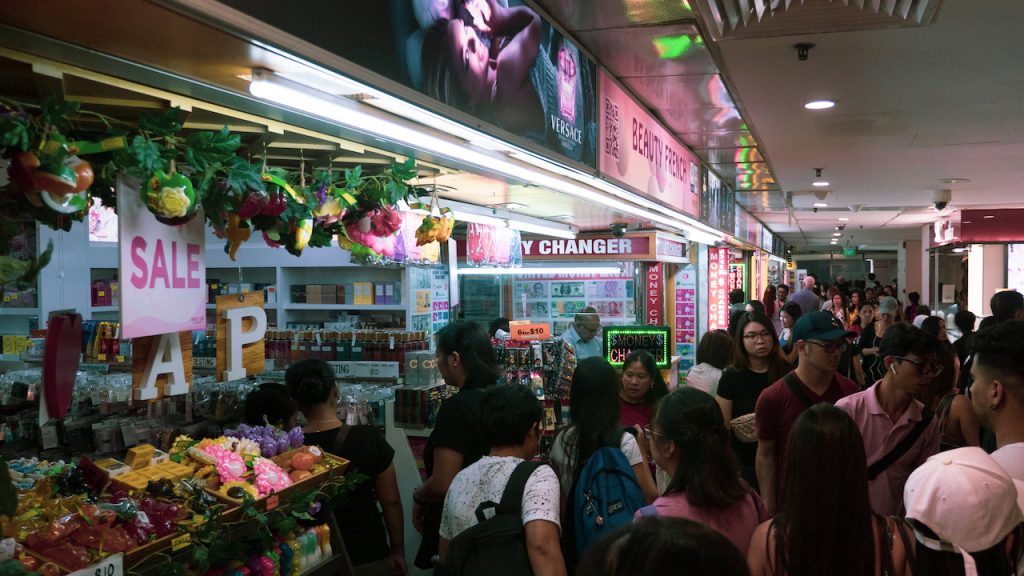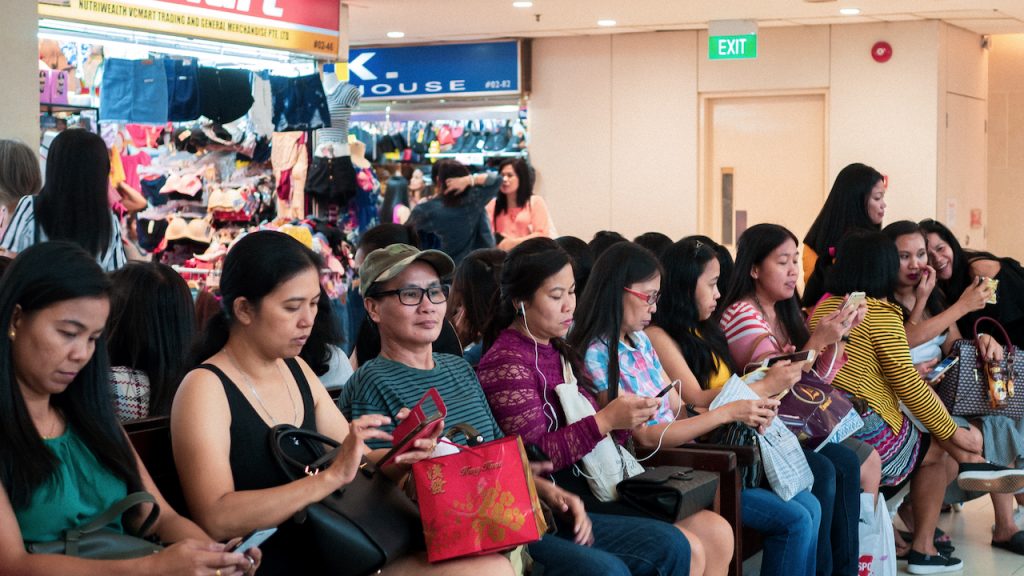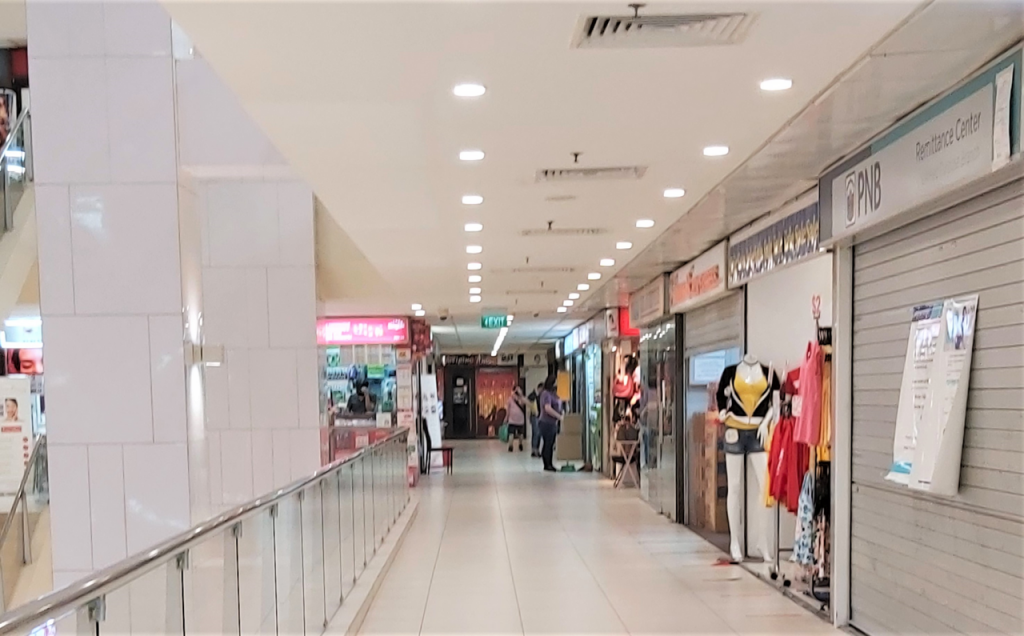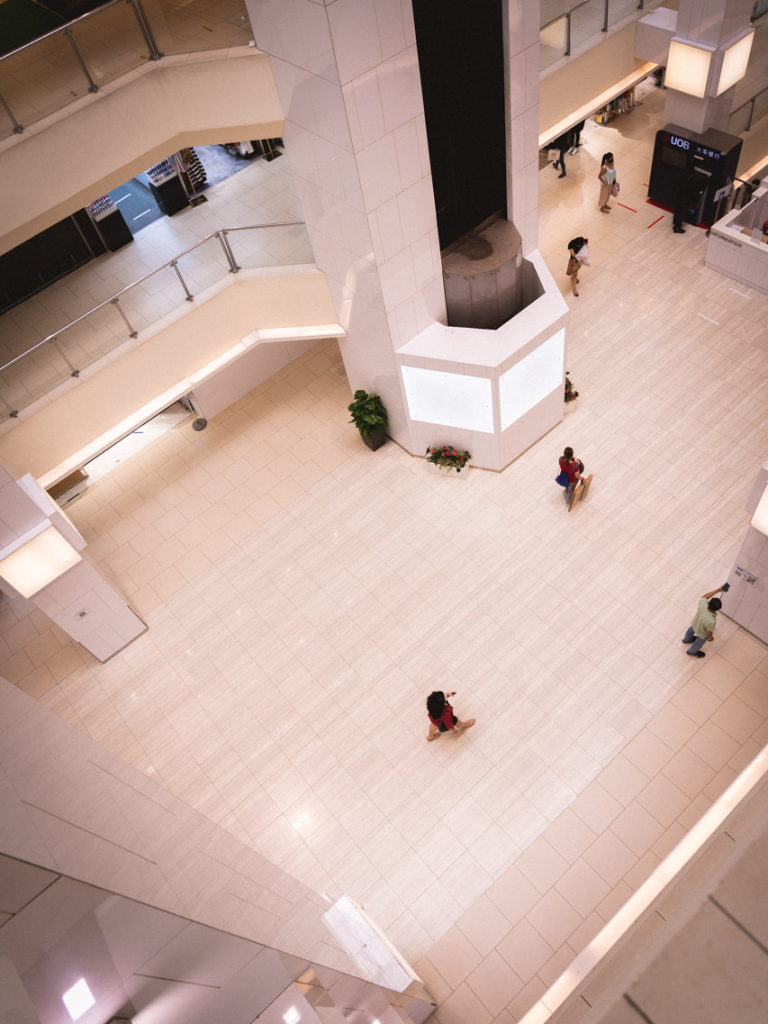 Since the end of August, Lucky Plaza—along with Peninsula Plaza, aka Little Burma—has been subject to odd-even entry restrictions on weekends. Visitors whose IDs end in odd numbers can only go in on odd dates, and vice versa.
The new rules, while meant to protect patrons and tenants alike, have pushed the latter to the brink of collapse. Rather than halve the pool of potential patrons, it has driven most of them off. Sharon, who runs Scott Comfort, a shoes and accessories shop with two outlets in the mall, offers a simple explanation: "If the whole group can't come in, they'll go elsewhere."
It's nearly 3:00PM, and she's made less than $100 today. Most of her stock has been marked down, but there are no passers-by to take the bait: in the 20 minutes we spend chatting and taking photos, only one customer stops by. She doesn't buy anything.
"I might as well take a basket and sell my shoes on the street," says Sharon.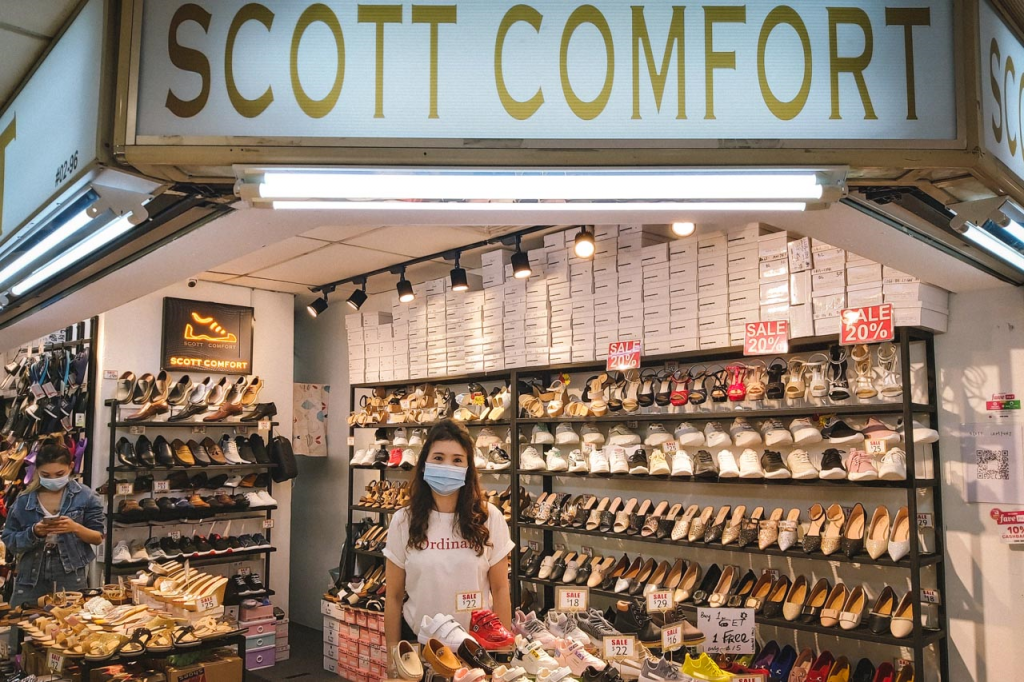 She's not alone in her despair; throughout the building, the mood is bleak, even bitter. For the mall's beleaguered tenants, suffocation has come in stages.
When Covid-19 set in early in the year, travel restrictions eliminated one of the mall's two main sources of visitors: tourists. Many stores, particularly those on the ground floor, saw their takings plunge. Then came the circuit breaker, which claimed the second group: domestic workers.
Things began looking up at the start of Phase 2, when businesses were allowed to reopen, but the respite was short-lived. After a half-step forward, the new rules set things several metres back. Although entry curbs have been imposed at other popular venues like Geylang Market, the ones at Lucky Plaza affect the mall on its primary day of business.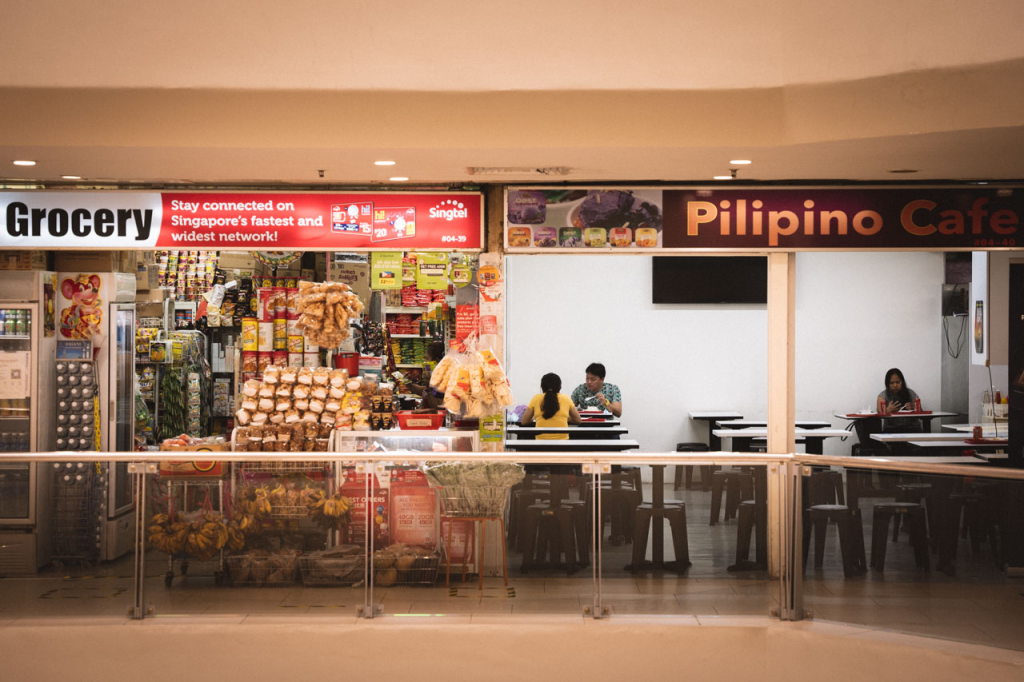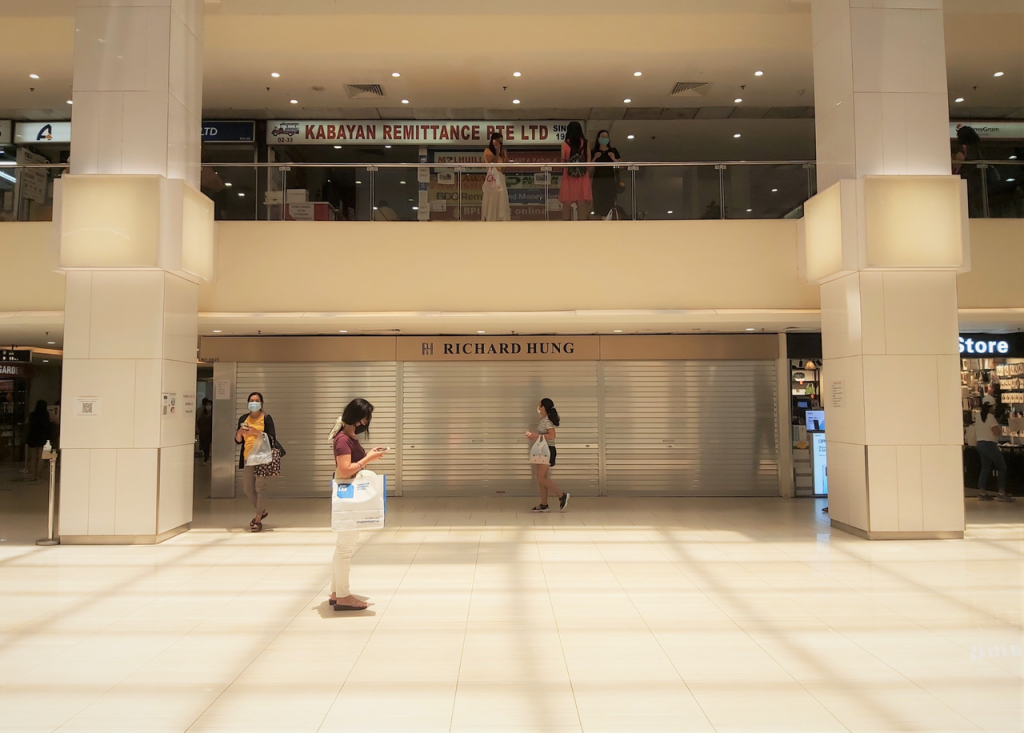 Mr Tan, who runs a beauty supplies shop with his wife, was despondent.
"Jialat la. We're not dying of Covid, we're dying of this," he tells me.
Last month, the Singapore Tourism Board, which imposed the curbs, told the Straits Times that they were "necessary" as the two malls were facing "persistent crowding issues" on weekends, despite backup from additional enforcement officers and safe distancing ambassadors. According to a representative, several outlets, as well as the mall's management, had been fined for failing to ensure safe distancing. 26 people had also been fined for breaching the 5-person cap on gatherings.
Nonetheless, Mr Tan pointed out that many other malls are just as crowded. According to him, many tenants feel Lucky Plaza has been unfairly singled out—and that the higher incidence of non-compliance could be due to greater enforcement presence at the mall, not necessarily laxer standards. Several shopkeepers I spoke to felt the 'Plazas' had drawn greater scrutiny to begin with because of their popularity with migrant workers.
"My daughter stays in Tampines and when I go there and see her, it's so crowded also. What about MRT? Bus? Other malls?" he says. (To some extent, SpaceOut data backs him up: its records show that several popular malls, like NEX and Somerset 313, are consistently at close to or maximum capacity on weekends.)
Jay, who runs several clothing kiosks in the mall, tells me his sales have plummeted by 70% from pre-Covid times. With rent for each kiosk clocking in at $6,000 per month, he isn't sure how long he can stay afloat. And he thinks he's one of the luckier ones: according to him, rent for high-traffic units, especially those facing the street, can be over $10,000.
"It comes to the point where you don't even have the mood to come to work," he says.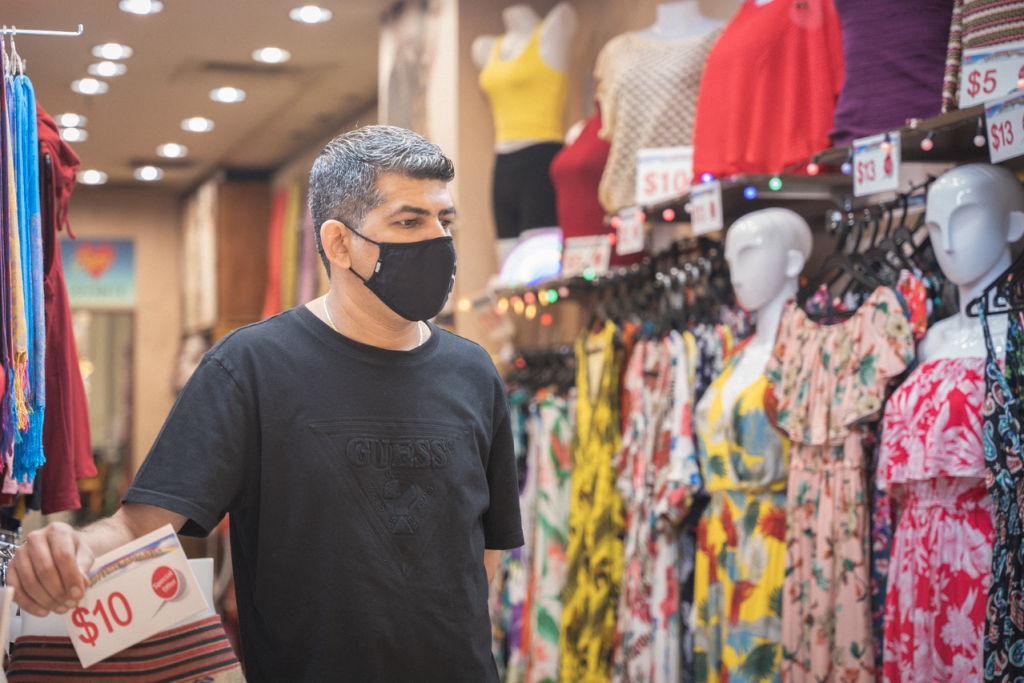 Sentiment amongst the domestic workers I speak to is a little more mixed.
Many were glad that the mall—admittedly crowded to bursting most weekends—is now less packed. The queues are less insane, and in these times, many found it reassuring not to be surrounded by bodies everywhere you turn. "We're safer," said one domestic worker, who asked to remain anonymous.
But they were also sadder, because the entry curbs had made it difficult to meet up with their friends.
Lucky Plaza has always been the go-to for many Filipino migrants, a one-stop shop for running errands and catching up with friends. Pre-Covid, it wasn't uncommon to see women congregating in large groups. But Lota and Hazel, snacking of oranges in an otherwise empty restaurant, are eating alone. Today, they came to Lucky Plaza to remit money, and are catching a quick lunch before going to meet their friends elsewhere.
"I'm not happy, because every day off I'm usually here," says Lota. "Now more difficult to meet here because of the restrictions. Even if people want to come, they cannot."
Hazel tells me things are compounded by how most domestic workers' only day off is Sunday. "Some employers don't let us come out on Saturday. So if my number is even but that week is odd, then I have to come another week," she says.
"But what if I'm rushing? And we only have one day off so we miss our friends, when we see each other only one week one time. Like my sister doesn't have day off every Sunday, but I have. So now it's more difficult to meet here."
I ask how they feel about the mall having gone quiet—the absent crowds, the missing dance parties on the first-floor terrace. Both smile sadly when I mention the lost music and picnics.
"It's so sad. It's like a ghost now. So quiet. So cold. Because no one here."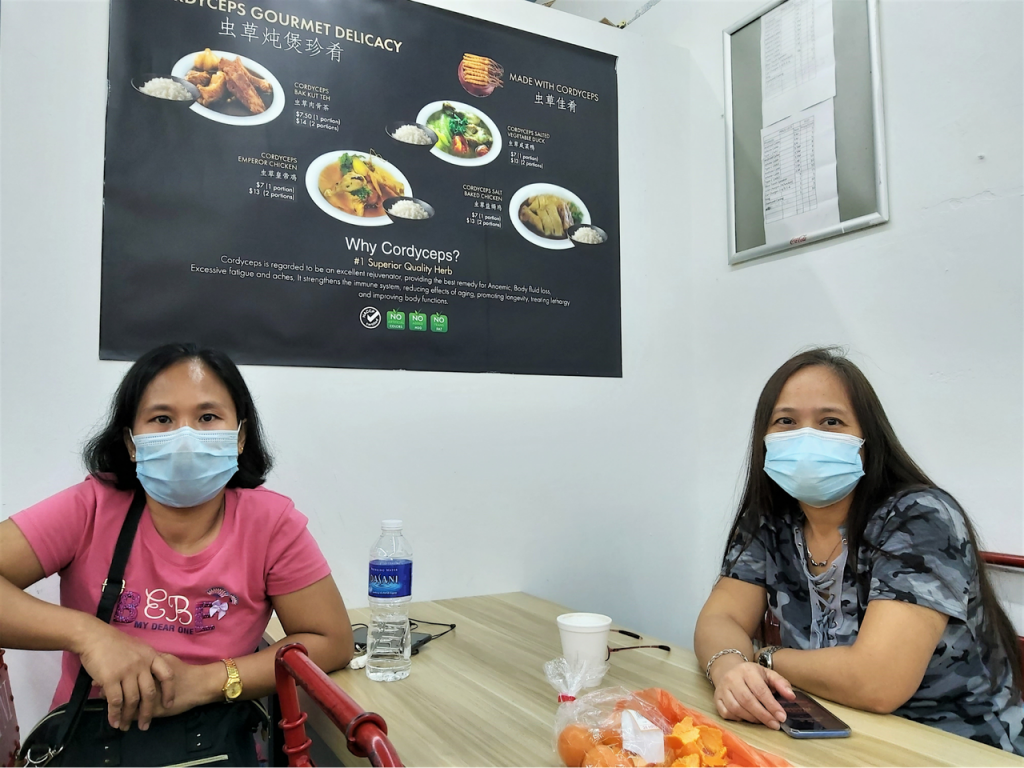 Anna Marie Gallard, whom I meet at Jollibee in the basement, is a little more sanguine.
"It's a little bit confusing," she says of the restrictions. "Not sure when and how to manage … now I must always check with friends if they're odd or even. It's a little bit burden, but good that now the crowd is less." However, she caveats that she's one of the lucky ones, as her employer lets her go out on weekdays.
What she is worried about is the mall's businesses —particularly the small, mom-and-pop joints— being unable to survive the slowdown.
"I'm worried that shops will close because they have no business," she says. "Because shops here is where you come to buy Filipino snacks. Only here. Nowhere else."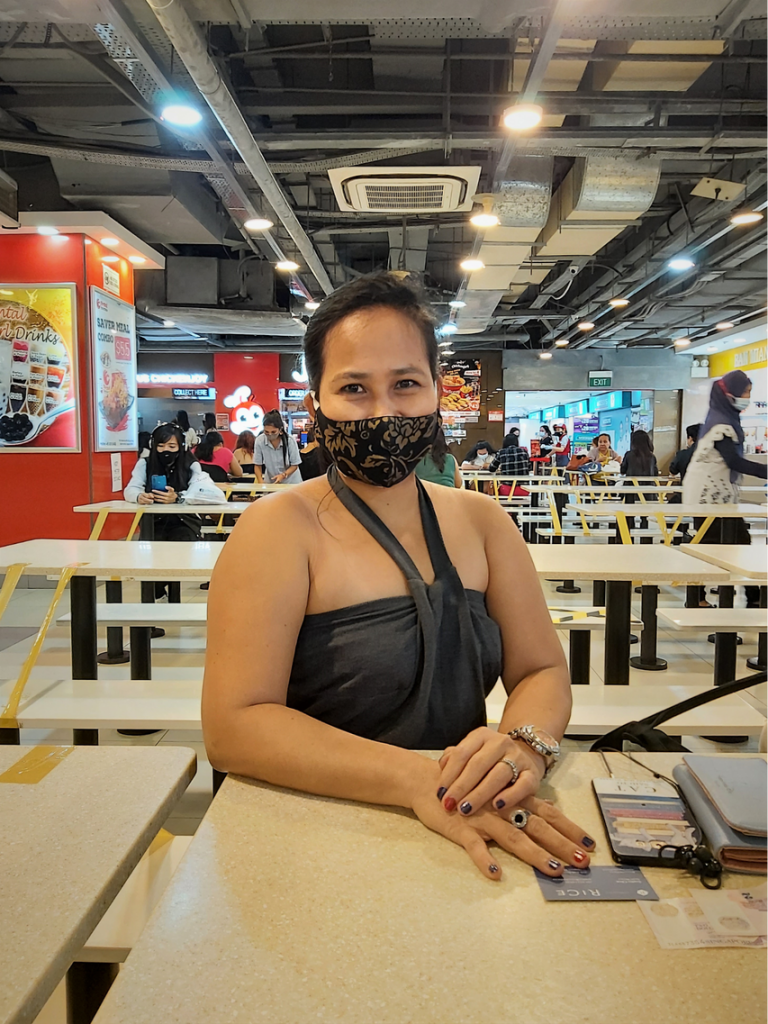 Every domestic worker I speak to, whether they resent the entry curbs or accept them as a necessary precaution, echoes this. They can live with the inconvenience. But they fear that unless things change, the businesses they've come to lean on—one of the few tangible links to the homes they've left behind—will disappear. Already, shuttered shopfronts can be seen dotting the mall, boding ill for the ones which remain.
"We miss the food! This is the only day of the week we can eat Filipino food. I can't cook it in my employer's house," cries Lota. "Many will secretly cook if they can, you just cannot find it elsewhere. If they close, where to find? Where will we go?"
And food would be only part of the loss. Malls rarely take on personal significance, let alone affection, but Lucky Plaza is one of the few to have transcended this. Countless Filipina domestic workers head there on their first day off, the one place they know they'll find home in a land of strangers—a trip so routine it's practically a pilgrimage. (Many make a special visit on their last day off, too).
I texted my family's previous domestic helper, now retired and back home in the Philippines, photos of the deserted corridors and vacant stores. She'd visited Lucky Plaza almost every month without fail over her 20 years in Singapore. When she came back for a visit last Christmas, it was where she went to meet her friends.
"What happened?" she asked.
"Covid," I replied. "There are new rules over how many people can go in. So now the place is empty. A lot of the shops have no business."
She responded with a crying emoji.
As I wrote over a year ago, for the Filipino community, Lucky Plaza is the core from which all activity spirals out: it's where you go whether you're 23 and desperately homesick, or 61 and thinking of retiring soon. Maybe you just want the comfort of sweet spaghetti and people who sound like you. As malls go, it's the anti-Funan: utterly unflashy, but deeply beloved.
Migrant workers rarely get to carve out spaces of their own, or exist in them on their own terms. In a country which rarely acknowledges their presence, Lucky Plaza is the exception to this. And the businesses—a lifeline in a sea of homesickness and loneliness—need them too.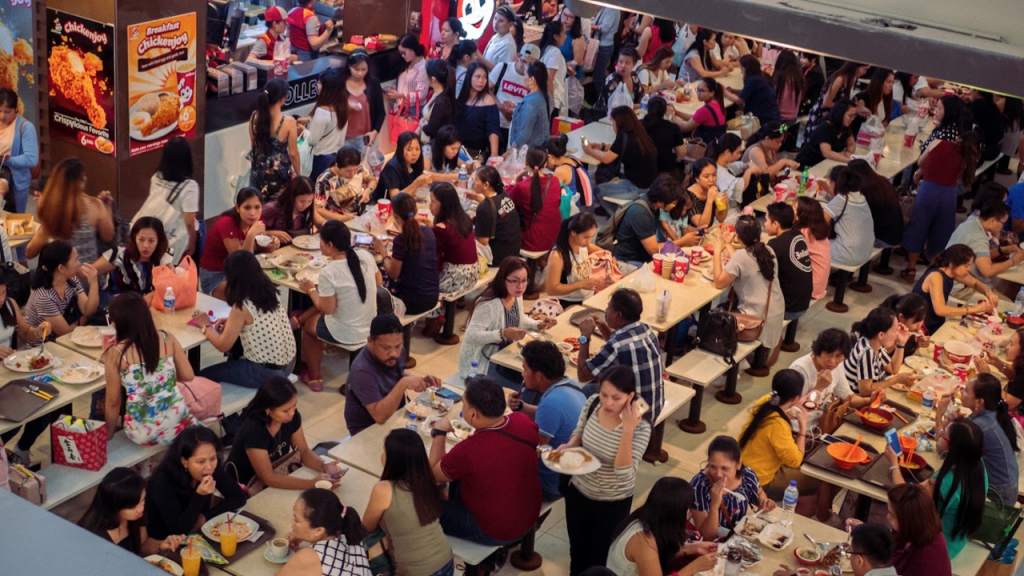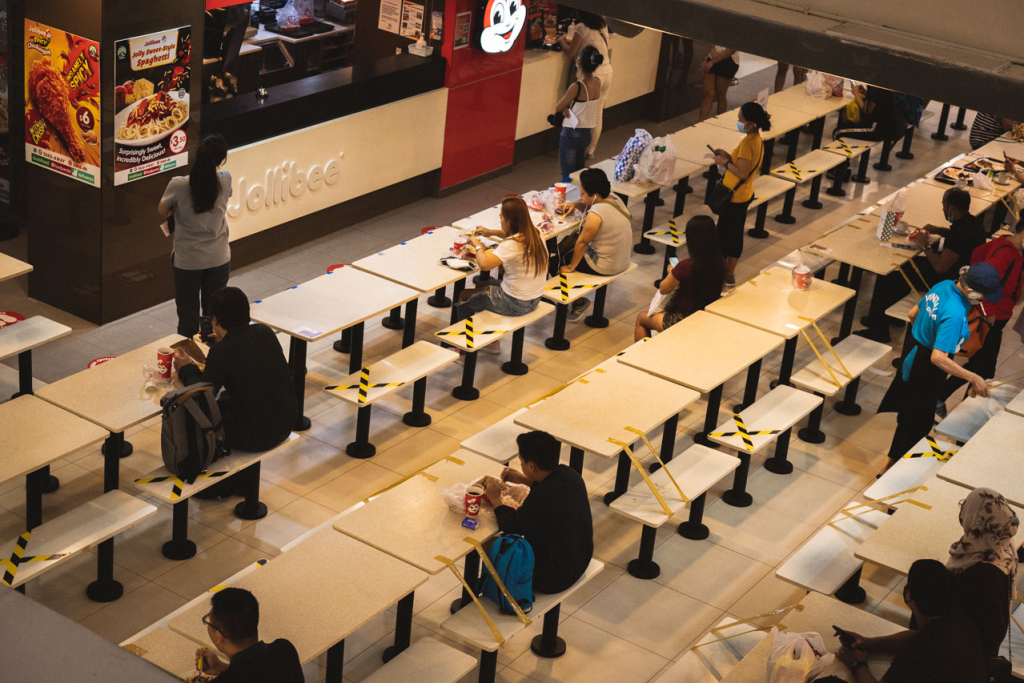 As the life cycles go, retail is viciously Darwinian. Longevity is rare, and in a landscape as manic as Singapore's, where buildings get torn down and replaced within decades, few malls have stayed standing as long as Lucky Plaza has. Covid has already sent countless businesses to their end, and the ones here would hardly be the first. But no mall comes close to this one, either.
It's hard to imagine anyone mourning the loss of one of Capitaland's behemoths, not when an identical successor will take its place before long. No tears would be shed over a fallen Breadtalk/Boost Juice/Cotton On/Uniqlo when every new mall is as formulaic as the last. The loss of Lucky Plaza, however, would be incalculable. It's like trying to imagine Singapore's arts community without The Substation, or the Chinese diaspora without People's Park. To lose it would leave an entire community with a cavity in its soul. And that, unlike a virus, can never be cured.